Bitcoin Drops as Hashrate Declines With China Mining Crackdown
This article from Bloomberg may be of interest to subscribers. Here is a section:
Cryptocurrencies have been enduring a lull recently. Bitcoin is trading at about half its record high of nearly $65,000 reached in mid-April. The market value of all cryptocurrencies is about $1.45 trillion, as measured by CoinGecko, versus a high around $2.6 trillion last month.

One of the factors cited has been concern about China clamping down on mining amid concerns about energy usage, and in the wake of deadly coal accidents.

The city of Ya'an in the southwestern region of Sichuan has promised the provincial authorities to root out all Bitcoin and Ether mining operations within one year, said a person with knowledge of the situation. According to a report in the Communist Party-backed Global Times, the closure of many Bitcoin mines in the province has resulted in more than 90% of China's Bitcoin mining capacity being shuttered.

About 65% of the world's Bitcoin mining took place in China as of April 2020, according to an estimate by the University of Cambridge.
The big question for bitcoin's rapacious demand for electricity is where do they go now that China's energy loophole has been closed? In Texas, there is speculation they will set up next to drilling wells and harvest the flared gas.
It's a good idea. It highlights the fact that billions of cubic feet of gas are flared off every year because no one wants it. The challenge is no one wants the BIT Mining share when bitcoin prices are falling.
The bigger point is if bitcoin miners are willing to set up in containers, placed next to flare sites, more power to them. It does beg the question why energy intensive industries don't do the same thing.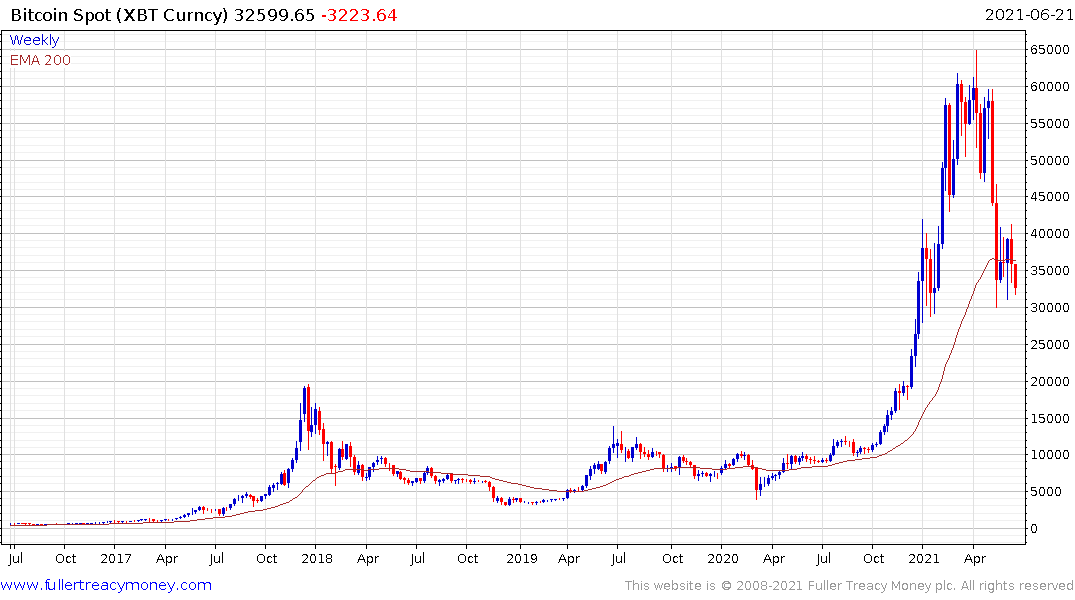 Bitcoin remains in a correction and a sustained move above the 200-day MA will be required to question potential for additional downside.
As bitcoin decompresses contagion tends to spread to the wider crypto sector and the altcoins fall further.
Back to top