Bitcoin billionaire Mike Novogratz says plunging crypto will have a hard time rallying until stocks find a base
This note from Bloomberg may be of interest to subscribers. Here is a section:
Billionaire investor Mike Novogratz has said cryptocurrencies will struggle to pull out of their sell-off if stocks keep falling, as he urged investors not to buy the dip.

Prices for bitcoin, ether and other digital currencies have fallen sharply across the board as they track Wall Street's rout in tech stocks, driven by pressure from rising bond yields.

"Crypto will have a hard time rallying until stocks find a base," Novogratz, CEO of investment company Galaxy Digital, tweeted late Thursday.

Novogratz pointed to the sharp fall in the Russell index, which is down almost 10% year to date, saying there are 1.2 trillion bad equity longs above the market.

"This is now a bear market," he said, adding: "Sell rallies. Don't buy dips."
Doubts about whether bitcoin is a risk asset or a safe haven have been dispelled over night as bitcoin followed the stock market to new lows. That's an important distinction because the primary comparison between bitcoin and gold over the last couple of years is they are both long-term stores of value. Recent action suggests that belief is wrong.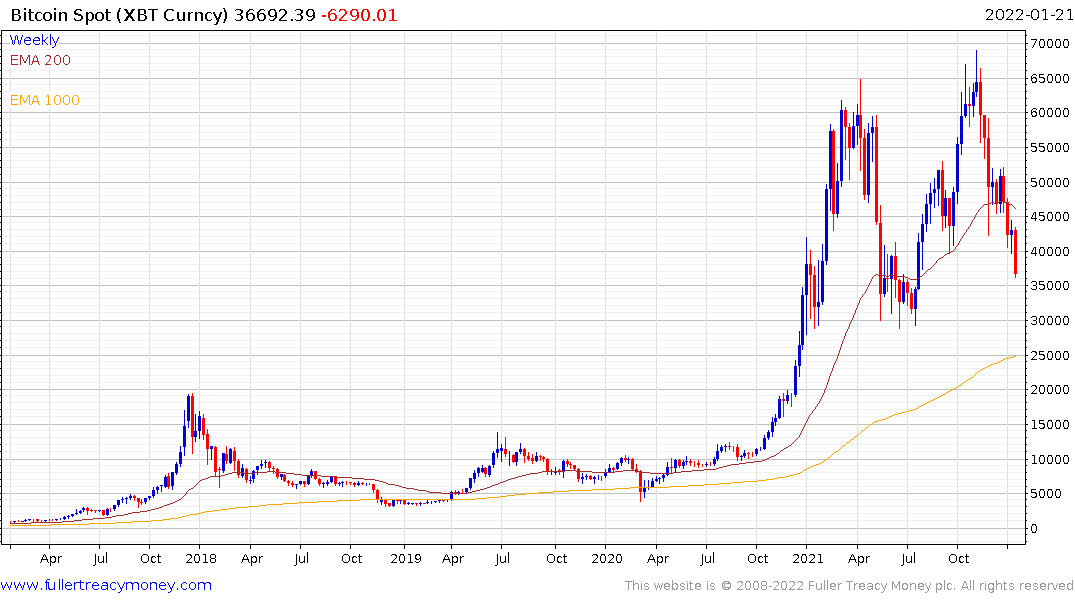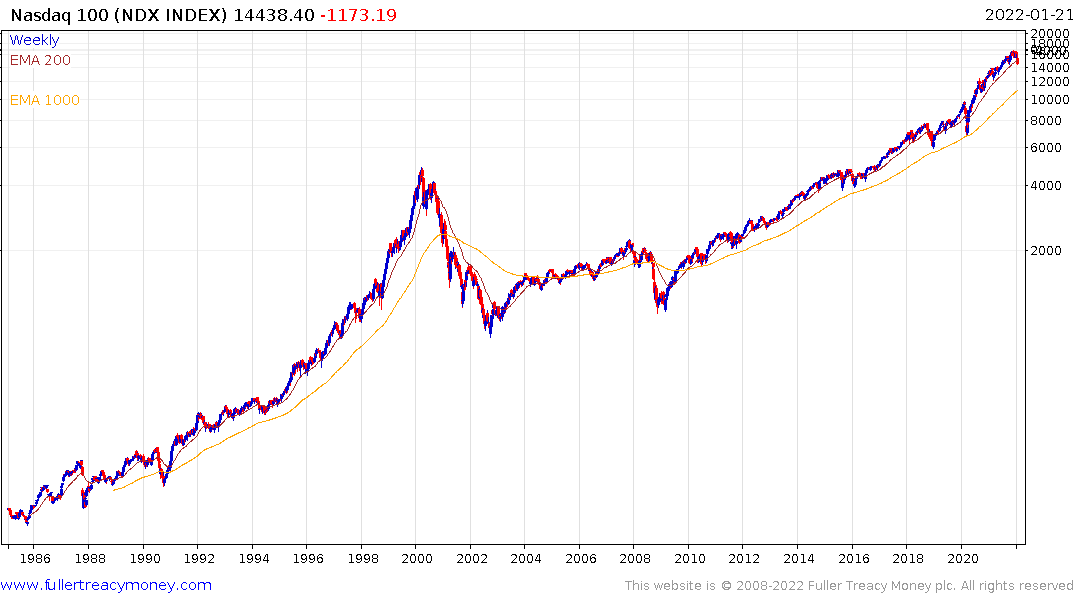 Bitcoin peaked on November 10th and the Nasdaq-100 peaked on the 22nd, so it is reasonable to argue that bitcoin is leading the stock market rather than the other way around.
The price got down to test the $38,000 level where Novogratz said he would be a buyer today. That suggests there is scope for some dip buying to appear. However, there is no sign of that just yet and bitcoin price will at least need to break the three-month sequence of lower rally highs to signal a return to demand dominance.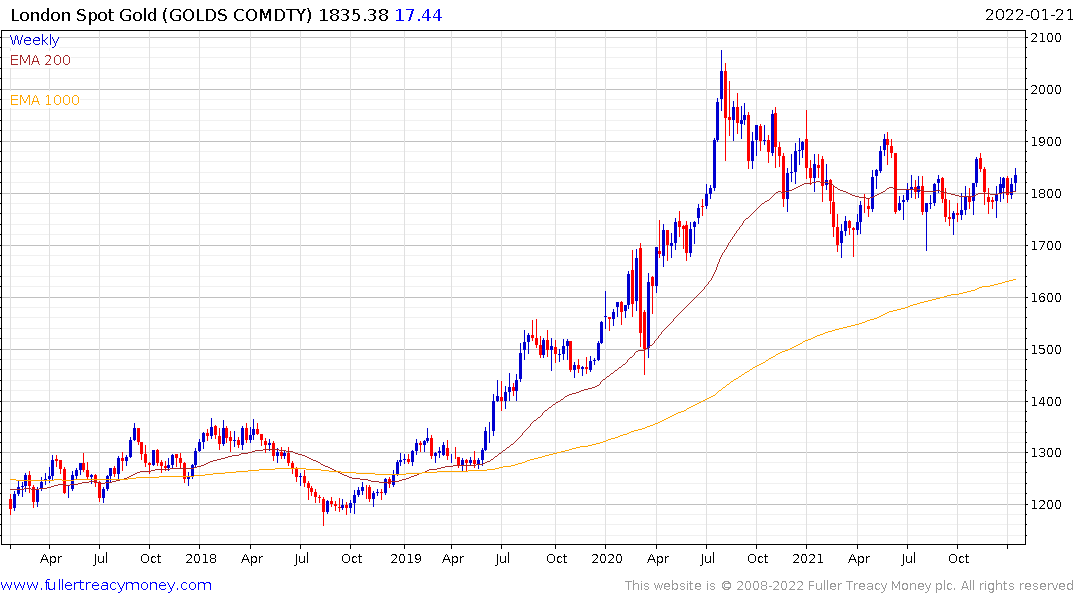 Gold remains steady as it tests the psychological $1850 level.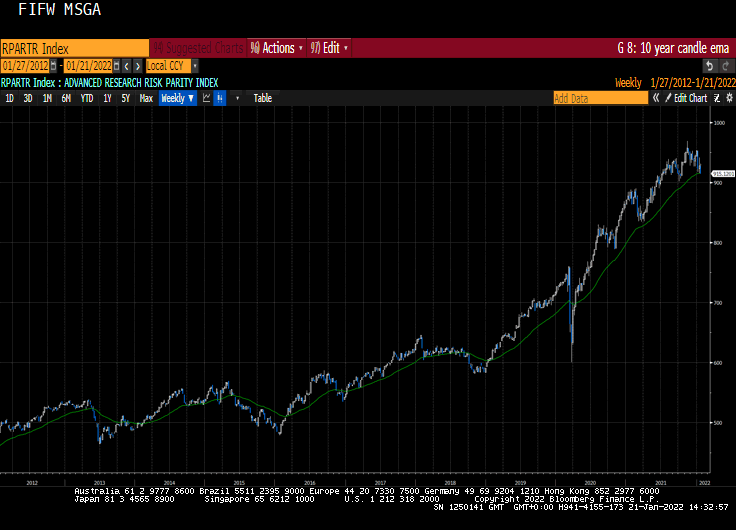 The Risk Parity Index is back testing the region of the trend mean. This Index does poorly when volatility in bonds and equities rises together.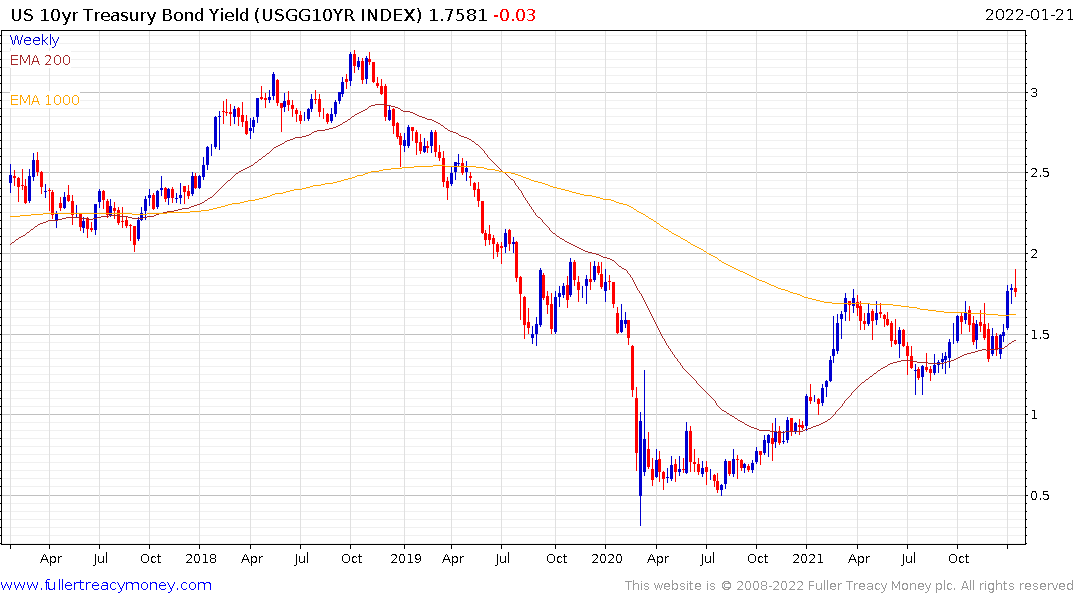 10-year yields are pausing in the region of the upper side of the 10-month range. Downside follow through next week would signal a failed upside break and denote renewed demand. A weak stock market and less feverish risk appetite would also help to reduce inflationary pressures which has been one of the primary reasons bonds have been so weak.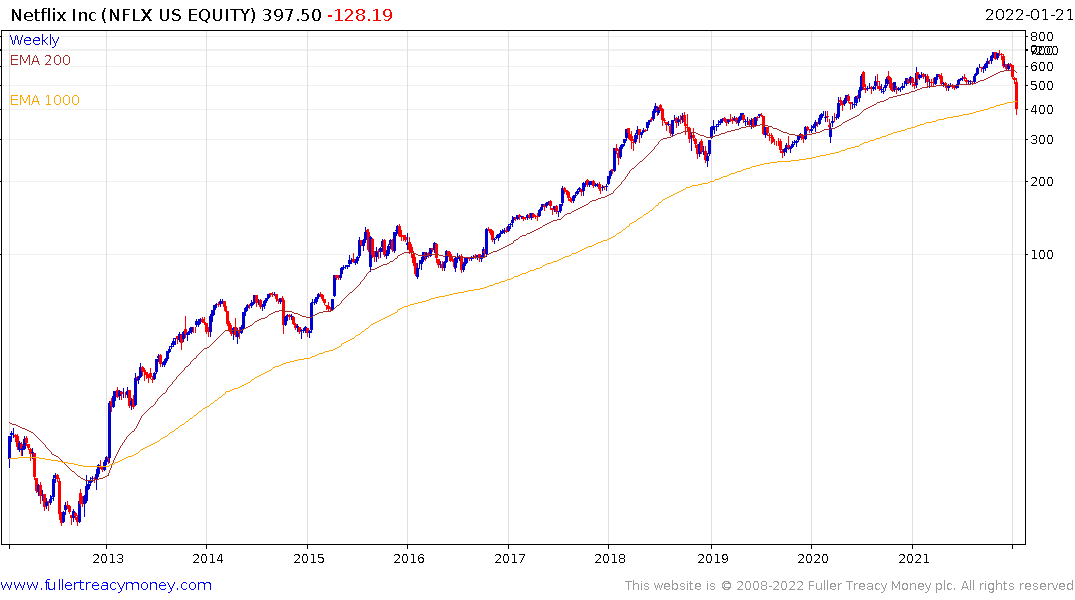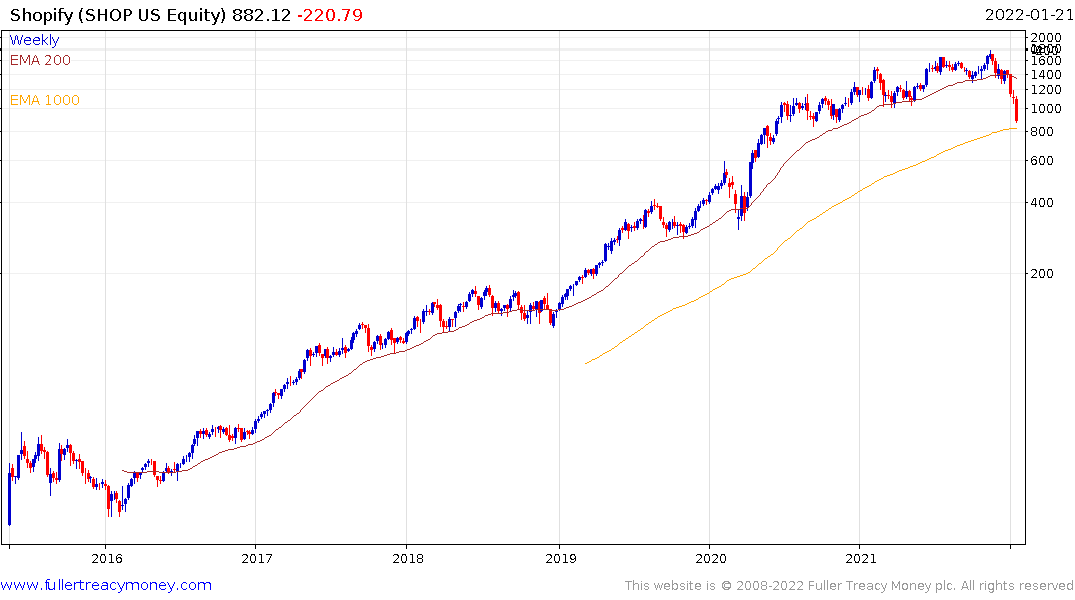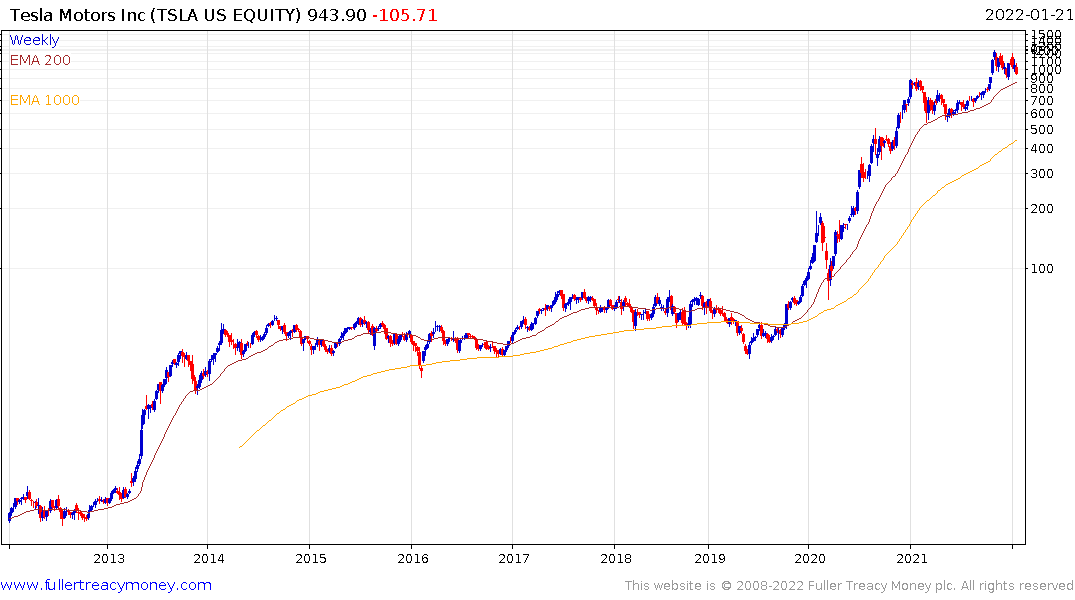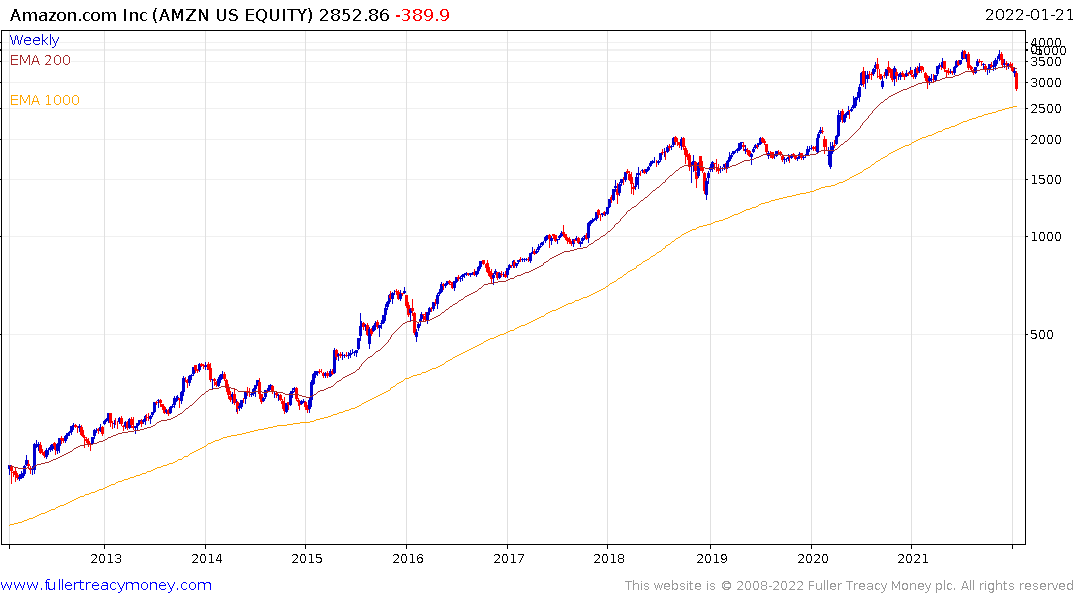 Meanwhile selling pressure in stocks remains undiminished as Netflix, Shopify, Tesla, and Amazon break lower.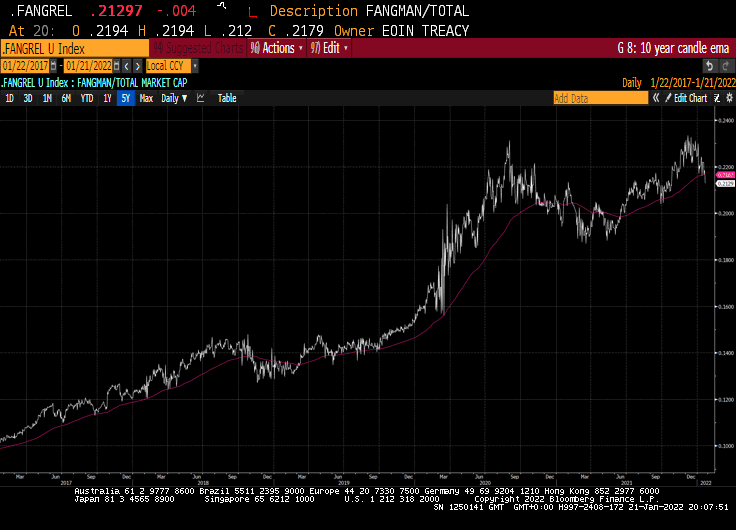 That took the FANGMANT/Total Market ratio back below the trend mean. This is not the first time the largest companies have underperformed. Every other time has been during a significant medium-term correction. That suggests a reaction in the region of 20% or, at worst, a pullback to the region of the 1000-day MA is beginning to be priced in.
Back to top