Biogen Shares Surge After FDA Publishes Alzheimer's Documents
This article by Anna Edney for Bloomberg may be of interest to subscribers. Here is a section:
The Cambridge, Massachusetts-based company presented data from two trials at a conference in December. One trial showed the drug may slow the progression of the disease, while the other found no effect. Researchers questioned the positive results because not all participants completed the trial before it was stopped.

Aducanumab targets amyloid plaque that builds up in the brains of Alzheimer's patients. Brain scans showed the drug removed the plaque, but whether that had any benefit is unclear. While the plaque is found in the brains of Alzheimer's patients, scientists don't know what role it plays in the disease.

More than 40% of patients who took high doses of aducanumab developed brain swelling or hemorrhages. Most didn't develop symptoms but the side effects were seen on brain scans.
The number of people with Alzheimer's is likely to trend higher over the coming decade as the large number of baby boomers progress in age. There has never been an effective treatment for the ailment. That pretty much means that every patient will be prescribed the drug when it is approved on the basis that something is better than nothing. It is very rare to see a product meet the hurdle of a large unmet need and expanding potential market.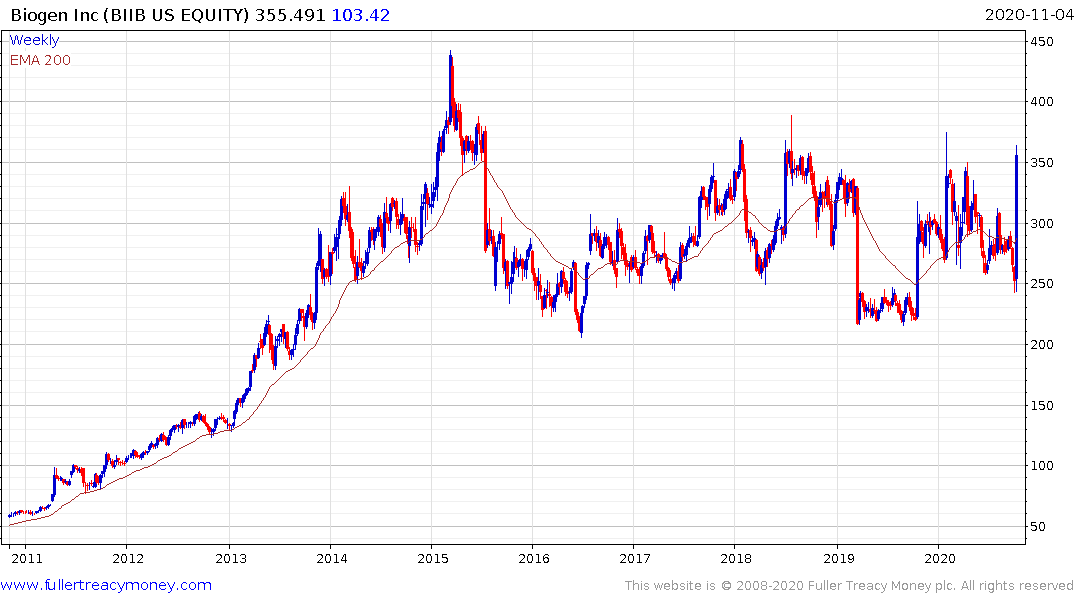 Biogen has been ranging in a volatile manner for the last five years and rebounded emphatically today. It may yet be a couple of years before we see a drug approved so there is ample scope for additional volatility but the signs are looking increasingly positive.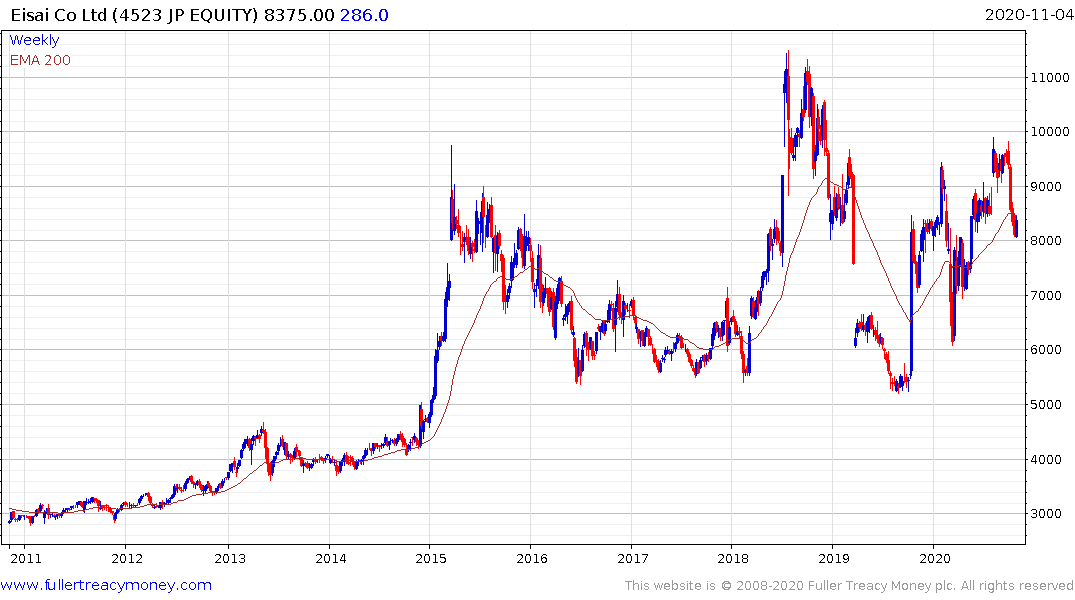 Eisai's range has been even more volatile but it has helped a sequence higher reaction lows over the last year and firmed today from the region of the trend mean.
Divided government also favours the healthcare sector because there is less chance of active measures to disrupt normal commercial activity.
Back to top