Biogen CEO Sees Room to Pursue Two Similar Alzheimer's Hopefuls
This article by Naomi Kresge for Bloomberg may be of interest to subscribers. Here is a section:
Both compounds target beta amyloid, a protein consistently found in clumps in the brains of people with Alzheimer's disease. Both are being tested in patients with very early signs of the disease, following a hypothesis that drugs might work best before Alzheimer's advances. The companies are still talking with regulators about how to proceed, the CEO said.

Vounatsos, like others researching ways to fight the disease, said it may become necessary to combine different treatments, or give one after the other. "Alzheimer's disease is so complex that a single silver
bullet will not solve the complexity of the disease for all patient types during the continuum of the evolution of the disease," he said.

Before companies can engineer combinations, they need to find one that works. Biogen won't disclose when it expects the final-stage study for its potential blockbuster aducanumab to finish, but it enrolled the last patient over the summer. The trial is planned to be about 18 months long.
As the number of people living into their dotage increases, the need to contain the cost of healthcare is increasingly urgent. Alzheimer's is a scourge for any family afflicted by its long slow ebb of critical faculties so any progress is developing a cure or even a partial treatment are to be welcomed. Progress is being made in early diagnosis but so far there is nothing that resembles a cure. Therefore the first company to come up with a solution, however effective, is likely to benefit considerably since doctors currently have nothing they can prescribe.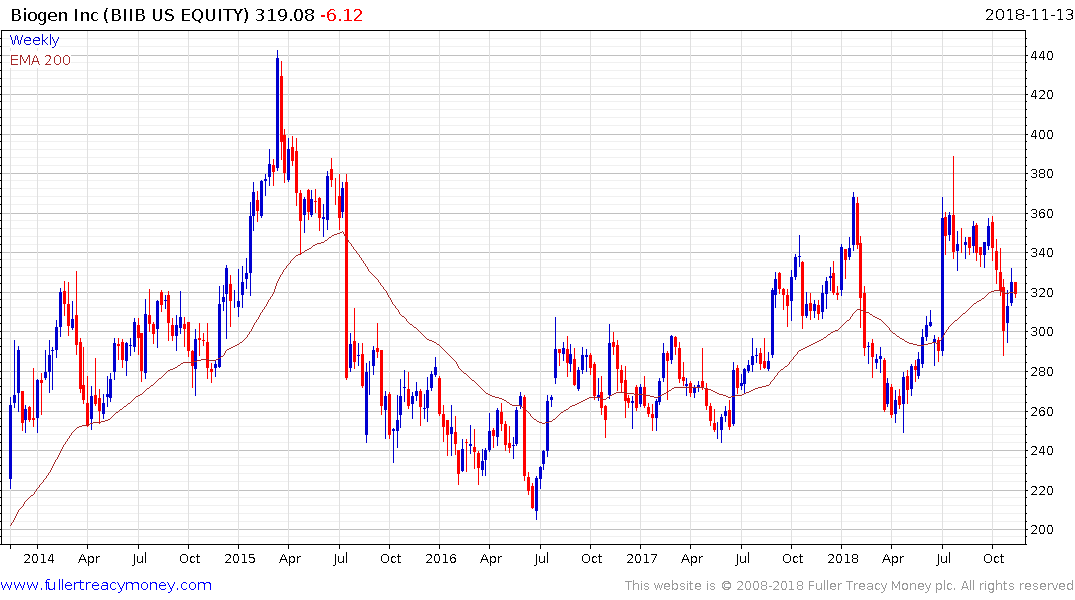 Biogen initially surged back in July when it announced progress but gave up the advance when the methods it used to record data in its study were questioned. The share has since stabilised around $300 and a sustained move below $250 would be required to question medium-term scope for continued higher to lateral ranging.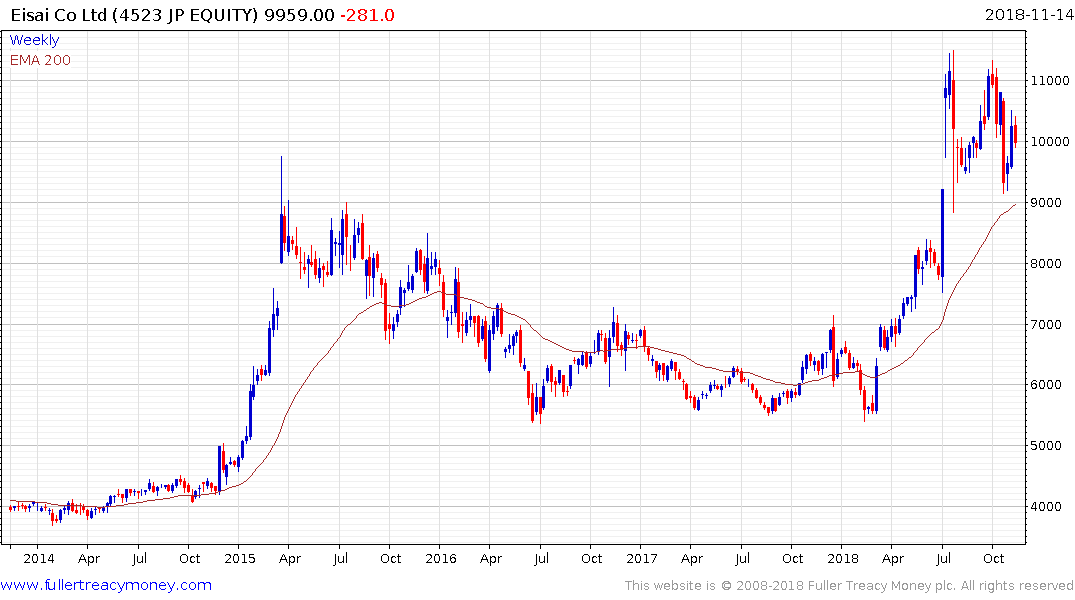 Eisai is partnering with Biogen in at least one of its Alzheimer's trials and has been trending higher in a more impressive manner this year. The share found support in the region of the trend mean in late October and a sustained move below it would be required to question medium-terms scope for continued upside.
Back to top