Bill Gates' nuclear startup picks a Wyoming coal town for its 1st advanced reactor, which will cost $4 billion
This article from Business Insider may be of interest to subscribers. Here is a section:
Warren Buffett's power company, PacifiCorp, is working with Gates' TerraPower on the Natrium reactor project, which is expected to be finished in 2028, per the release.

The US government has agreed to pump $1.9 billion into the project, Reuters reported. This includes $1.5 billion from the infrastructure bill that President Joe Biden signed this week, according to TerraPower's press release.

TerraPower, founded by Gates 15 years ago, will contribute $2 billion for the project, per the release.

The advanced nuclear power plant in Kemmerer would be able to produce a baseload of 345 megawatts, but would also have the capacity to supply 500 megawatts of power, which is enough energy to power around 400,000 homes, TerraPower said in the release.
This project means molten salt reactors will become a more dominant part of the global nuclear sector over the coming couple of decades. The big selling point from a global perspective is the difficulty of using these designs to manufacture fissile material for bombs. That boosts the potential for exports to third party countries once the technology has been proofed up.
The rest of the world is not hanging about waiting for this to happen. Russia has small reactors on barges already. This article from the New York Times may also be of interest. Here is a section:
The nuclear facility in Pevek is aboard the Akademik Lomonosov, a barge about the size of a city block. The idea of small reactors is not new. In the 1960s, before the antinuclear movement gained traction, they were seen as a promising technology. The United States operated a barge-based reactor to electrify the Panama Canal Zone from 1968 to 1976, and Sweden used nuclear heating in a suburb of Stockholm from 1963 to 1974.
Seaborg Technologies is trying to combine molten salt reactors with barges, with the aim of supplying power to large portions of the global economy with portable nuclear power. The primary argument is they can circumvent some planning restrictions by using barges. That contention remains to be proven.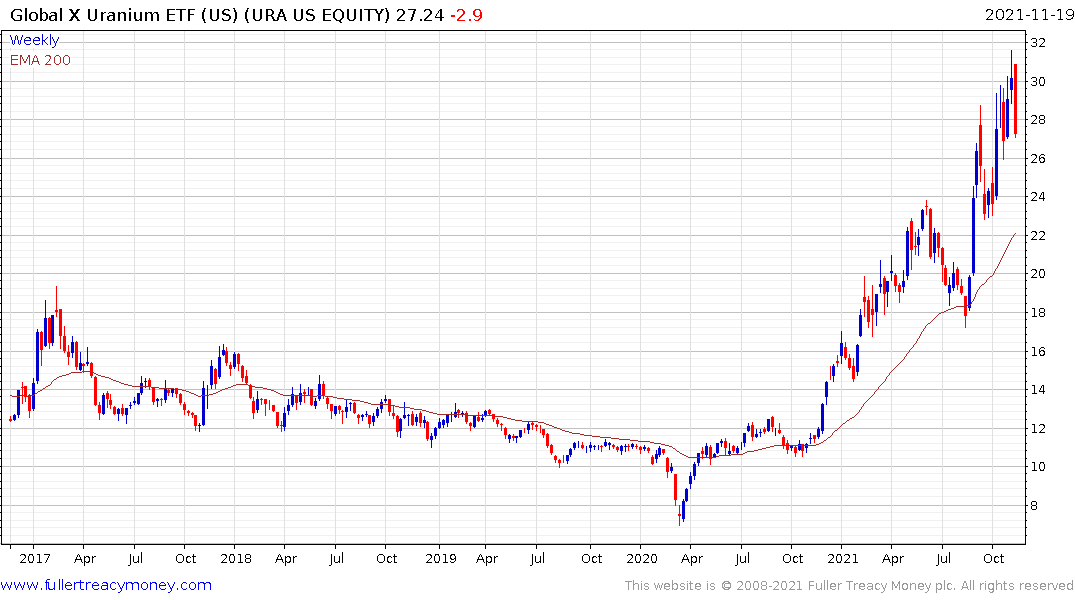 The Global X Uranium ETF is easing back following disappointing earnings from Cameco but remains in a medium-term uptrend overall.
Back to top