Biggest Egypt order for years lifts wheat futures
This article from Agrimoney may be of interest to subscribers. Here is a section:
Wheat futures staged a late revival to close back above $6.00 a bushel in Chicago after Egypt, the top importer of the grain, unveiled its biggest order since at least 2010, taking the day's total world orders above 1m tonnes.

Egypt's Gasc grain authority revealed orders totalling 535,000 tonnes of wheat from France, Romania, Russia and Ukraine for an average of about $317 a tonne, on a cost and freight basis.
The purchase was the biggest since at least 2010, topping a 475,000-tonne order in September 2012, and a 420,000 tonnes in purchases of Russian wheat a year before.

And it too above 3.5m tonnes Gasc's purchases at tender in 2013-14, which have now exceeded $1.0bn in value.

?With Algeria purchasing 500,000-550,000 tonnes of milling wheat for $314-315 a tonne, including cost and freight, the day's deal tally topped 1m tonnes from these importers alone.
Wheat prices were conspicuously weak for much of 2013 and have now returned to test the $6 area which was an area of support in 2011 and 2012. With the decline in price encouraging new orders, the potential for significant additional declines is diminishing as supply and demand come back into balance. Today's upward dynamic is the first sign of renewed interest in the market and follow through to the upside next week would support the argument that short covering is underway.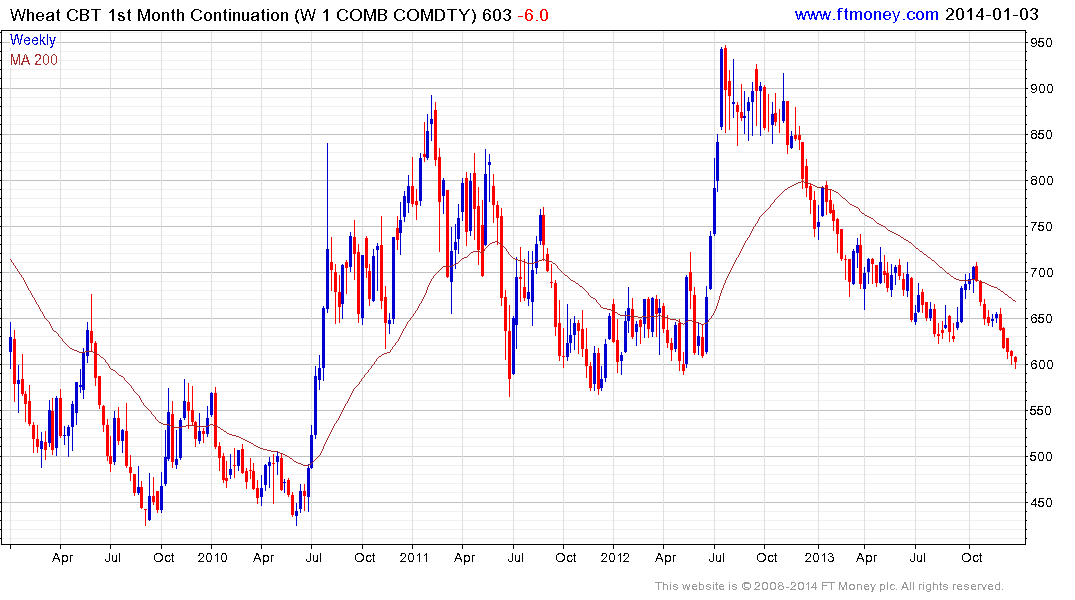 Back to top