Biden Reopens Path to Nomination That Was Out of Reach Days Ago
This article by Justin Sink for Bloomberg may be of interest to subscribers. Here is a section:
In politics, you have to win to win. And in the crucial Super Tuesday primaries in 14 U.S. states, Biden did just that, and Democratic voters singularly obsessed with defeating Trump finally began coalescing around their candidate.

There's still a long road ahead for the former vice president. His chief rival, Bernie Sanders, won California -- the biggest prize of the entire nominating race -- where a runaway victory could give the Vermont senator enough delegates to blunt Biden's gains on Tuesday. And the former vice president's turnaround was made all the more remarkable because of his plunge from front-runner status, bruised and battered by a meandering campaign, lackluster fundraising and trademark gaffes.

Still, the whirlwind three days following Biden's convincing win in South Carolina -- which propelled top rivals like Pete Buttigieg and Amy Klobuchar back the former vice president -- underscored the extent to which Democrats were ready to unite behind anyone perceived as ready to take on Trump.

"Just a few days ago the press and the pundits had declared the campaign dead," Biden told supporters in Los Angeles. "I'm here to report, we are very much alive."
The rise of Bernie Sanders to front runner status about ten days ago was a significant catalyst for profit taking in the wider stock market and was potentially the motivating factor behind the pricing in coronavirus fears.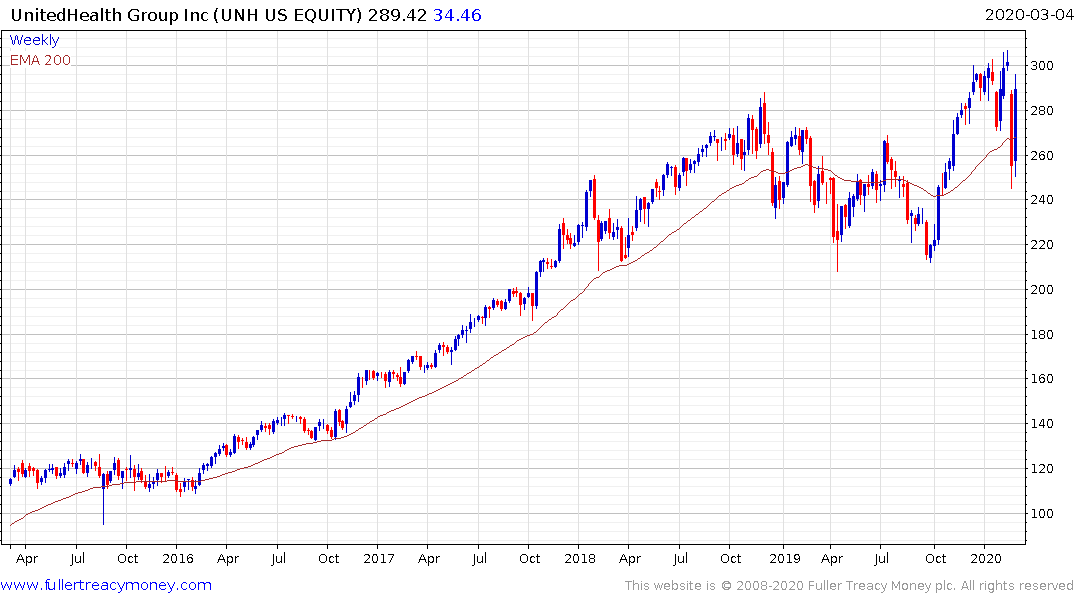 UnitedHealth Group, the largest health insurer, was the leading decliner into the fall last week but has since rebounded to unwind just about all of the fall as Sanders prospects of a landslide have dimmed.


Wall Street has retraced about half of last week's decline and Nasdaq-100 continues to hold the region of the trend mean. It's reasonable to expect some additional consolidation following the surprise of the decline and the speed of any recovery is likely to hinge on the pace of the spread of the coronavirus as well as the fiscal and monetary response. I believe the least accepted possibility but potentially most likely is the supply of monetary assistance will outweigh the effects of the virus.
Back to top