BHP Billiton unveils $14 billion spin-off
Thanks to a subscriber for this article by Sonali Paul for Reuters which may be of interest. Here is a section:
Chief Executive Andrew Mackenzie, in the top job for just over a year, said the widely expected move to simplify BHP around the "four pillars" of iron ore, copper, coal and petroleum would spur cashflow growth and boost returns.

"By concentrating on what we do best, the development and operation of major basins, we can improve our productivity further, faster and with greater certainty," Mackenzie said in a statement.
The spin-off company, dubbed NewCo for now, will bundle BHP's aluminium, manganese, Cerro Matoso nickel in Colombia, South African energy coal and some Australian metallurgical coal assets and the Cannington silver, lead and zinc mine.

"It's probably a better asset mix than we thought it would be beforehand. BHP has added Cerro Matoso, which is a better nickel asset than its Nickel West division, and Illawara Coal," said David Radclyffe, an analyst with CLSA in Sydney.

BHP confirmed the spin-off as it reported an 8 percent rise in second-half underlying attributable profit to $5.69 billion, just below a consensus analyst forecast of $5.94 billion, according to Thomson Reuters Starmine's SmartEstimate.

Analysts and investors said the fall in BHP shares on Tuesday was an over-reaction.
"Some people may be disappointed because nothing was announced on a special dividend or buyback," said Albert Minassian, an analyst with Investec in London.
Rationalisation and cost cutting have been a focus for miners over the last few years not least because the previous decade's overly optimistic demand growth forecasts resulted in companies allowing costs to get out of control. The announcement of BHP Billiton's demerger is a reflection of this trend. The choice of which assets to dispose of highlights the company's wish to concentrate efforts in geopolitically secure regions.

The market's reaction to the news of the demerger is probably more of a reflection of disappointment at the failure to announce a special dividend or share buyback program rather than any specific criticism of the plan. BHP Billiton is the only miner in the S&P Europe 350 Dividend Aristocrats Index and this position would be jeopardised by changing its policy of incremental dividend increases. However many investors have come to rely on share buybacks and special dividends as a way of bolstering returns in what for many remains an uncertain environment. They tend to support the shares of company's buying back their shares to the detriment of those that don't.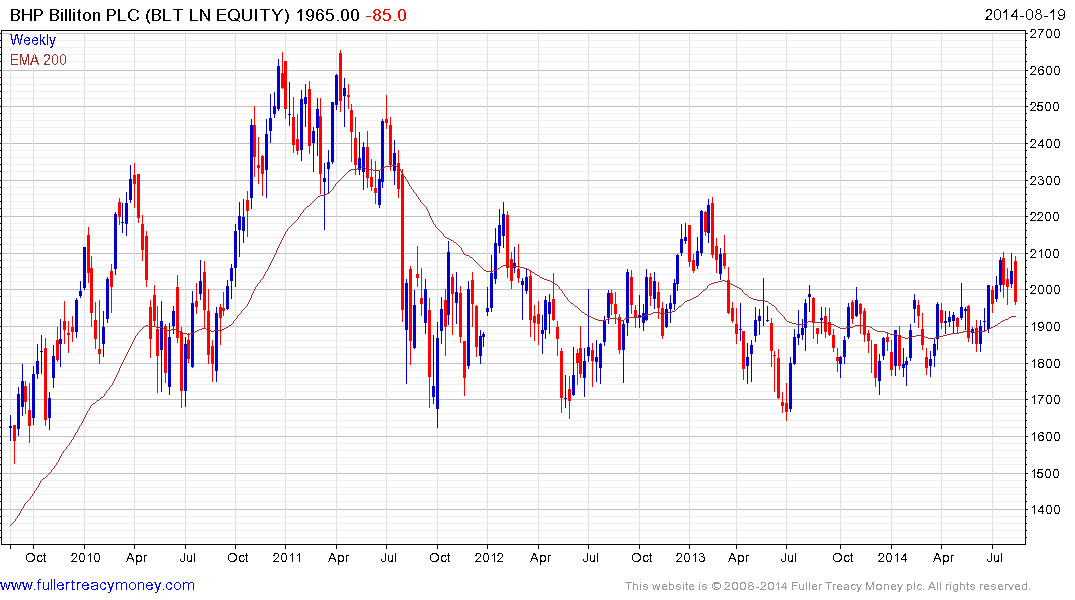 BHP Billiton (Est P/E 12.68, DY 4.09%) pulled back sharply over the last two days and a clear upward dynamic will be required to signal demand is returning to dominance.
Back to top