Bezos is selling $1 billion of Amazon stock a year to fund rocket venture
This article by Irene Klotz for Reuters may be of interest to subscribers. Here is a section:
"My business model right now … for Blue Origin is I sell about $1 billion of Amazon stock a year and I use it to invest in Blue Origin," said Bezos, the chief executive of Amazon.com Inc (AMZN.O) and also the owner of The Washington Post newspaper.

Ultimately, the plan is for Blue Origin to become a profitable, self-sustaining enterprise, with a long-term goal to cut the cost of space flight so that millions of people can live and work off Earth, Bezos said.

Bezos is Amazon's largest shareholder, with 80.9 million shares, according to Thomson Reuters data. At Wednesday's closing share price of $909.28, Bezos would have to sell 1,099,771 shares to meet his pledge of selling $1 billion worth of Amazon stock. Bezos' total Amazon holdings, representing a 16.95 percent stake in the company, are worth $73.54 billion at Wednesday's closing price.

For now, Kent, Washington-based Blue Origin is working toward far shorter hops - 11 minute space rides that are not fast enough to put a spaceship into orbit around Earth.
Amazon is a behemoth which has benefitted enormously from Bezos' stewardship over the last two decades. However it must raise the eyebrows of investors when they hear he is willing to dispense with a $1 billion in stock per annum to fund what is an interesting, potentially worthwhile but ultimately an expensive vanity project.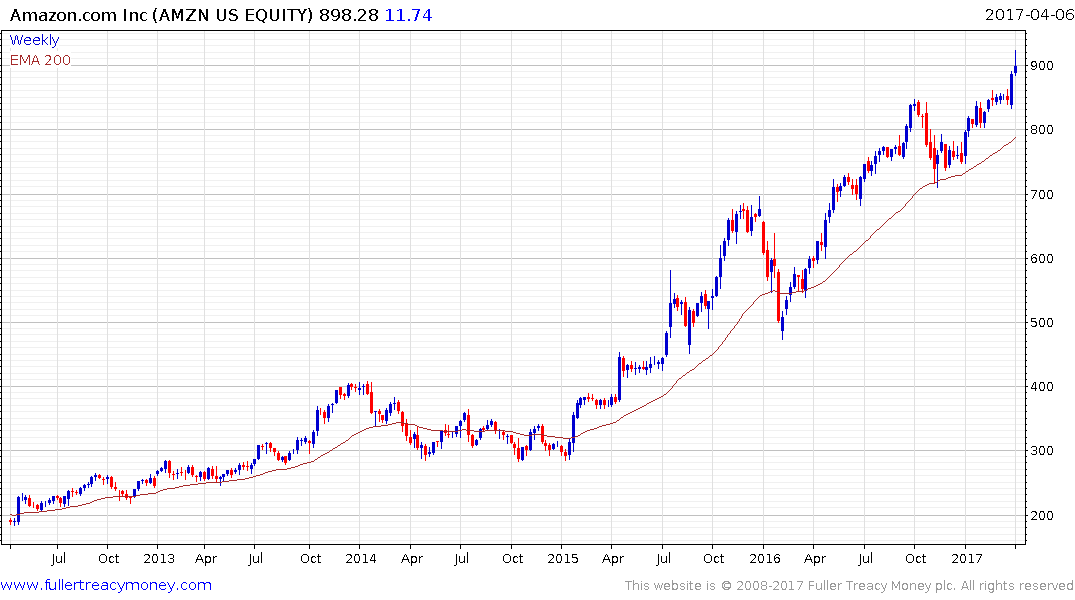 If the largest shareholder is selling that represents an increase in supply against what has been one of the clearest demand dominated environments of any stock. The share is overextended relative to the trend mean following an impressive rally since late March and at least some consolidation is looking likely as the full import of this news is digested by the market. A sustained move below the trend mean would be required to question the medium-term uptrend.
Back to top