Beyond Meat Gains as Tim Hortons Adds Sandwiches at 4,000 Shops
This article by Yue qi Yang for Bloomberg may be of interest to subscribers. Here is a section:


Beyond Meat Inc. got a reprieve from two downgrades in as many days after Tim Hortons said it's now offering faux-meat breakfast sandwiches at almost 4,000 locations across Canada.

The plant-based meat products maker gained as much as 7.1% in early trading after the coffee-and-doughnuts chain said it added three breakfast sandwiches to the menu made with Beyond Meat sausages after testing them at select stores last month.

The stock reversed earlier losses driven by Sanford C. Bernstein & Co.'s decision Wednesday to cut its rating on Beyond Meat to market perform from outperform, saying shares of the company have gotten too expensive after a more than 400% rally since its May 1 initial public offering. On Tuesday, JPMorgan Chase & Co.'s similar move spurred a 25% decline, Beyond Meat's worst day since the debut.

Last week, the company reported quarterly earnings for the first time since the IPO, fuelling optimism among investors when it said sales would exceed $210 million this year, topping analysts' estimates. It also said earnings before interest, taxes, depreciation and amortization would break even, compared with projections it would have a loss. The results reinforce that consumer demand for alternative meat products is on the rise.
After seeing such an impressive move on the upside since the IPO, when I saw a Beyond Meat Burger on the menu of my club's restaurant this afternoon, I thought I had better taste one. It was good and certainly competes favourably with the de rigeur beef patties at most fast food outlets. I would hasten to add however that it pales in comparison with the gourmet burgers on offer in London and much of Europe. The cost on the other hand was on par with any average burger and that is an important part of its appeal.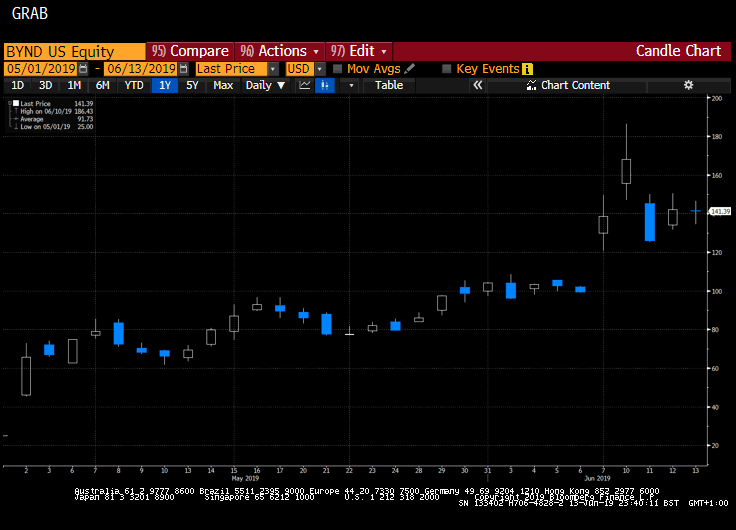 There is no doubt a lot of good news has been priced with a 400% rally since inception. Following the blowout move last week some consolidation now appears to be underway and if this is just a consolidation the $100 should hold.
CloudStrike is another venture-backed loss-making company close to IPO. The cybersecurity sector was among the first to adopt a subscription business model which is a positive. With insurance companies becoming increasing argumentative about paying out on cyber breech policies, there is a clear bullish argument for the sector. The downside is it is already highly competitive. CloudStrike is 100% dependent on Amazon's AWS backend and therefore needs its customers to all also use the Amazon cloud. That probably better for Amazon than the new company in much the same way Google benefitted from the growth of Snapchat.
Back to top