Berlusconi Says League Plotting Government With Five Star
This article by John Follain for Bloomberg may be of interest to subscribers. Here is a section:
The accusation threatens to shatter the parliamentary group that won the most seats in the inconclusive March 4 general election. Both Matteo Salvini of the League and Luigi Di Maio of Five Star have claimed the premiership although they are short of a majority.

Lawmakers in each house of parliament started voting Friday to elect speakers, a clue to possible new alliances in the search for a government with a working majority.

Forza Italia had selected former minister Paolo Romani as its candidate for the Senate job, but Salvini's senators voted against him. Salvini's decision is seen by Forza Italia as yielding to Five Star, which had ruled out backing Romani or any candidate with a judicial conviction. Romani has been convicted of embezzlement, an offense he denies.

Salvini said the League's choice was "a courageous and generous help to the coalition" to break a political deadlock, in remarks quoted by newswire Ansa.

Salvini and Di Maio have taken the lead in attempts to broker a deal over the speakers. The ballots could run until early next week after several rounds of voting on Friday produced no result.
These two maps of Italy, one with the income dispersion, the other with the geographical support for the various parities give us two clear conclusions. The first is that the poor people voted for the Five Star Movement. The other is by arranging a coalition between the centre right and the Five Start Movement just about the whole country is represented. Quite whether the revolutionary party is willing to share power, and therefore become more conventional, is still open to question.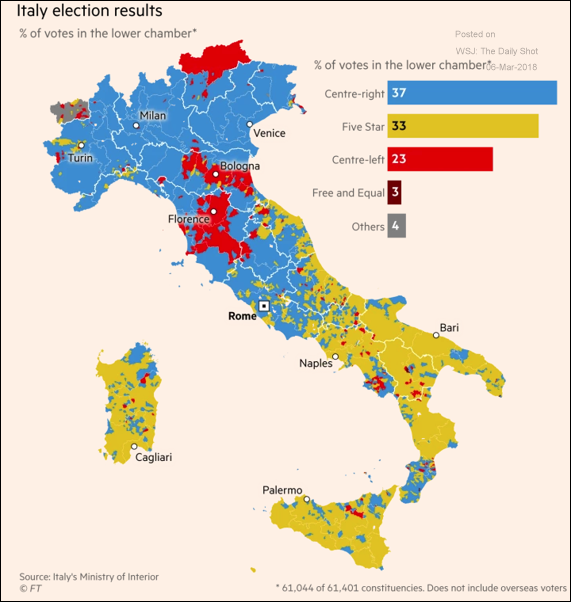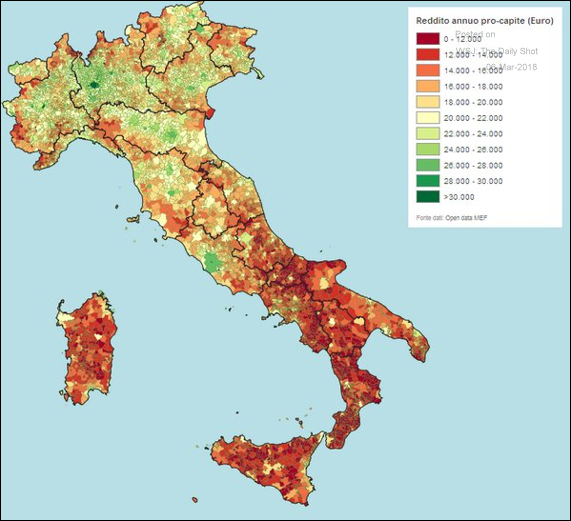 The ECB is actively intervening to support Italian government debt. The 10-year yield closed at new reaction lows on Friday, almost a full percentage point below US Treasuries and the spread over German Bunds continues to trend lower.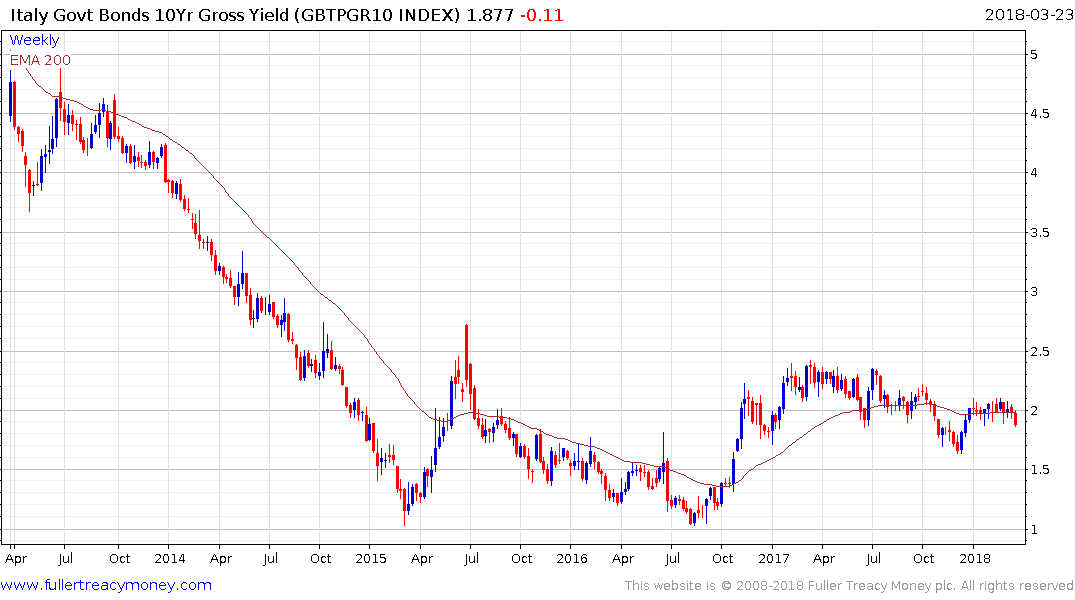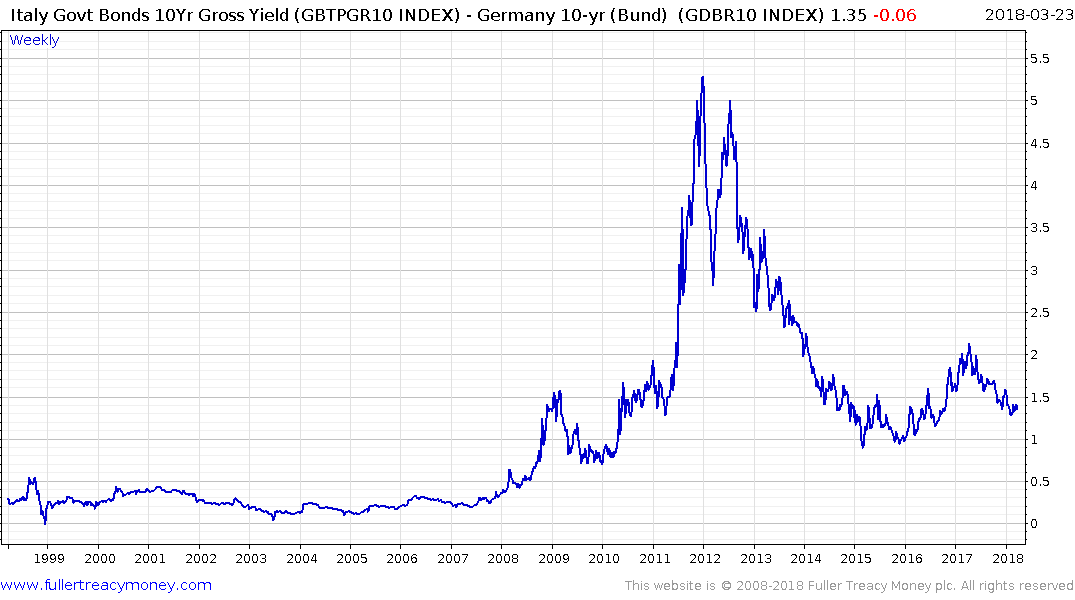 The Italian stock market Index has been ranging below 25,000 since 2009 and pulled back to the region of the trend mean over the last couple of months. It will need to hold the 22,000 level if support building is to be given the benefit of the doubt.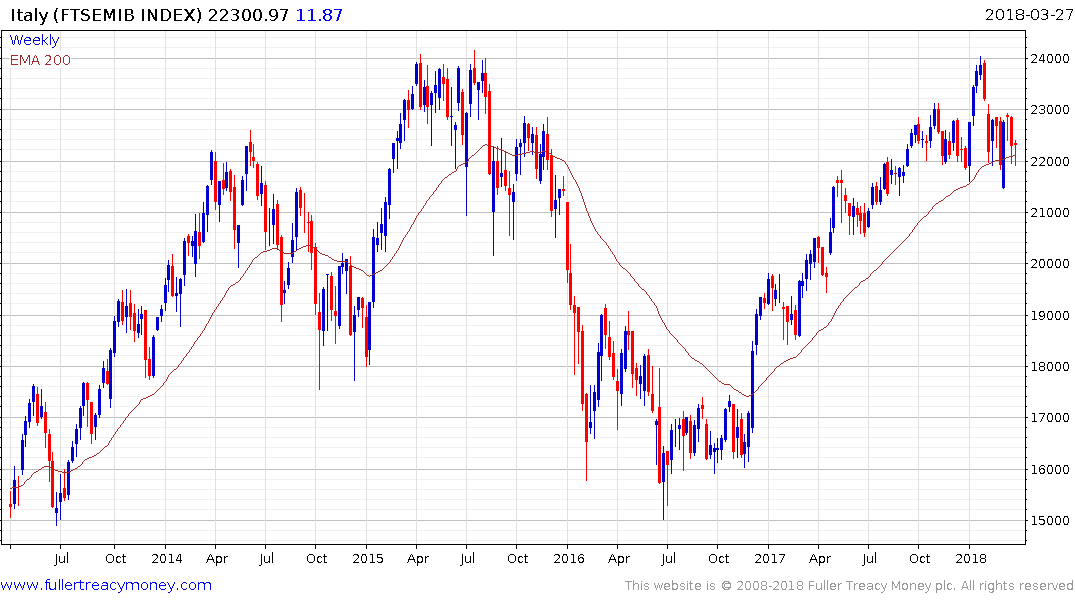 Back to top