Banks, Small Caps Power Stock Rally as Tech Drops
This article from Bloomberg may be of interest to subscribers. Here is a section:
Investors poured into financial assets that benefit from a stronger economy after Democrats looked set to take control of Congress, potentially unleashing a torrent of federal spending to revive growth.

Banks and energy producers led gains in the S&P 500 as the Russell 2000 Index of smaller companies climbed 3%. The Nasdaq 100 fell as traders sold out of high-flying stocks such as the Apple Inc. and Amazon.com Inc. The Dow Jones Industrial Average outperformed.

Democrats claimed one of the two Senate seats contested in Georgia and led in the other tight race. Two wins would give President-elect Joe Biden's party control of Congress and smooth the path for some of his spending policies. That's fueled bets that increased stimulus will boost the economy and spark inflation. The 10-year Treasury yield powered past 1% for the first time since March, and the dollar fluctuated after earlier weakening toward a six-year low.

"The growth-into-value rotation may be reinforced after the results of the Georgia Senate election amid the prospect of a higher fiscal stimulus bill and steeper yield curve, which would benefit banks and other non-tech companies," David Bahnsen, chief investment officer of the Bahnsen Group in Newport Beach, California, wrote in a note to clients.
Control of the Senate will give the Democrats greater power to remake policy. It won't all be plain sailing since such a slim majority will require total unanimity but it certainly means they will have an easier time passing spending measures. If debt financing and Modern Monetary Theory were likely before, they are doubly so today.
This is good news for banks. The benefit from a steepening yield curve and a potential uptick in demand for credit. They are also much better capitalised following this recession than in 2008 so they have scope to re-engage with credit creation.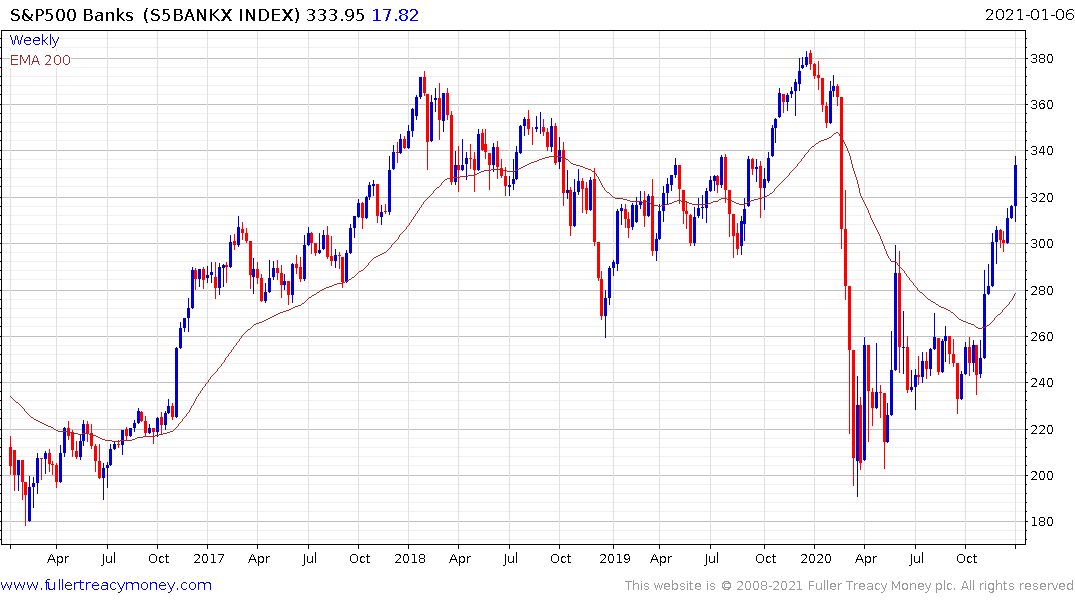 The S&P500 Banks Index surged higher to reassert its recovery. Stocks like Morgan Stanley and Goldman Sachs continue to lead the way higher.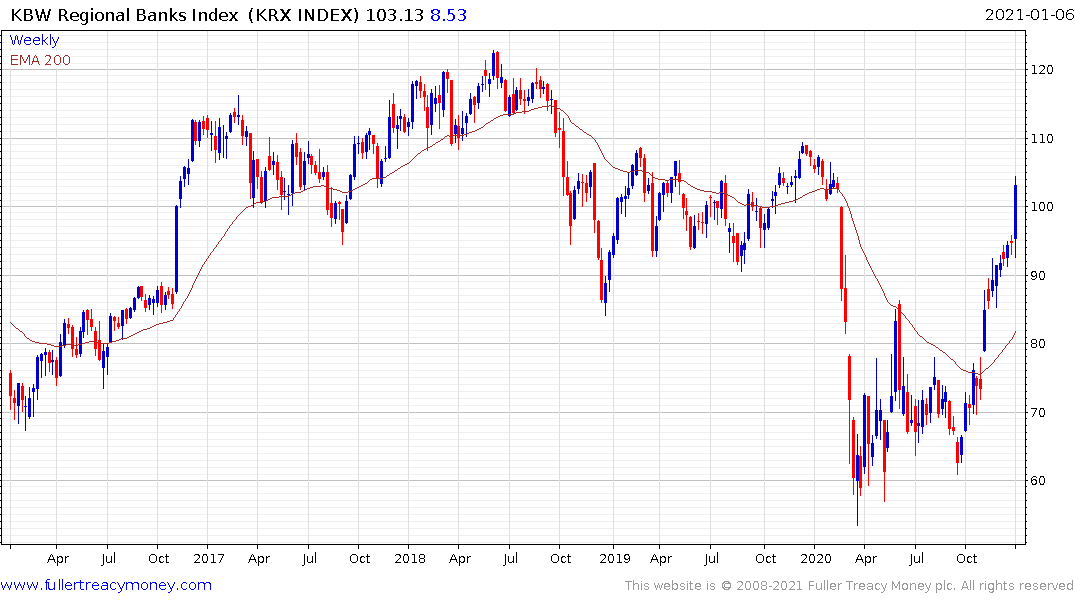 The KBW Regional Banks Index has also been resurgent and extended its advance today.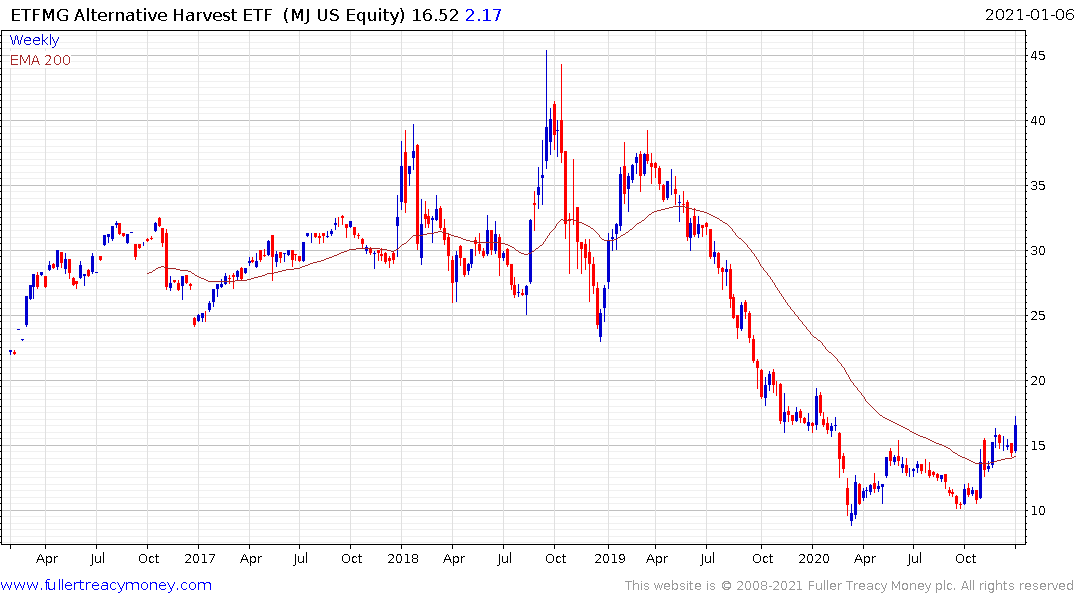 It was also good news for cannabis stocks since a Democrat controlled government is much more likely to ease the Federal prohibition on the sale of the herb. The Alternative Harvest ETF broke out of its nine-month base formation today.
There was initial enthusiasm among building supply companies but the big question for any construction project is usually centred on financing. With higher bond yields some of the most speculative ventures may not get off the ground.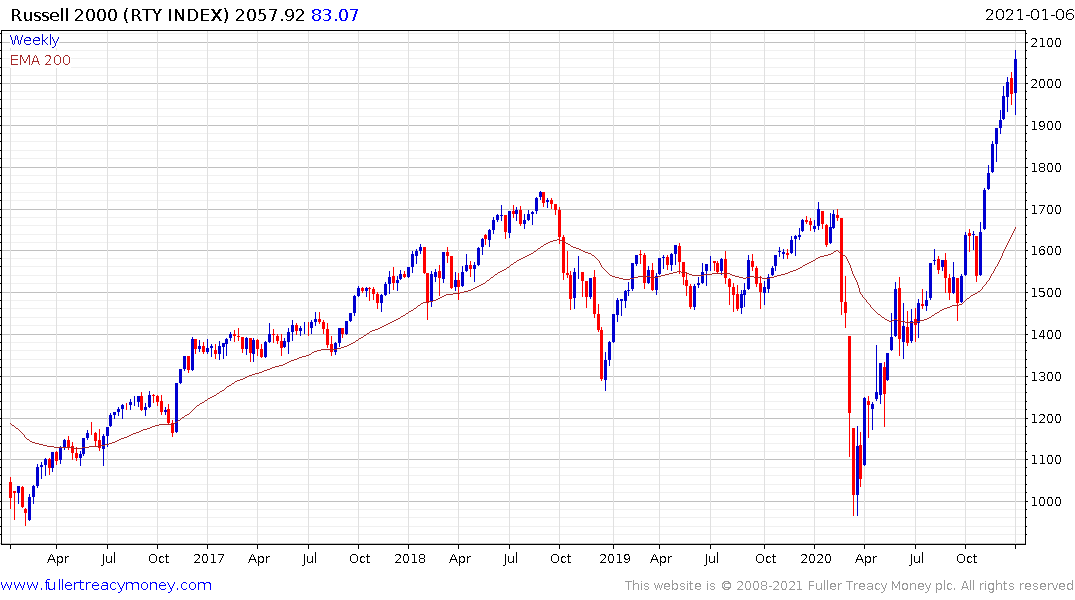 Meanwhile small caps continue to outperform as reflation and additional spending measures are likely to support the wider economy. The Russell 2000 is outperforming on a nominal and relative basis.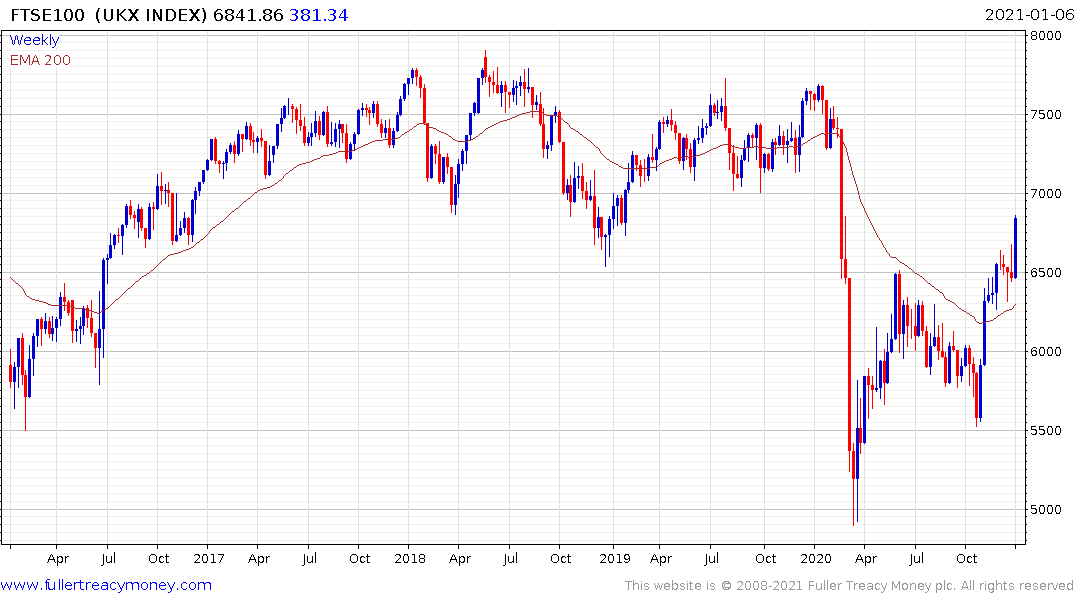 As bets are placed on global reflation the FTSE-100 is among the best performing indices. A good part of the reason for that is it is loaded with globally oriented companies that tend to be cyclically tuned to global growth.
Back to top