Banks Leading Bond Sales Surge in Europe as Credit Risk Declines
This article by Katie Linsell for Bloomberg may be of interest to subscribers. Here is a section:
Bond supply has started in earnest in 2014 in financials, said Jeroen van den Broek, a strategist at ING Bank NV in Amsterdam. "Borrowers know that rates are low at the moment and there's a lot of demand out there. It's almost a perfect scenario so what's the upside in waiting"

UniCredit's notes will be priced to yield 170 basis points more than the benchmark mid-swap rate, according to the person familiar with the situation. The bank is raising the debt as part of a funding plan and due to "the strong market backdrop," Waleed El-Amir, the bank's Milan-based head of strategic funding, said in an e-mailed statement. "Funds are for general corporate purposes."
While US corporations have had free rein to access the capital markets since at least 2009, European institutions have been hindered by the sovereign debt and banking crises as well as fears for the sustainability of the Euro. However, as these concerns recede, investors with liabilities in Euro, such as pension funds, need to manage their duration; suggesting latent demand for debt.
Since the use of debt to optimise balance sheets has been such a powerful tailwind for US equities there is considerable scope for a similar trend in Europe if the appetite for new issues continues to improve.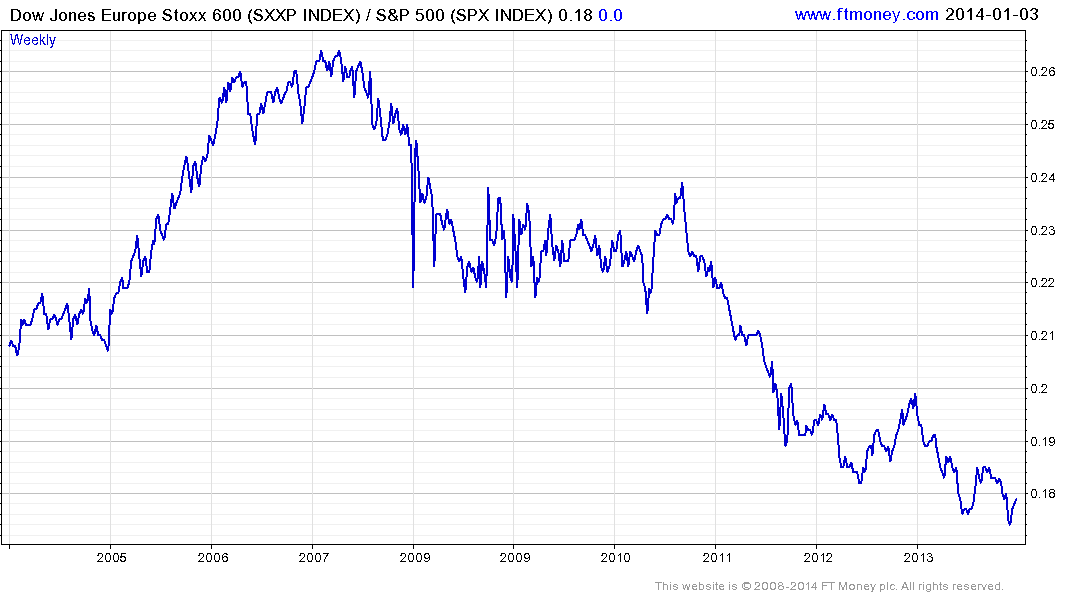 The Dow Jones Europe STOXX 600 has underperformed the S&P500 since at least 2007 but the relative downtrend has lost downward momentum over the last year. A break in the medium-term progression of lower rally highs with a sustained move above 0.19 would suggest a return to outperformance by the STOXX 600.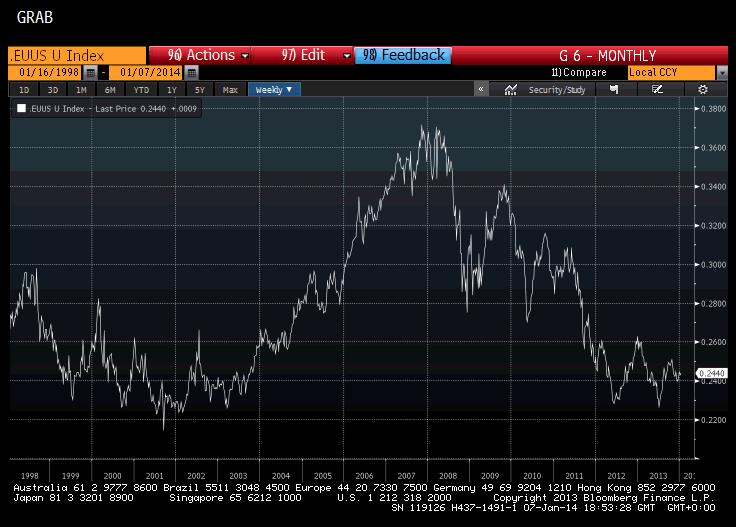 In order to get a truer comparison I created a ratio of the Stoxx 600 rebased to US Dollars then divided by the S&P500. This chart illustrates a much more pronounced relative base formation for European shares but no evidence yet that it has been completed.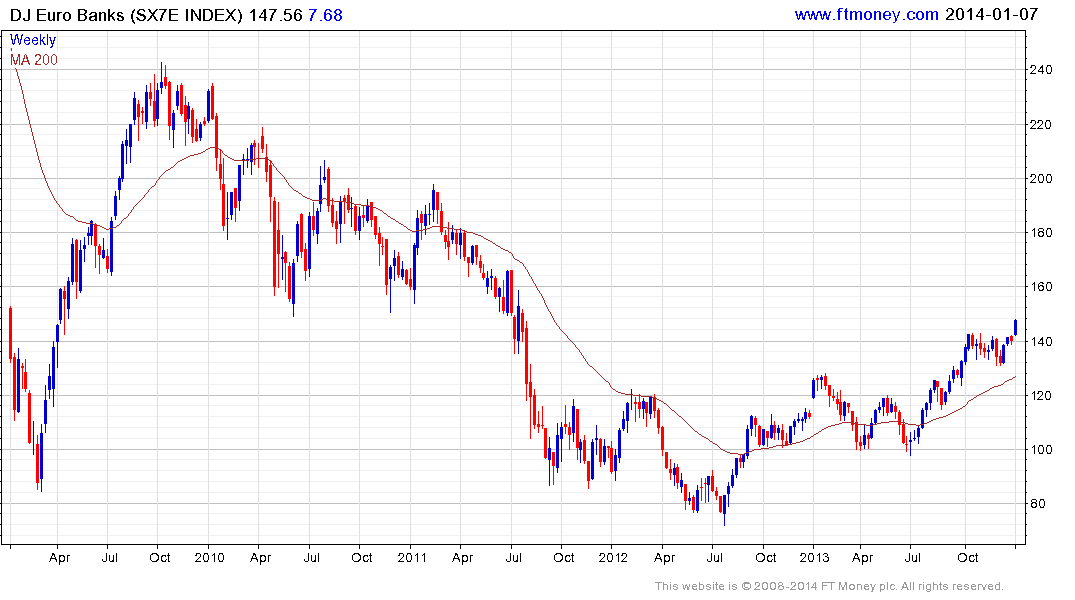 The Euro Stoxx Banks Index was particularly noteworthy today, breaking out of a three-month range to affirm medium-term demand dominance. Italian listed Unicredito Italiano, Intesa SanPaolo and Mediobanca, French listed SocGen and Credit Agricole, Spanish listed BBVA and Santander and UK listed Lloyds TSB all share this pattern.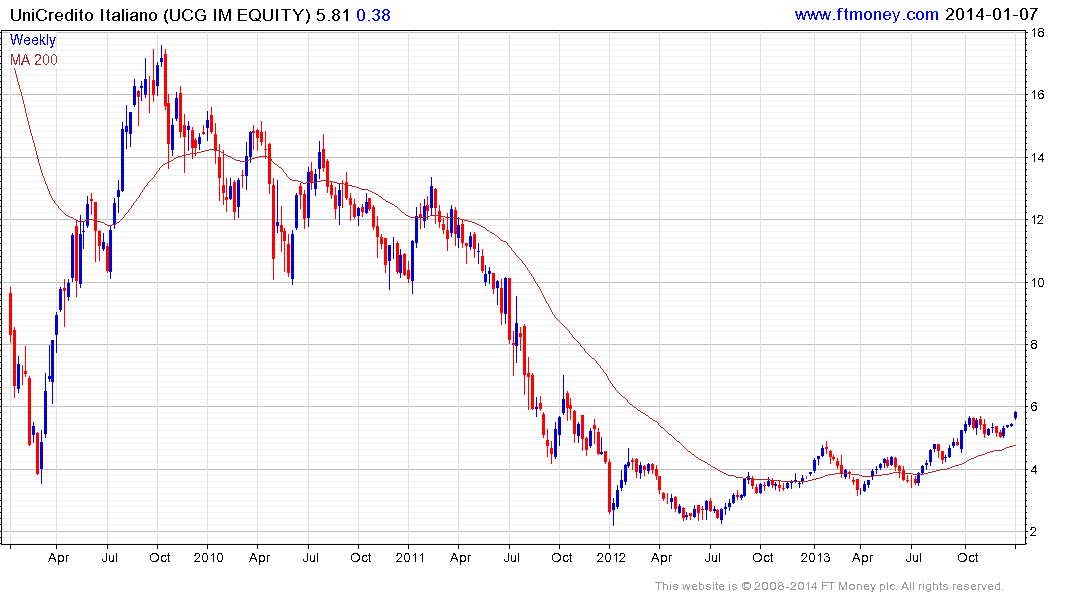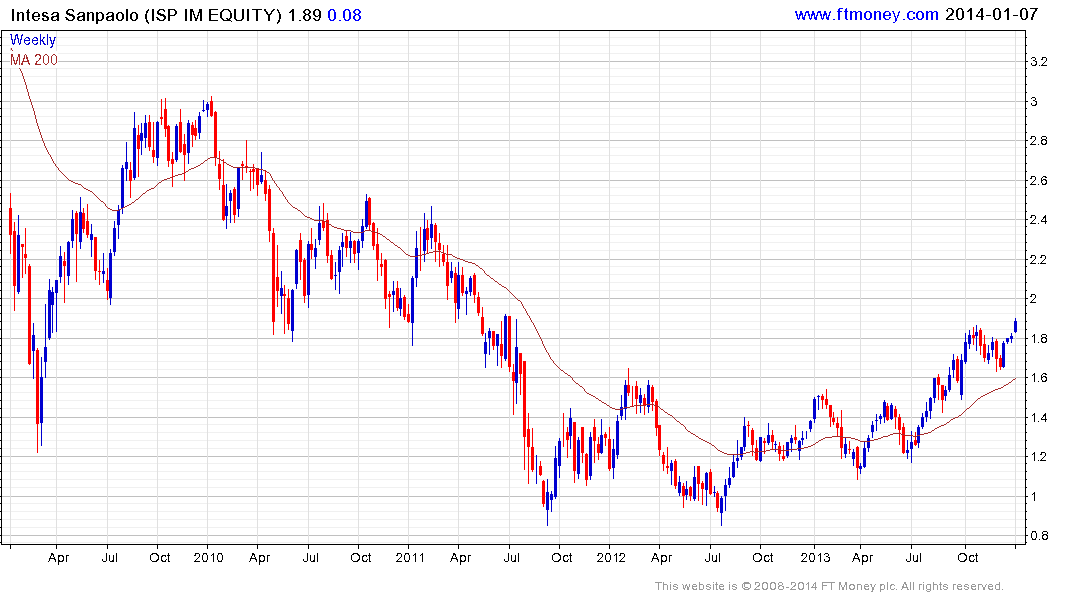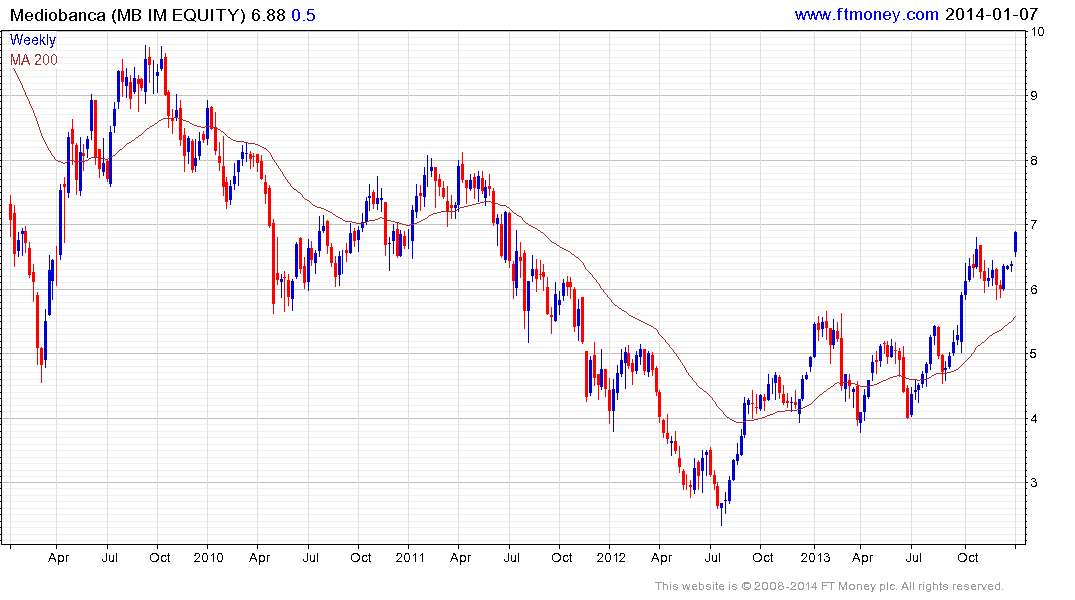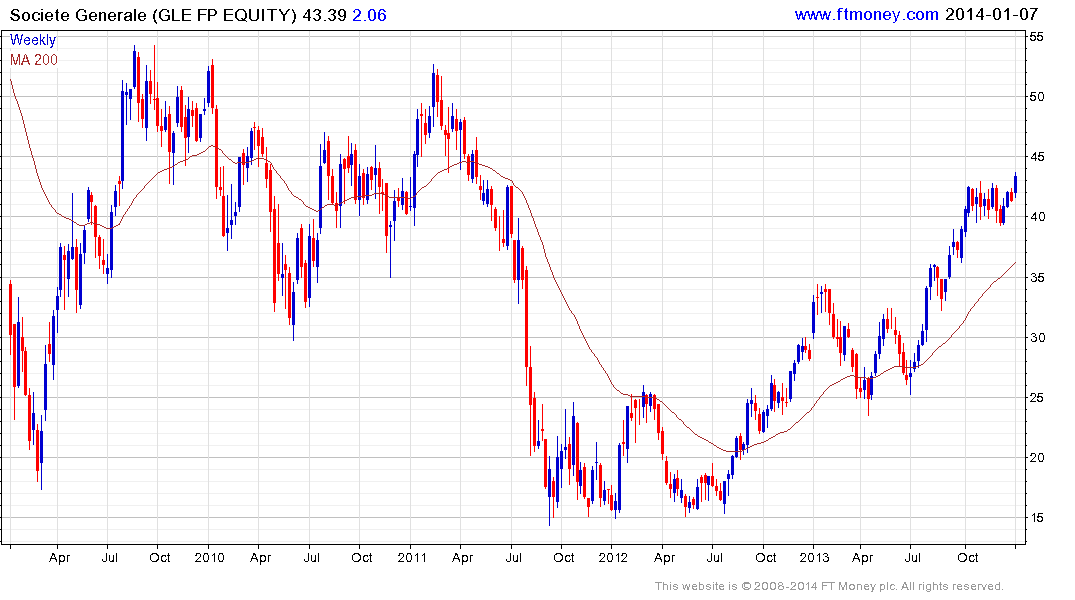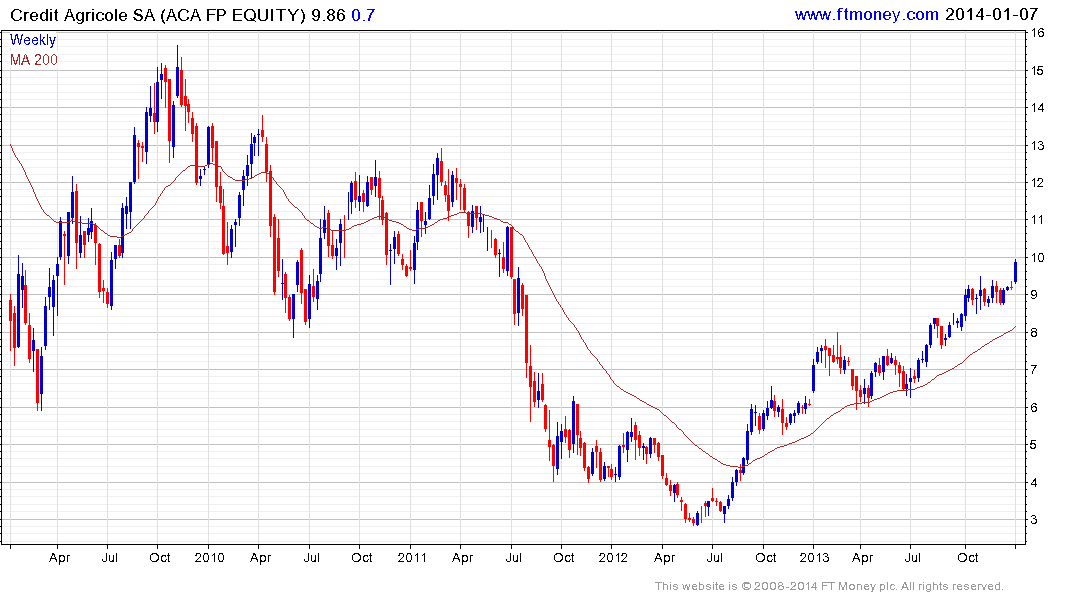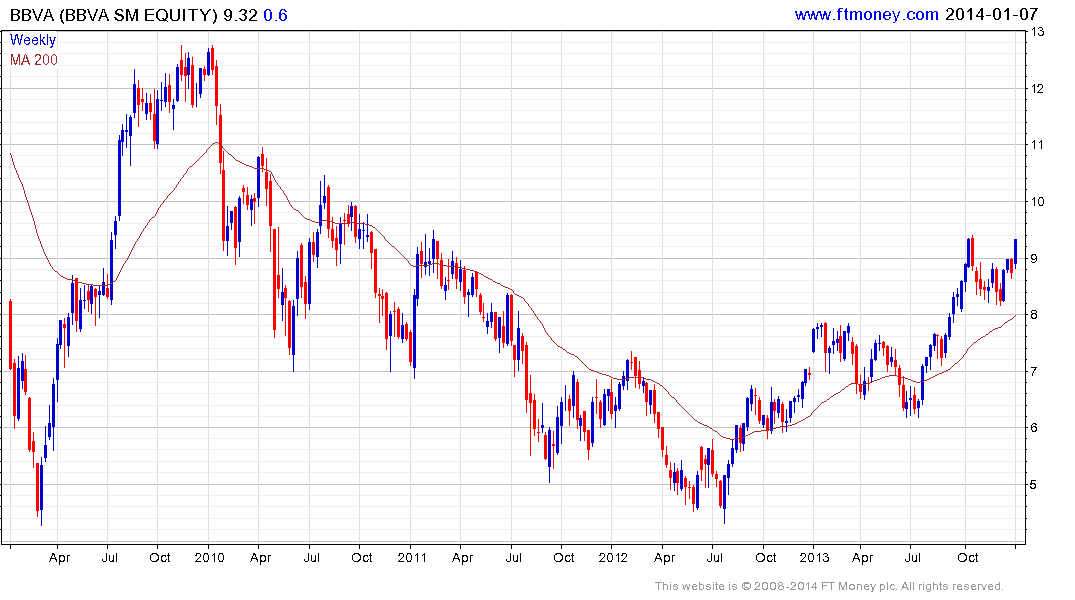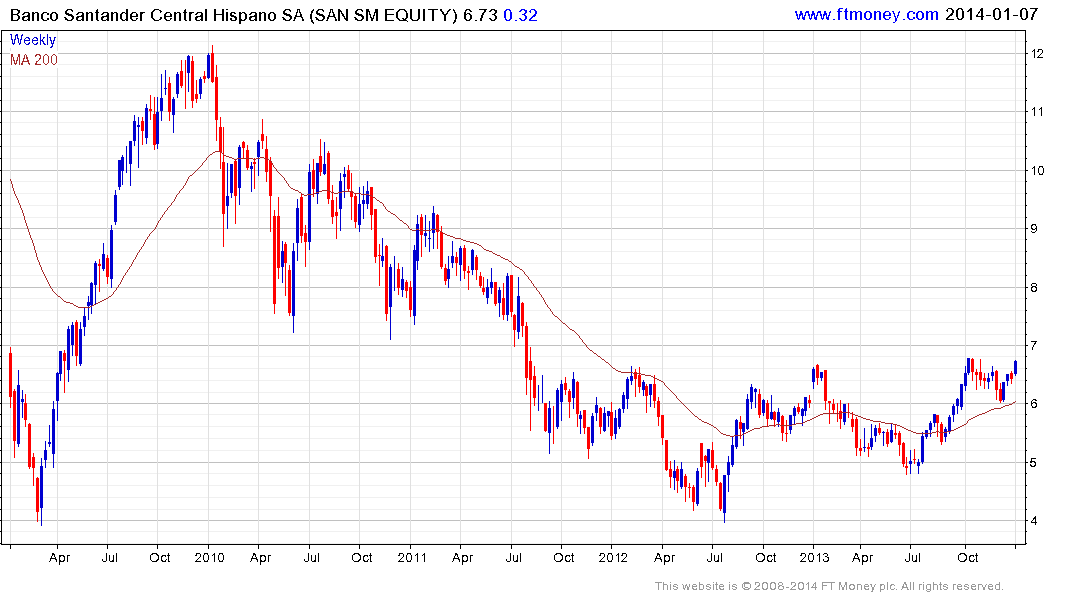 Back to top