Baidu brings its search engine to Brazil
This article by Jordan Novet for venturebeat.com may be of interest to subscribers. Here is a section:
Brazil's flavor of the Baidu search engine went live this morning, giving it a presence in one of the growing BRICS countries and helping it stand out more against competitors like Google, Yahoo, and Microsoft's Bing. The Baidu search engine has also popped up in Egypt, Japan, and Thailand.
​
The Brazil rollout comes a couple years after Baidu opened up shop in Brazil. Next up, we can imagine an operational Baidu search engine in the United States, the home of the top search engines in the world.

After all, Baidu co-founder and chief executive Robin Li harbors ambitions of making the company a brand name in half of all countries in the world, according to a 2011 report in PCWorld.

Baidu opened a lab in Silicon Valley two months ago. Artificial intelligence smarts for a U.S. version of the Baidu search engine could certainly be possible, given that Baidu hired Andrew Ng, founder of Google's deep-learning project and director of Stanford's artificial intelligence lab (and a co-founder of massively open online course provider Coursera). And the Baidu lab is hiring.
One of the arguments levelled against China's development strategy has been that the command capitalism it has championed stifles entrepreneurship. Compared to the private sector led growth of India, China has relatively few internationally competitive companies. However, that situation is gradually changing. India's new administration looks likely to espouse a wide ranging infrastructure development strategy while China's companies are increasingly making their presence felt on the international stage. Baidu is a good example of this.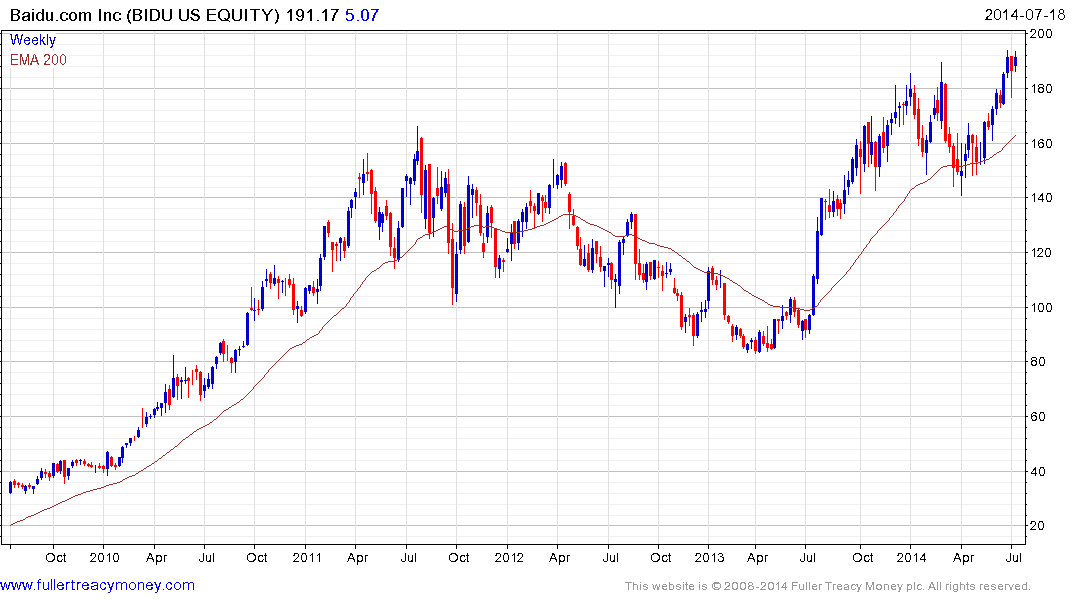 The share returned to form from July last year when it rallied to break a two-year progression of lower rally highs. It has been consolidating in the region of the prior peak for most of this year and broke out to new highs in June. A sustained move below the 200-day MA, currently near $160, would be required to question medium-term scope for additional upside.

As mobile connectivity and 4G phone networks go global, the success of search companies in making sure their portal becomes the destination of choice for hundreds of millions of new consumers will be a determining factor in how successfully they grow.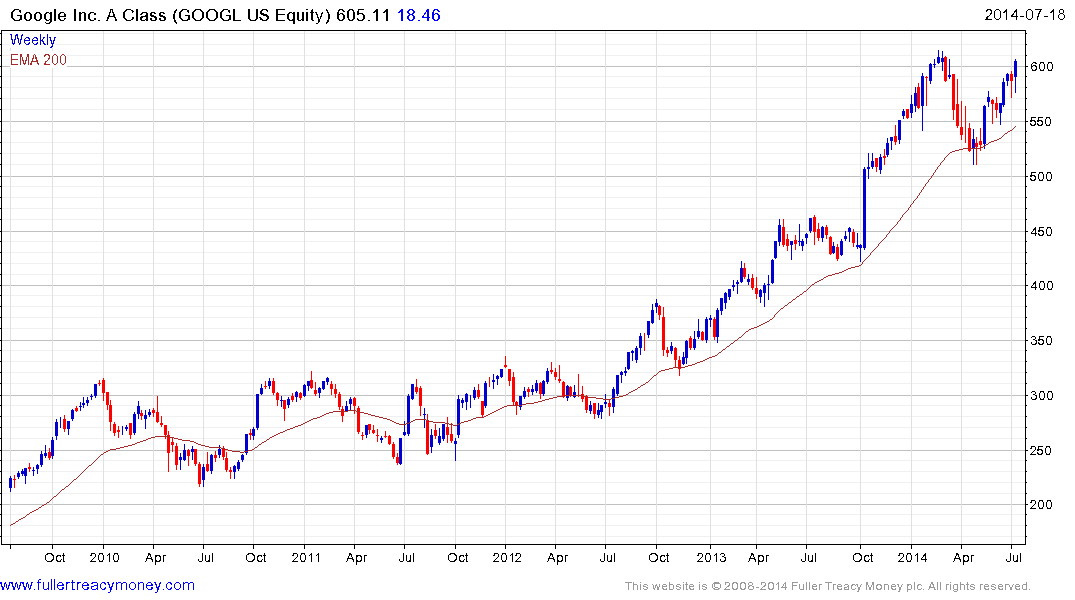 Google remains in a reasonably consistent uptrend.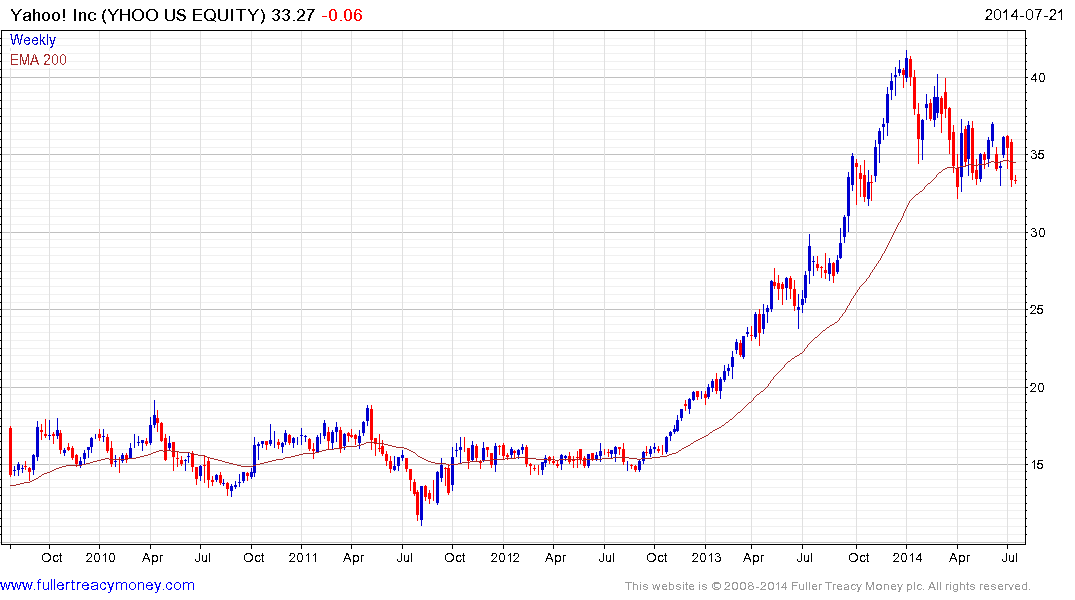 The windfall Yahoo is likely to receive from Alibaba's IPO has been priced in over the last year and investors have refocused on the company's core business. The share hit a medium-term peak in January, having been among 2013's top performers, and has returned to the region of the 200-day MA. It will need to continue to hold the $32 area if medium-term potential for additional higher to lateral ranging is to be given the benefit of the doubt.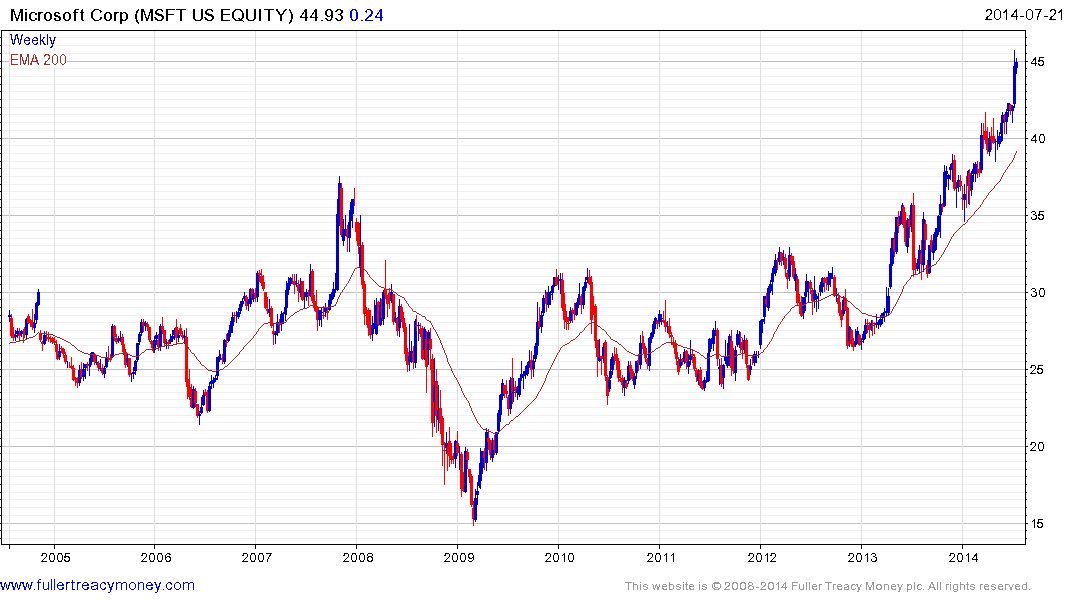 Microsoft, under new management, remains on a recovery trajectory.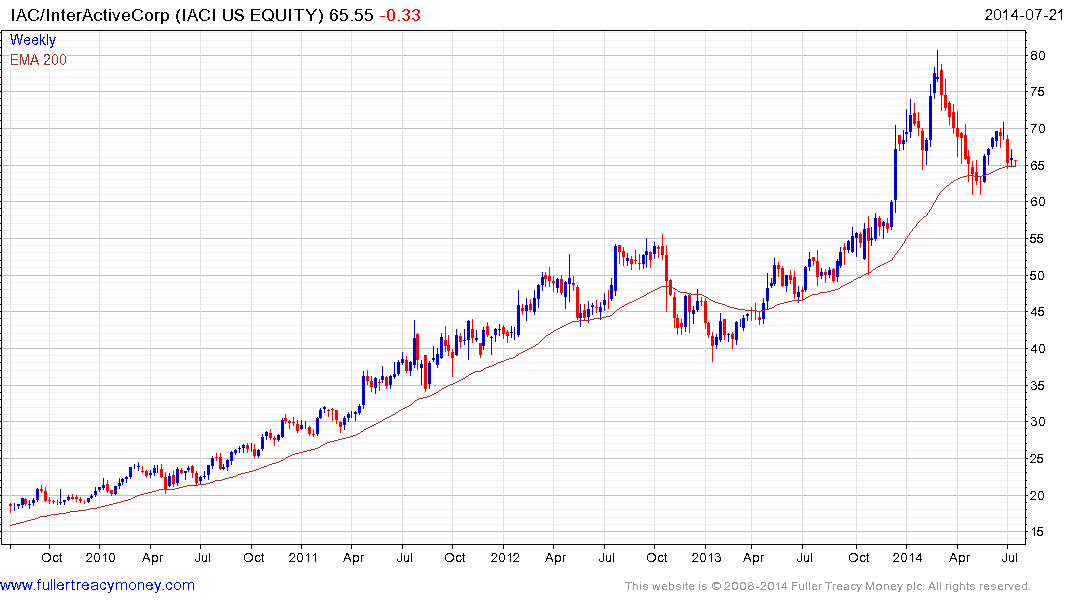 IAC/InterActive Corp (ASK.com) hit a medium-term accelerated peak in February and has returned to test the region of the 200-day MA. It will need to hold the $60 area if the medium-term uptrend is to be given the benefit of the doubt.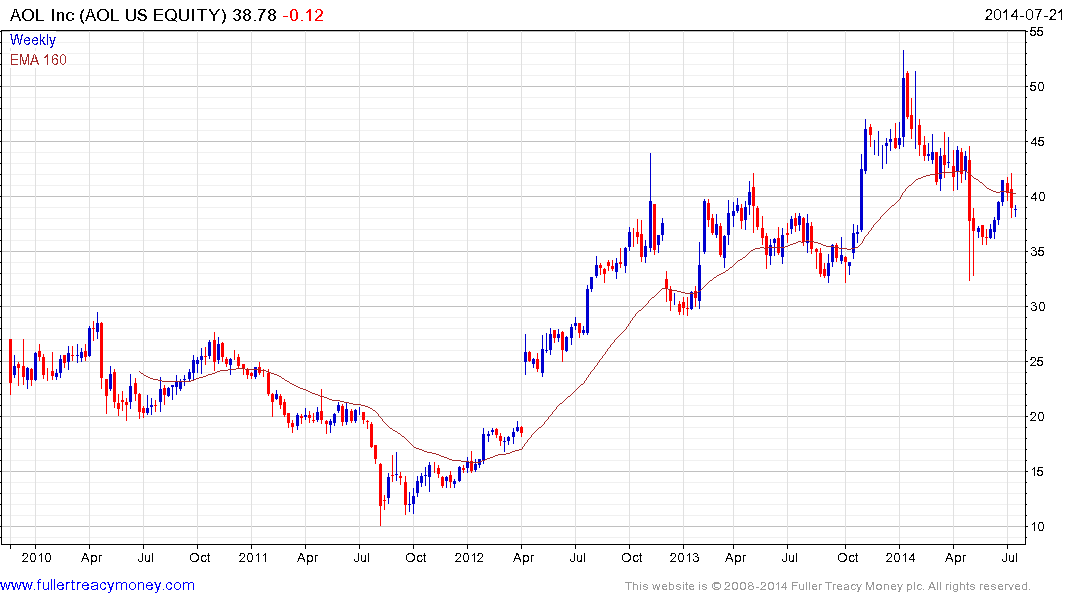 AOL encountered resistance in the region of the 200-day MA last week and will need to sustain a move above $42.50 to offset current scope for additional lower to lateral ranging.
Back to top