Australia to join China-led bank despite US opposition
This article by Jamie Smyth for the Financial Times may be of interest to subscribers. Here is a section:
Australia plans to join the Asian Infrastructure Investment Bank, it said on Sunday, reversing a previous decision to stay out of the China-led institution. But it has placed conditions on its future membership of the bank in an attempt to mollify concerns expressed by its main military ally, the US.

​"The government is today announcing it intends to sign a memorandum of understanding on the Asian Infrastructure Investment Bank, which would allow Australia to participate — as a prospective founding member — in negotiations to set up the bank," the prime minister's office stated.

The decision followed moves this month by the UK, France, Germany, Italy and South Korea to join the AIIB. US officials have privately urged allies to stay out of the new bank, at least until Beijing addresses concerns about governance standards. Some in Washington view China's launch of the AIIB as an effort to undermine the influence of the US-based World Bank.

On Saturday, Russia's first deputy prime minister, Igor Shuvalov, said his country plans to join the AIIB. Denmark, Brazil and the Netherlands will also participate, China's finance ministry said at the weekend.
Here is a pdf of the story.

Money talks. Additionally, Europe needs investment and the ear of an emerging superpower. It was a miscalculation on the part of the White House to so vocally oppose participating in the Asian Infrastructure Investment Bank (AIIB) not least as it is quickly gaining critical mass without countries insisting on more detail regarding how it will function.

To date, China's overseas infrastructure deals, often in return for access to resources, have tended to be one sided, carried high interest rates and there have been issues with accessing funds. It remains to be seen just how the AIIB will function but it is looking increasingly likely that it will be able to do so with the full backing of countries that pride themselves on their high standards of governance.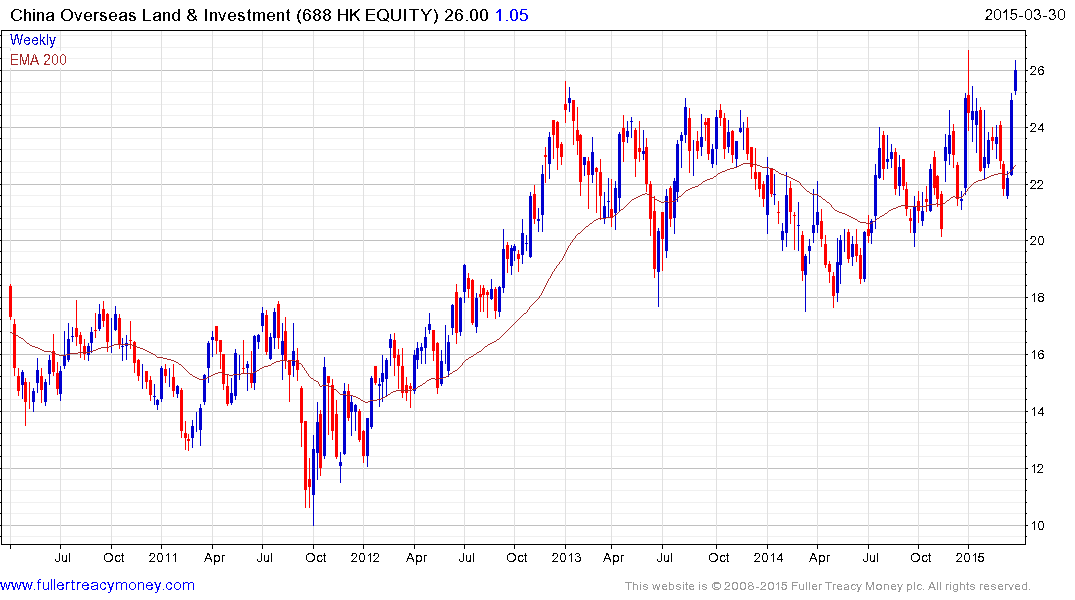 As a Chinese investor in overseas properties China Overseas Land & Investment (P/E 7.86, DY 2.12%) is a potential beneficiary of additional Chinese investment in Asian infrastructure. The share is breaking out of a two-year range and a clear downward dynamic would be required to question potential for additional upside.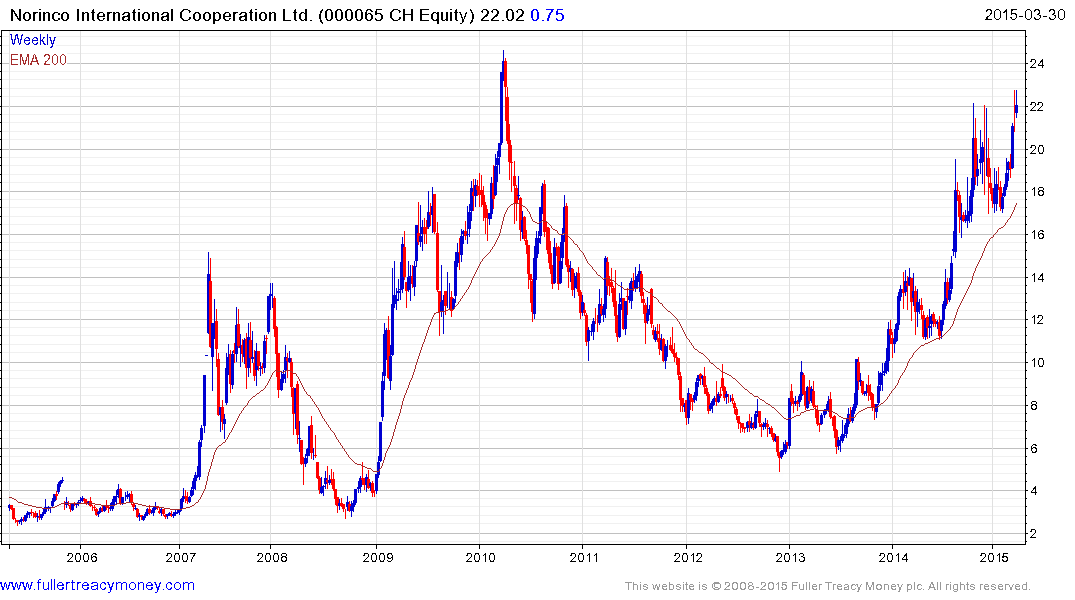 Norinco International Corp is listed on the mainland and is a major state owned infrastructure company that generates the majority of its income overseas not least Africa. The share remains in a consistent medium-term uptrend and a sustained move below the 200-day MA, currently near CNY18 would be required to question potential for additional upside.
Back to top