Asymptomatic Spread Has Become Oddly Controversial
This article by Faye Flam for Bloomberg may be of interest to subscribers. Here is a section:
"What we found," she says, "was actually similar to what WHO said." Asymptomatic people can transmit the disease to others — the risk is not zero. The so-called attack rate, which measures the fraction of contacts infected was, in high-risk settings, less than 1% for asymptomatic cases versus 75% for those showing symptoms. Among members of the same household, the attack rate was 15% for symptomatic cases and 2% for asymptomatic ones. She and colleagues published their conclusions as a response to the Annals of Internal Medicine article.

"As a clinician, this really bothers me because we really have to get this right," she says. That means getting a better handle on the range of symptoms — including the inability to smell, which happens in as many as 60% of mild cases. It means making sure people recognize these symptoms, stay home, and ideally, allow contact tracers to stop chains of transmission.

A paper published last week in the Proceedings of the National Academy of Sciences conclude that isolating sick people isn't enough, and that's true. But tracing their contacts and isolating them seems a better option than giving up in defeat.

Many countries from Japan to Ethiopia have been successfully stopping chains of transmission this way. Ultimately, science can't tell people what to do. There should be a political side to deciding how to balance risk of death and quality of life, health hardship and economic hardship. Those are value judgements. But politicizing the science ensures the public will suffer the worst of both.
How COVID-19 is contracted and containing the spread are two separate but related topics. I go to the post office every day. I wear a mask and wash my hands with sanitiser as soon as I get back to the car. The people working in the post office wear masks and gloves and none of them have gotten sick. We are also not seeing large numbers of grocer store workers collapsing from infections. Therefore, it is reasonable to assume that even for people who are in high risk professions, who are indoors all day and constantly deal with the public, the spread has been contained.
So where are infections rising? It appears to primarily be between family members and among groups that do not take precautions. These are primarily the young, less well-off, less well-educated and rebellious portions of the population. Meanwhile deaths remain concentrated among older people who should be taking the greatest caution with their social interactions.
It is looking increasingly obvious that the virus cannot be eradicated easily. Therefore, the clearest policy initiative should be public education, clear messaging and some delineation between what is acceptable behaviour and what is not. Uncertainty breeds distrust and unfortunately that is the situation we are in for many countries today. That means some people are overly cautious, while others are opposed to any caution. It ensures that the drive towards a vaccine is the only viable solution, and even then, it will need a very well thought through public information campaign to overcome scepticism.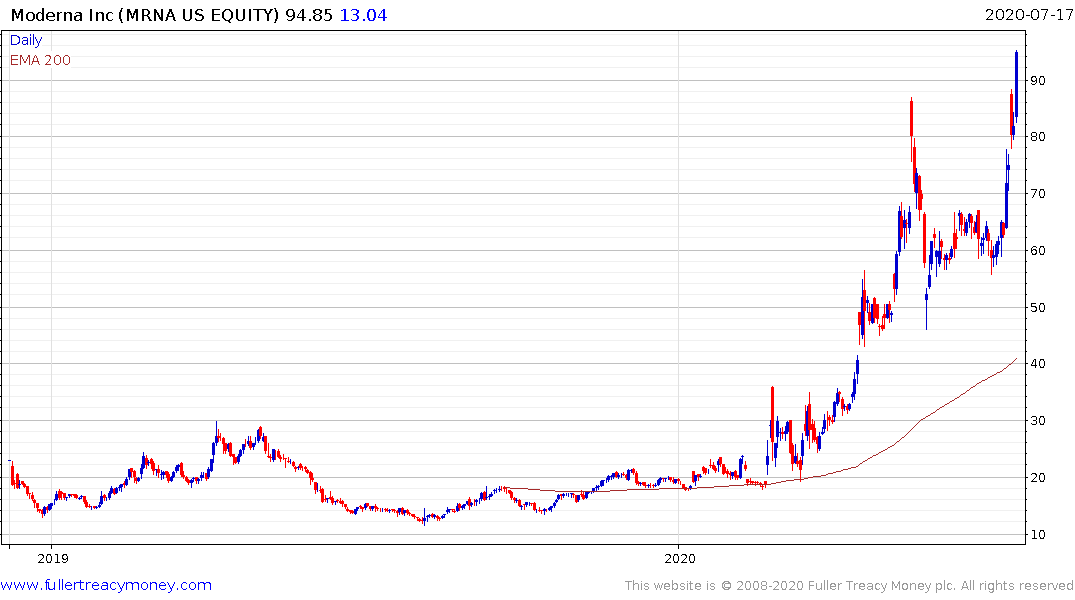 Moderna broke out to new highs today on speculation it will be among the first to market with a vaccine.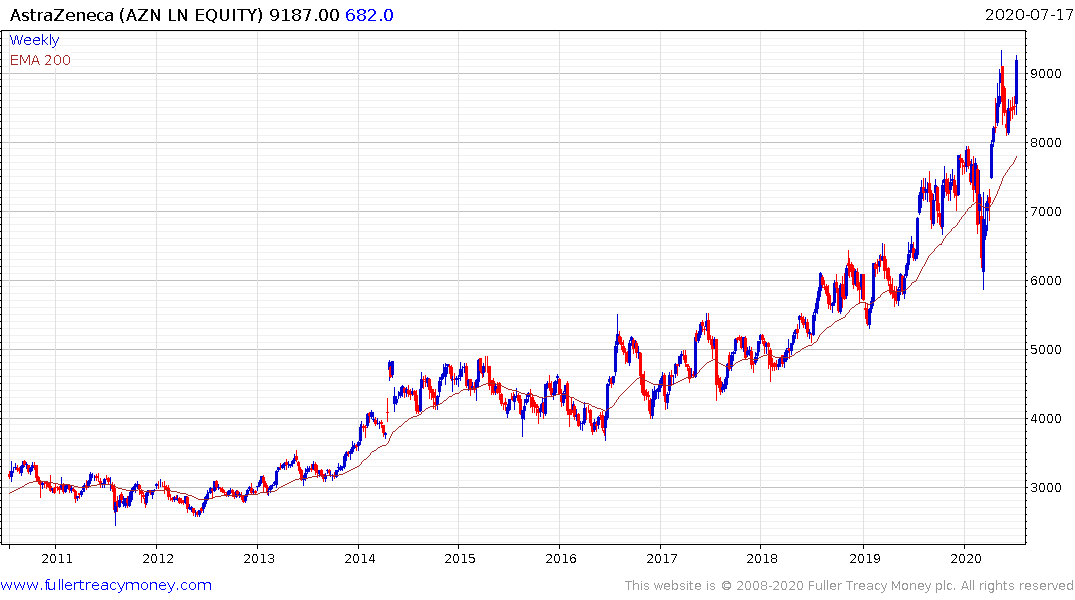 Astra Zeneca, which is cooperating with Oxford University, reversed yesterday's loss to hit a new closing high.
Back to top