ASML's Record Order Levels Show Chipmakers Are Stocking Up
This article from Bloomberg may be of interest to subscribers. Here is a section:
Chief Executive Officer Peter Wennink said that trend, which he called "technological sovereignty," will also boost orders. The company has historically underestimated how quickly the industry would grow in the past 15 years and Wennink said it's working to boost manufacturing to keep up.

"Clearly we've seen in 2021, the reaction of the industry at large, the electronic industry, to the Covid year," he said, predicting that "the catch up effect that will stretch into 2022."

ASML is also discussing ways of increasing supply capacity of both its new and older machines, including increasing headcount and floorspace. Longer term, demand will be driven by advanced chips needed to run artificial intelligence and high-powered computing as well as the proliferation of sensors needed for gadgets like connected home appliances.

The shares rose as much as 4.6% to 609.40 euros in Amsterdam. The stock has jumped 51% this year. That compares with a 20% gain on the Stoxx 600 Technology Index.

New technologies that will rely on faster 5G networks in devices from laptops to cars to home appliances will drive 35% growth in the company's logic business this year, as the less advanced chips that help run sensors in these devices see higher demand, Wennink said.
ASML has a monopoly in the production of chip manufacturing technology. That puts the company in a special position to benefit from increasing demand. With that kind of advantage one might reasonably ask what can go wrong?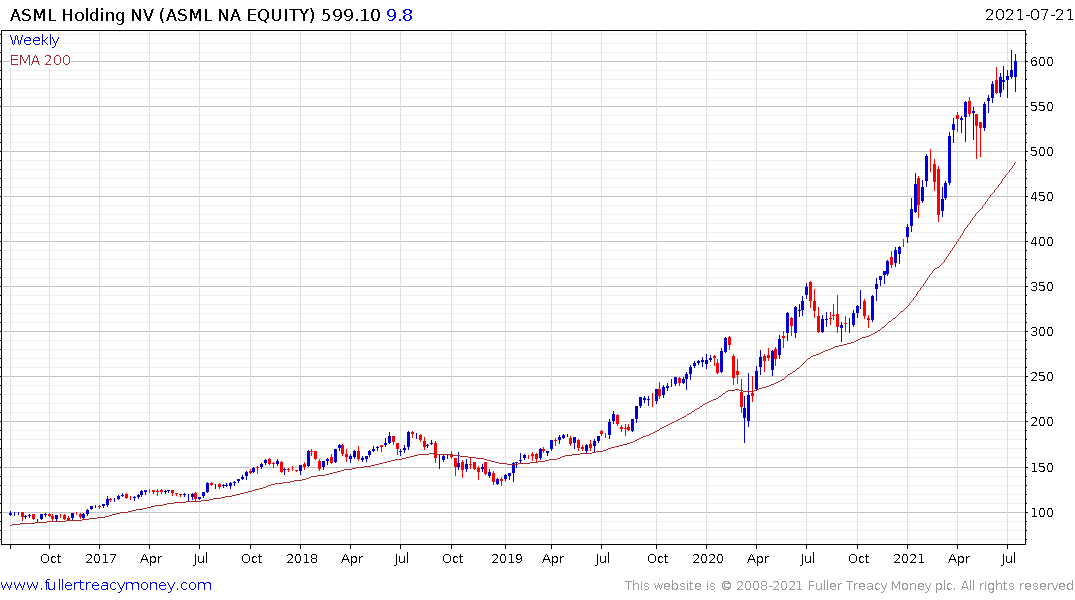 The valuation prices in demand growth will persist indefinitely. The surge in demand as a result of the pandemic certainly helps to support that view. However, this article interviewing Fred Hickey includes a cautionary piece of advice. Here is a section:
Their major customers bought too much inventory. When there are shortages, customers double and triple order. They do anything to get as much product as possible so their business is not affected. But at some point, they don't need any more chips, and they stop ordering. That's what's happening. They overbought, and now the demand is slowing down. Micron doesn't admit that, of course. But the stock is clearly telling you that something is very wrong.
The risk for the chip business is that 2020 was a replay of Y2K. That event greatly accelerated demand growth because everyone was panicked into thinking they needed to upgrade before the turn of the year. The difference with 1999 was the Fed was raising rates and beginning to express angst at the pace of the advance. That is not happening today.
Bull markets don't end because demand evaporates. They end when supply increases and overwhelms even increasing demand. That is what the semiconductor sector is shaping up for as hundreds of billions are devoted to building new factories.
As trends accelerate, this is the time to be most diligent with stops and monitoring trend consistency.
ASML remains in a steep but reasonably consistent uptrend. Over the last year there have been a series of reasonably similar sized ranges one above another. When the consistency of staircase sequence uptrend deteriorates it will represent a significant warning.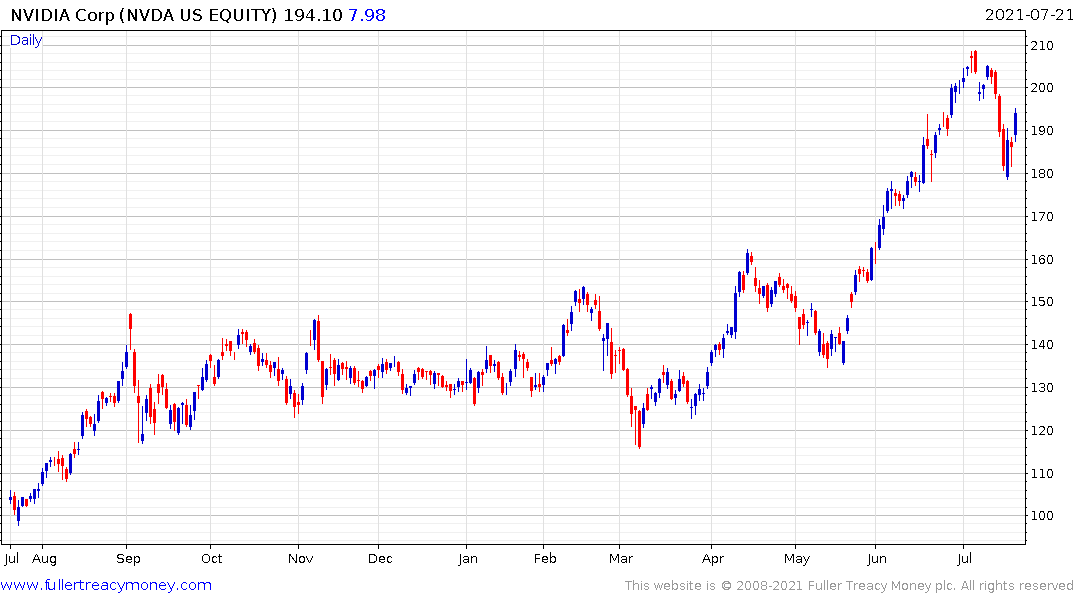 NVidia has held the breakout from its almost yearlong range. As long this week's low holds, the benefit of the doubt can continue to be given to the upside.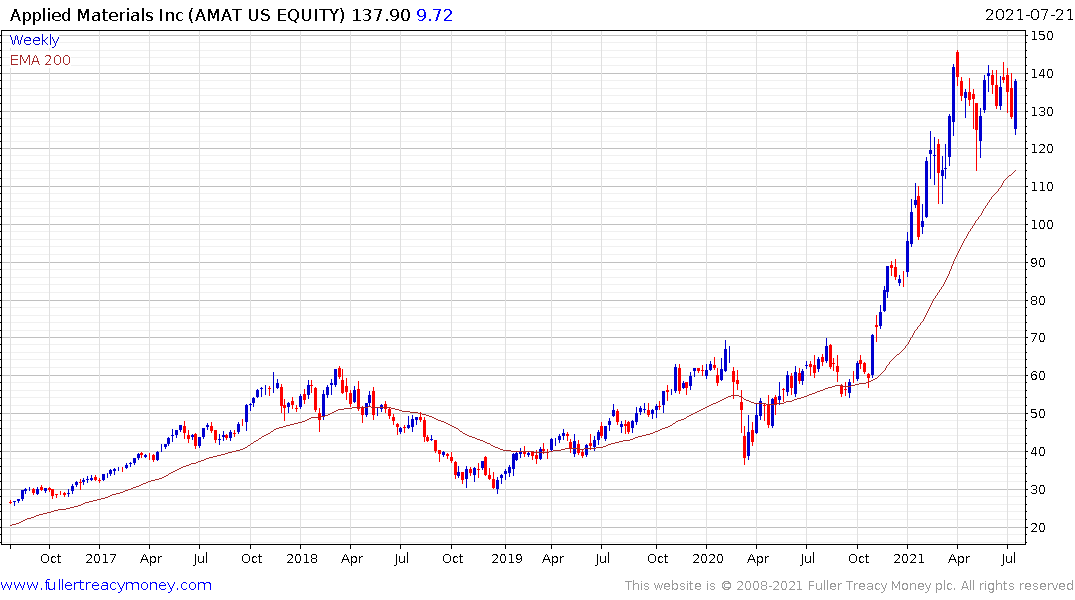 Applied Materials bounced impressively this week to post another higher reaction low but will need to sustain a move above $140 to confirm a return to demand dominance beyond the short-term.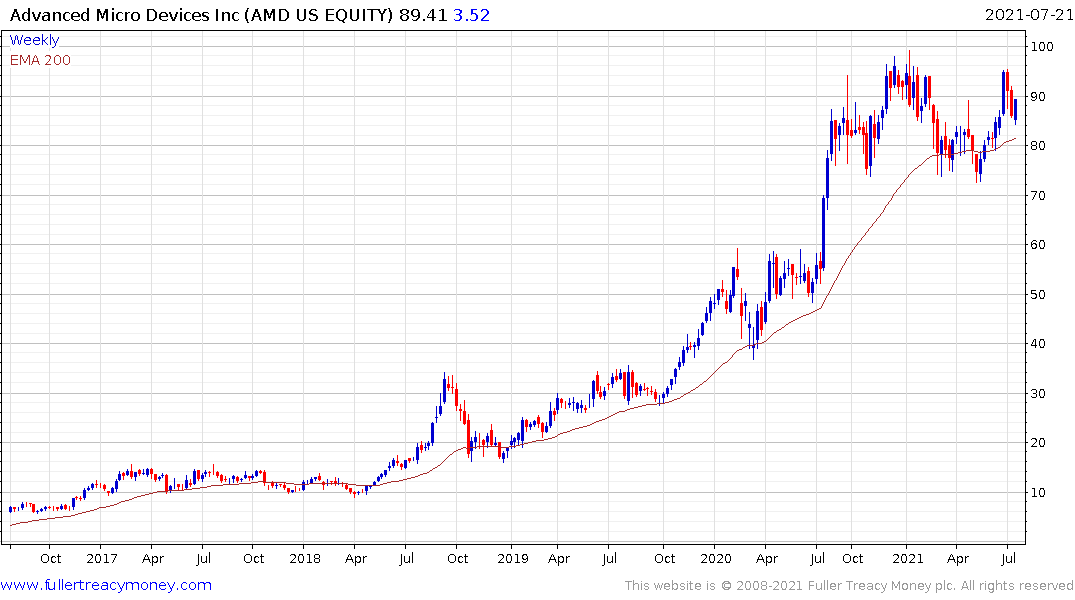 Advanced Micro Devices firmed today from the region of the trend mean.
Back to top