Asking Prices for London Homes Slump to Lowest Since 2015
This article by Lucy Meakin for Bloomberg may be of interest to subscribers. Here is a section:


London home asking prices fell to their weakest level in 3 1/2-years in January as sellers spooked by
Brexit held off putting their properties up for sale.

Asking prices in the capital slipped 1.5 percent from December to 593,972 pounds ($765,000), the lowest level since August 2015, according to Rightmove. New listings in the first two weeks of the year were 10 percent lower than in 2018 as owners were deterred by the cost of moving and concern about the political backdrop, the property website said.

After years of outsize gains in home values, London and its surrounding areas have so far borne the brunt of Brexit, with a lack of clarity over the future relationship with Europe causing both households and firms to hold off on investment decisions.

Listing prices in the capital have declined from a peak of almost 650,000 pounds in May 2016, the month before Britons voted to leave the European Union.

Nationally, values rose 0.4 percent to 298,734 pounds, with the biggest gains in the north of England. Rightmove's data is compiled from 70,068 properties put on sale by agents across the country from Dec. 9 to Jan. 12.

A separate report by Acadata, which incorporates all house transactions, showed national home prices rose 0.6 percent in the year to December. Excluding London and the south east, values climbed 1.4 percent.
There was another news story today on how Citadel Investment Management's CEO Ken Griffin paid, a discounted £95 million, for 3 Carlton Gardens which is about half a mile of open park land from Buckingham Palace.
I am reminded of The Chart Seminar 18 months ago when a very successful South African delegate said he was in London scouting for properties and had decided to fold the seminar into his trip. His conclusion was that Brexit had likely thrown up some bargains that would not quickly be repeated.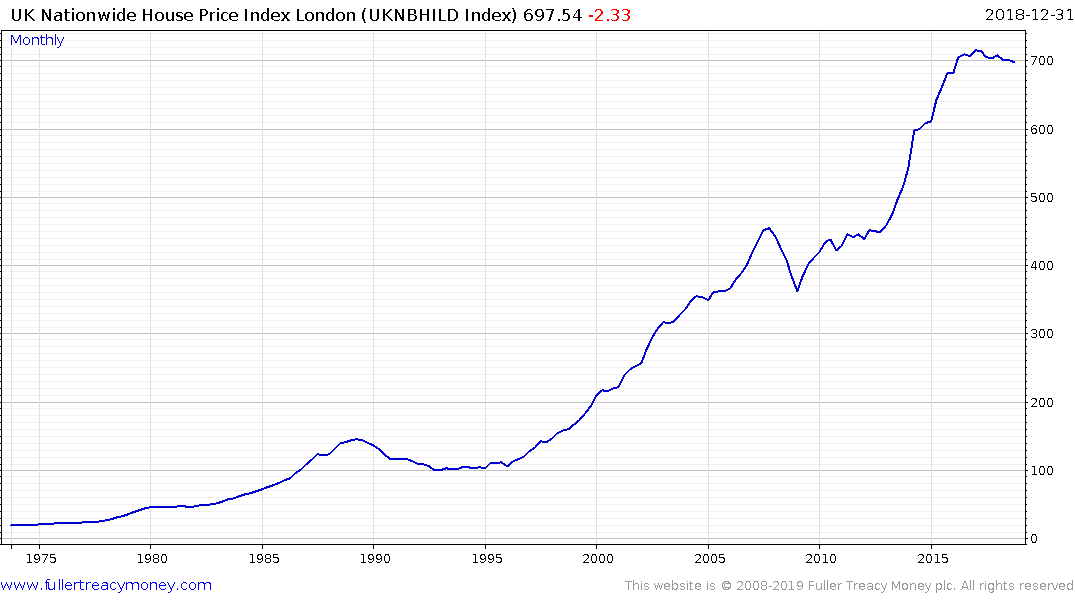 The Nationwide London House Price Index dates from 1975 and has moved relentlessly higher. There have been two lengthy pauses along the way but reactions have generally been modest relative to the upside.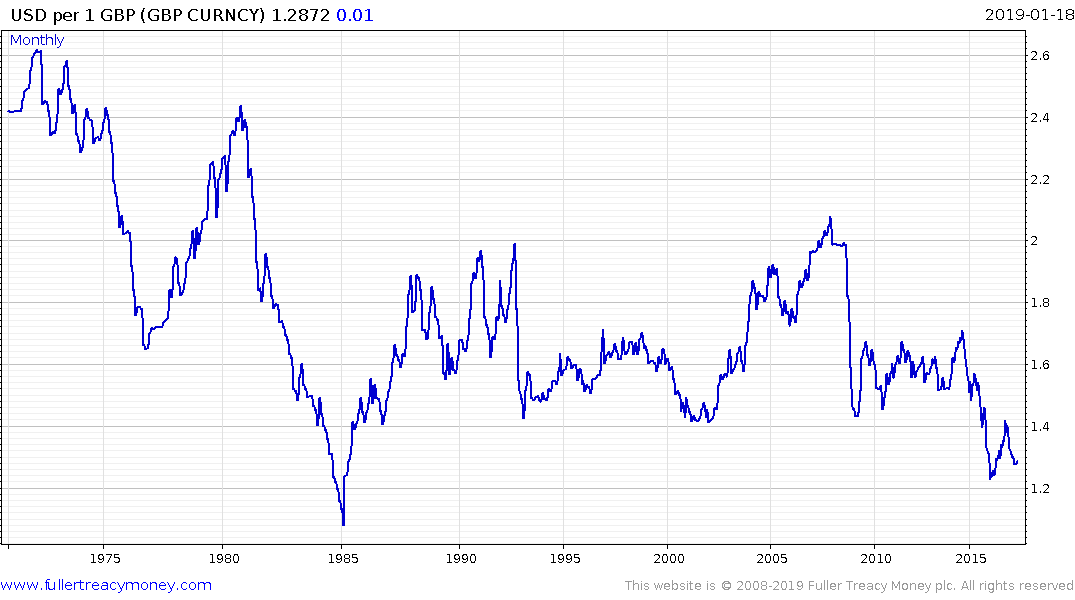 Prices for any asset are set by the marginal buyer and in London's case that position is often filled by international buyers. Since the early 1970s the Pound has just about halved versus the US Dollar but the bulk of the decline occurred by 1980 and a big range has persisted since.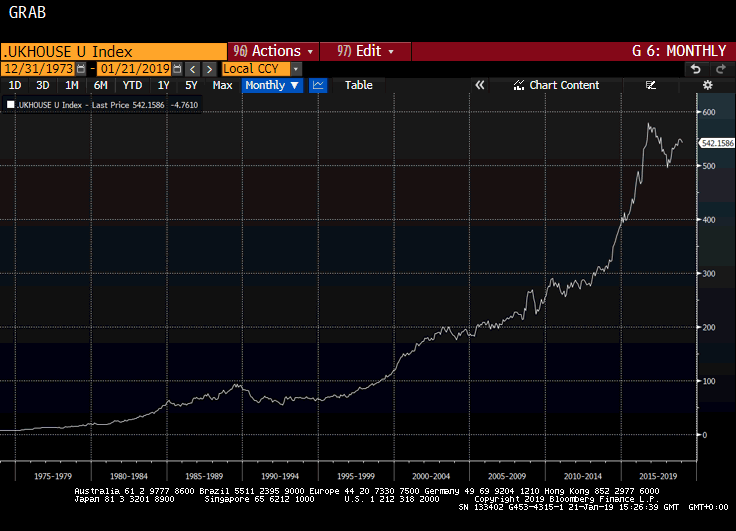 When we adjust the Nationwide Index for US Dollar's we get a picture of just how wonderful an investment London property was in the aftermath of the credit crisis and all the way up until the Brexit vote when the Pound pulled back.
This chart also helps to illustrate how much shelter the UK market received from the Pound's decline. The acceleration followed by the sharp pullback suggests it would be a number of years before foreign investors see new highs in UK property. However, with so much uncertainty being presented about Brexit and whether it will even do ahead, patient investors are rightfully questioning whether this is already priced into the market.
Back to top