Asia Outlook Rising Momentum, inflation emerging
Thanks to a subscriber for this report from Deutsche Bank which may be of interest. Here is a section:
Despite the export-led slowdown, GDP growth in most economies should remain above our estimates of potential growth through 2018, except in Hong Kong

Only in Hong Kong we do see growth falling below potential next year

In contrast, India's growth is likely to accelerate, as the temporary negative side effects, a feature last year, from its reform drive dissipate. We expect a multi-year acceleration in growth, supported by both consumption and investment

Global demand is likely to remain constructive for Asia's growth, at least until 2019, even with the expected slowdown in China.

We expect growth in China to weaken to 6.3% in 2018 from 6.8% in 2017, led by a sharp slowdown in construction investment and policy-driven deleveraging. In contrast, we see combined US and Euroland growth to rise by about 0.2ppts from 2.3% in 2017

Asia's export growth should be only slightly weaker through 2018 – we see risks to our outlook tilted to the upside

EM Asia's growth is likely to moderate but remain above potential, as domestic demand becomes the key cyclical factor

As the region's monetary policy shifts towards explicit tightening, although much less than the Fed, its fiscal policy is likely to turn expansionary, with the exception of China

With the output gap closed, risks to inflation have tilted to the upside.
Here is a link to the full report.

The USA led the world into recession in 2008 and out of it onto an historically lengthy expansion in 2009. The Federal Reserve started out on the road to normalizing policy last year and fiscal stimulus will be picking up some of the slack in monetary accommodation this year. The above statistics suggests at least some Asian countries are now following a similar trajectory.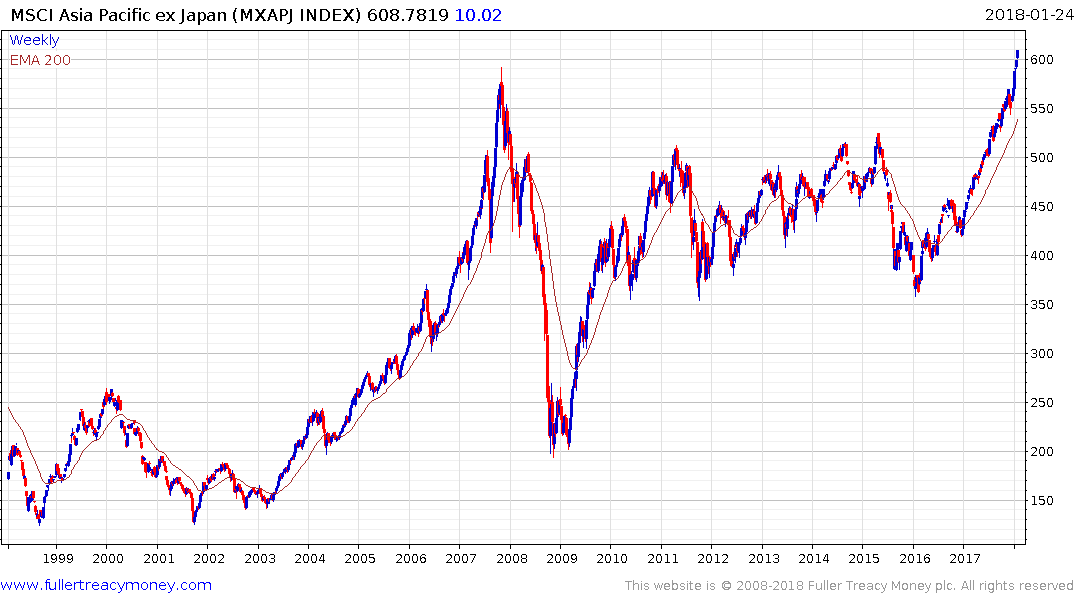 The MSCI Asia Ex-Japan Index, which is heavily weighted by greater China, broke out to new all-time highs in November and a sustained move below 700 would be required to question medium-term scope for continued upside.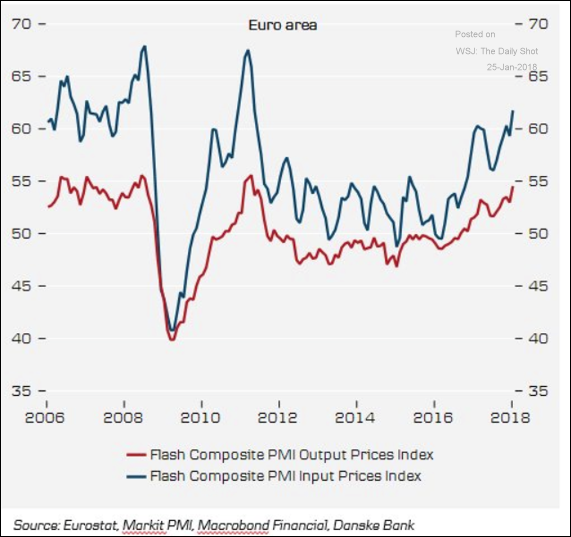 This graphic suggests there are nascent signs of inflation appearing in the Eurozone too.
Meanwhile the uptick in inflation pressures, not only in the USA, represent a challenge of government bonds even with near-term scope for a short covering rally.
Back to top