Asia Money Matters
Thanks to a subscriber for this first issue of an interesting report. Here is a contrarian view from Jim Rogers on North Korea:
I expect unification within a few years. It will probably be the most exciting country in the world, once unification happens. Who knows if I'm right about unification happening soon. But I'd remind you that Helmut Kohl - one of the most admired and respected German politicians of the past century – was asked in an interview in 1989: when will East and West Germany unite? He said, adamantly: "Not in my lifetime." We all know what then happened in 1989 - the Berlin Wall fell and East and West Germany were united within a year of that interview. So, change can happen quickly.

There are already exciting changes taking place in North Korea which will shock a lot of people. You can take bicycles tours in North Korea now. You can take movie and art tours. There are all sorts of changes taking place.
Here is a link to the full report.
No one, other than possibly North Korea's elite, knows if they are considering unifying with the south. However, powerful synergies could be realised if this event comes to pass.
The fall of the Berlin Wall was positive for the DAX in the 12 months before unification. However the cost of reunification and the associated tax increase acted as a headwind for the next few years. Aside from the feel good factor of national unity, one of the main economic benefits was to contain wage pressures which contributed to the competitive edge Germany continues to enjoy today.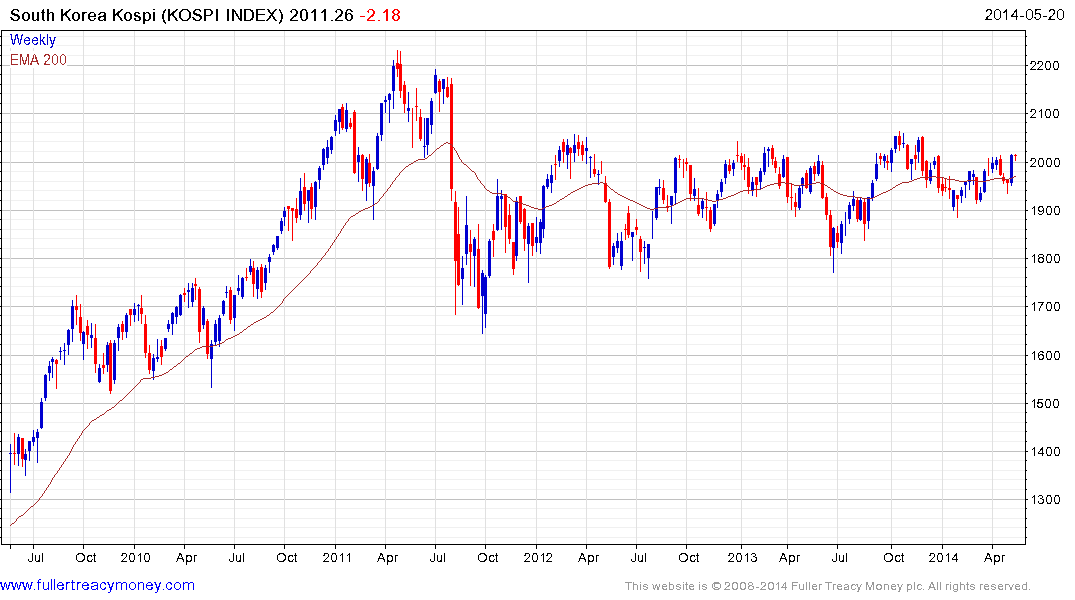 South Korea's stock market continues to trade at a high trailing multiple. The Index is testing the upper side of a three-year range but a sustained move above 2050 would be required to signal a return to demand dominance beyond the short term.
Back to top