ASEAN Macro
Thanks to a subscriber for this report from Maybank which may be of interest to subscribers. Here is a section:
Here is a link to the full report and here is a section from it:

A U-Shaped Recovery
We forecast ASEAN-6 real GDP growth recovering to +5.3% in 2021 and +5% in 2022 after contracting -3.8% in 2020. The recovery will be more U-shaped than V for most of ASEAN, with real GDP returning to pre-pandemic levels only in early 2022. Vietnam and Indonesia are the exceptions. Significant easing of lockdowns and border controls can only materialize in mid-2021 when vaccines are widely available. In contrast to past recessions, the GDP recovery will be driven more by services rather than manufacturing and exports.
Herd Immunity Only From 4Q 2021
Herd immunity is likely only in 4Q 2021 for Singapore, Malaysia and Thailand; first half of 2022 for Indonesia, Philippines, Vietnam; and late 2022 for the rest of CLMV. The US is projected to achieve herd immunity by 3Q 2021. Seroprevalence (share of population with antibodies) is low across ASEAN, suggesting that a high vaccine coverage ratio of at least 65%-70% is required for herd immunity. Recent ASEAN vaccine purchases can cover only 20%-45% of the population. For large domestic markets (Indonesia, Philippines), the vaccine is a game-changer given high infection rates, allowing the easing of lockdowns. For more open economies dependent on people flows (Singapore, Thailand), the benefits will materialize later as border controls will not be loosened as quickly.

Easy Monetary Policy, Extended Fiscal Support
ASEAN central banks will maintain their accommodative monetary policies and record-low policy rates. We expect further policy rate cuts only in Indonesia (-25bps). Inflation may pick up slightly but remain at the lower end of central bank target range and comfort zones. We forecast ASEAN-6 inflation to average +2.1% in 2021, up modestly from +1.2% in 2020. Governments will likely extend fiscal support and loan moratorium schemes, albeit tapered and more targeted, in the first half of 2021.
Europe and North America are more likely to receive ready access to vaccines developed by western companies in the short term. Meanwhile China is already exporting its vaccine candidate despite the apparent lack of rigour in testing. The first batches of Sinovac's vaccine arrived in Indonesia today. It remains very likely that within six months there will be a significant oversupply of vaccines. I fully expect the rollout to go much faster than many people expect.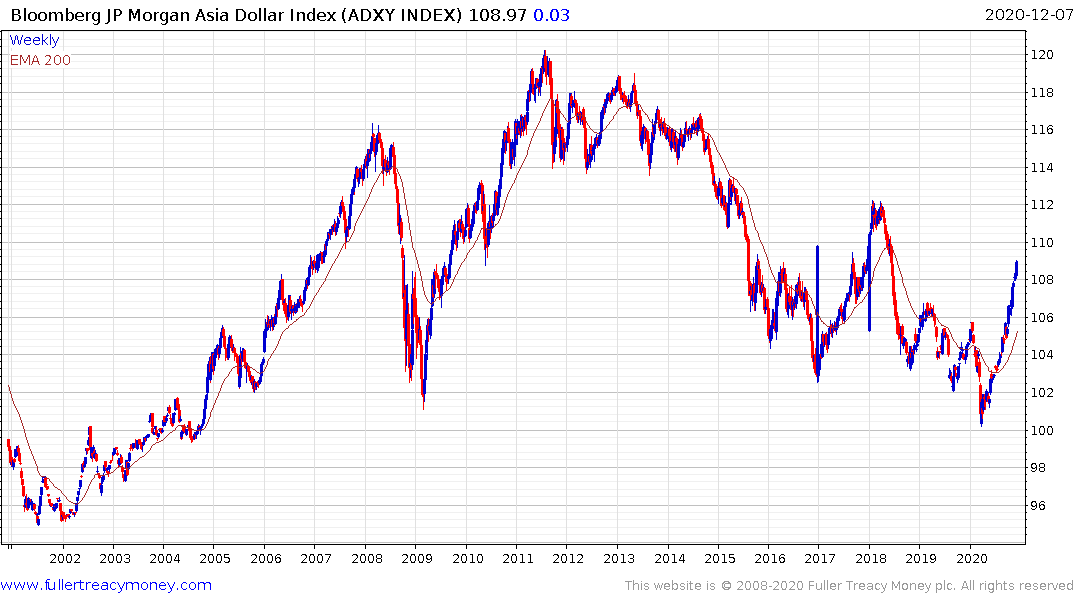 The Asia Dollar Index has broken it downtrend and continues to recover.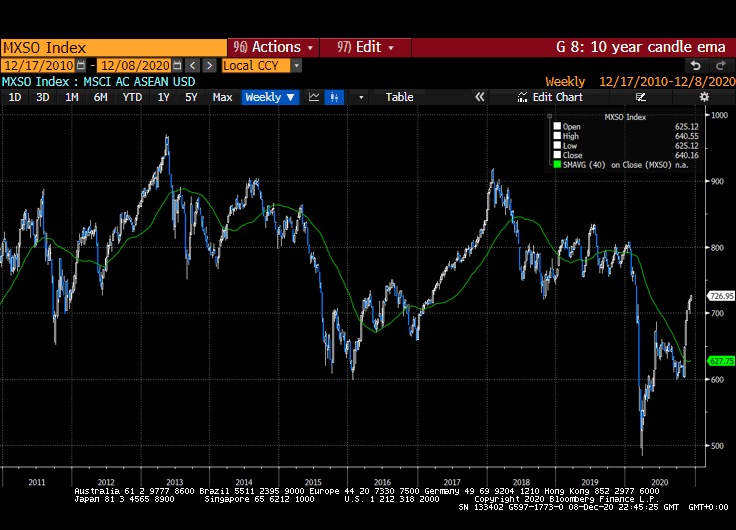 The US Dollar denominated MSCI ASEAN Index continues to rebound from the region of the trend mean. Unlike other recoveries, this time the Index has the currency trend on its side.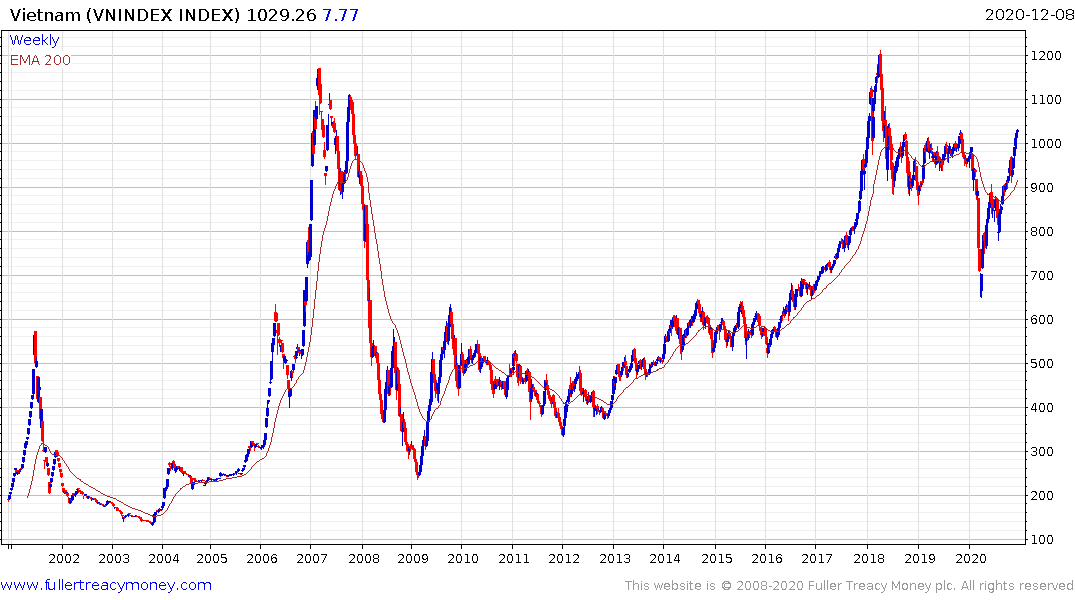 The Vietnam Index has cleared the 1000 level for the first time in a year. Every time it has attempted to surmount that level since early 2018 it has failed. Therefore, the defining characteristic of a change of trend will be a sustained move to new recovery highs.
Back to top