ARM: UK-based chip designer sold to US firm Nvidia
This article by Leo Kelion for the BBC may be of interest to subscribers. Here is a section:
But experts say one risk Nvidia faces is that the takeover could encourage ARM's wider client list to shift focus to a rival type of chip technology, which lags behind in terms of adoption but has the benefit of not being controlled by one company.

"ARM is facing growing competition from RISC-V, an open-source architecture," wrote CCS Insight's Geoff Blaber in a recent research note.

"If its partners believed that ARM's integrity and independence was compromised, it would accelerate the growth of RISC-V and in the process devalue ARM."

Mr Blaber also suggested regulators might block the deal.

"This process will take months if not years with a high chance of failure," he told the BBC.

Mr Huang has said that he expects it to take more than a year to "educate" regulators and answer all their questions, but said he had "every confidence" they would ultimately approve the investment.
The big question is just how much trouble is the Vision Fund in? ARM Holdings was deemed to be central to Softbank's ambitions of carving out of a dominant position in future technological innovation. The sale of this key asset signals trouble.

Additionally, the aggressive options trading Softbank has been engaged in also suggests they are desperate to plug a hole in the balance sheet. The failure of WeWork and underperformance of other portfolio companies. like Uber, has weighed significantly on the fund. Now Softbank executives are discussing taking the company private, not least in an effort to avoid making public disclosures about illiquid private assets. This is a significant hit for a company that was convinced it was set up to run for 300 years only 3 years ago.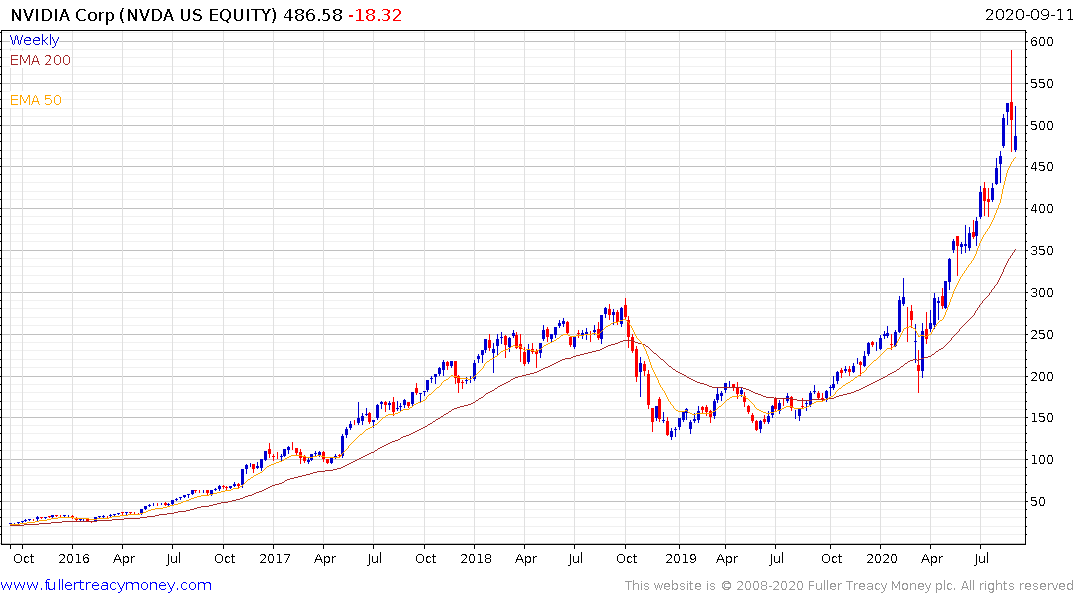 Acquiring ARM is a coup for Nvidia because it offers an entry point to the mobile handset market. The share has held a sequence of higher reaction lows since March and continues to find support in the region of the 50-day MA.
Back to top