Apple's iPhone Partner Foxconn Unveils First Electric Vehicles
This article from Bloomberg may be of interest to subscribers. Here is a section:
Foxconn is among the technology companies targeting EVs as a source of growth beyond low-margin electronics assembly. The Ohio deal is a boon for Foxconn, giving it assembly capacity, equipment and talent, Citigroup analyst Carrie Liu wrote in a recent note. The company is close to deciding the location for a car plant in Europe, Liu said.

The Apple car would be the ultimate prize for every aspiring EV manufacturer. Working in Foxconn's favor is its strong relationship with the U.S. consumer-electronics giant. The years-long partnership has expanded as Apple has added product categories, and the company now accounts for about 50% of Foxconn's annual sales.

Any Apple automobile is still years away and the company has suffered setbacks including the recent departure of the head of its car project to Ford Motor Co. An Apple car has for years been somewhat of a paradox -- it's one of its most hotly anticipated products yet the company has publicly said almost nothing about it.

Foxconn has yet to start sales of any vehicle following the debut of its EV platform last year. It plans to start mass production of Lordstown's Endurance electric pickup in Ohio in April, according to a person familiar with its schedule.
Even if Apple is not going to produce a car, we are in a new era for the automotive sector. The evolution of the battery drive fuel cycle has lowered the barrier to entry and enables third manufacturing business models.
There have been a great many start-ups trying to break into the automotive sector. They are all replicating production capacity without addressing the uncertainty of coming up with a product that can sell. The OEM business model has never been possible in the automotive sector before and before long it is likely to represent a significant proportion of production and particularly for new entrants to the market.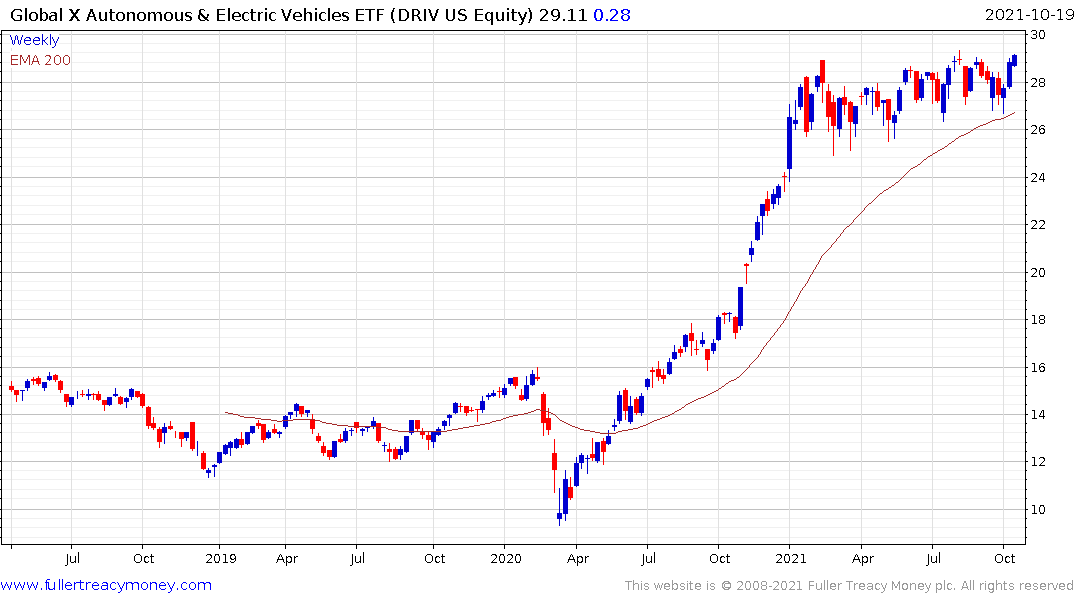 This is an emerging trend and most automotive companies continue to prosper amid higher margins for their products drive by supply inelasticity. The Global X Autonomous & Electric Vehicle ETF broke out to new highs today.
Back to top