Another Stablecoin Loses Its Peg as Algorithm Fails to Keep Pace
This article from Bloomberg may be of interest to subscribers. Here it is in full:
Deus Finance's DEI token has lost its 1-to-1 peg to the dollar, becoming the latest failure of an algorithmic stablecoin during a period of crypto market stress.

DEI is currently trading at 70 cents, according to data tracker CoinGecko. With a market value of about $63.5 million, the token is tiny compared with the more than $18 billion TerraUSD stablecoin that shook crypto markets when it become depegged last week.

Read more: Crypto Hedge-Fund Head Predicted Terra's $60 Billion Implosion

Put out by Deus Finance, a marketplace for financial services, DEI is different from TerraUSD, or UST, in that it's a fractional reserve stablecoin, backed by coin collateral, consisting of 20% DEUS tokens and 80% of other stablecoins, such as USDC.

Deus's team is working to restore the peg, according to a Tweet.

The depegging comes several months after Deus Finance was hacked, with some coins stolen.

UST is currently trading at about 6 cents. Last week, even the world's biggest stablecoin, Tether -- which is not algorithmic and claims to have full reserves -- lost its dollar peg before regaining it. Crypto bellwether Bitcoin is trading at less than $30,000, down from over its all-time high of almost $69,000 in November.
The TerraUSD coin is an algorithm based stablecoin, which relies on the value of its underlying token to support its value. That token, Luna, collapsed last week and took the stablecoin with it. The potential for contagion arises when stablecoins using money market instruments fail.
Tether is the largest of the stablecoins and accounts for a lot of bitcoin volume. It broke the buck last week too. We are now seeing contagion into other stablecoins. Rising short-term interest rates have resulted in spread widening for just about all credit instruments. The failure of stablecoins has the potential to create a feedback loop in conventional money market funds.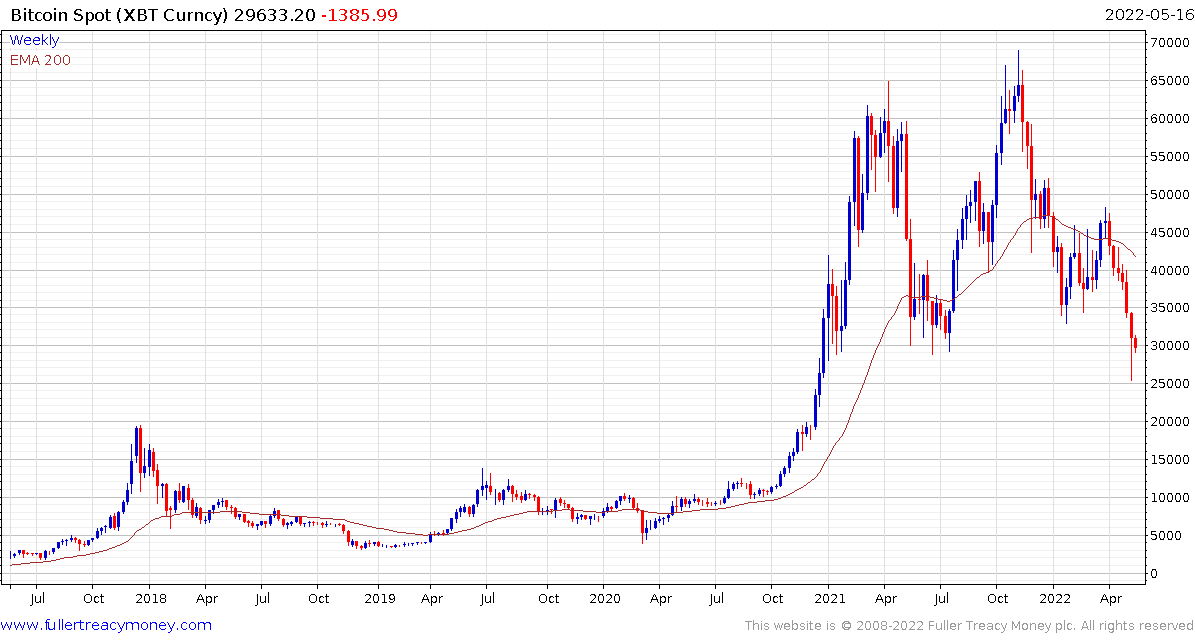 Meanwhile bitcoin continues to pause at the psychological $30,000 level which is the lower side of the more than yearlong range.
It's easy to think the cryptocurrency sector is separate from global markets. That ended when institutions began to invest the money used to buy cryptos into money market instruments. The difficulties the sector is currently experiencing is a symptom of the wider trend of financial conditions tightening.
Back to top