Anger in Shanghai as Covid Return Spurs Fear of New Lockdown
This article from Bloomberg may be of interest to subscribers. Here is a section:
Tension is spreading through Shanghai as residents watch the Covid-19 caseload tick higher, fueling fears they're headed back into lockdown little more than five weeks after exiting a bruising two-month ordeal.

The city reported 59 new infections for Monday, the fourth day in a row case numbers have held above 50. The sharp rise from single digits about a week ago follows the detection of the more contagious BA.5 sub-strain of the omicron variant, which has triggered two additional rounds of mass testing between Tuesday and Thursday this week across nine of the financial hub's 16 districts, as well as other areas where cases have been found.

China's strict Covid Zero approach is once again being tested as outbreaks flare across the country amid the arrival of a sub-variant that has fueled rising caseloads elsewhere. Already, close to 30 million people nationwide are under some form of movement restrictions to quell transmission, but authorities have so far steered clear of strict lockdowns in key economic regions.
Quarantines work in the initial stages of an outbreak because there is still some hope the rate of infection can be contained. The only reason to sustain a quarantine during a pandemic, where there is no hope of containing the global spread, is to slow the rate of infection. The time bonus gained from slowing the rate of infection can be used to prepare treatments, vaccines and recovery areas, but no one is under any illusion that quarantines can indefinitely turn back a pandemic. Eventually everyone is going be infected.
China's walled garden solution is incompatible with the reality of global trade. The only real question is how much economic pain are they willing to endure before bowing to that reality. In an authoritarian system economics are secondary to political considerations. That suggests China is going to be wedded to quarantines for longer than many expect.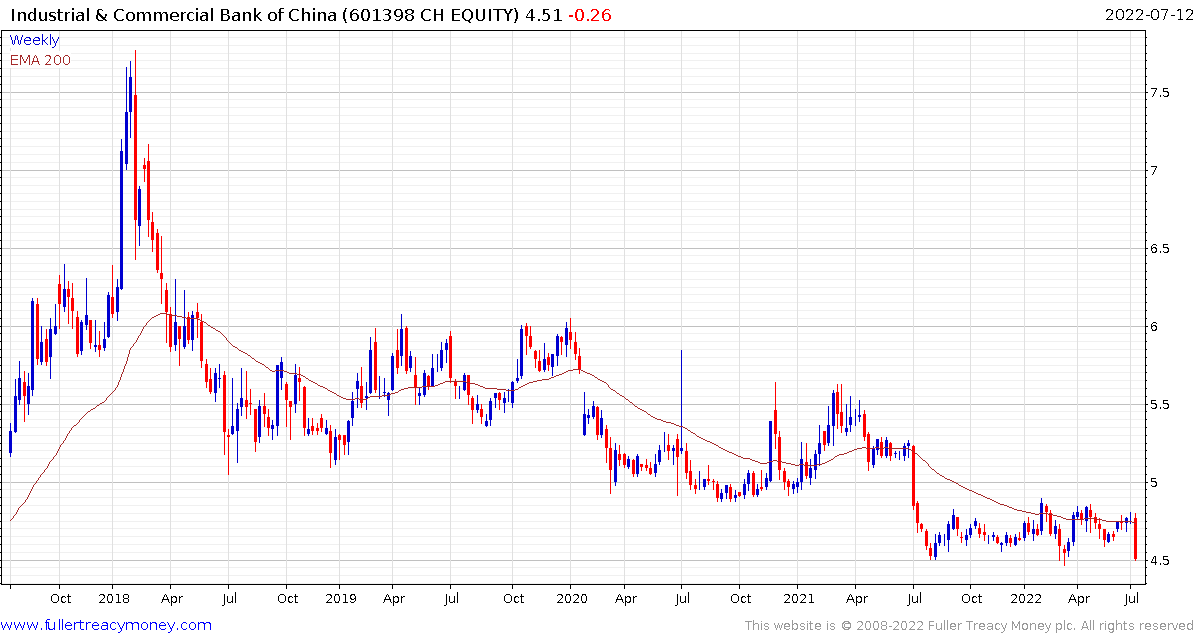 ICBC gapped lower today on a dividend payment. China's banks have low valuations and pay competitive dividends. They are state owned so are not going to go bust but the days of steaming growth are over. https://www.yicaiglobal.com/news/china-listed-banks-to-dish-out-record-high-dividends-of-usd819-billion-this-year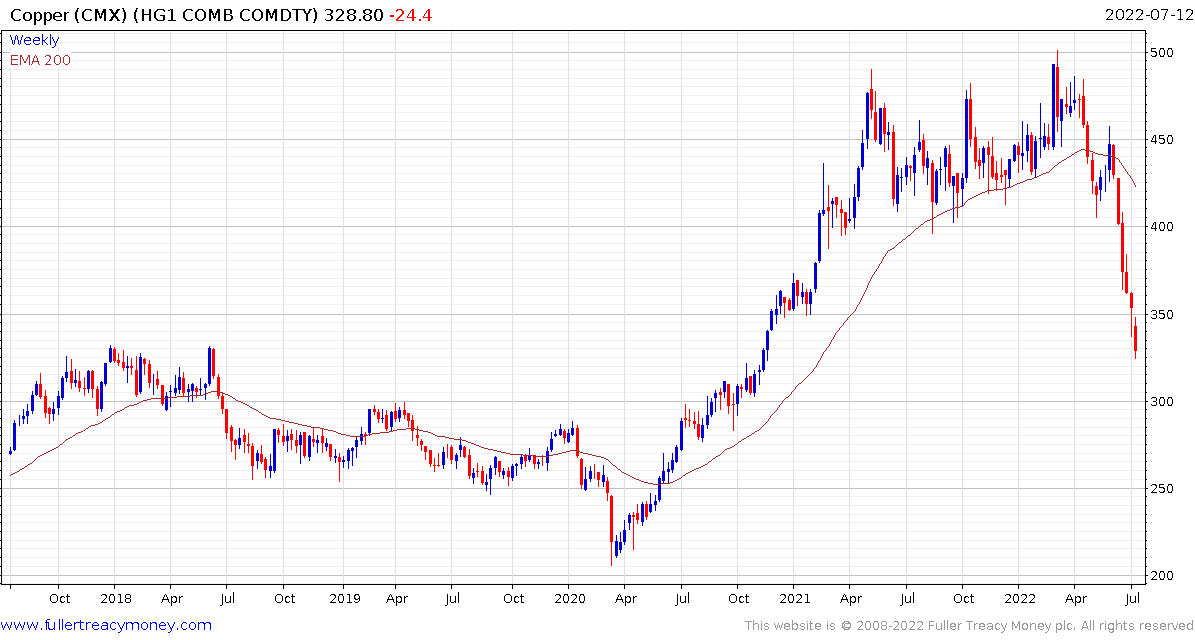 Copper continues to extend its breakdown. The metal is uniquely sensitive to Chinese demand. Its significant underperformance suggests China is going through profound economic pain.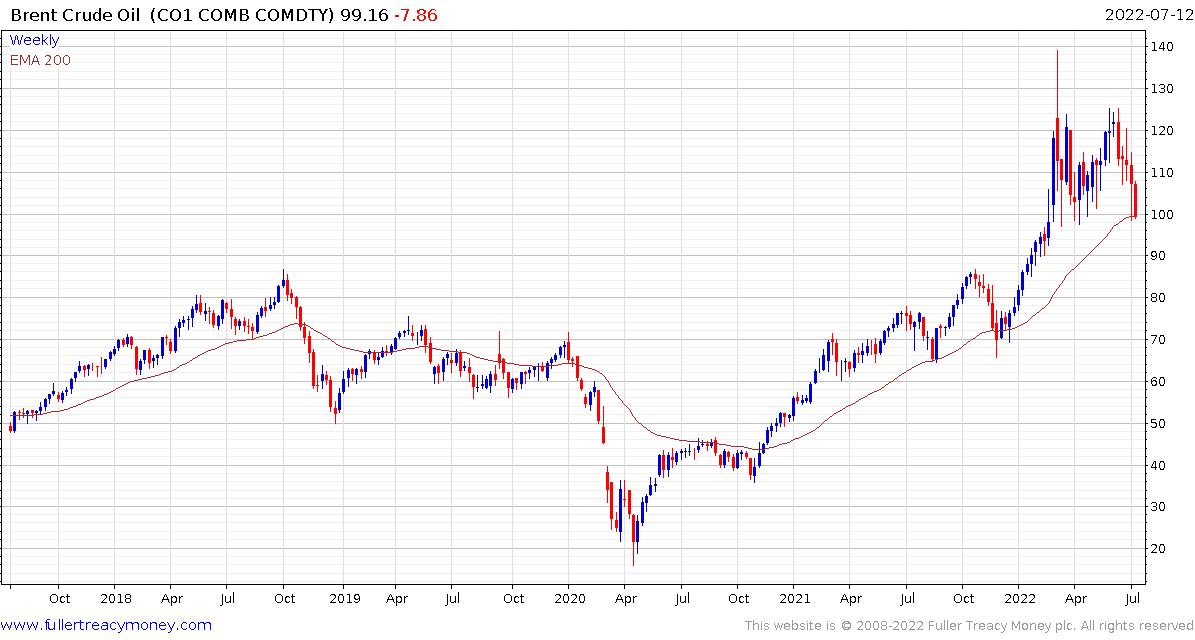 Brent Crude pulled back very sharply today to retest the psychological $100 level. A sustained move below that area would complete the evolving Type-1 with right hand extension top formation.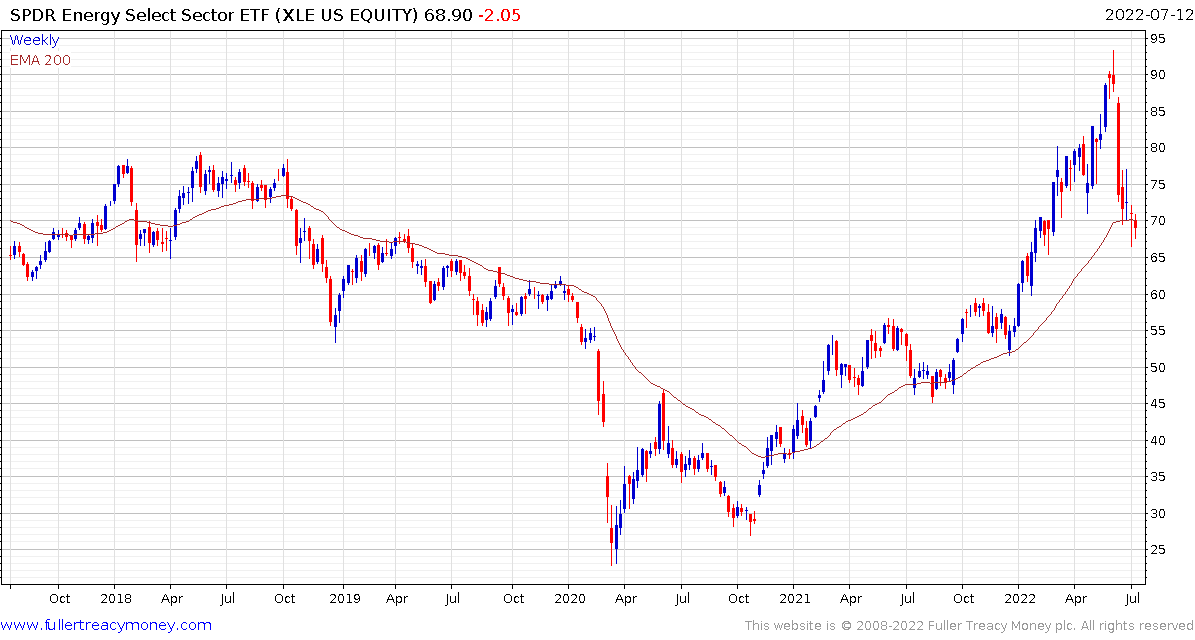 The energy sector has been the best performing stock market area for two years straight. It has now experienced it largest decline since the pandemic and is testing the region of the 200-day MA. If oil breaks lower, the energy sector will follow the wider market lower too.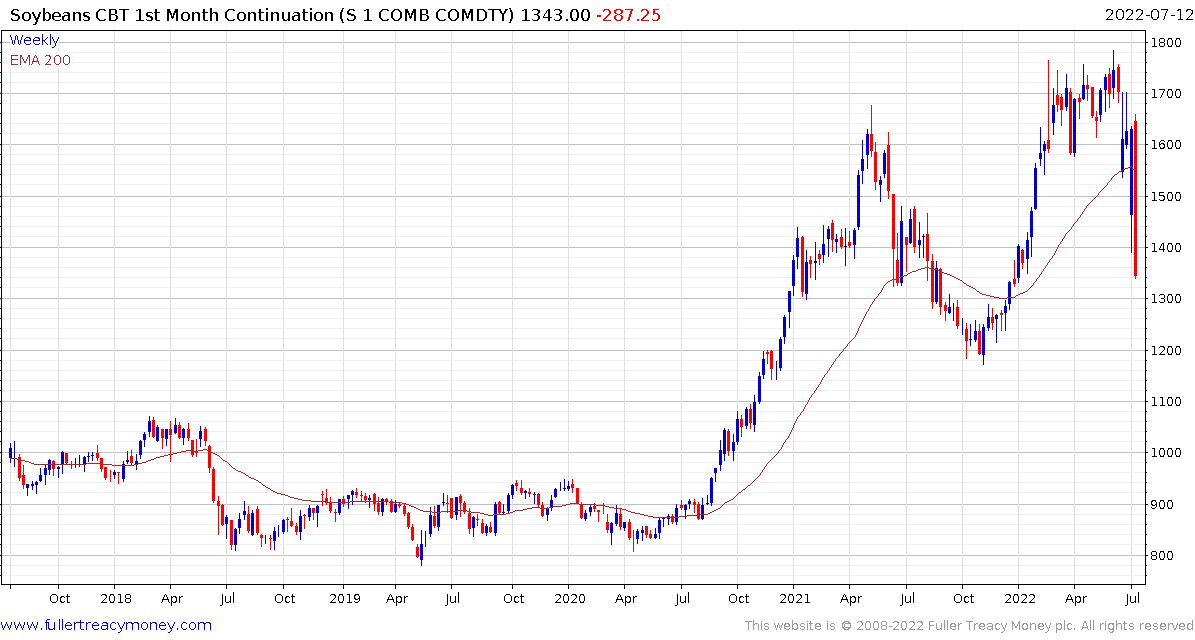 Soybeans pulled back sharply today to post another lower high.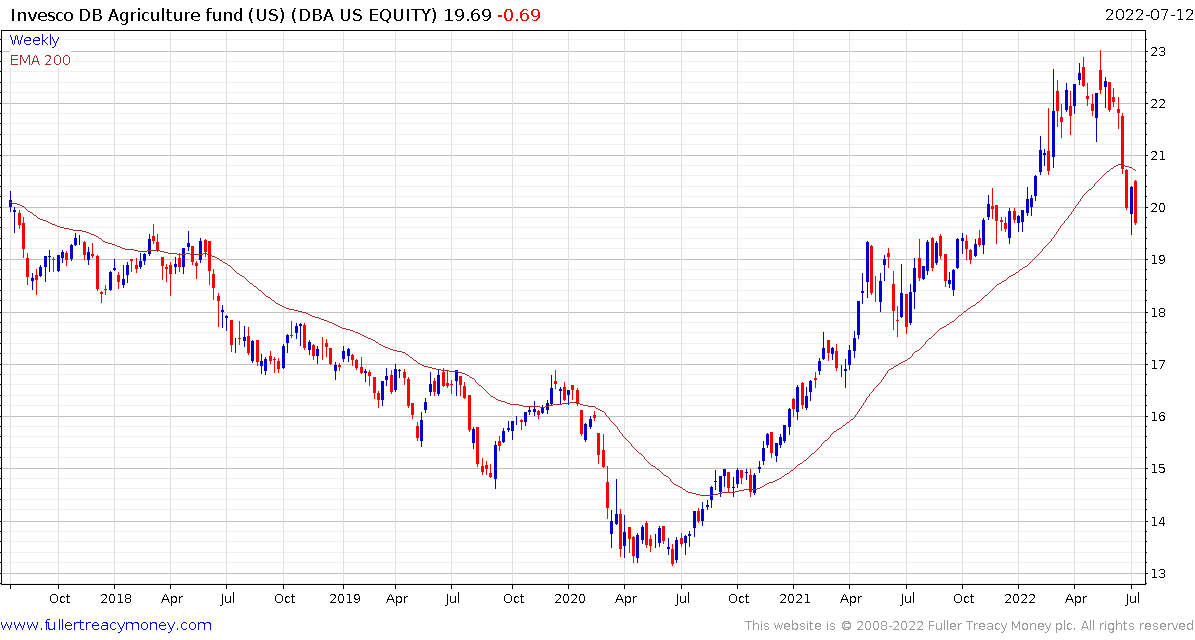 The futures based Invesco DB Agriculture Fund has rolled over and is now trading lower. Futures funds need strong trends and backwardations to prosper. They are leveraged to the downside during bear markets.
Back to top