An Investor's Guide to Understanding Gene Therapy: A Paradigm Shift Whose Time Has Come
Thanks to a subscriber for this heavyweight 239-page report from Raymond James which may be of interest. Here is a section:
What started off as a clinical off-shoot of molecular biology in the 1970s has moved from a therapeutic concept to a viable therapy to address various rare and not so rare genetic diseases. While the gene therapy field has gone through nearly three decades of ups and downs, in our opinion, we are at the cusp of ushering in a new era of therapies that can address the underlying biology of many inherited disorders.

Two therapies have already been approved for commercialization in Europe, although calling either a commercial success is a stretch. UniQure's Glybera, the first approved in Europe in 2012, experienced extremely limited usage in the commercial setting and was withdrawn from the market early this year. GlaxoSmithKline's Strimvelis, approved in 2016 at a price tag of $594,000 euros (about $665,000 USD), is currently treating patients with ADA deficiency, although given the size of the patient population, we see this platform more as a good will gesture as compared to a robust money generating machine.

That said, we view these two products largely as proof of concept therapeutics whereby clinical trials were able to show efficacy and long-term safety, both of which helped clear regulatory hurdles with flying colors. While the pessimist might view the turbulent history of the gene therapy space as more of what's to come, we view this field as a potential revolution. In short, within the next few years, we expect multiple U.S. approvals of gene therapy products…
Here is a link to the full report.

Subscribers will be familiar with my enthusiasm for the immuno-oncology sector which is rapidly approaching commercialisation and has been the focus on enthusiastic M&A activity. Car-T cell reprogramming is an exciting field which has led to considerable success in previously untreatable leukemia and research is now underway to employ similar strategies in solid tumors.

Genetic therapy is still within the same field but is quite different and relates to inserting new pieces of genetic code to correct abnormalities. It is often referred to as a one-shot solution because there is little need for ongoing treatment. Since traditional pharmaceuticals are designed to treat chronic conditions there are challenges with commercialization. There are also difficulties encountered with overcoming the body's immune response to interference as well as the suitability of the candidate to the treatment proposed. At the current stage of development genetic therapy is not a one size fits all solution which in fact bolsters the profit potential of the sector since products are less likely to be commoditised.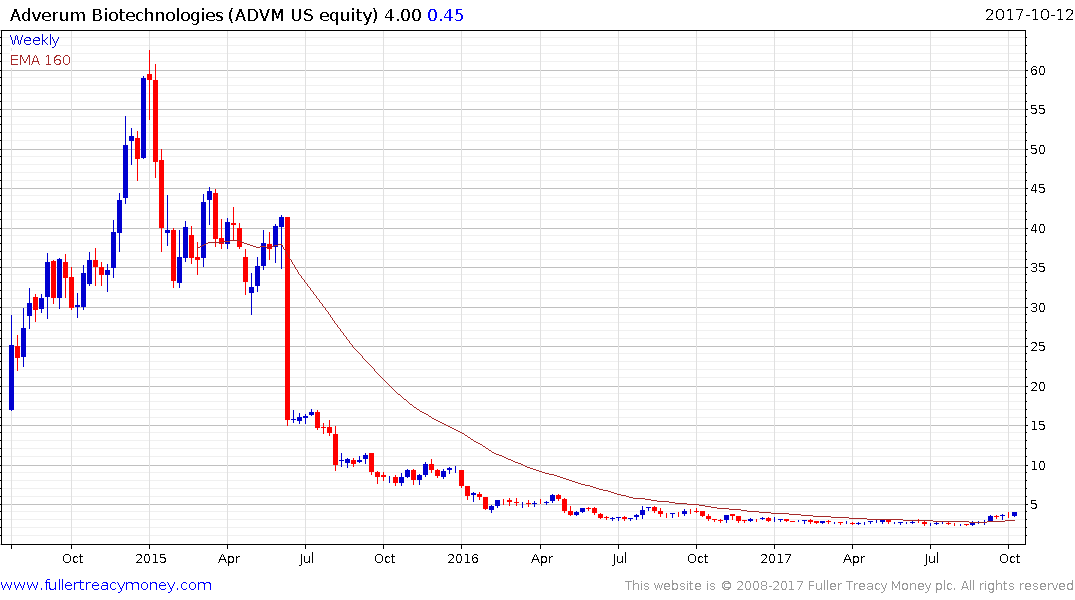 Adverum Biotechnologies (market cap $170 million) has been forming a base for more than a year and is now trading back above the trend mean.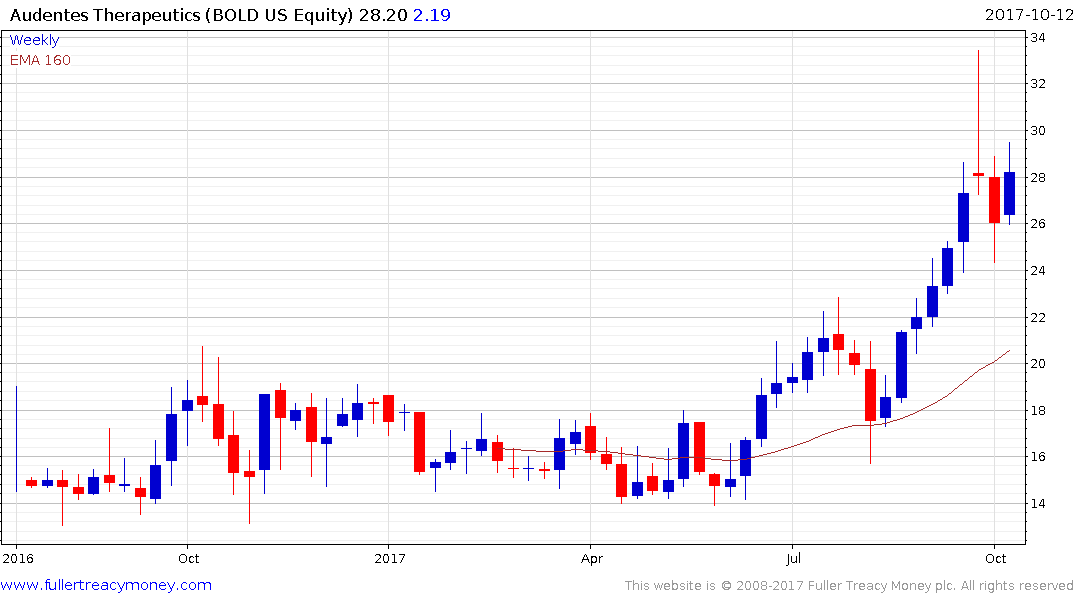 Audentes Therapeutics (market cap $792 million) IPOed in 2016 and broke of its base in June. A sustained move below the trend mean would be required to question medium-term scope for additional upside.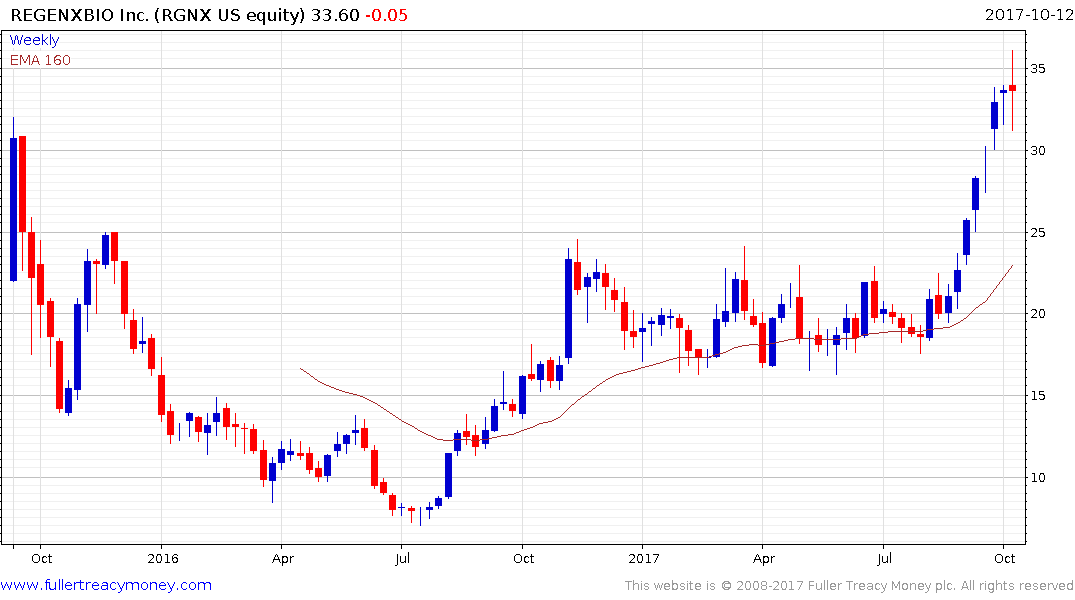 Regenxbio (market cap $1.064 billion) broke out of an almost yearlong range in September and has paused in the region of $35. However, a sustained move below the trend mean would be required to question medium-term scope for additional upside.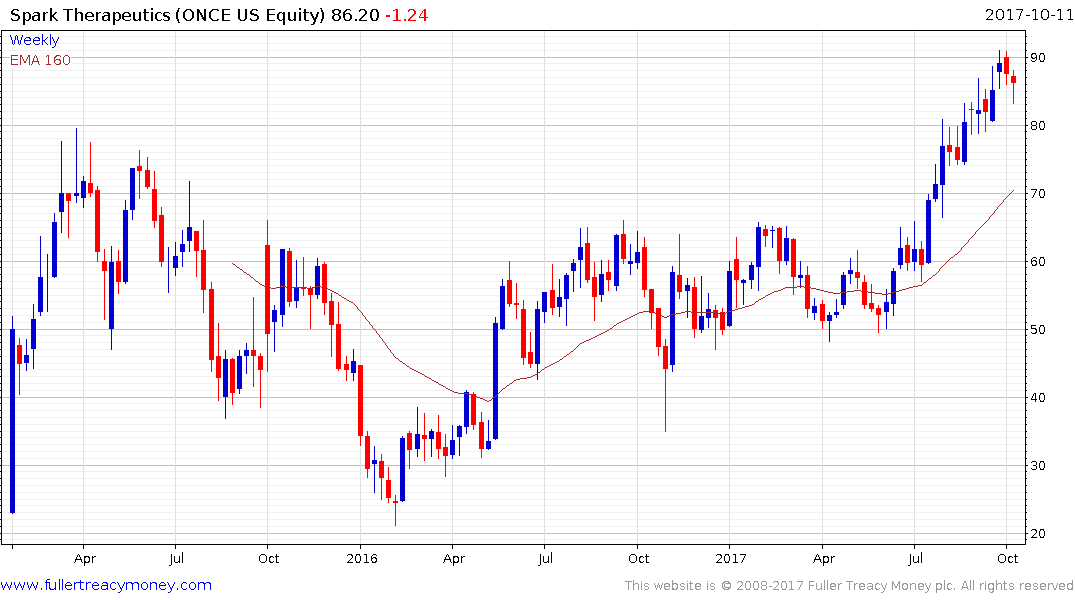 Trading was halted today in Spark Therapeutics' (market cap $3.088 billion) stock pending the results of the FDA's meeting to discuss Luxturna, the company's product aimed at correcting certain kinds of vision loss. The share also broke out of an almost yearlong range and has held a progression of higher reaction lows since June.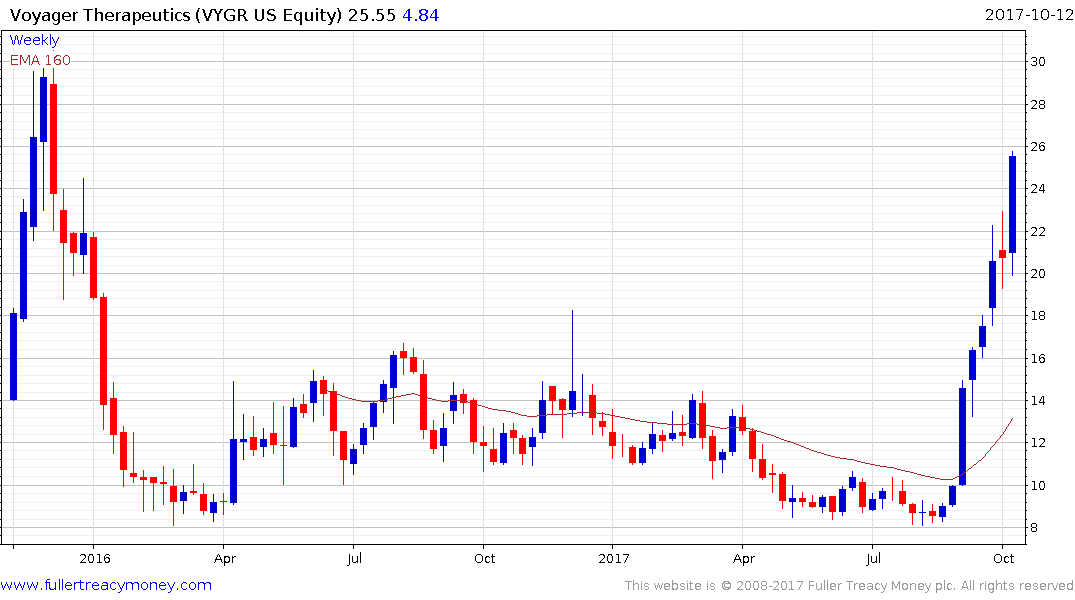 Voyager Therapeutics (market cap $684 million) has surged higher over the last month and continues to extend its breakout.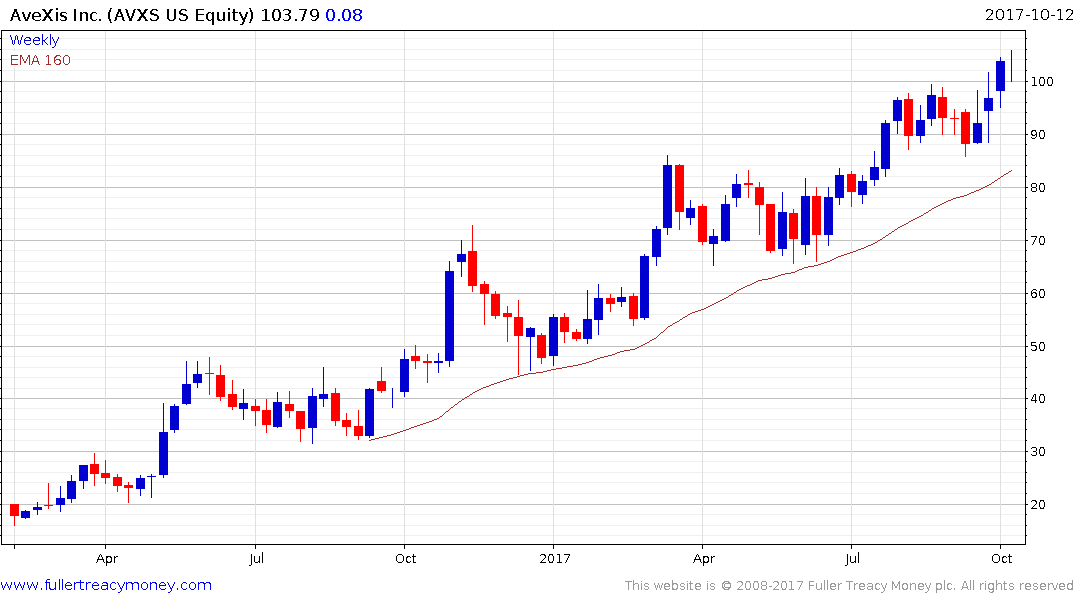 AveXis Inc has been trending higher in a consistent manner since its IPO in 2016.
Back to top