An Investment Only A Mother Could Love: The Tactical Case
Thanks to a subscriber for this report by Lucas White and Jeremy Grantham for GMO may be of interest to subscribers. Here is a section:
Here is a link to the full report and here is a section from it:
Given the size of the current discount, resource companies appear to be particularly well positioned to generate strong returns. As commodity prices fell last decade, median dividend payouts by Energy and Metals companies increased by 70% (see Exhibit 3).7 Increased dividend payouts and contracting valuations have combined to produce strong dividend yields in the resources sector, even without taking share repurchases into account. The dividend yield of the MSCI ACWI Commodity Producers Index stands at 7.1% compared to the S&P 500 at 1.9% (see Exhibit 5). While dividends will be vulnerable in the short term due to the evolving economic situation, the fact remains that the commodity producers are likely to deliver yields two to three times higher than the S&P 500, barring a significant re-rating of the sector.
Investors in the resources sector are likely to be very successful if commodity prices rise substantively, and reasons for bullishness on that score include the functioning of the capital cycle and the underlying dynamics of resource scarcity. Yet, as discussed, commodity price rise is not a prerequisite for strong performance in the resources sector, and current valuations are compelling. Investors should not invest in the resources sector with the expectation that valuations will revert to more normal levels in the short term. If they do, of course, investors will likely experience very strong returns. However, even if valuations were to remain flat from here, the resources sector is well positioned to deliver strong performance due to the much higher yields on offer.

The resources sector has been somewhat challenged by the decline in some commodity prices, particularly oil, over the last months. However, they represent a hedge against potential future inflation. They also have growth opportunities from an inevitable infrastructure global growth cycle; fuelled by a desire to support growth in the aftermath of the coronavirus.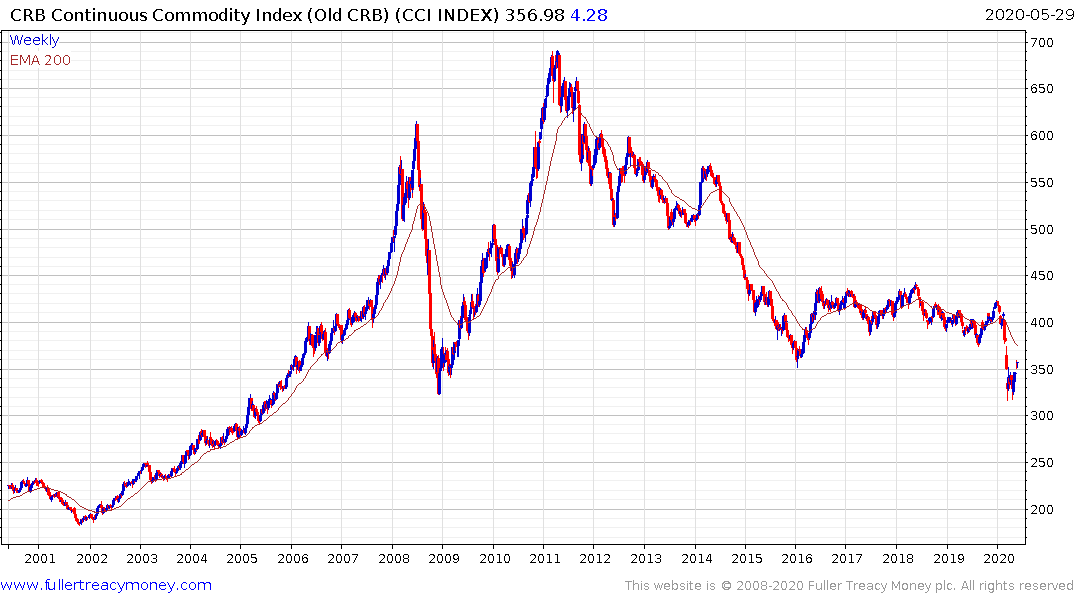 The Continuous Commodity Index has found at least a near-term low but has a lot of work to do to break the medium-term downtrend.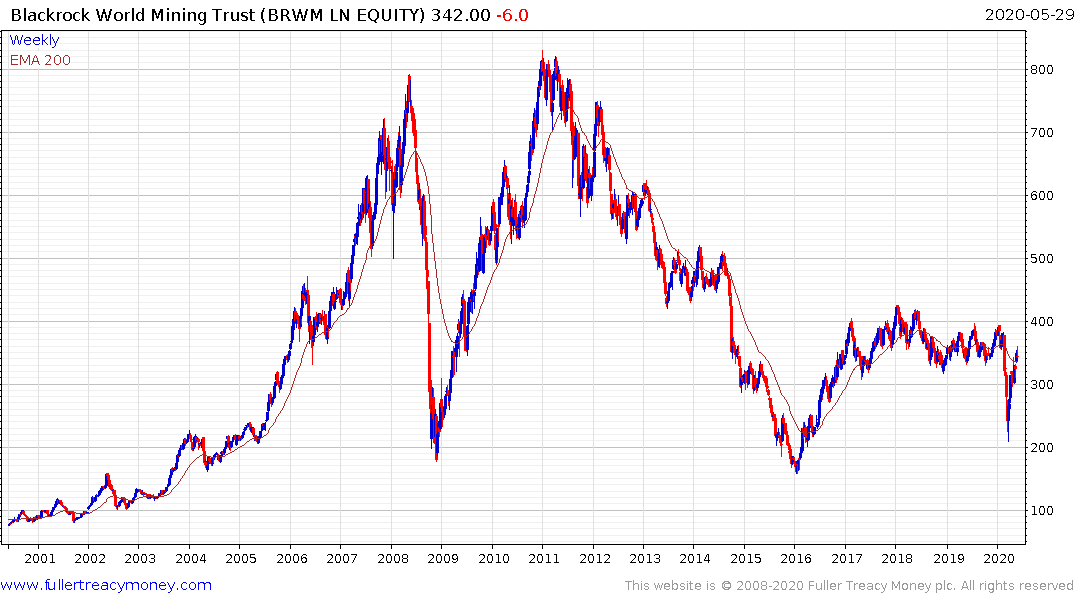 The Blackrock World Mining Trust has rebounded following the March decline and is now pausing in the region of the trend mean. Commodities are always best bought following reactions.
Back to top