Ambani Says Green Push to Outshine Other Reliance Businesses
This article for Bloomberg may be of interest to subscribers. Here is a section:
Reliance Industries Ltd., which pledged to spend $76 billion on green energy, will scale up investments in the area as its billionaire owner, Mukesh Ambani, seeks a strong foothold in the sector where competition is heating up.

"Over the next 12 months, our investments across the green energy value chain will gradually start going live, scaling up over the next couple of years," Ambani, Reliance's chairman, said in the annual report for the financial year that ended March 31. "This new growth engine holds great promise to outshine all our existing growth engines in just 5-7 years."

Ambani is steering Reliance's pivot toward renewable energy and diversifying away from its traditional crude oil refining and petrochemicals businesses. The tycoon has a track record of implementing business transformations and has morphed Reliance from being an energy giant to a consumer services behemoth in the last decade.

Ambani and another Indian billionaire, Gautam Adani -- Asia's richest person who also has ambitious plans for the renewable sector -- have announced plans to invest more than $140 billion in green projects. India, the world's third-biggest polluter, is relying on the two billionaires as it chases the pledge to be net carbon zero by 2070.

"India and Reliance will aim to play a leading role in the world's transition to clean energy," Ambani said. Reliance's share price jumped as much as 1.5% on Monday after the annual report was published.
Reliance's investments in green energy are primarily focused on developing offshore gas resources (KG-D6), developing syngas production from its existing refineries, and then investing in solar and fuel cells.
The reality is India has 1.4 billion people and only a third as much land as China. There isn't enough space to power the country with solar panels and achieve the net carbon zero target by 2070. It makes much more sense to deploy a hybrid strategy to generate export income from refined products.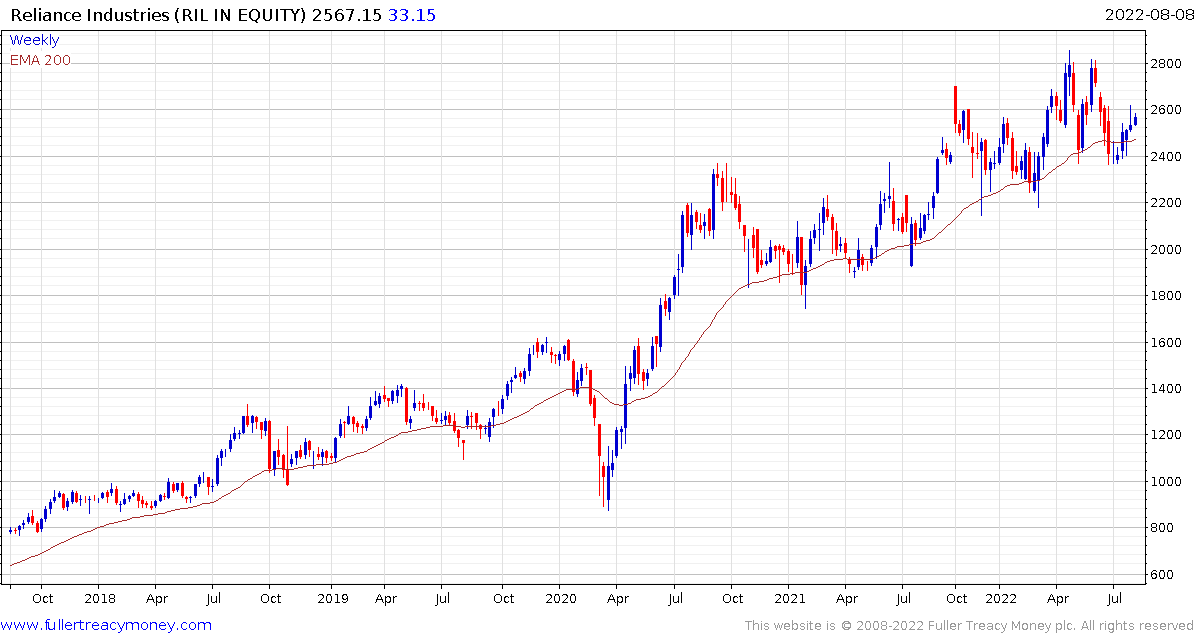 Global diesel demand remains a primary income generator for Reliance and inventories are low. That should help to support the share over the medium-term.
This article from Bloomberg on shipping rates may be of interest:
"We're in a new paradigm where rates will be stronger," said Omar Nokta, lead shipping researcher at Jefferies LLC. "I'd say high refining margins are going to continue to keep refining activity high, and so that will keep rates elevated."
Sanctions against Russian oil supplies due to come into force later this year are likely to tighten the product market even more, providing additional support to tanker rates, Nokta added.

Monaco-based shipper Scorpio Tankers Inc. reported its largest quarterly profit ever last month. Increased global refined product demand and lowered refining capacity have triggered a surge in seaborne exports, while there's been an increase in so-called ton miles, a demand measure that multiplies the amount of cargo by how far it gets shipped.

Scorpio President Robert Bugbee noted in an earnings call that rates weren't this robust even when demand slumped in 2020 due to the pandemic and traders rushed to store fuel on ships at sea, adding that "we haven't seen this since 2004, '05, '06."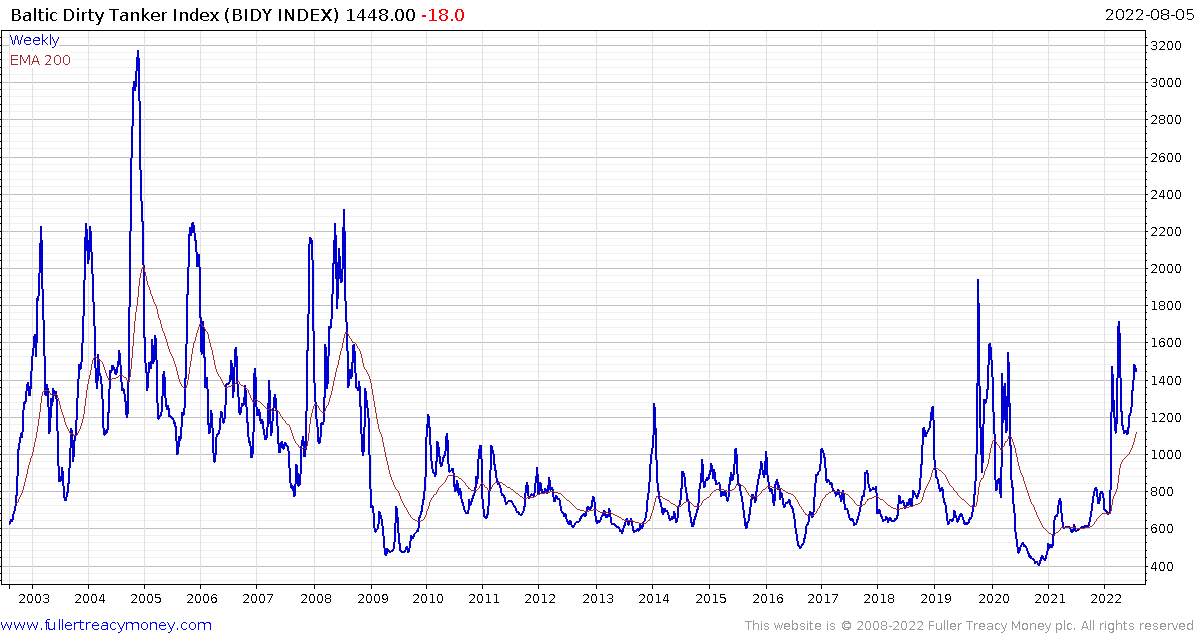 The Baltic Dirty Tanker Index remains quite firm.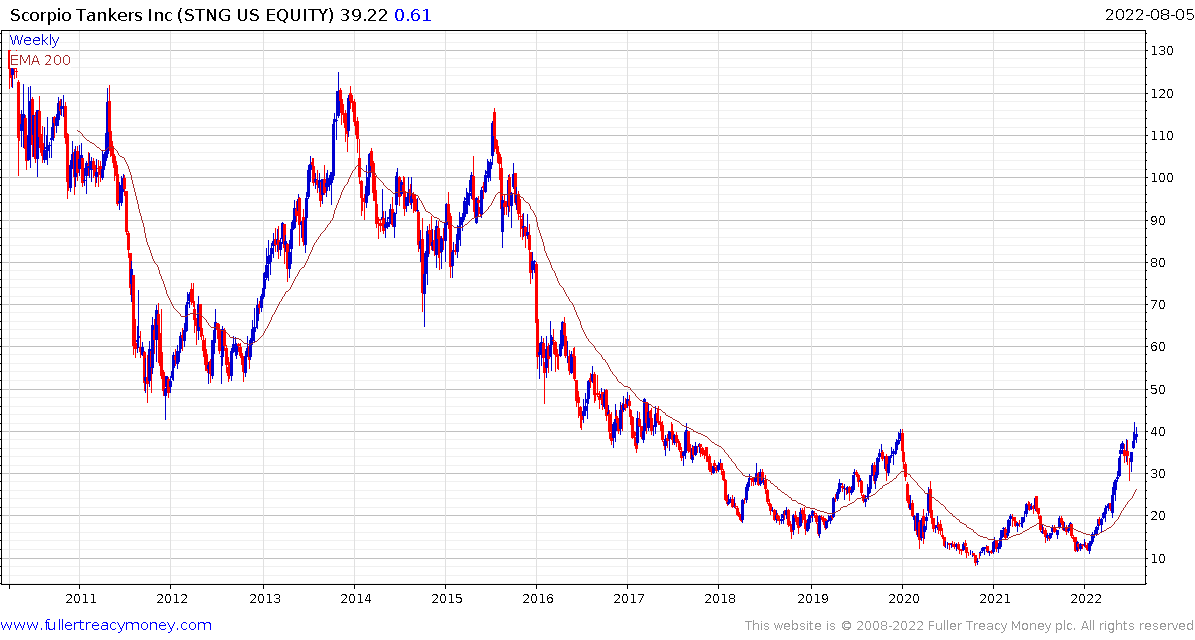 Scorpio Tankers is on the cusp of completing a five-year base formation.
Back to top