Ambani's Jio Posts First Profit as Interconnection Fees Drop
This article by Bhuma Shrivastava for Bloomberg may be of interest to subscribers. Here it is in full:
The upstart Indian mobile carrier backed by the country's richest person posted its first quarterly profit almost 16 months after storming into the market with free calling and data at no charge on an introductory basis.

Net income at Mukesh Ambani's Reliance Jio Infocomm Ltd. was 5.04 billion rupees ($79 million) for the three months through December, the company said Friday. It posted operating revenue of 68.79 billion rupees and had 160.1 million subscribers at the end of the quarter.

Jio's ability to add subscribers and hold down costs suggests its gains on rivals including No. 1 carrier Bharti Airtel Ltd., which reported Thursday that profit fell for a seventh straight quarter, may be sustainable. After starting a price war that forced some smaller providers out of the industry, Jio is acquiring spectrum, tower and fiber assets from debt-laden Reliance Communications Ltd., controlled by billionaire sibling, Anil Ambani.

That deal puts Mukesh Ambani back in control of assets he handed to Anil Ambani in 2005 as part of an agreement to settle a family dispute.

Jio, now the country's fourth-largest carrier, is also getting a tailwind from declines in its costs for interconnection fees. The Telecom Regulatory Authority of India reduced interconnect charges by 57 percent to 0.06 rupees a minute from October last year and plans to cut them to zero starting Jan. 1, 2020.

Jio spent 10.8 billion rupees on access charges in the third quarter, compared with 21.4 billion rupees it had spent in the three months through September, the company said.
Veteran subscribers will be familiar with my enthusiasm with the roll out of 4G mobile internet connectivity in India but I don't think it can be underestimated. India has a major issue with the lack of educational achievement and availability for its millions of impoverished people. Illiteracy is one of the most profound obstacles to personal development so anything that helps to promote productivity growth potential is to be welcomed.
4G offers the potential to access the internet at high speeds. Voice recognition means people can search for items of interest without needing to read. This report from Morgan Stanley which I posted in Comment of the Day on October 5th carries as many details as anyone might wish for and is worth saving and reading through at your leisure. The Aadhaar project was started in 2010 and has just been completed. It has collected biometric data from everyone in India. 1.3 billion people in 7 years is no mean feat but it is now complete. In conjunction with the Jan Dhan program to make sure every family has a bank account, these initiatives set the stage for mass rollout of digital services to all of the Indian population.
China's roll out of the digital economy over the last decade gives us a preview of what we can expect from India. India has large English-speaking population and no barriers to entry for the internet so it has the potential to represent a potent market for overseas companies as well as the seedbed for domestic companies.|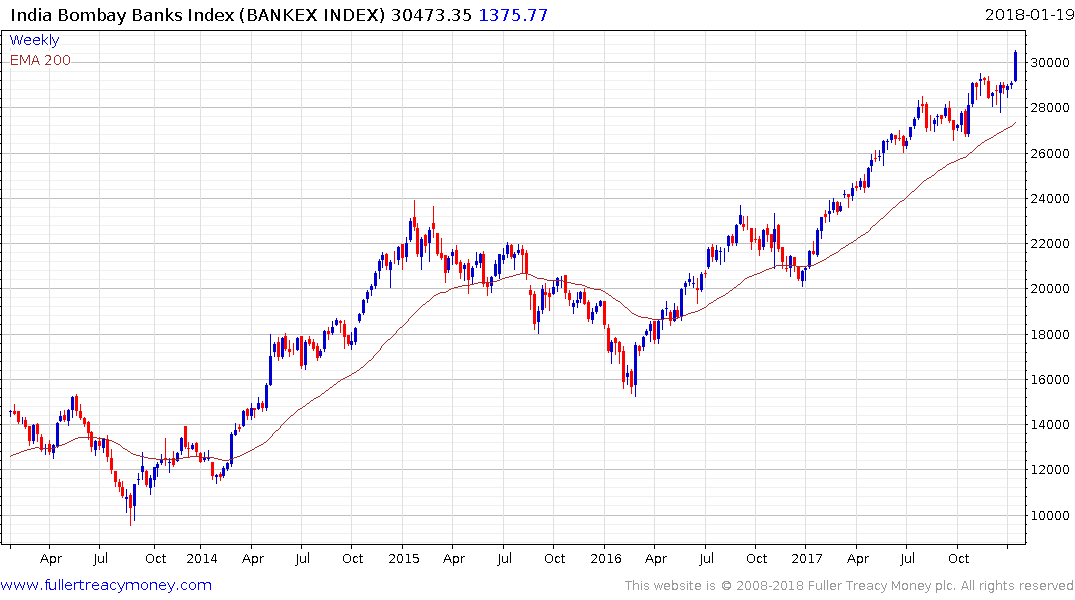 The Bombay Banks Index remains in a reasonably consistent uptrend and rallied strongly this week to extend the advance with a close above the psychological 30000.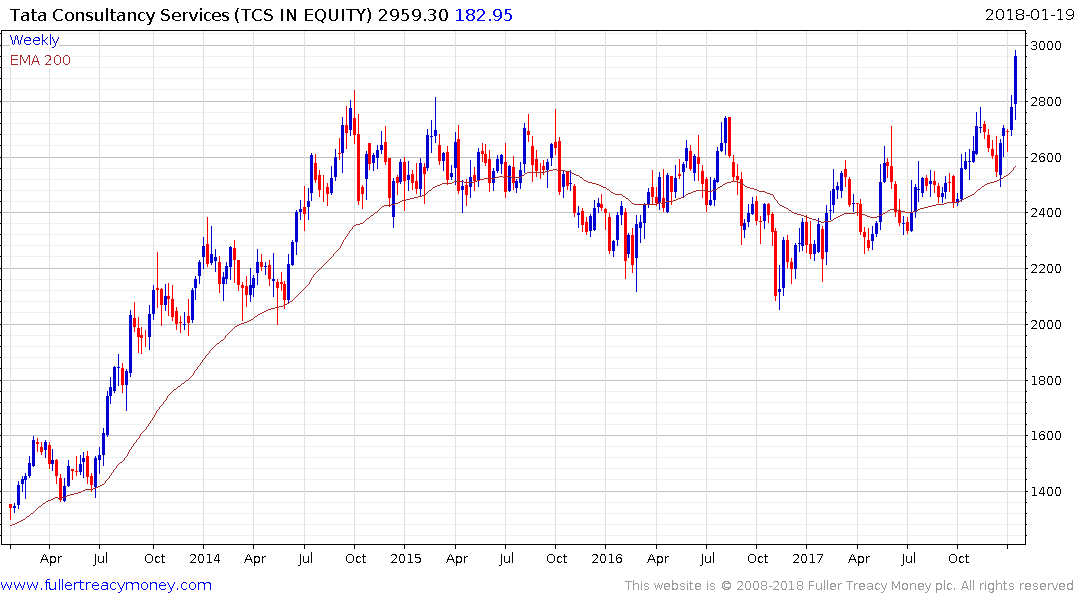 Tata Consultancy broke up out of a three-year range this week and a clear downward dynamic would be required to question medium-term scope for additional upside. The S&P/BSE Information Technology Index shares a similar pattern.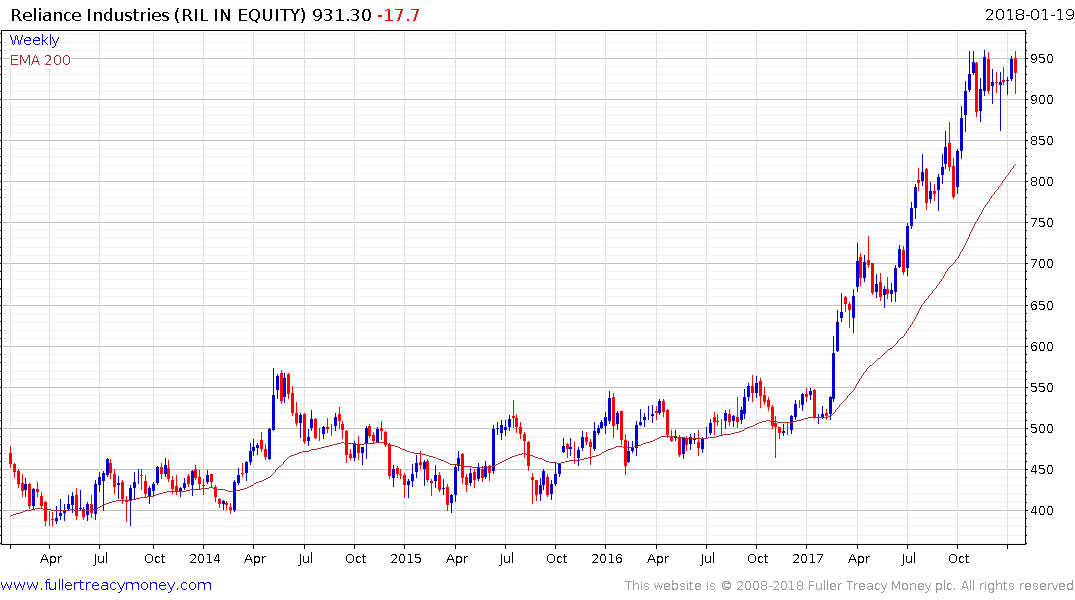 Reliance Industries, which owns Jio, has paused over the last three months in what as been a reasonably steady reversion towards the mean following an impressive advance in 2017.
Back to top