Amazon vs. Alibaba: The Next Decade of Disruption
Thanks to a subscriber for this report from Morgan Stanley which may be of interest. Here is a section:
Here is a link to the full report.

Here is a section from it:

Amazon vs. Alibaba: The Next Decade of Disruption 12 of our global research teams analyze 1) How AMZN and BABA's business models are evolving and converging; 2) The companies' still-expanding "home country" addressable markets; 3) Emerging market strategies…and AMZN's larger longterm need for global expansion; and 4) Which EM companies are most/least exposed to potential AMZN/BABA disruption. Strategies Converging around Omnichannel and Logistics: While AMZN/BABA's core businesses have different foundations (AMZN focusing on customer first, BABA also focusing on consumers but more through empowering merchants), we show how their offerings and revenue bases are converging… as eCommerce becomes more omnichannel and logistics focused.
AMZN/BABA Now Drive ~66%/33% of Incremental Addressable Consumer Expenditure in US/China, respectively… as each has established its retail leadership. That said, their investment-first focus (logistics, advertising, healthcare, China new retail, etc) is expanding their ecosystems and potentially doubling their home country addressable markets, with AMZN's US TAM growing from $3tn to $6tn and BABA's China TAM growing from $5tn to $11tn.
By 2027, BABA's China Opportunity Set to Be 3X Larger Than AMZN's US Addressable Spend: We see BABA's expansive investments combined with China's rapid economic growth/emerging online population growing BABA's addressable China market at a 6% '17-'27 CAGR, reaching ~$19tn by 2027. This will be over 3X larger than AMZN's addressable US TAM in 2027… as AMZN could be 2-3X more dependent on new/emerging market growth than BABA. While AMZN/BABA geographic-level sum of parts valuations look similar (~10-15% of value coming from int'l) this, combined with slowing US AMZN prime sub growth, could speak to AMZN's higher need to penetrate new markets. It also re-affirms the importance of AMZN's rapidly-growing high-margin revenue streams (advertising, AWS, subscriptions) to drive profitability higher.

The footprint of ecommerce is only likely to expand if for no other reason than it is easy to shop and browse online. That doesn't mean people will stop going to malls. We are after all a social species but the nature of shopping with definitely change.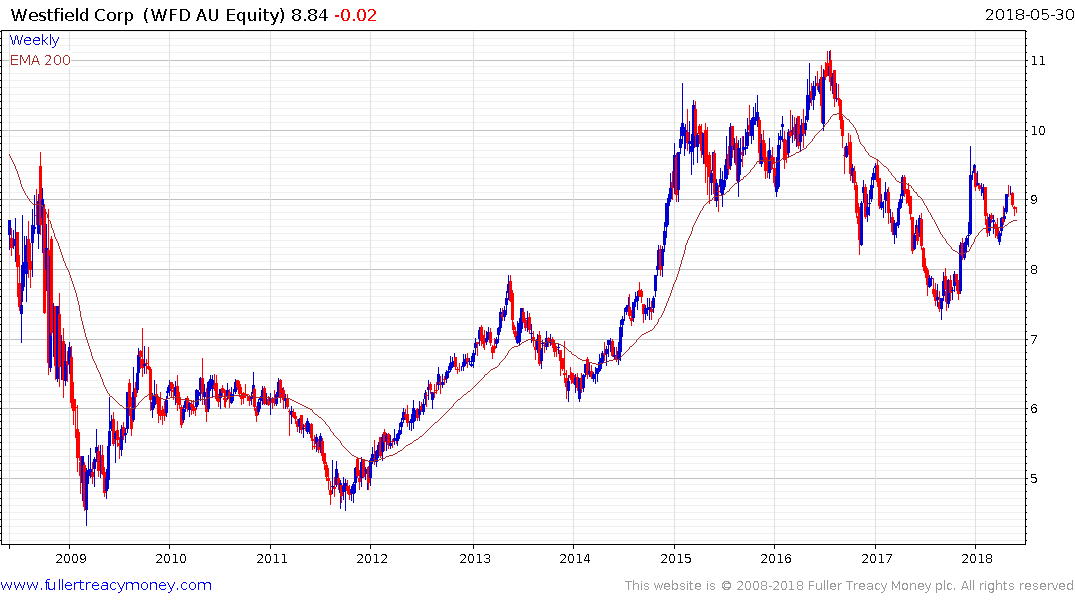 The new Westfield mall that opened up the street from me a couple of months ago is focusing on food offerings with Eataly, Ding Tai Fung and Meizhou DongPo as well as upper middle class/luxury brands. That might be a function of its location sandwiched between the affluent neighbourhoods of Beverly Hills and Holmby Hills but equally speaks to the spending habits of Chinese shoppers.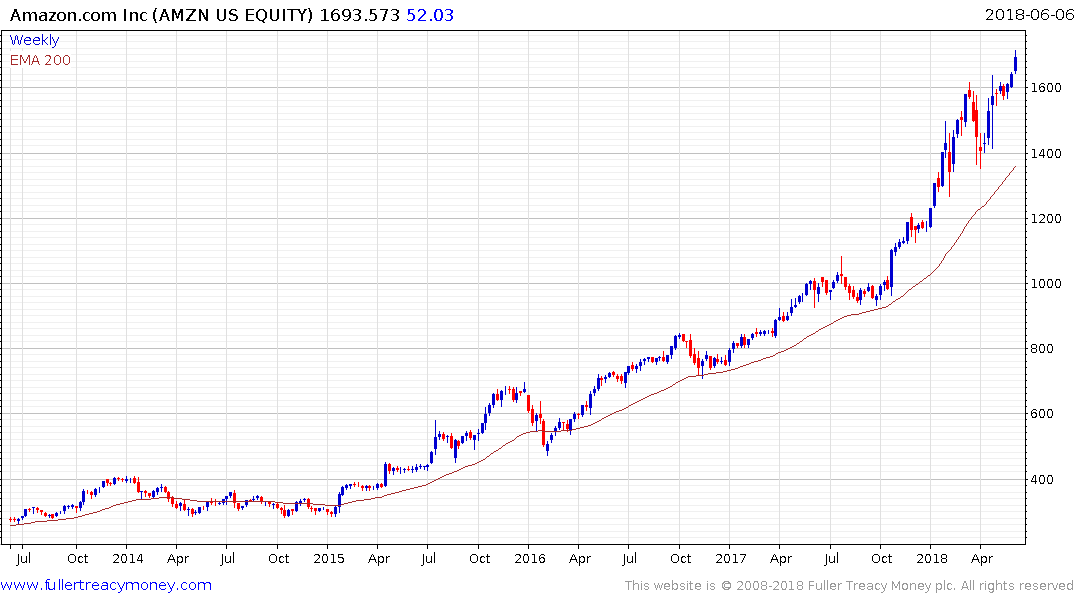 Amazon's home market definitely has fewer people than Alibaba's but its domestic standards of governance are infinitely higher. That is a factor in the relative valuations disparity between the shares.
Amazon successfully cleared the $1600 region last week and a sustained move below it would be required to question the integrity of the breakout.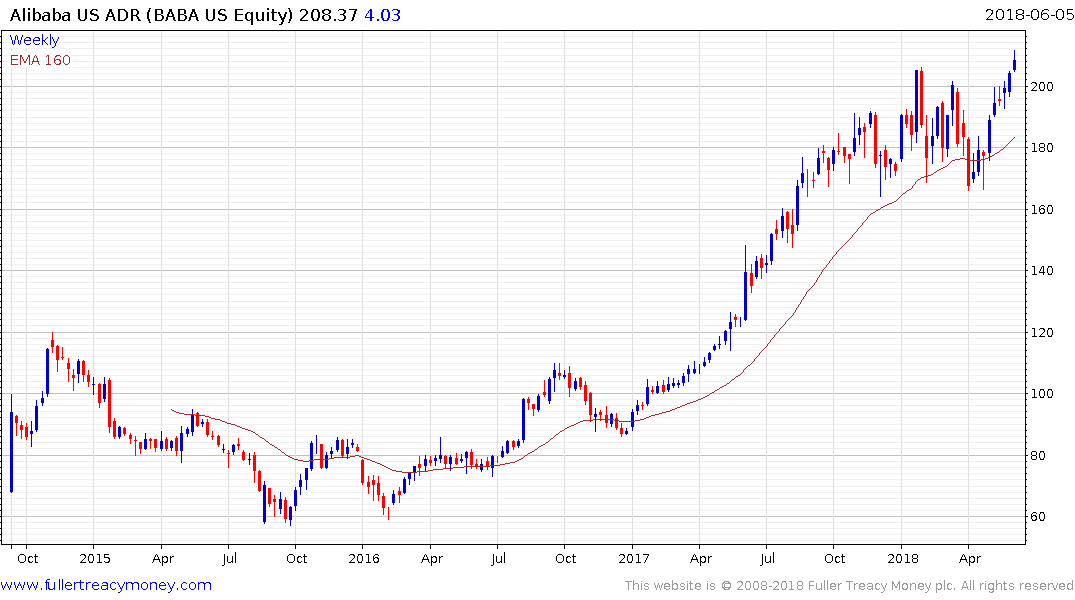 The impending introduction of Chinese Depository Receipts has been a significant near-term bullish catalyst for Chinese tech companies. Alibaba broke out to new highs this week and a sustained move below $200 would be required to question medium-term scope for continued upside.
Meanwhile, as competition between Amazon and Alibaba heats up, smaller online retailers are increasingly becoming collateral damage.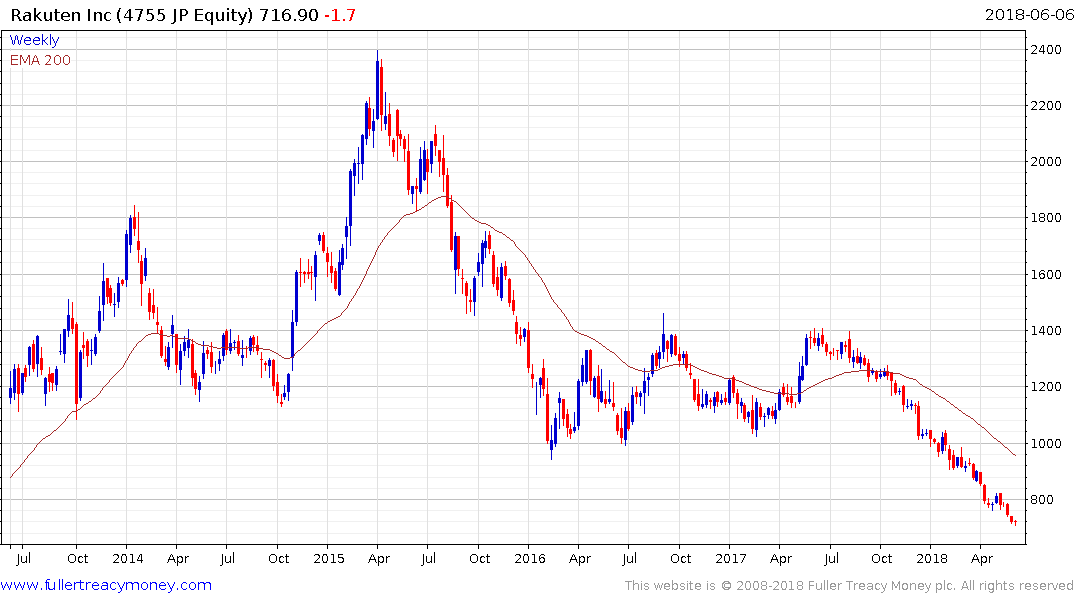 As recently as 2015 Rakuten looked like it might be a contender for a spot among the larger ecommerce businesses but is now trading at levels last seen in 2012. While overextended on the downside it is still trending lower.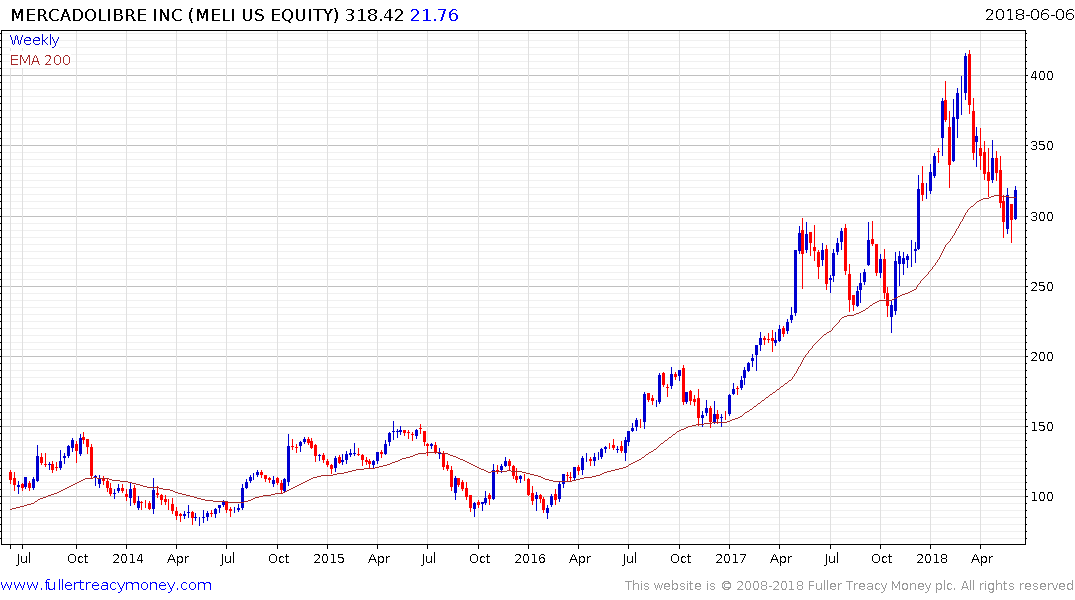 Mercadolibre is one of Latin America's largest online marketplaces and so far, been able to prosper without too much competition from Amazon or Alibaba. The share is currently firming from the region of the trend mean and a sustained move below the May low near $280 would be required to further question the medium-term uptrend.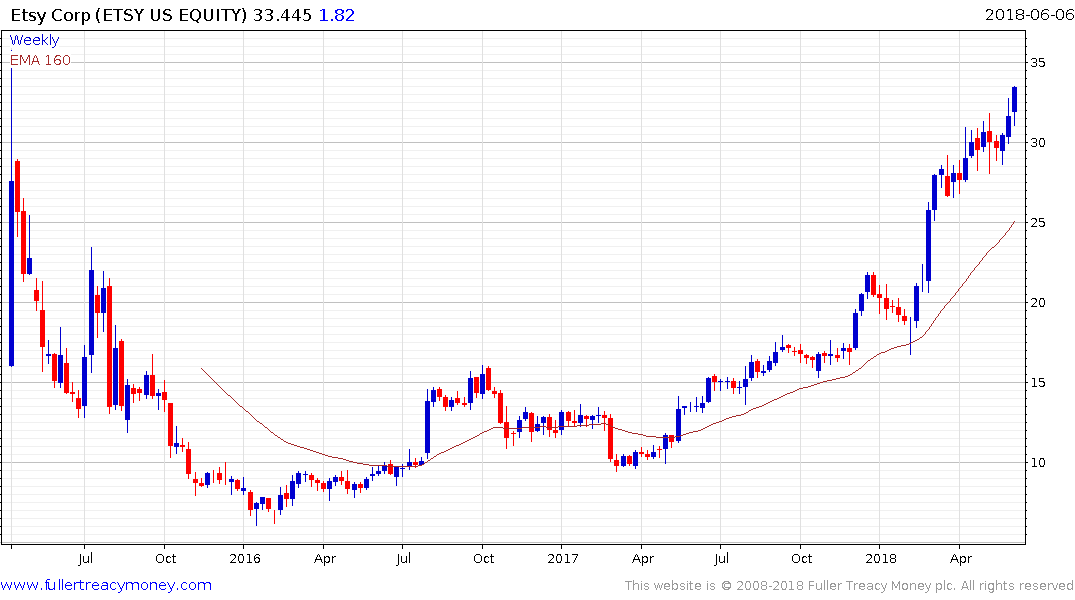 Etsy remains on an upward trajectory and a break in the progression of higher reaction lows would be required to question medium-term scope for continued upside. Amazon's Handmade site does not appear to be one of the company's priorities and that has afforded Etsy the opportunity to exploit the niche, at least so far.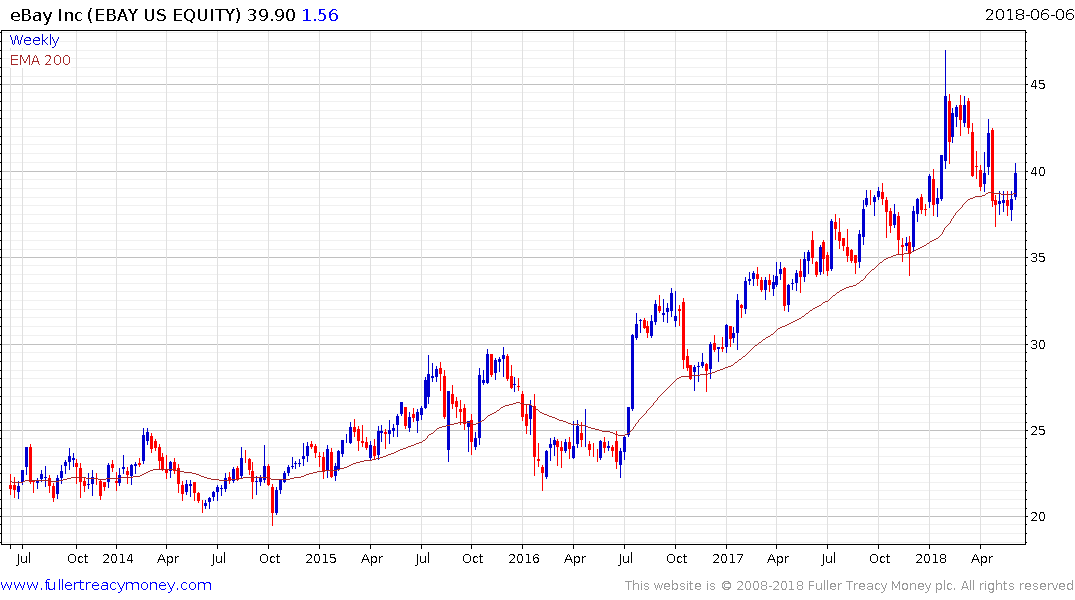 eBay remains in a reasonably consistent medium-term uptrend and is currently firming from the region of the trend mean.
Back to top