Amazon to Use Rivian Vans as EV Maker Works Toward Delivery Goal
This article from Bloomberg may be of interest to subscribers. Here is a section:
Amazon.com Inc. is starting delivery of packages to US customers using the first of as many as 100,000
electric vans built by Rivian Automotive Inc., which aims to hand over thousands of the vehicles this year.

Vehicle roll-out starts Thursday in Chicago, Dallas, Kansas City, Phoenix, San Diego, Seattle and St. Louis

Amazon expects to have Rivian vans deployed across more than 100 cities by year-end

Amazon has delivered 430,000 packages and driven 90,000 miles using Rivian pre-production battery-powered vans since 2021

Rivian CEO RJ Scaringe tells Bloomberg Television his company is working "as hard we can" to hit initial delivery target of 10,000 vans to Amazon by year-end
"We'll certainly have many thousands of vehicles on the road by the end of this year, but not providing a specific number," Scaringe says in interview to air Thursday

Scaringe says forthcoming layoffs to help company "more efficiently structure parts of the team"

Rivian is "trying to be as intentional and thoughtful in terms of what that means for the business, what that means for the individuals, as we work through that process"

Rivian has made "remarkable progress" since partnership between with Amazon was announced in 2019, Udit Madan, a transportation executive with Amazon, says in Bloomberg
Television interview

Rivian shares pared an early gain of as much as 6.1% to trade up 3.3% at 3:11 p.m. in New York



There are more new automotive companies active today than at any time since the invention of the internal combustion engine. EVs have fewer moving parts and most of the value is in the battery. That significantly lowers barriers to entry. Those with sufficient capital have been able to start brands and those with continuing access to capital are likely to survive.
Tesla has the benefit of being first to market. Rivian has a guaranteed customer with Amazon's investment. Lucid Group's majority shareholder is Saudi Arabia. Many of the Chinese EV companies have at least covert government support. Against that background, conventional auto companies are struggling to catch up.
I had a discussion with a group who have leased several hundred cars to the government for the last few years. The government has refused to give back the cars at the end of the lease because there is no available inventory to replace them. The leaser generally makes their money when the cars are returned and can be resold at a premium. That's a lot more difficult when an extra year or two of amortization has accrued.
The big question for these types of company is when will they be able to buy cars at will to replace inventory? Manufacturers have been reluctant to boost supply because of a shortage of chips and the cost of transitioning to electric. That suggests a significant mismatch in the market because charging infrastructure continues to lag roll out of EVs and many consumers don't want them.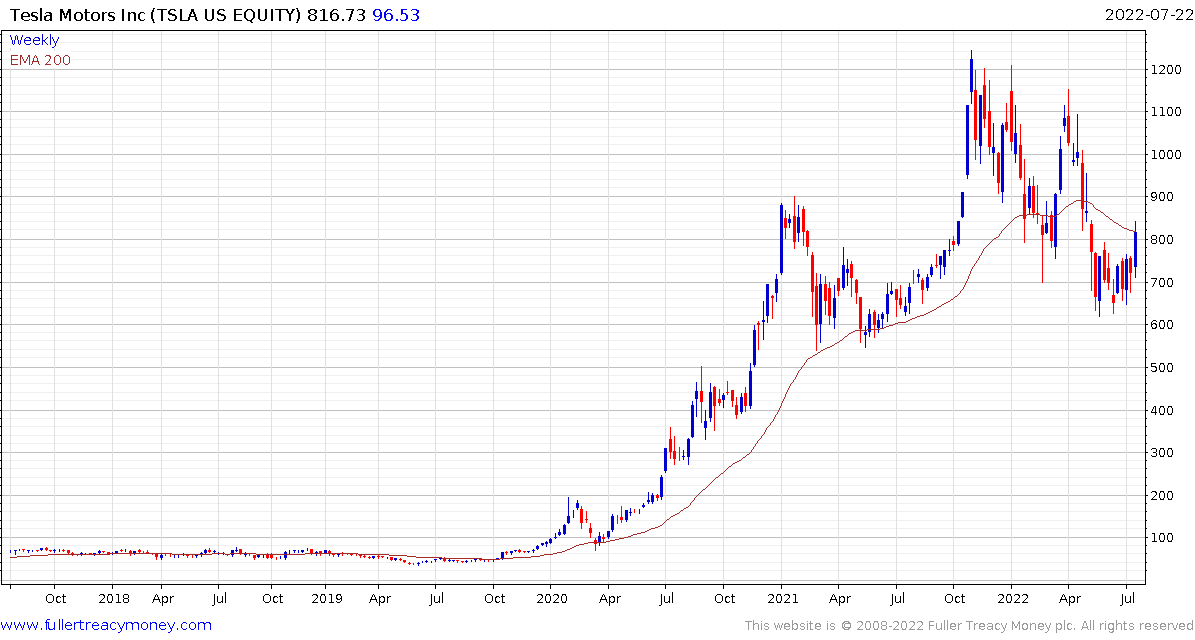 Tesla is one of the only major automotive shares that is not treading water close to its lows.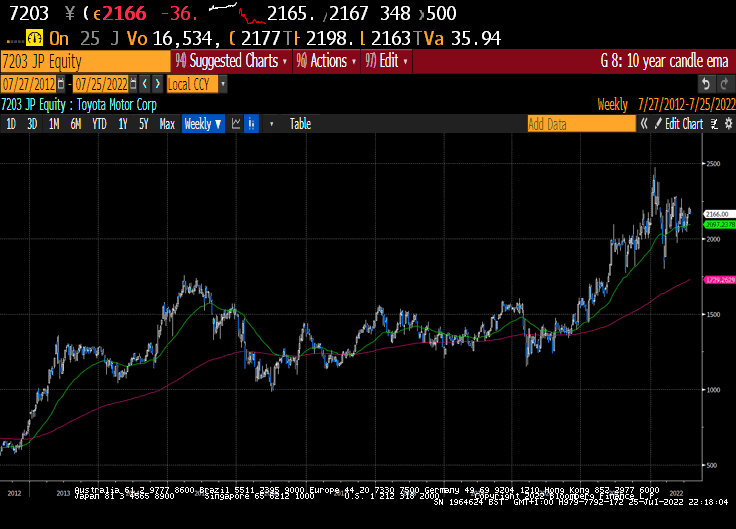 Toyota is pausing in the region of the 1000-day MA and the upper side of the underlying range.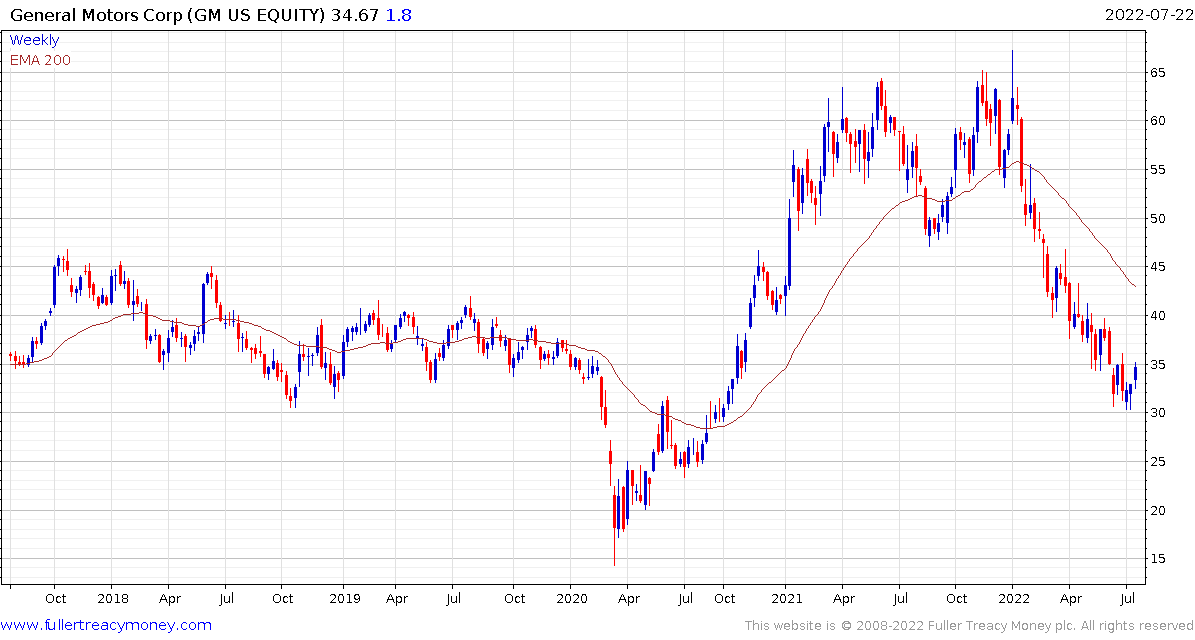 GM is testing its sequence of lower rally highs. Ford has a similar pattern.
Back to top