Amazon to Cut Prices at Whole Foods as Acquisition Closes
This article by Mark Gurman and Matt Townsend for Bloomberg highlights the continued polarisation in the retail sector between those with a technological/low cost advantage and conventional stores. Here is a section:
The company said it will begin slashing prices on a broad cross section of Whole Foods groceries Monday -- the same day the $13.7 billion deal is set to close. That will start with items such as chicken, eggs, some vegetables, and some types of organic fish. Amazon reeled off a long list of other plans to combine its leading e-commerce and delivery assets with the physical locations of Whole Foods stores.

"This is a pretty impressive array of bold moves on the first day of an acquisition -- unprecedented, we would say," said Carol Levenson, an analyst at Gimme Credit.

The moves by Amazon inflame an already raging price war in U.S. groceries -- a sector known for razor-thin profit margins.

German discount grocers like Lidl and Aldi are expanding in the U.S. and Wal-Mart Stores Inc. has been investing in more discounts too. Low prices are familiar terrain for Amazon, which has operated with little profitability for more than a decade. Shares of grocery-store chains fell on the announcements.

Kroger Co. declined as much as 2.4 percent while Sprouts Farmers Market Inc. sank 2.5 percent. Wal-Mart Stores Inc., which sells the most groceries in the U.S., also dropped 0.8 percent.

Amazon will also begin selling Whole Foods branded products, including those that are part of the 365 brand, via its website, and through fast delivery services like AmazonFresh, PrimeNow, and Prime Pantry, the company said.

Beyond price cuts and increased distribution, Amazon Prime will become Whole Foods' customer rewards program, allowing shoppers to rack up Amazon rewards when they purchase pasture-raised eggs, organic milk and kombucha.
Amazon Prime is no longer the cheapest venue for goods but is among the most convenient. That turn to mild profitability has allowed the share to perform admirably over the last 18 months. The decision to embark on a price war following its acquisition of Whole Foods, which has historically been among the most expensive vendors, is a threat to established stores that have never had to compete on price with a company possessing Whole Foods' cache.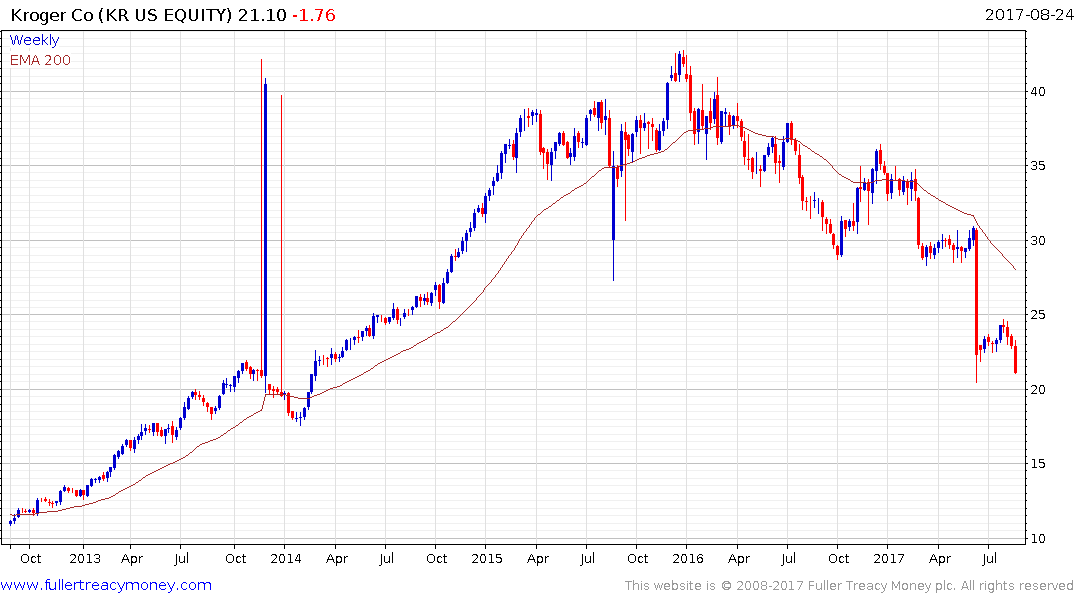 Kroger experienced a mild bounce from its June collapsed following the announced of the Amazon purchase of Whole Foods and pulled back sharply again this week. The low near $20 needs to hold if even a semblance of support building is to be given the benefit of the doubt.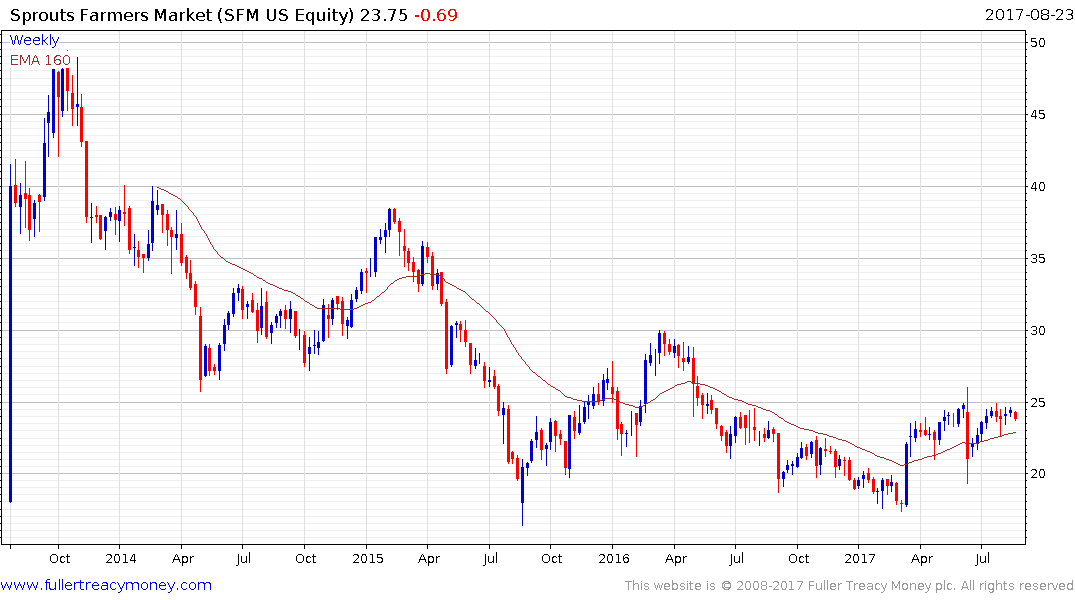 Sprouts confirmed near-term resistance in the region of $25 this week and a sustained move above that level will be required to check potential for a further test of underlying trading.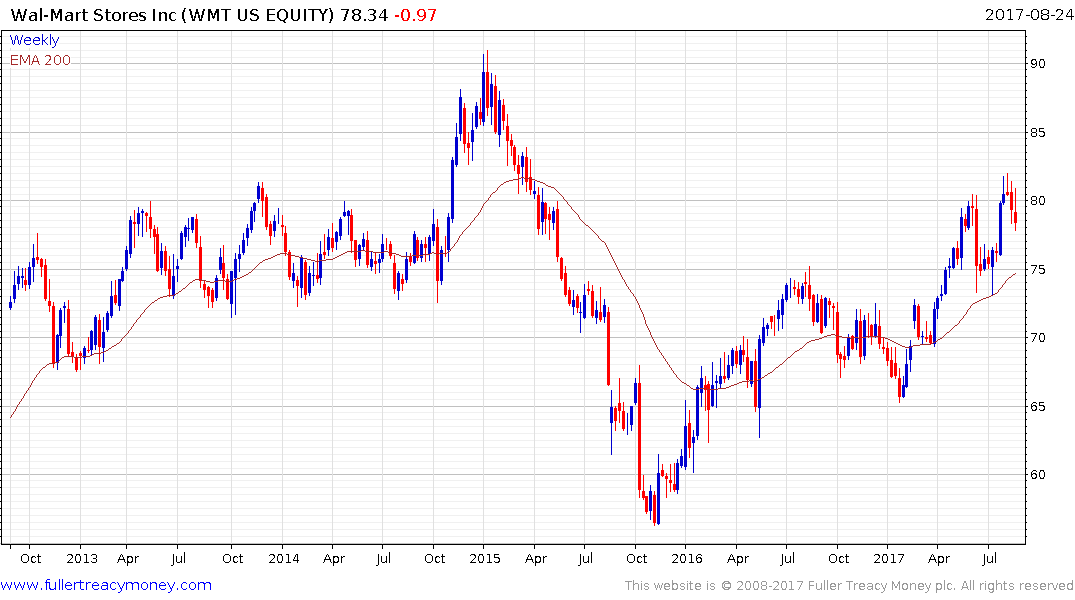 Wal-Mart is investing heavily to compete with Amazon in online retail but has so far demurred from opening fulfilment centres or offering Prime-like services. However, that would be a logical progression for the company's evolving offering. Amazon on the other hand appears ready to try and compete on price. Quite whether it can go head to head with Wal-Mart is another question since they are in many respects going after different clients.

Wal-Mart has held a volatile uptrend since late 2015 and an unwinding of its short-term overbought condition is currently underway.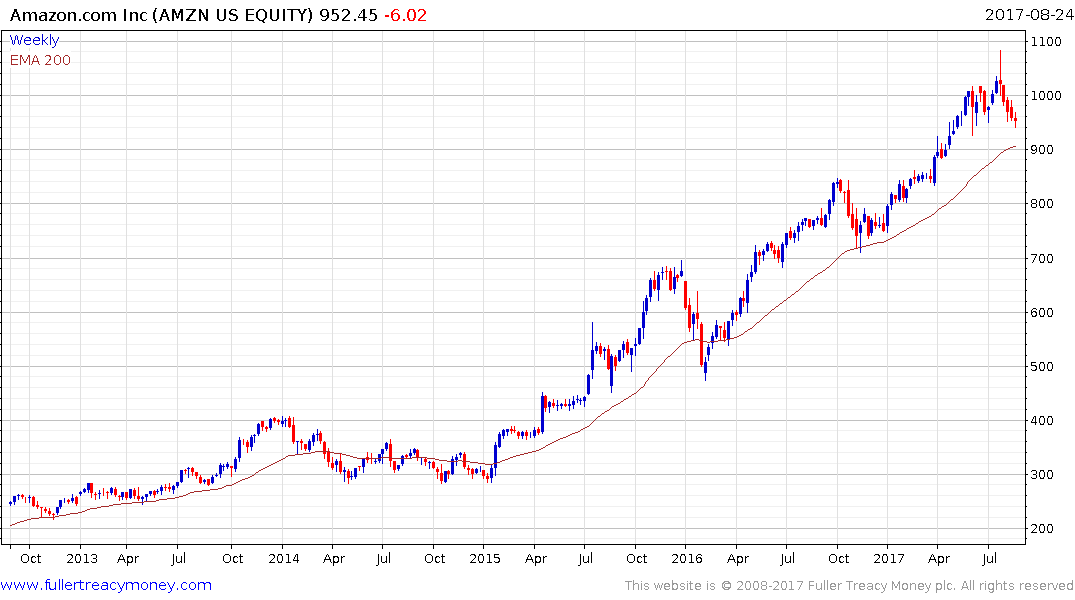 Amazon pulled back from its late July peak to test the June lows near $950 and unwound most of its overbought condition relative to the trend mean in the process. However, a sustained move above the roundophobic $1000 will be required to signal a return demand dominance beyond short-term steadying.
Back to top