Amazon to Buy Whole Foods in $13.7 Billion Bet on Groceries
This article by Nick Turner and Selina Wang for Bloomberg may be of interest to subscribers. Here is a section:
Amazon.com Inc. will acquire Whole Foods Market Inc. for $13.7 billion, a bombshell of a deal that catapults the e-commerce giant into the supermarket business with hundreds of stores across the U.S.

Amazon agreed to pay $42 a share in cash for the organic- food chain, including debt, a roughly 27 percent premium to the stock price at Thursday's close. John Mackey, Whole Foods' outspoken co-founder, will continue to run the business -- providing a lifeline to the embattled executive after a fight with activist investor Jana Partners.

The deal sends a shockwave across both the online and brick-and-mortar industries, uniting two brands that weren't seen as obvious partners. But Whole Foods came under pressure to find a buyer this year after Jana acquired a more than 8 percent stake and began pushing for a buyout. Jana's move irked Mackey, who has referred to Whole Foods as his "baby." By enlisting Amazon, he gets to keep his job as chief executive officer of the grocery chain.

Whole Foods shares jumped 27 percent to $41.99 as of 10 a.m. in New York, bringing them close to the transaction price. Amazon shares gained 3.2 percent to $995.
If you thought the grocery business was competitive before, the polarisation of the market is only growing more intense with Amazon taking a role in the luxury end of the market while Aldi and Lidl are investing heavily in the lower end of the market. Companies in the middle are being squeezed and may represent an additional headwind for the already ailing mall sector.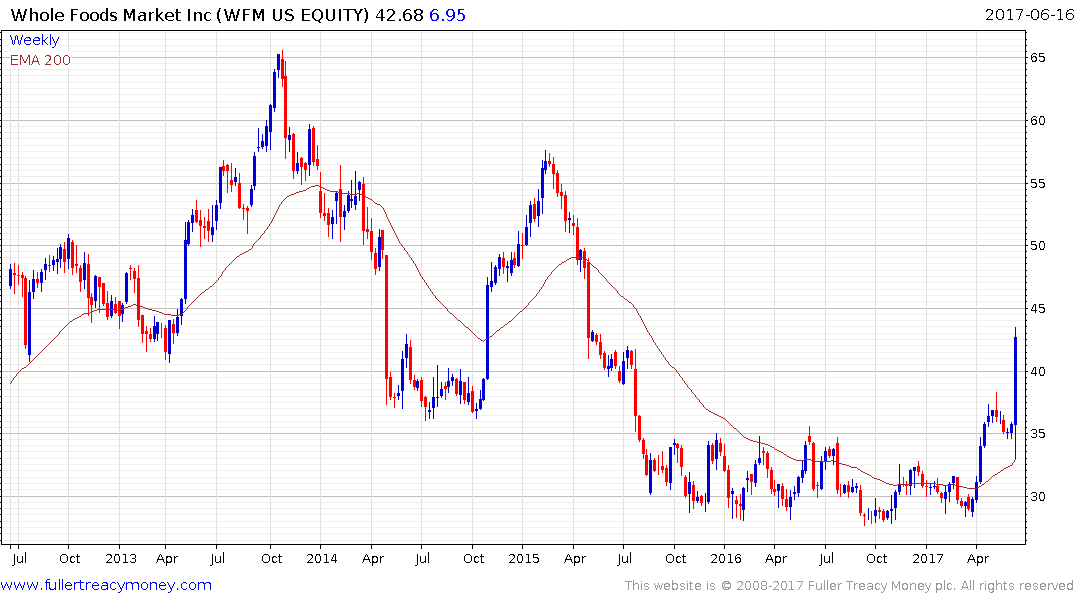 Kroger and Target are being squeezed in no uncertain terms with the former accelerating lower this week. Target has been trending lower for two years already but the pace of the advance is definitely picking up. So far neither company appears to have come up with a solution to how they can lure people back into their stores.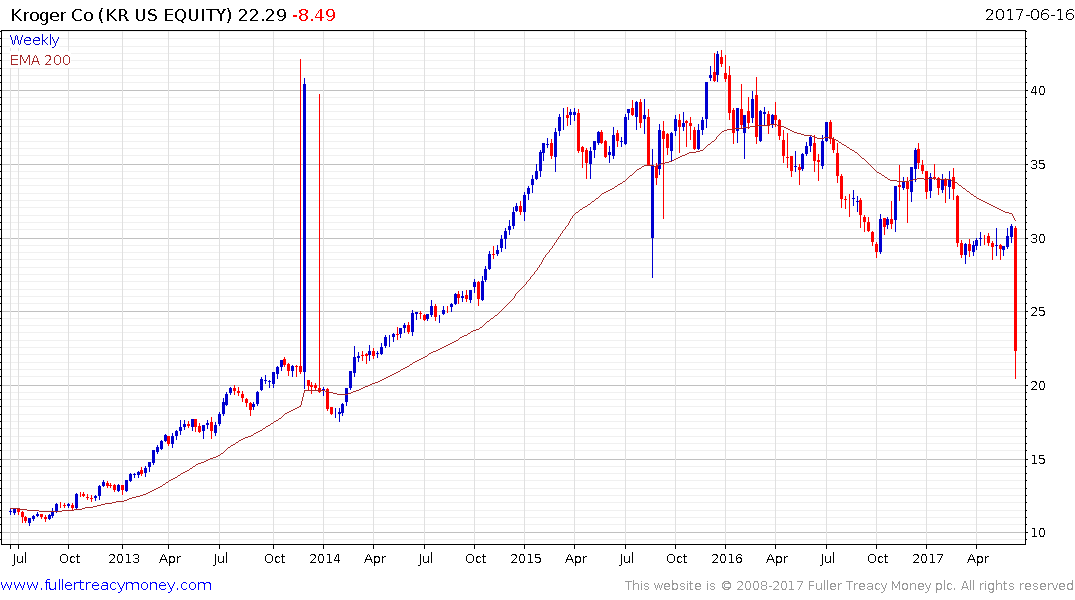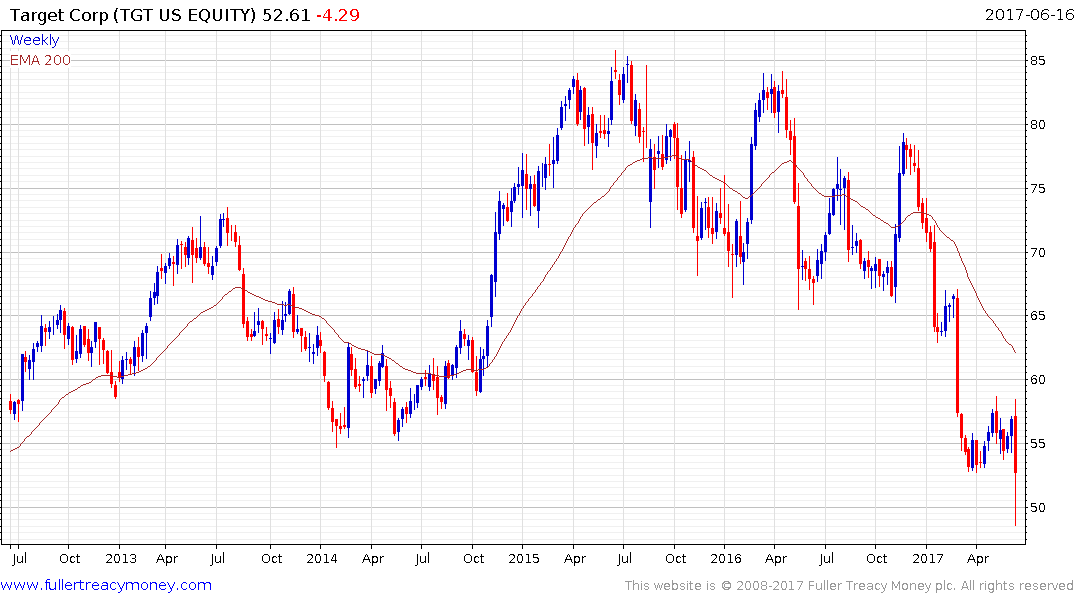 Even Costco which has been largely immune from selling pressure pulled back sharply this week to close its overextension relative to the trend mean.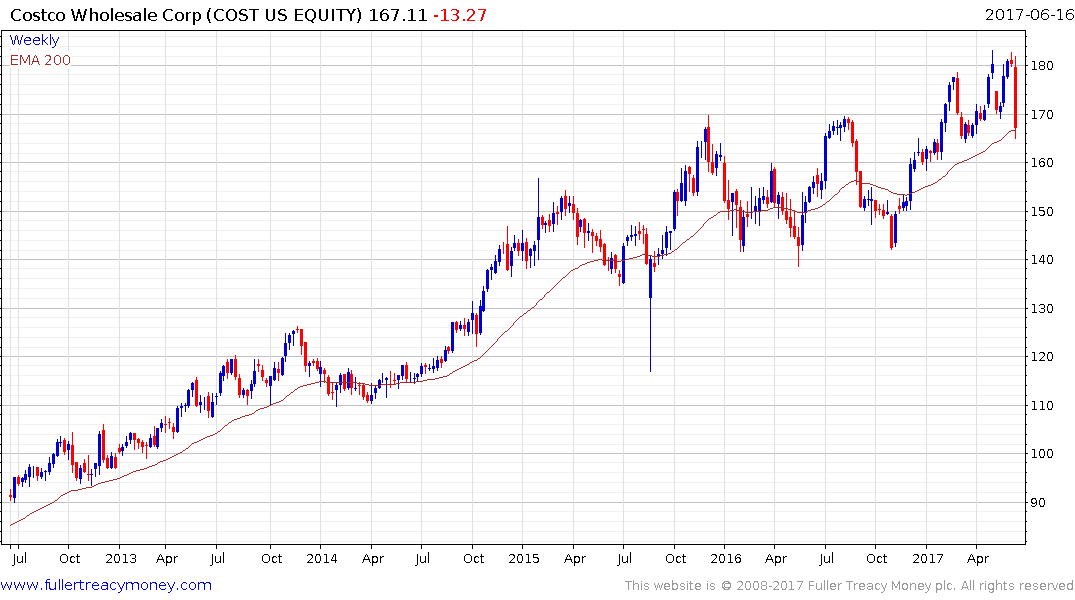 Wal-Mart also pulled back to close its overextension relative to the trend mean today. However it is perhaps the greatest potential threat to Amazon's dominance of the online marketplace considering how quickly it is expanding following its acquisition of Jet.com.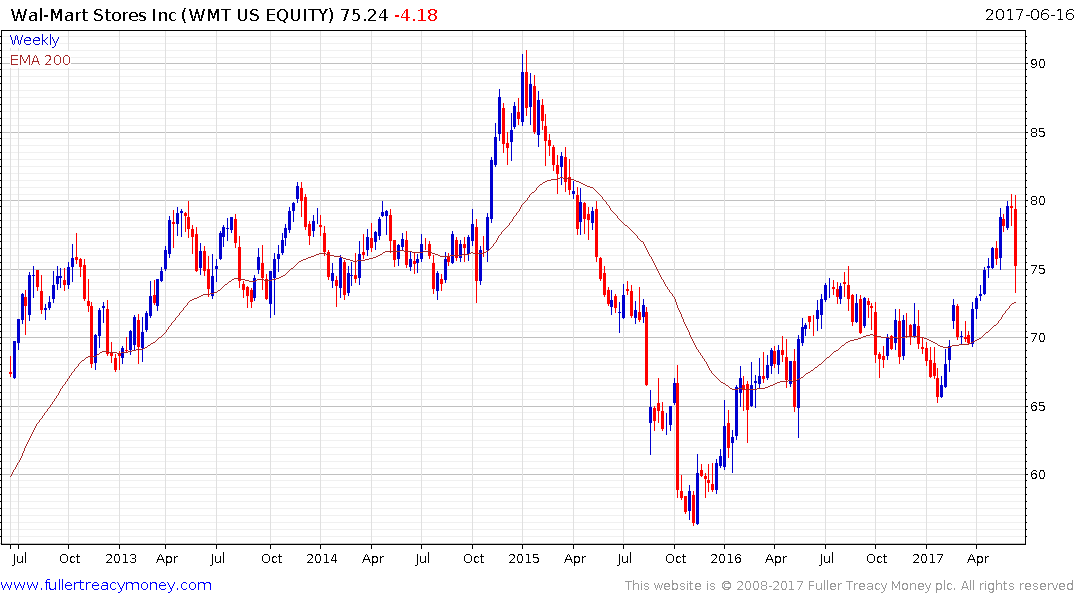 There is obviously widespread fear that Amazon can do to grocers what it did to books and other stores. However food is a time sensitive business and while luxury offerings and convenience are certainly a draw for the high disposable income demographic, cost is key for the wider market.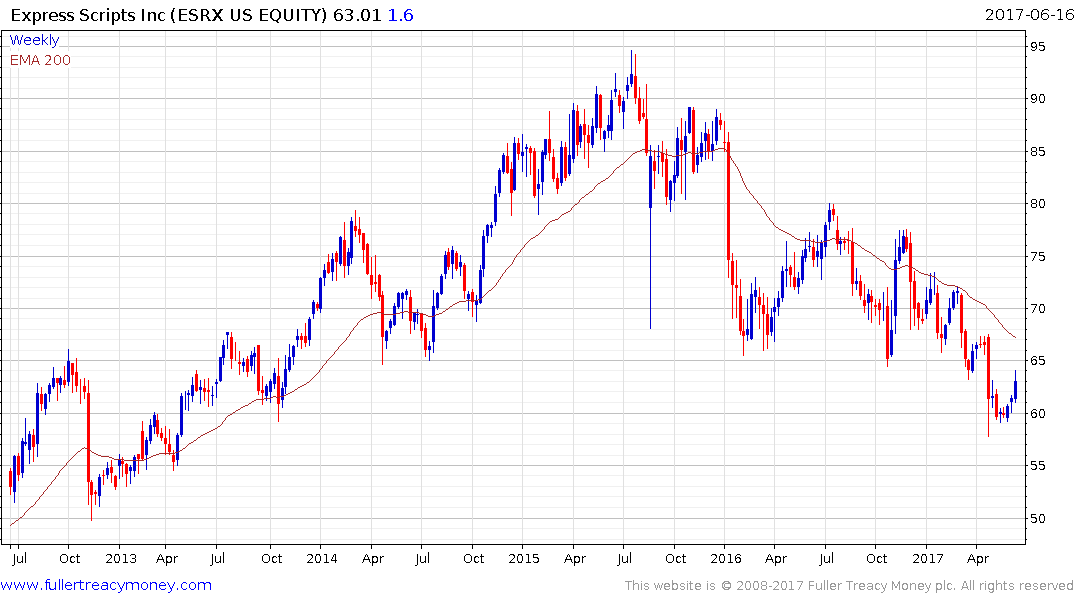 The other area Amazon is talking about getting into is pharmaceutical sales. Express Scripts is one of the largest wholesalers of pharmaceuticals in the USA and has been trending lower for nearly two years. The company is trading on an Estimated P/E of 8.99 and has a free cash flow yield of 13.1%. (free cash flow of $4.875 billion / market cap of $37.196 billion). With that kind of valuation it seems likely the company will eventually look attractive to somebody.

The share is currently somewhat overextended relative to the trend mean so there is scope for a reversionary rally but a sustained move above it would be required signal a return to demand dominance beyond the short term.
Back to top