Amazon's Real Rival in India Isn't Walmart
This article by Andy Mukherjee for Bloomberg may be of interest to subscribers. Here is a section:
Meanwhile, Indian-managed companies like Ambani's Reliance Retail Ltd. will be free to control and improve their supply chains while building a fearsome online presence in partnership with his mobile operator, Reliance Jio Infocomm Ltd.

That's not the only onerous aspect of the policy. The draft speaks of a two-year period after which data generated in India – on social media (Facebook Inc.), via search engines (Alphabet Inc.'s Google), or e-commerce (Amazon) – will have to be stored on local servers. As the Wall Street Journal noted this week, the move is bound to push up costs for Western firms.

This new restriction will probably make it to the final law. The Indian central bank is already directing all payment firms like Visa Inc., Mastercard Inc. and PayPal Holdings Inc.

to keep their Indian data exclusively in the country by October, so there's little reason to expect that rules for e-commerce data will be much less stringent.

Besides, similar laws already exist in China. Amazon sold its Chinese servers and some other cloud assets to a local partner to comply with Beijing's local storage rules. Alphabet, which has no data centers in China, is also looking for a local partner to bring its Google Drive and Google Docs to that country, Bloomberg News reported recently.

Other aspects of the policy may die without Bezos needing to move a muscle. Indian privacy activists will balk at the idea of a "social credit database," to be set up — in a very Chinese fashion — by mixing state and non-state citizen data. While the goal of the database is to promote digital lending, there's no guarantee it won't be used to stifle dissent.

A more problematic suggestion in the draft is that the Indian government would have access to the data stored in India, "subject to rules related to privacy, consent etc." A proposed Indian data-privacy law is yet to be passed by parliament, and whatever makes it onto the books will in turn be shaped by the Indian apex court's verdict in a case challenging the constitutional validity of a biometric identification system that the government has rolled out to 1.2 billion Indians.
India is on the cusp of digital revolution following the roll out of 4G at the beginning of 2016. It has been transformative for Reliance Industries' shares but the broader impact of taking shopping, banking, music, books and just about everything else we take for granted online is likely to be a major catalyst for growth in the Indian economy. The clearest comparison is that India's digital market is where China's was approximately 5 years ago.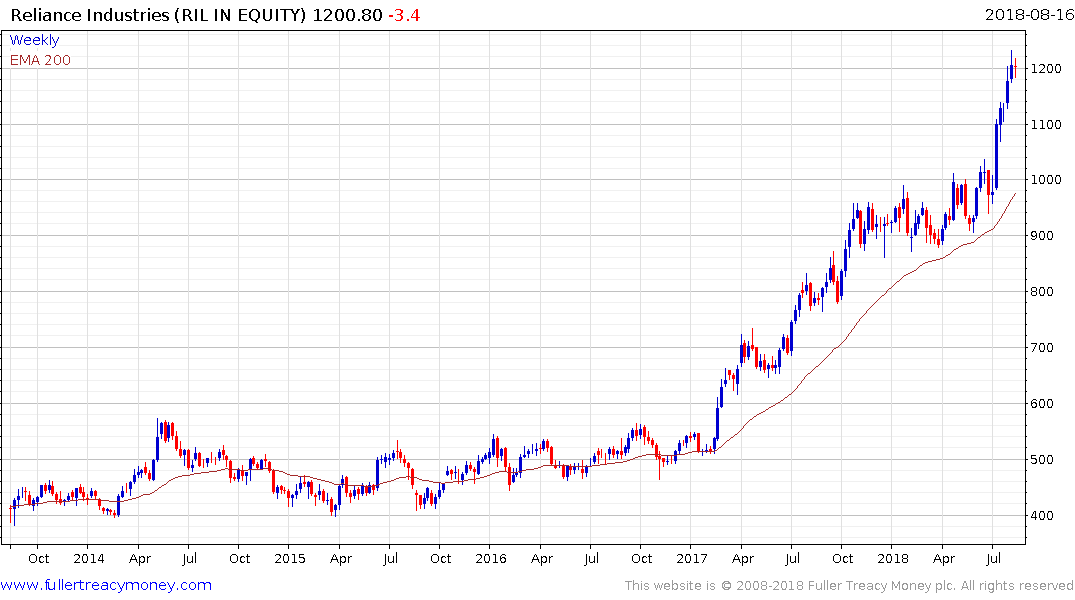 It is highly likely that India will attempt to offer preferential treatment to a local partner but the market is also unlikely to be closed to international competitors. Reliance Industries had been ranging below INR1000 since late 2017 but broke out in a very emphatic manner in July and is now quite overextended. Nevertheless, a clear downward dynamic will be required to check momentum.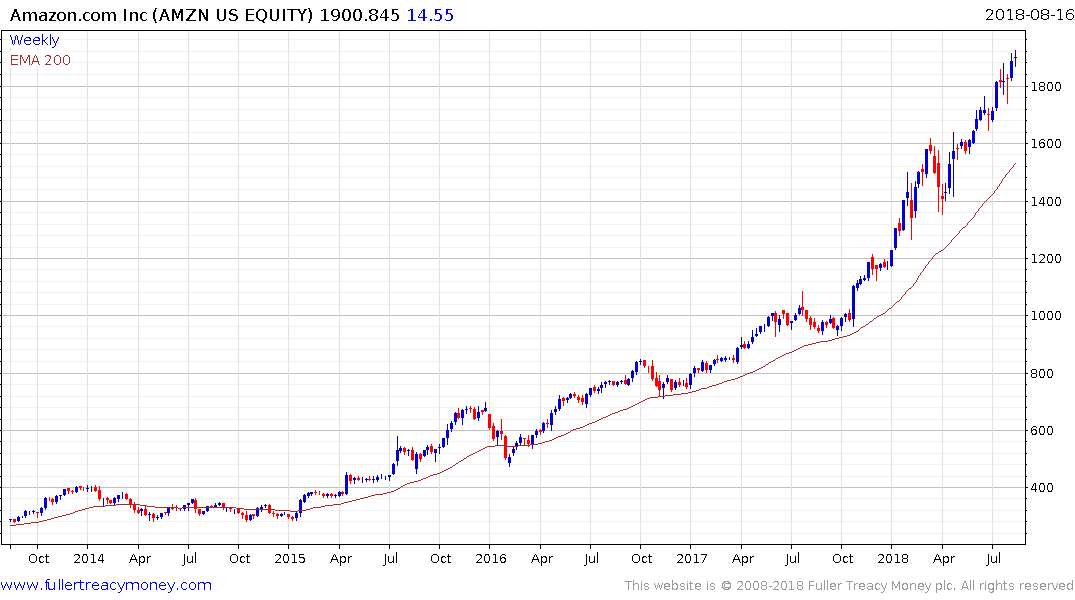 Amazon continues to trend higher in a steep but orderly manner. While susceptible to a reversion to the mean, a sustained move below it would be required to question the upward bias.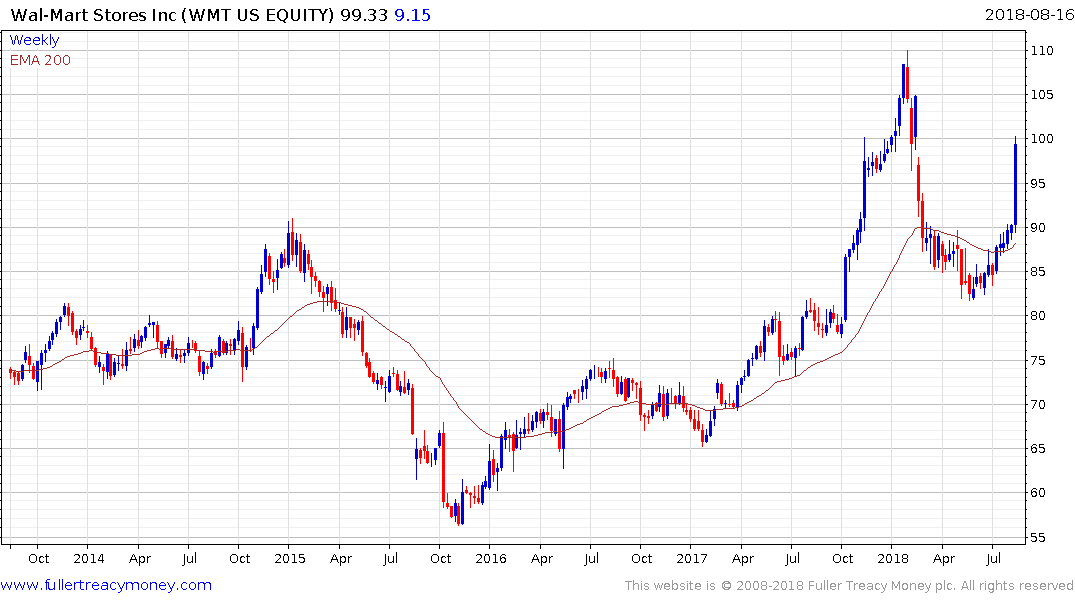 Wal-Mart unwound most of its late 2017 surge and had stabilised above $80 before today's rally. The company is spending heavily on its online shopping experience and now offers free two-day shipping without demanding a subscription fee. That has likely fuelled its best earnings in more than a decade. Its backend technology is antiquated from a seller's perspective but Wal-Mart has less incentive to facilitate third party sellers than Amazon, Ebay, Etsy or Spotify because it is already one of the largest sellers in the world in its own right.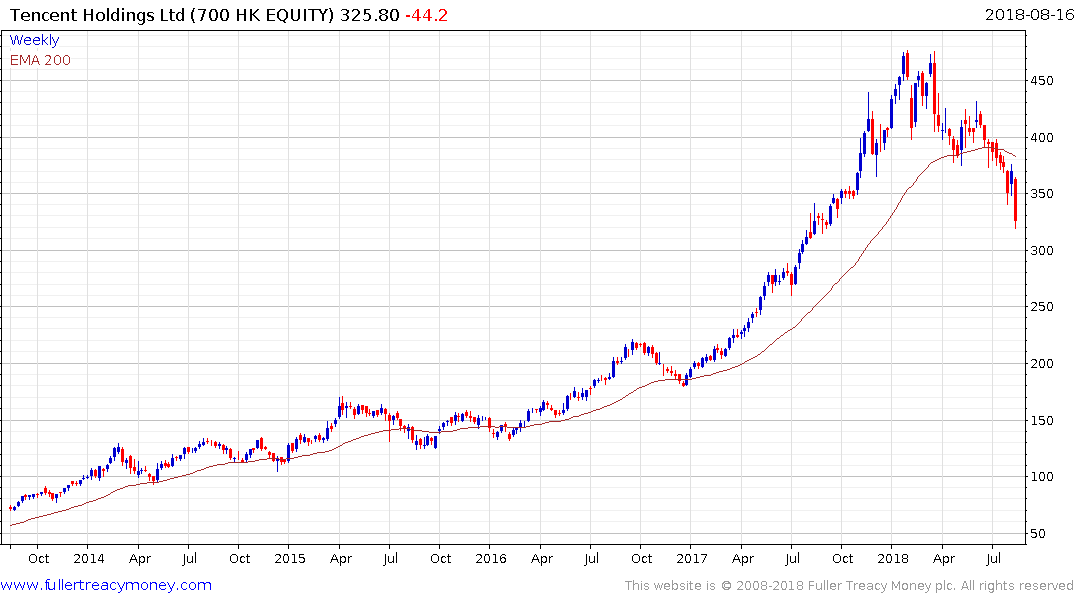 Tencent has to find a way to acquire new customers since it has pretty much exhausted the domestic Chinese market and its diaspore. The share is now accelerating lower and is quite oversold in the very short term. However, a sustained move above the trend mean would be required to question the downward bias.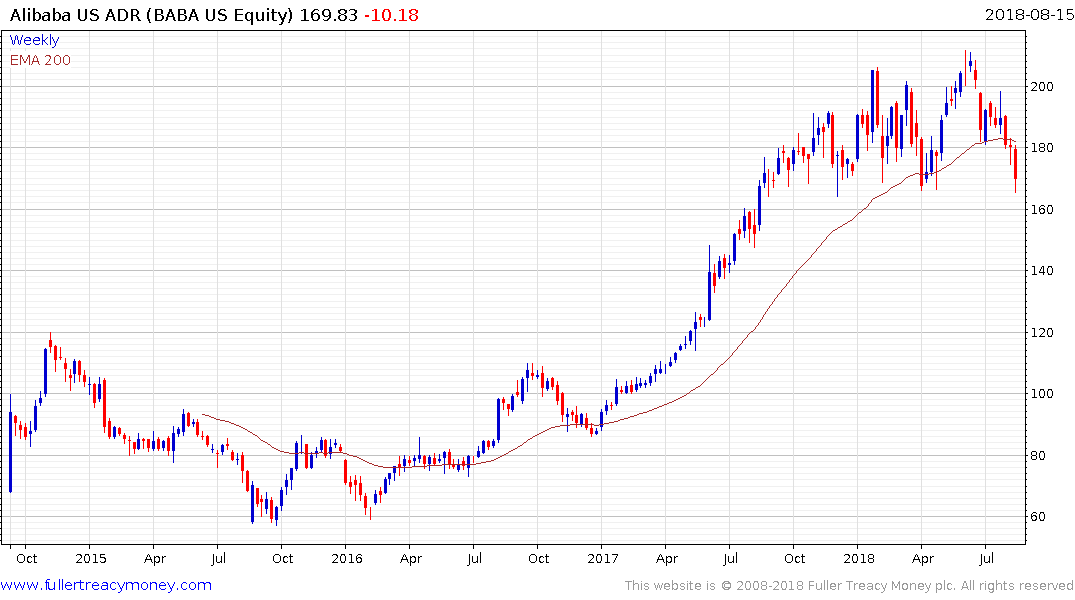 Alibaba has been largely rangebound since late last year and is now testing the lower side of its range following the failed upside break in May. It needs to bounce soon if support building is to continue to be given the benefit of the doubt.
Back to top