Amazon, Microsoft Profit From Cloud as Nasdaq Reaches Record
This article by Tom Giles for Bloomberg may be of interest to subscribers. Here is a section:
Minutes after the Nasdaq Composite closed at a record, three of the biggest bellwethers in technology reminded the market precisely why investors are so bullish on companies that do business through the Web.

Amazon.com Inc. for the first time broke out sales from its division that sells computing power and software via the Internet, reporting a 49 percent jump last quarter. Microsoft Corp. posted profit that topped analysts' estimates, also underscoring healthy demand for software delivered through the cloud. Google Inc. benefited from rising volume of online ads.

The numbers are a testament not only to the endurance of the Internet as a conduit of commerce and information, but also to the ways it has revolutionized how the world's biggest corporations operate. All three companies have been at the heart of these changes since the Web's inception as a business tool, and are now vying for a bigger slice of the still-fledgling market for cloud computing.

Google is seeking to extend its lead in online search and advertising, Amazon is spending billions of dollars to expand in e-commerce and data centers, and Microsoft is building on its dominance of the business-software market.

?"We are innings one or two of the cloud," said Kim Forrest, an analyst at Fort Pitt Capital Group Inc., which oversees about $1.8 billion in Pittsburgh.
This is a big day for the Nasdaq. Back in 2003 no one anticipated the Index would surmount its bubble peak in little more than a decade. Of course the relative weightings of the Index have changed almost beyond recognition in that time but above all else, the Nasdaq's performance is a testament to how successful the USA is at creating companies that fill market niches we never knew existed.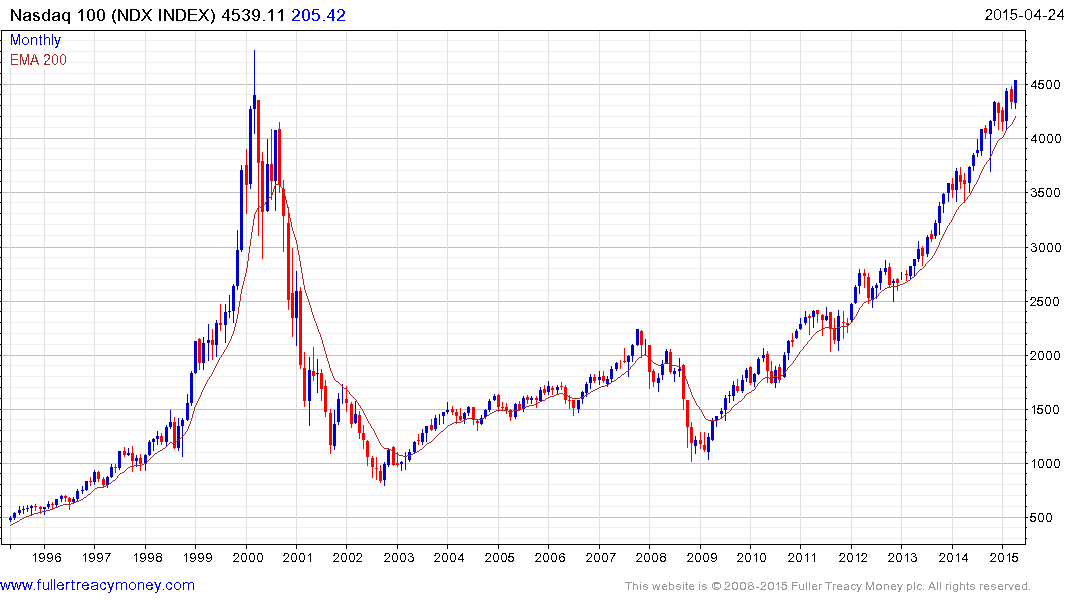 Taking a look at the day's winners and losers some interesting dynamics are evident. First off, biotech has been the lead sector for the last six months, amid a swathe of IPOs and the commercialisation of long awaited therapies.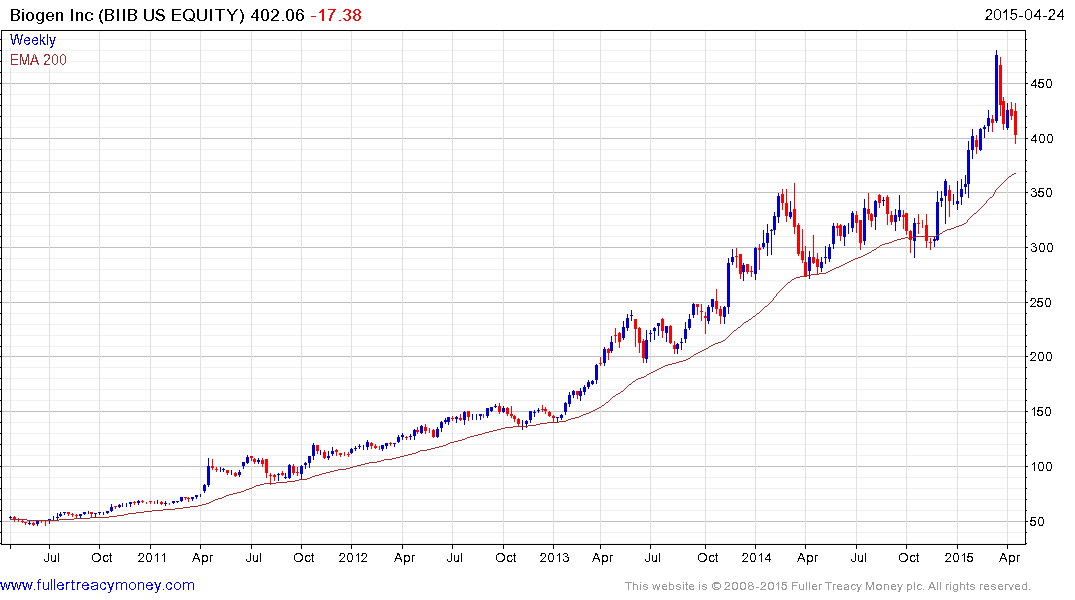 However Biogen entered a process of mean reversion from mid-March and a similar unwinding of overbought conditions is evident across the sector. With the Index hitting new highs, some rotation is taking place with previous laggards now taking over the running.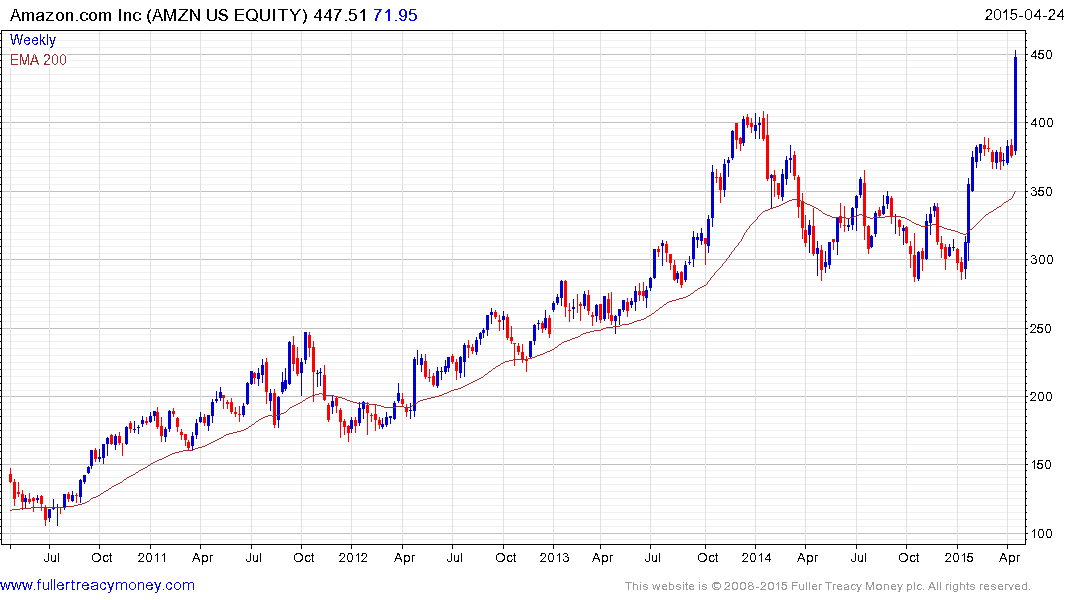 Amazon's surge today completed a lengthy period of consolidation.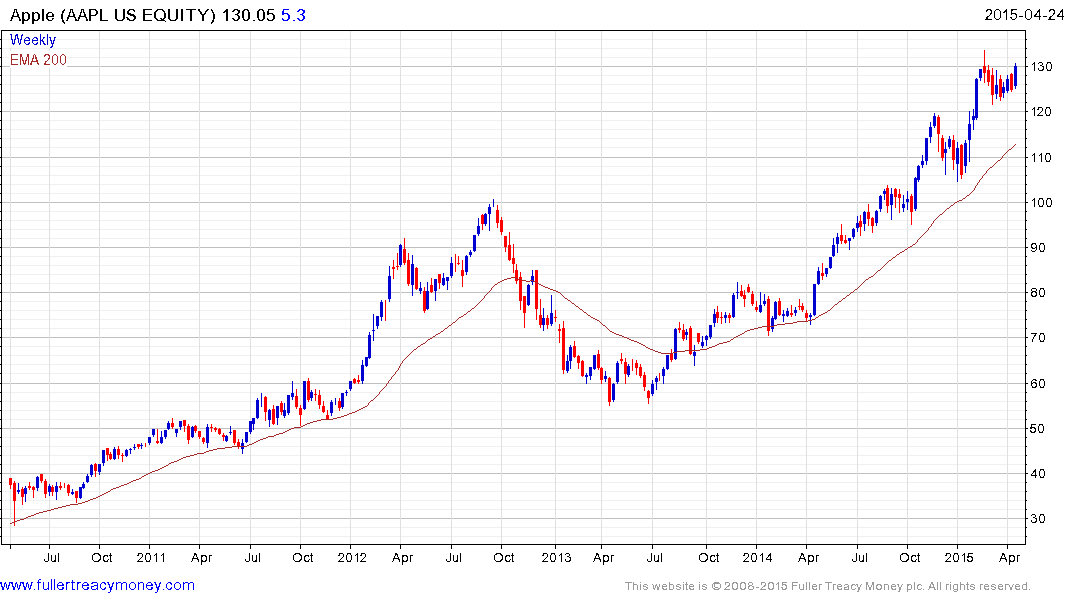 Apple remains in a consistent advance.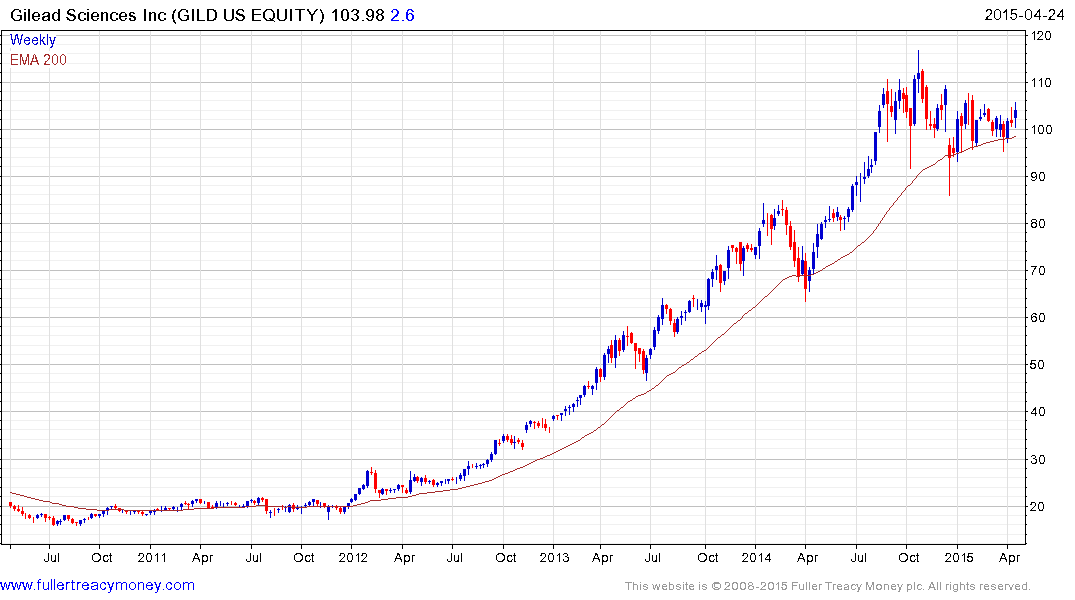 Gilead Sciences, which has been wallflower among biotech shares, is firming from the region of the 200-day MA,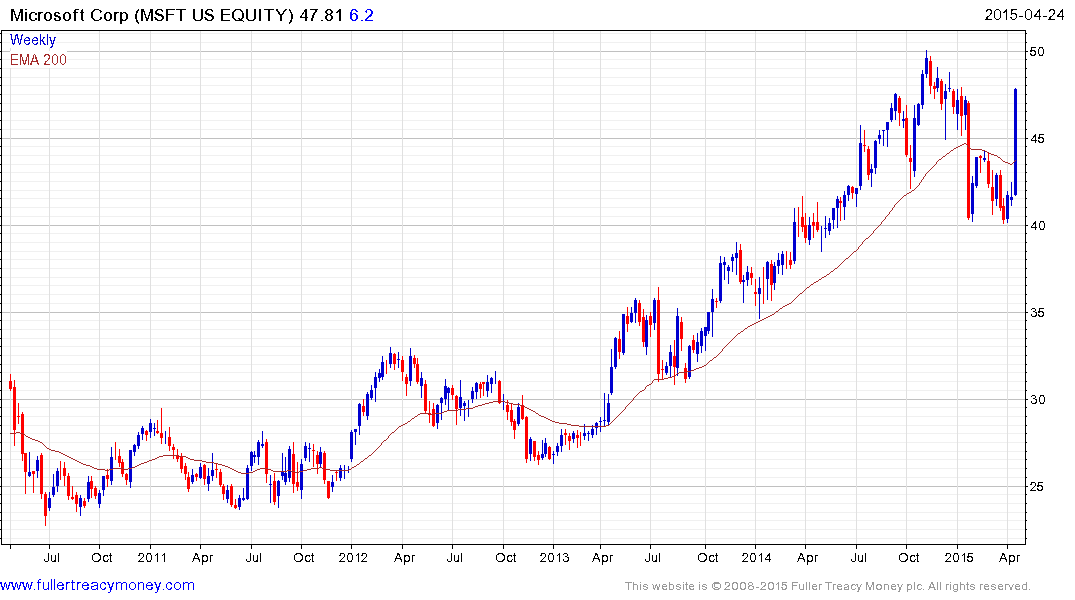 Microsoft's upward dynamic represents a return to demand dominance which can be given the benefit of the doubt provided its holds in the region of the 200-day MA on the next pullback.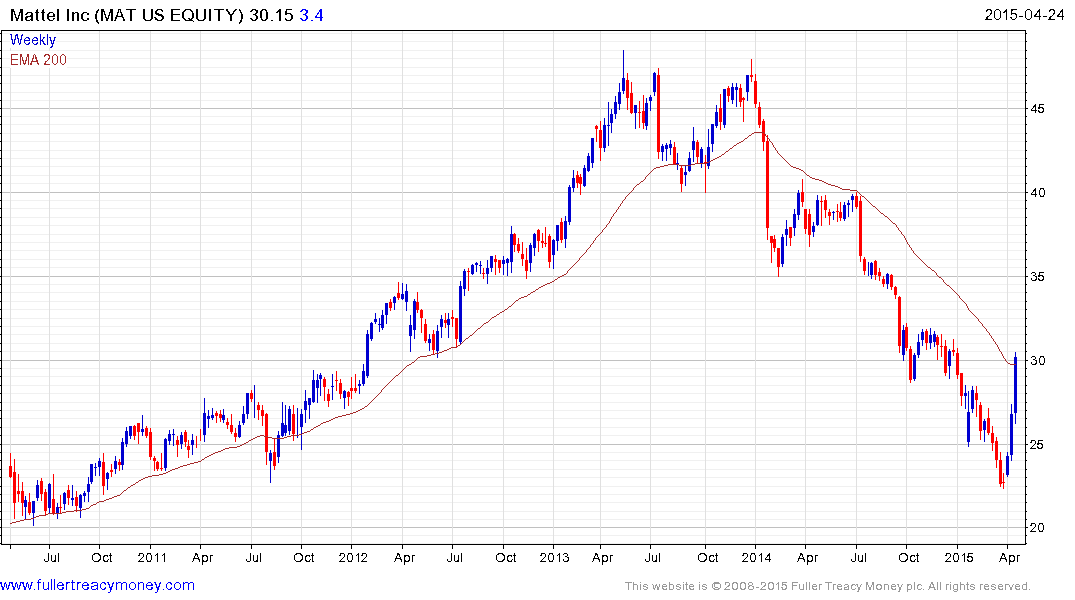 Mattel continues to rebound, has now closed its overextension relative to the 200-day MA and broken a lengthy progression of lower rally highs. Some consolidation may occur at this level but a sustained move below $25 would be required to begin to question medium-term recovery potential.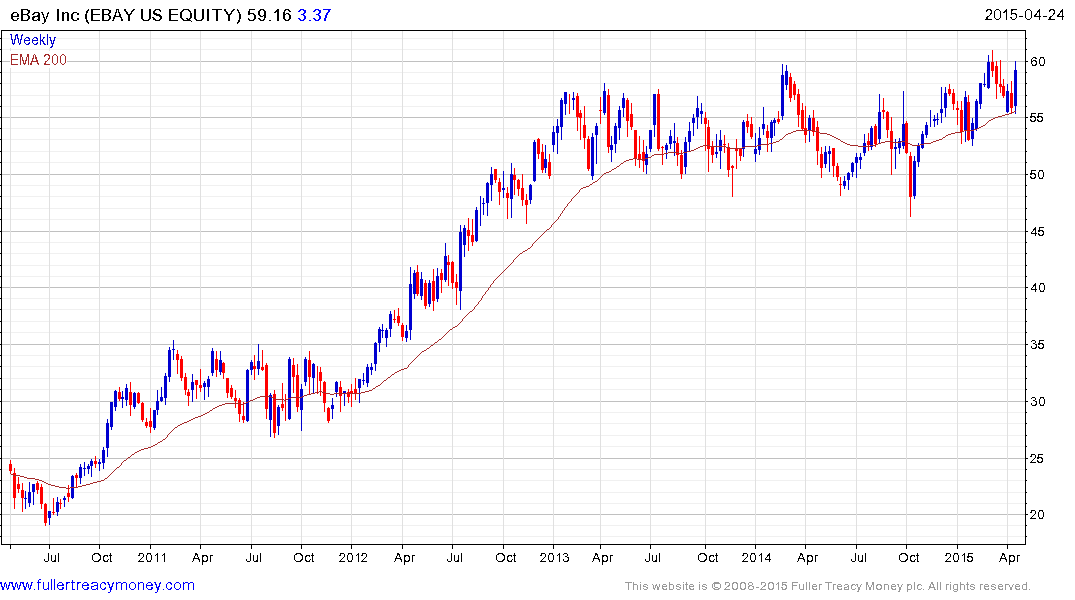 Ebay has been ranging for more than two-years as speculation about the possible spin off of PayPal has ebbed and flowed. A progression of higher reaction lows is evident since the October failed downward break and a sustained move below $55 would be required to question potential for a successful break above $60.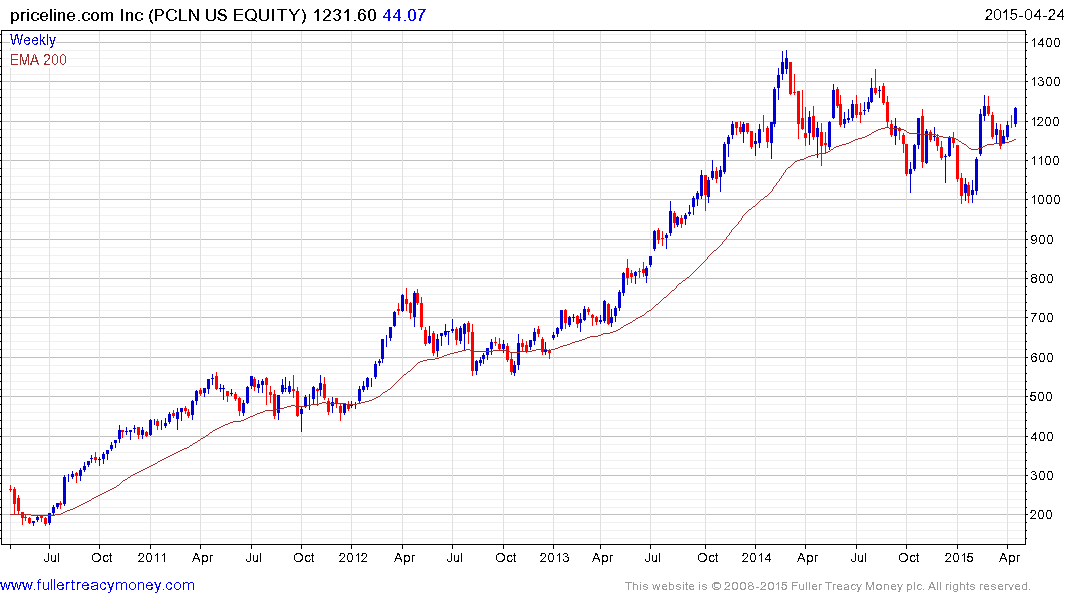 Priceline hit a medium-term peak a year ago but is now firming from the region of the 200-day MA and a sustained move below it would be required to question potential for additional upside.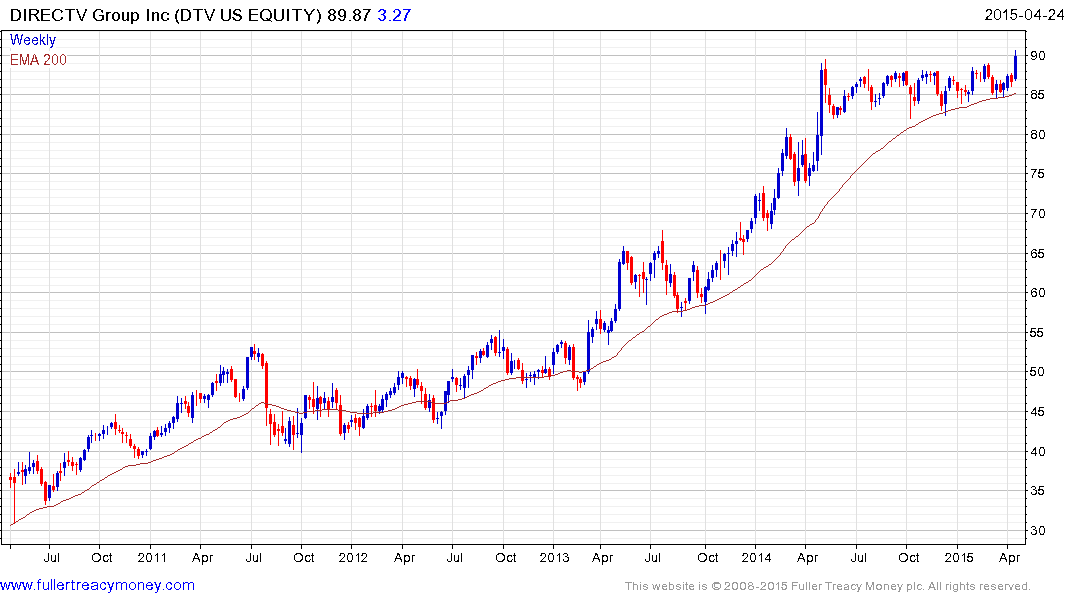 DIRECTV accelerated to its May 2014 peak, but the subsequent range was inert relative to the previous trend and it broke out to new highs today. A sustained move below the 200-day MA would be required to question the consistency of the uptrend.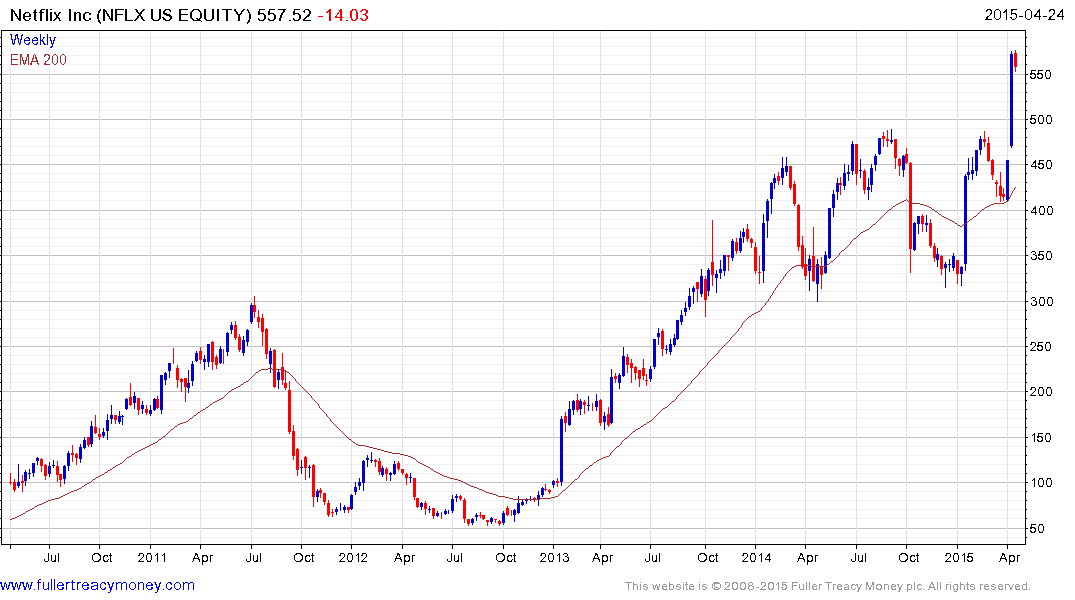 Netflix ranged for most of 2014 and experienced an explosive breakout last week.
As we can see from the above shares the Nasdaq-100 is still well supported by market breadth.
Back to top