Amazon Is Left Out of Mega-Cap Tech Surge to Records
This article by Ryan Vlastelica for Bloomberg may be of interest to subscribers. Here is a section:
Because of its long-term prospects, Amazon is about as close as a stock can be to a consensus choice among Wall Street firms. Over the near term, though, it is "the most hotly debated among investors" as "debates persist on both AWS and next day shipping efforts," according to UBS analyst Eric Sheridan, referring to its Amazon Web Services cloud-computing business.

Since the start of 2019, Amazon shares are up about 24%, below the 32% rise of the S&P 500, as well as the much larger gains seen in other bellwethers. Microsoft and Facebook are both up more than 60% since the start of last year, while Apple has doubled. The rally resulted in trillion-dollar valuations for Apple, Microsoft and Google-parent Alphabet, a milestone that Amazon briefly eclipsed in 2018.

The underperformance reflects concerns over Amazon's earnings trends, even as it has continued to grow revenue at a double-digit clip. Major investments into initiatives like one-day shipping are seen as headwinds, and shares "may be range bound 'tactically'" given the impact of this spending, Morgan Stanley wrote on Thursday. The firm added that "near-term profitability is likely to still disappoint" because of these investments, even as it sees the effect as temporary and one-day shipping deepening Amazon's competitive moat within e-commerce.

Another key issue is the waning dominance of Amazon Web Services, which has long been a major driver for earnings and margins, but has faced growing competition from rivals like Alphabet and especially Microsoft. According to Bloomberg Intelligence, which cited IDC data, Amazon Web Services was 12 times larger than Microsoft's cloud business in 2014. By 2018, the most recent year for which data is available, it was just four times larger.

Amazon is dependent on both the dominance of its cloud business and the online retail sector. There are not many real competitors for the online market because of the high barrier to entry. The cloud business is a different story. It depends on server farms and internet connections and is easier for well-funded large companies to build a position in. Microsoft and Alphabet in particular are competing heavily with Amazon in this sector.
Amazon's price heading into the 2018 peak was not assuming any competition in the money-spinning cloud business. The risk to that income stream has now been priced in. The big question for the company today is where is growth going to come to justify the Estimated P/E of 90. The key risk today is the consumer.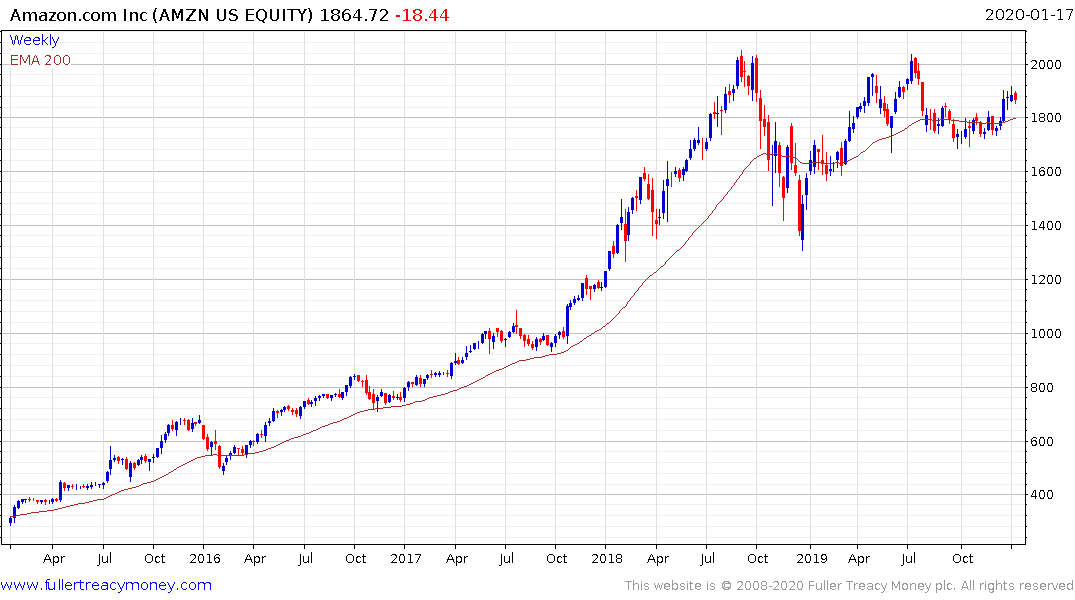 Seasonally Adjusted Continuing Jobless Claims have broken their downtrend. That suggests it is taking people longer to find a job once unemployed. The underperformance of Amazon is potentially a lead indicator for the consumer and therefore it is an important price pattern to monitor.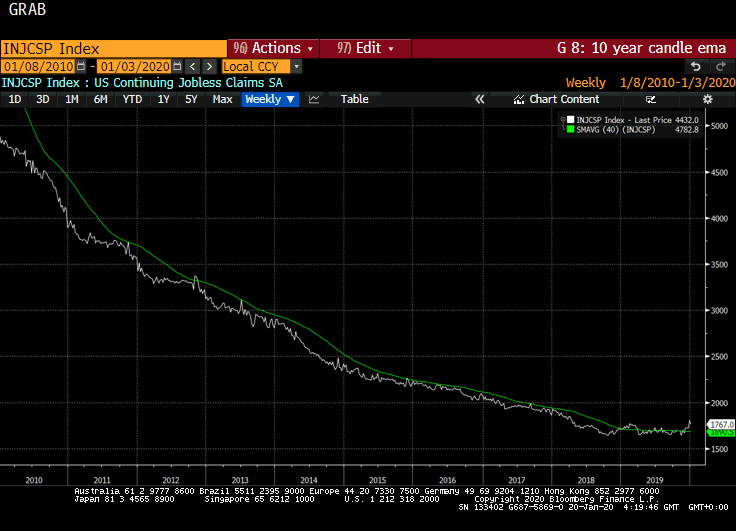 Back to top