Amazon in Trump's Crosshairs: Here's What the President Could Do
This article by Ben Brody, Todd Shields and David McLaughlin for Bloomberg may be of interest to subscribers. Here is a section:
President Donald Trump renewed his long- running assault on Amazon.com Inc. with an early morning tweet Thursday. But what measures can he actually take against the online retail giant?

He could push for probes of consumer protection, privacy and antitrust issues. He could also step up his support for allowing states to collect sales tax on third-party purchases from Amazon, or seek to have the Postal Service charge more to deliver packages. And he could thwart Amazon's aspirations to win a multibillion dollar Pentagon contract for cloud services.

Even with those powers, Trump's ability to act has limits. Inquiries by the Justice Department or the Federal Trade Commission could take years and bear a high burden of proof. The FTC and other enforcement agencies guard their independence, as does the board of governors of the Postal Service. Changes to the tax law would require cooperation from Congress, which just passed a tax overhaul and may have limited appetite to reopen negotiations.

The feud pits the world's most powerful man against one of the world's biggest corporations -- a global titan with $684 billion in market capitalization and more than half a million employees. At stake is its reputation, revenue and, potentially, ability to continue to disrupt markets as it reshapes retailing.
Capitalism trends towards consolidation, as the strong eventually consume the weak and further dominate their respective sectors. That has created a comparatively small number of companies that we refer to as Autonomies which are truly global in scale and exert considerable sway both over their national indices but the global sectors in which they reside.

If the trend towards consolidation were to run to its natural conclusion we would end up with a single company doing everything. Since that is a logical impossibility then there must be a mechanism to occasionally create more competition in the market and to increase the number of companies. Historically that role has been fulfilled by innovation but governments deciding what is "fair" either by introducing protectionist or antitrust legislation is an additional impetus.
Amazon has taken the disintermediation that was the driving force behind the internet and dominated its application to an increasingly large number of sectors. In so doing it has contributed to massive change within the retail market and in the buying habits of customers. Right now, it is the yardstick against which all other retail operations measure themselves. It also supplies web services to a good proportion of corporate America.
Nevertheless, while Amazon is apparently all pervasive it is not the only retailer and others have now also migrated online, most notably Wal-Mart. Trump might be lashing out at Amazon but the road to antitrust is likely to be quite difficult.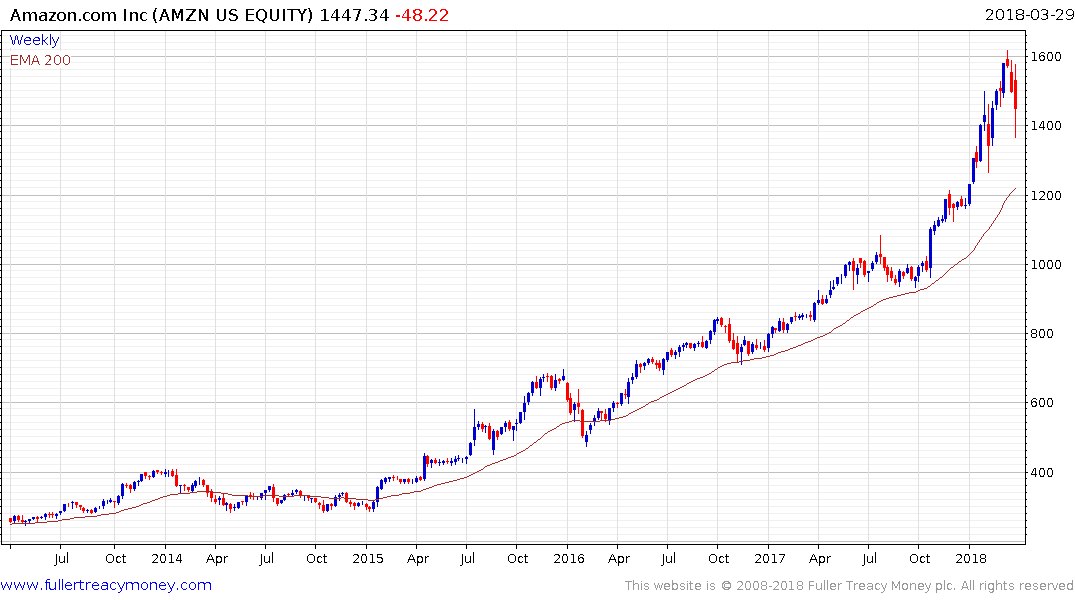 The share is in a corrective phase and some additional ranging, or a move back towards the trend mean. look more likely than not.
Back to top