Alphabet Tumbles Most Since 2012 After Sales Growth Disappoints
This article by Gerrit De Vynck for Bloomberg may be of interest to subscribers. Here is a section:
Another concern is whether competition is starting to limit growth. Google's search engine is usually the first place consumers go when looking for products, letting the internet giant charge premium prices to retailers and other advertisers looking to reach customers online. But people have been increasingly going straight to Amazon.com Inc. to hunt for products and the e-commerce giant has been grabbing a larger share of the digital ad market, chipping away at Google's lead.

In an interview with Bloomberg TV, Porat shrugged off Amazon's foray into advertising and said there's still lots of room for growth for all digital ad companies because so much marketing money is still spent offline.

"Nearly half of ad budgets in the U.S. are still spent offline," Porat said. "Ninety percent of commerce in the U.S. is offline and we are focused on digital playing a big role in that."

The number of clicks on Google ads rose just 39 percent, the lowest year-over-year growth since 2016. The price, or cost per click, fell 19 percent.
This figure about 90% of commerce being offline is a standard fallback that claims ecommerce is still in its infancy. However, it glosses over the fact that homebuying, healthcare and automotive sales are included in this figure and none are about to readily transition to a handy ecommerce advertising platform.
The reality is the low hanging fruit have already been picked in the ecommerce sector. Anyone who wants to buy online can do so while an increasingly large number of companies are pursuing a hybrid model of physical and online sales. The fact Amazon is pursuing this strategy is a clear testament to the fact the market has moved on.
That's a challenge for Google and that is reflected in its earnings and the loss of consistency in the trend over the last 16 months. The company is now accelerating the roll out of its Waymo autonomous driving service, not least as competition with Tesla heats up. It is this portion of the company, which has yet to generate revenue, that growth forecasts rely on.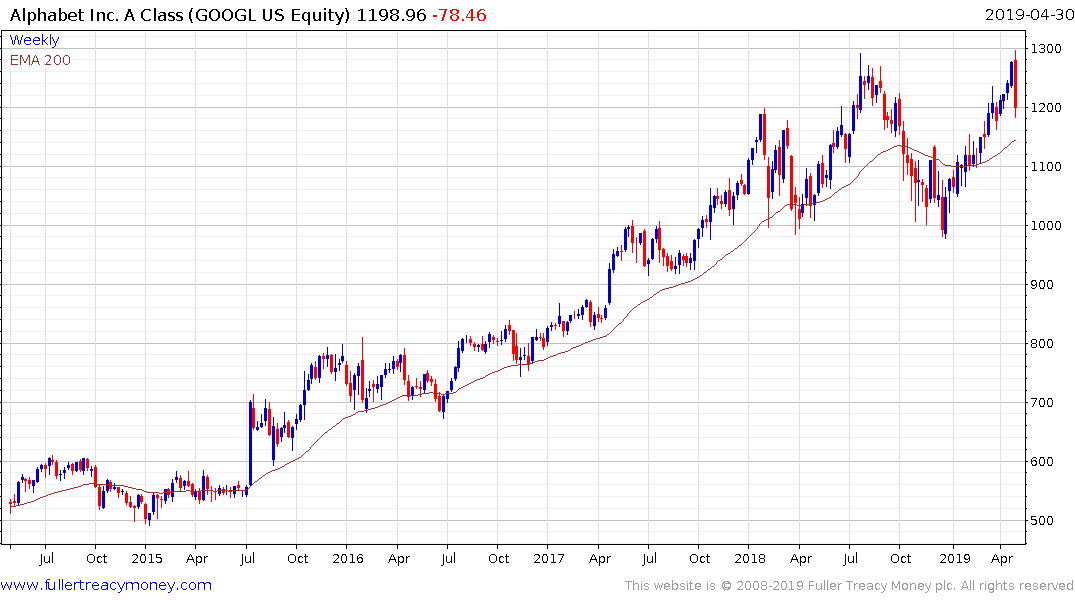 This week's downside key reversal is likely going to take some time to recuperate from.
Back to top