Alphabet becomes the world's largest listed company
This article from The Economist may be of interest to subscribers. Here is a section:
ON FEBRUARY 1st, the day that Ted Cruz defeated Donald Trump in the Republican caucus in Iowa, Google's parent company, Alphabet, won a contest of its own, vaulting past its longtime rival, Apple, to become the most valuable listed company in the world by market capitalisation. Alphabet supporters are chuffed with the firm's strong quarterly earnings and new corporate structure, announced last August. This was the first time Alphabet has shared more information about the performance of the firm's "moonshot" projects, such as self-driving cars and Nest smart thermostats. In 2015, these projects (i.e., not including the core advertising business, Google) had an operating loss of around $3.6 billion—a hefty figure but less than some analysts had feared.

Alphabet is now predominantly an advertising firm, but it is selling a story about its ability to change and become more things to more people. Its believers think the firm will turn at least one of its moonshot projects into a significant earner of profits. The firm has a history of adeptly repositioning itself: it purchased Android in 2005 and YouTube in 2006, which helped it profit from the rise of smartphones and online video. It is also a leader in artificial intelligence, an important area of investment for internet firms today, with applications in everything from autonomous cars to photo-recognition, as well as in Google's original internet-search business.
A week might be a long time in politics but it's even longer in the markets when trades can be fired off in fractions of a second. Alphabet's market cap has fallen by close to $50 billion over the last week so that Apple is once more the world's largest company. Amid the headlines proclaiming Google's rapid ascent there was one statistic that seems to have been overlooked.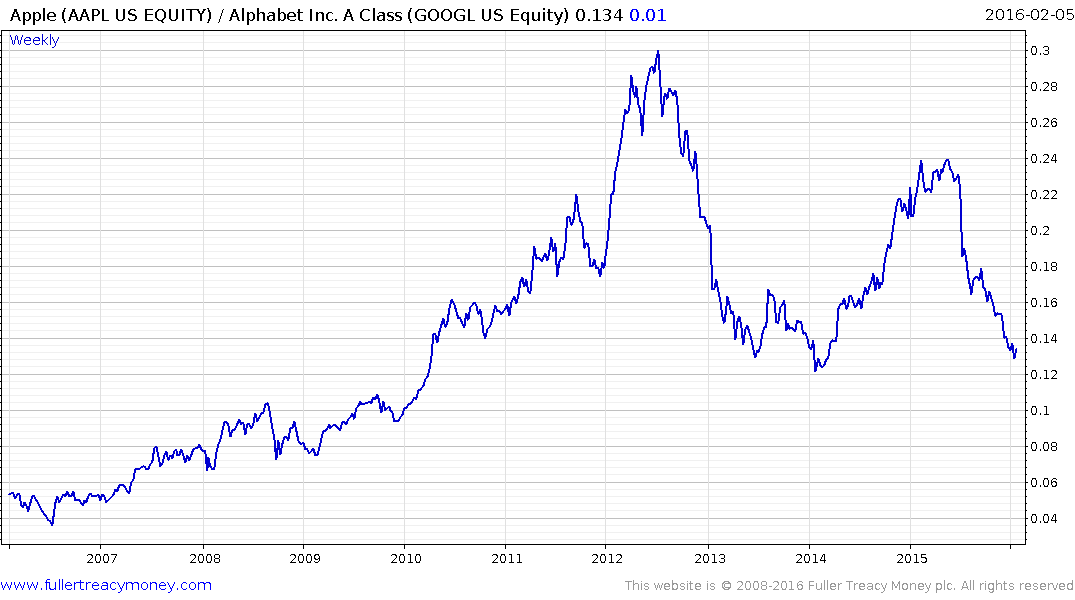 Apple is trading at a P/E that is almost exactly half what Alphabet trades on. An Estimated P/E of 10 versus 20. This ratio chart helps to illustrate just how quickly Alphabet's share has had to move in order to close the gap with Apple's capitalisation. It is now at a previous area of support and it looks likely Apple will outperform at least over the near term.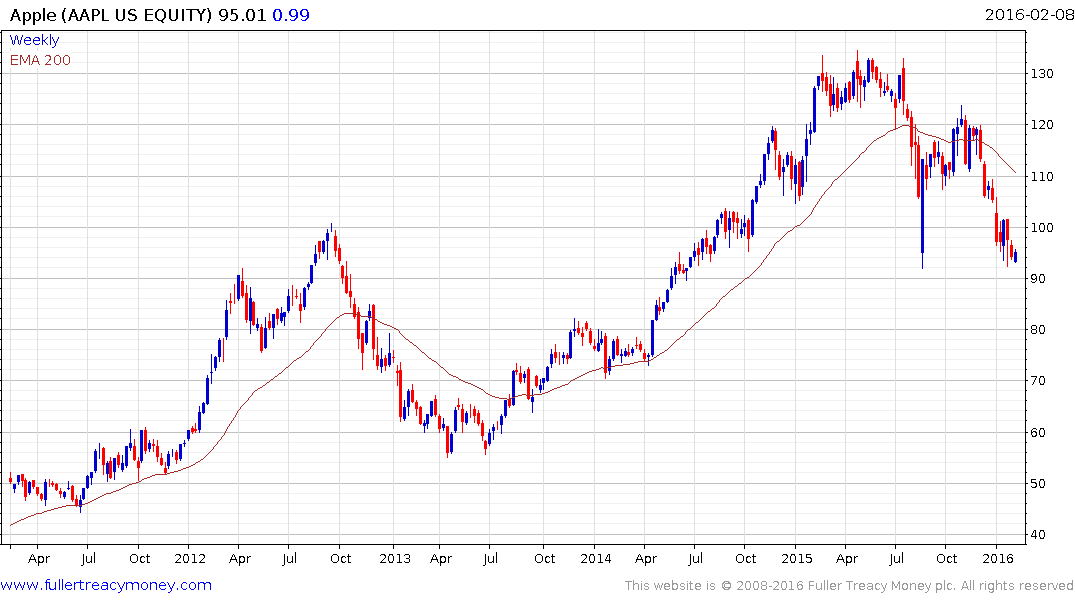 Apple steadied today in the region of the August low and is approximately 20% overextended relative to the trend mean so there is scope for steadying. Additionally, at a stressful time for many investors the solid dividend and reasonable valuation offered by Apple is likely to represent a potential safe haven.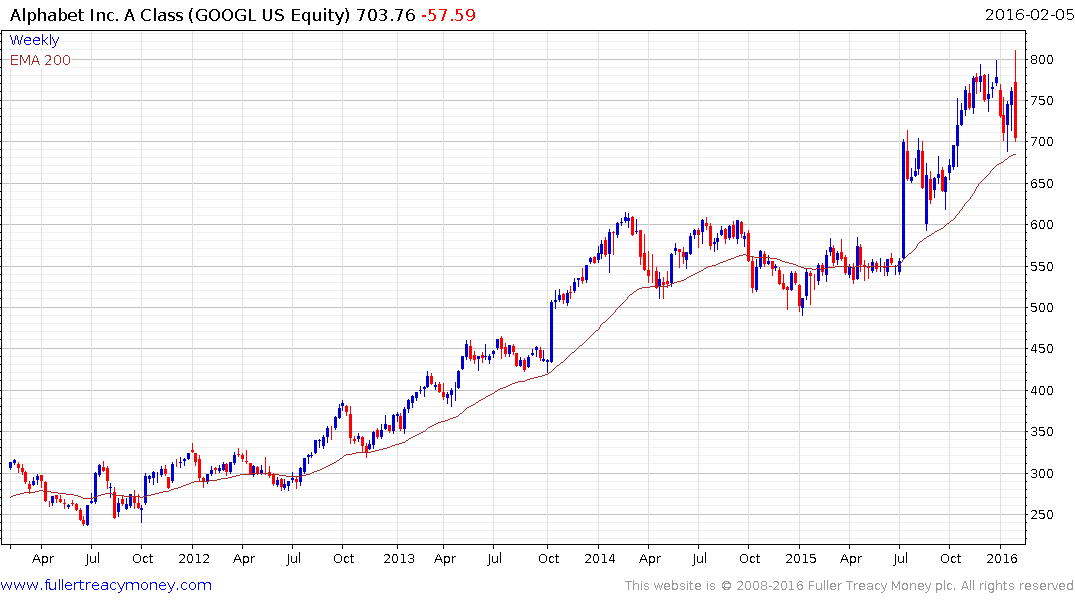 Meanwhile Alphabet had one of the more consistent trends among mega caps; rallying by $100 increments over the last five years. However, last week's $100 drawdown represents a massive downside weekly key reversal and is not conducive to repairing confidence. It steadied today from the region of the 200-day MA but the kind of move experienced last week will take time to recover from and the region of the trend mean needs to hold if the consistency of the medium-term advance is to given the benefit of the doubt.
Back to top