Alibaba Shares at Post-IPO Low After JD.com Tops Estimates
This article by Spencer Soper may be of interest to subscribers. Here is a section:
The challenges in Taiwan and a Wall Street Journal report about Alibaba merchants paying people to pretend to be customers, called "brushing," to pad sales figures have created some short-term negative publicity, Ji said.

"We don't think those views will have a negative financial impact on Alibaba," she said. "But PR-wise, it may have some negative impact on the stock."

Alibaba, which connects consumers and businesses across its platforms, has a "credibility crisis" fueled by its failure to crack down on shady merchants, counterfeit goods, bribery and misleading promotions, China's State Administration for Industry & Commerce said in January.

James Cordwell, an analyst at Atlantic Equities LLP in London, said Alibaba's fourth-quarter results raised concerns about e-commerce growth and advertising revenue. There may also be a selloff ahead of the first major lockup expiration for insider share sales in mid-March, he said.

"Today's weakness is no doubt also a result of strong results at key competitor JD.com and also the Taiwan withdrawal news," Cordwell said.
Jack Ma is an adept stock market player. The first listing of Alibaba in Hong Kong was also met with fanfare but the share languished after the initial spike and was eventually delisted for its IPO price in 2012.
The issues with its platforms being the world leaders in the distribution of counterfeit goods are nontrivial. There have been anecdotal stories for years about the cottage industry in Hangzhou centred on gaining preferential positions on websites through a web of bribery. These are damaging issues and will need to be addressed if the company is serious about preserving the interests of its minority shareholders.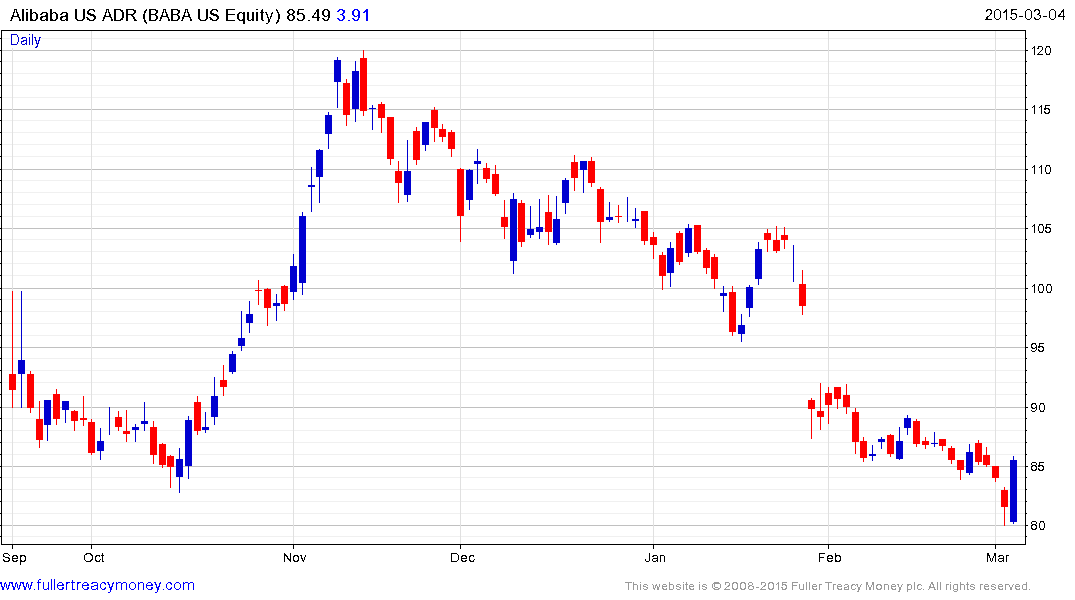 The US listed ADR posted an upward dynamic yesterday from the region of $80 and will need to hold that level if mean reversion is to be given the benefit of the doubt. The lock-up period for company insiders ends on March 19th so there is likely to be quite a lot volatility between now and then.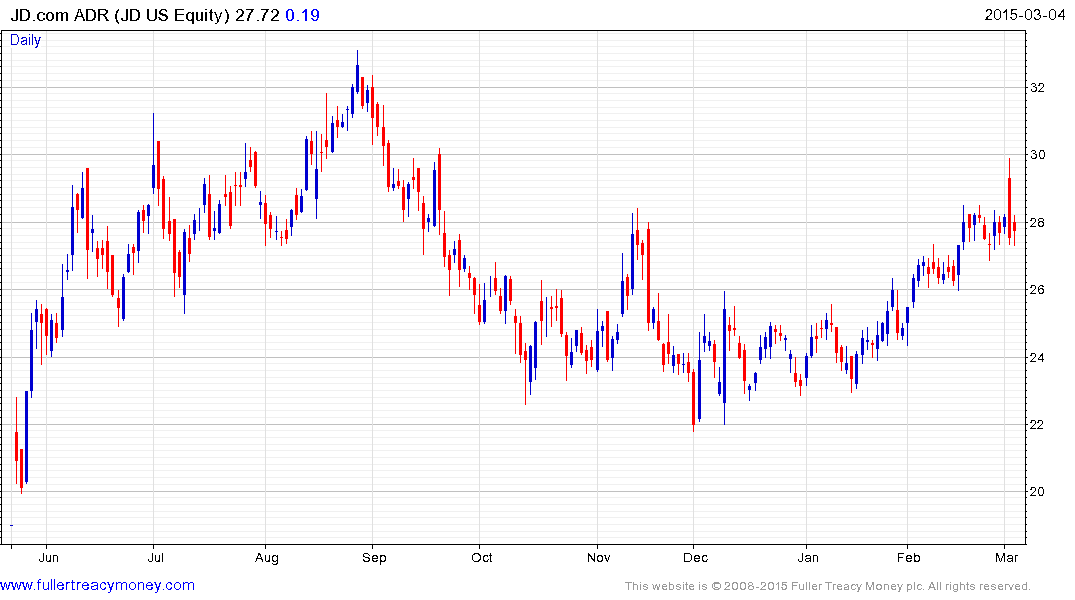 JD.com has held a progression of higher reaction lows since December, suggesting a sustained move below $27 would be required to question potential for additional higher to lateral ranging.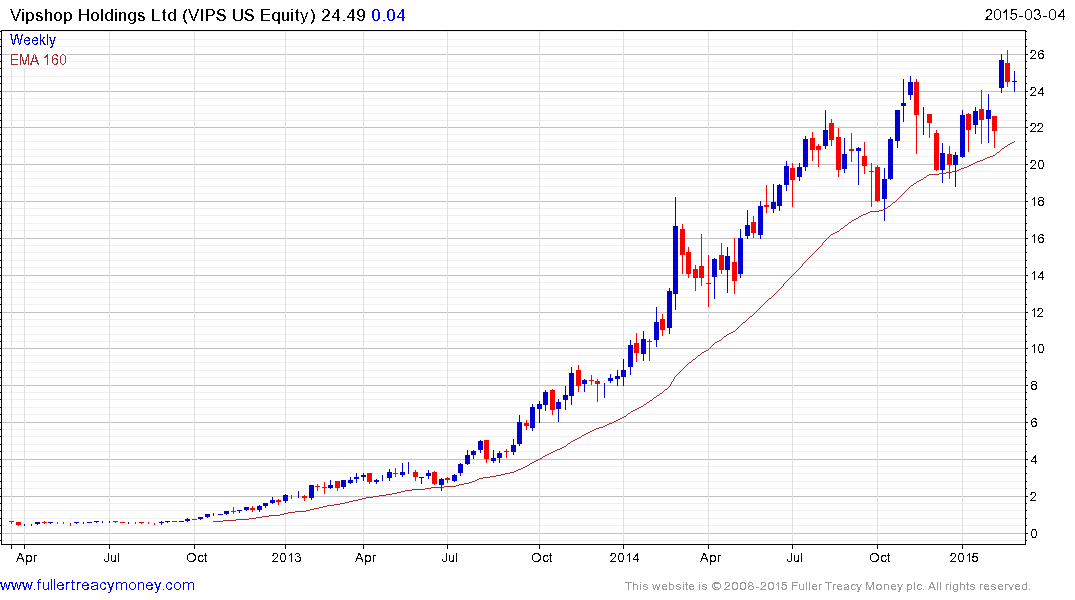 VIPshop Holdings remains in a reasonably consistent uptrend.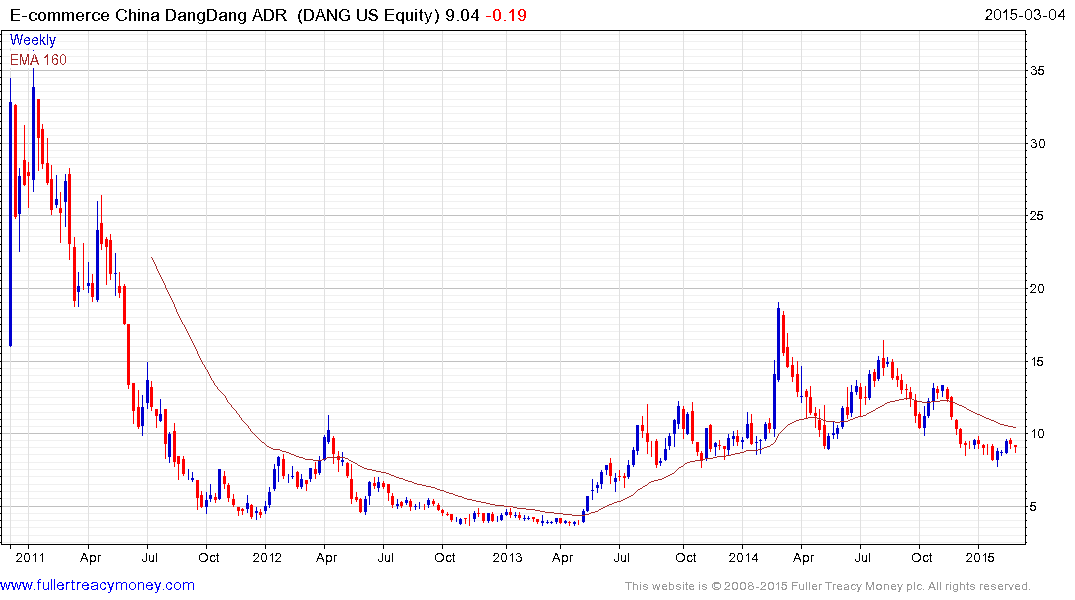 DangDang is underperforming and will need to at least sustain a move above $10 to signal a return to demand dominance.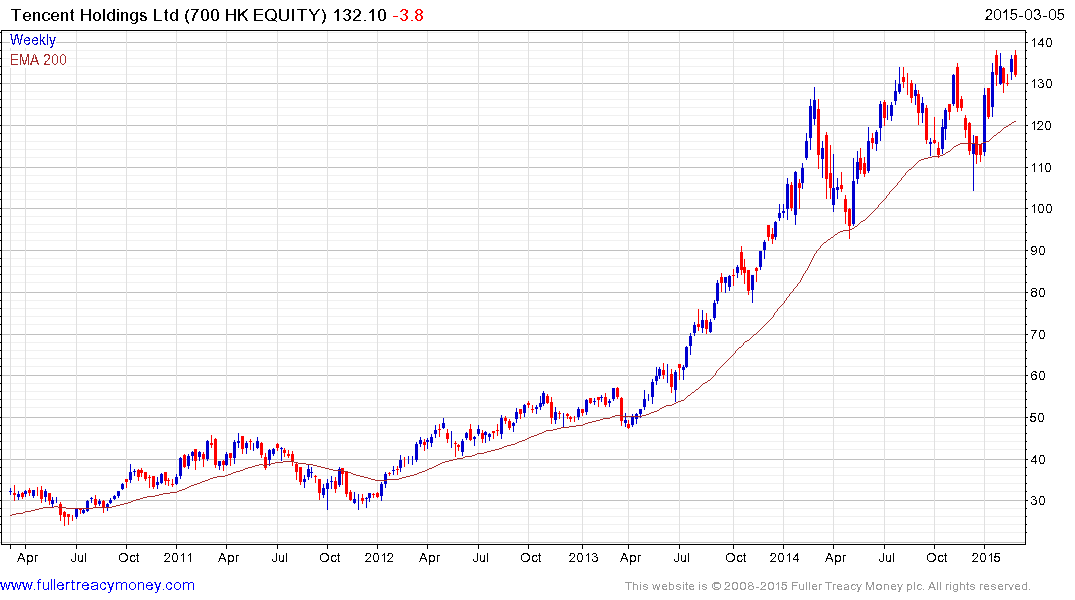 Hong Kong listed Tencent Holdings continues to range above the 2014 highs. There is potential for some additional weakness but a sustained move below the 200-day MA, currently near HK$120 would be required to question medium-term potential for additional upside.
Back to top