Alibaba's Sales Surge as Jack Ma's Free Spending Bears Fruit
This article by Lulu Yilun Chen for Bloomberg may be of interest to subscribers. Here is a section:
Alibaba's been busy expanding its Hema supermarket chain and now operates 35 of those stores -- a mix of sit-down dining and groceries plus delivery hub. Much cash also is flowing into China's $1.3 trillion food retail and services industry, where it's trying to hold its own against delivery giant and super-app Meituan. Alibaba said Thursday it's teaming with SoftBank to put more than $3 billion into Ele.me. Alibaba now intends to merge Ele.me with Koubei, another unit focused on connecting restaurants to the internet.

Ma is also spearheading an expensive foray into the $4 trillion retail sector. Alibaba acquired a department store chain with 29 stores and 17 shopping malls last year and also bought a slice of China's largest hypermarket chain. It's been shelling out on content for its Youku video-streaming service to stay abreast of Tencent and Baidu Inc. And heavy investment in datacenters for its cloud computing arm helped almost double revenue in that division to 4.7 billion yuan.

However, those burgeoning businesses may be helping mask a slowdown in Alibaba's bread-and-butter business, said Steven Zhu, an analyst with Pacific Epoch.

Customer management revenue -- the lucrative fees it charges for helping merchants with marketing -- grew just 26 percent in the quarter, from 35 percent in the previous three months. That reflects how rivals such as JD.com Inc. and Pinduoduo Inc. are siphoning off Alibaba's merchants and may affect the bottom line in coming quarters, Zhu said.

"This is probably the slowest growth ever," he said. "They are swapping high-quality revenue with low-quality revenue."
Amazon bought a supermarket chain so Alibaba bought a supermarket chain. The USA has Grubhub so Alibaba bought ele.me and is also getting into the broader retail sector through the purchase of a department store chain. There is no denying that these are more conventional businesses than the high growth online expansion that fuelled Alibaba's initial growth spurt. The fact the company is also talking about primarily focusing on the Chinese domestic market raises questions about its commitment to overseas expansion.
The most compelling bullish catalyst for Alibaba would be the opening of the Chinese depository receipt market. However, that now appears to be on hold considering the impact a major source of new supply would have on the already weak domestic investment environment. Without that catalyst there is a lack of a compelling reason for the share to break higher without a meaningful move in the wider Chinese equity universe.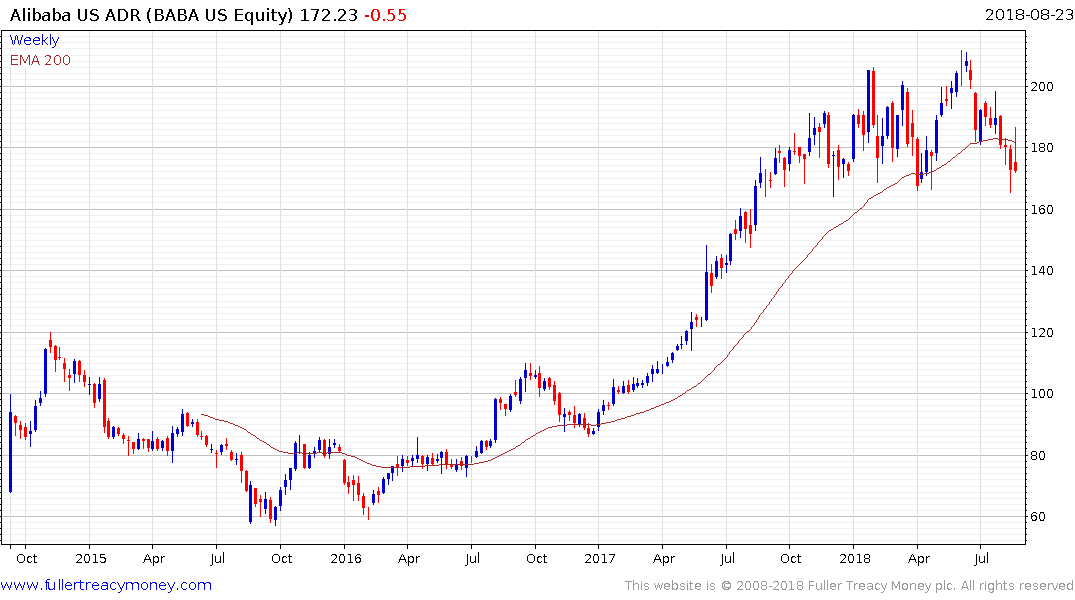 The share has rallied over last week from the lower side of its yearlong range but pulled back from the region of the trend mean today and will need to sustain a move above it to confirm a return to demand dominance beyond the short term.
Back to top