Alibaba Caps $250 Billion Rally With Accelerating Sales Growth
This article by Lulu Yilun Chen for Bloomberg may be of interest to subscribers. Here is a section:
Alibaba Caps $250 Billion Rally With Accelerating Sales Growth – Alibaba's "new retail" plan carries a simple premise -- to combine its online merchants with a vast swathe of physical stores now divorced from the internet, stripping out layers of profit-sipping middlemen and boosting Alibaba's e-commerce in the process. Those outlets double as storage and delivery centers.

But the execution involves a battery of expensive and time-consuming investments: buying into department stores such as Intime, setting up "smart" grocery stores like Hema, investing $15 billion into expanding its delivery network into remote regions, and enlisting some half-a-million mom-and-pop stores that now serve the countryside.

Alibaba is trying to transform the way retailers large and small manage their inventory based on real-time demand. And drawing more physical customers into its network boosts its own online orders and provides abundant data to target future consumers.
Guangzhou's old town is a picture of the commercial reality represented by the marriage of social media and physical stores. There are coupons available for almost every purchase on WeChat, JD.com or Alibaba that can only be redeemed in store. This has delivered almost overnight a realization that customer service is what drives customer flow. Coupled with on demand manufacturing China is rapidly advancing a modern shopping experience that retailers in the rest of world need to pay attention to.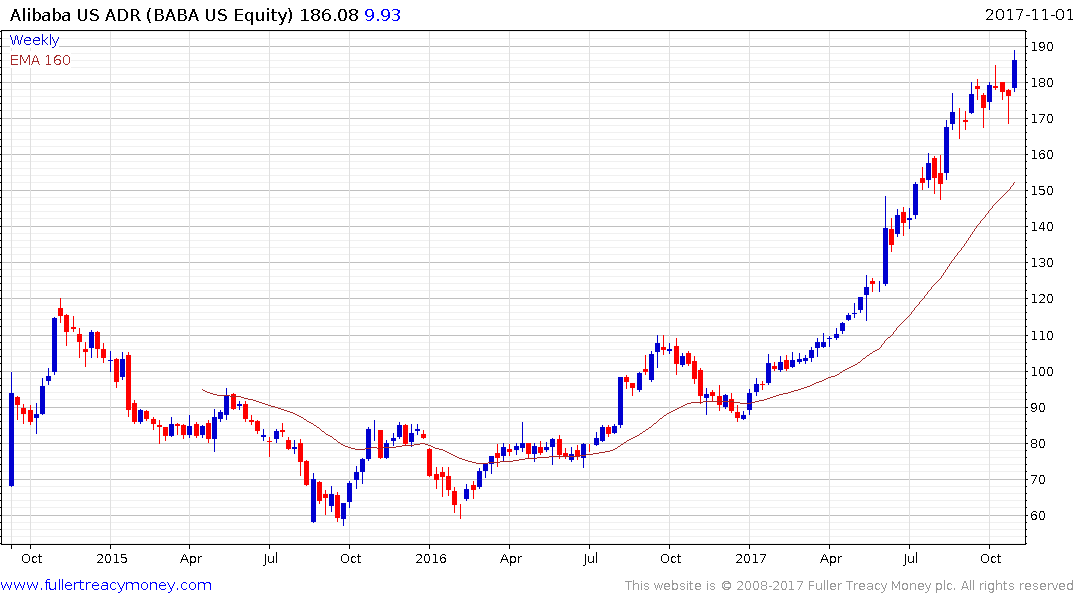 Alibaba briefly hit a new high today but is quite overextended relative to the trend mean and susceptible to some consolidation and potentially a reversion towards the mean.
This article from the Wall Street Journal on the recent products on show at the 16th China Public Security Expo may be of interest. Here is a section:
Once the stuff of science fiction, facial-scanning cameras are becoming a part of daily life in China, where they're used for marketing, surveillance and social control. Originally published in June. Video: Paolo Bosonin. Photo: Qilai Shen/Bloomberg
Also on display by Dahua was a big-data platform that enables the police to piece together a target's social network by scooping up information from China's prolific personal-data records, from national identification numbers and marriage records to electronic vehicles plates and Wi-Fi logins.
"This is already in use in Zhejiang," Dahua's home province on China's eastern coast, a company representative said.
Most products shared a common thread: a combination of artificial intelligence, like facial-recognition software, with increasingly high-powered surveillance devices.
"The purpose to come here is to find innovation. You realize how far behind Western countries are," said Mark Raine, managing director at CCTVdirect, a U.K.-based distributor of surveillance equipment. He was watching a gadget demonstration by the Chinese appliance maker Haier Group. "What starts here ends up in homes, airports and businesses back in America," he added.
Mr. Raine said the integration of artificial intelligence is revolutionizing the surveillance industry. "The market is moving away from recorded images," he said. "Now, the computer tells you when something's wrong."
If we take the two trends of increasing surveillance and the promotion of the consumer economy and view them as intertwined parts of government policy there is an element of bread and circuses to the thrust of Chinese development. One of the primary conclusions from the Party Congress last month is that the Xi administration is going to be enforcing greater loyalty to the Party and its ambitions, through all means available.

China represents a major growth market for companies like Apple. I wonder how well its commitment to encryption goes down in China? It is inconceivable that it can employ the same lockout to the authorities in China that it does in the West. I suspect that is an example of the kind of adaption companies have to make if they wish to do business in China, but that is nothing new. Quite how they will fare as China embarks on a domestic semiconductor industry buildout represents a significant challenge for related companies.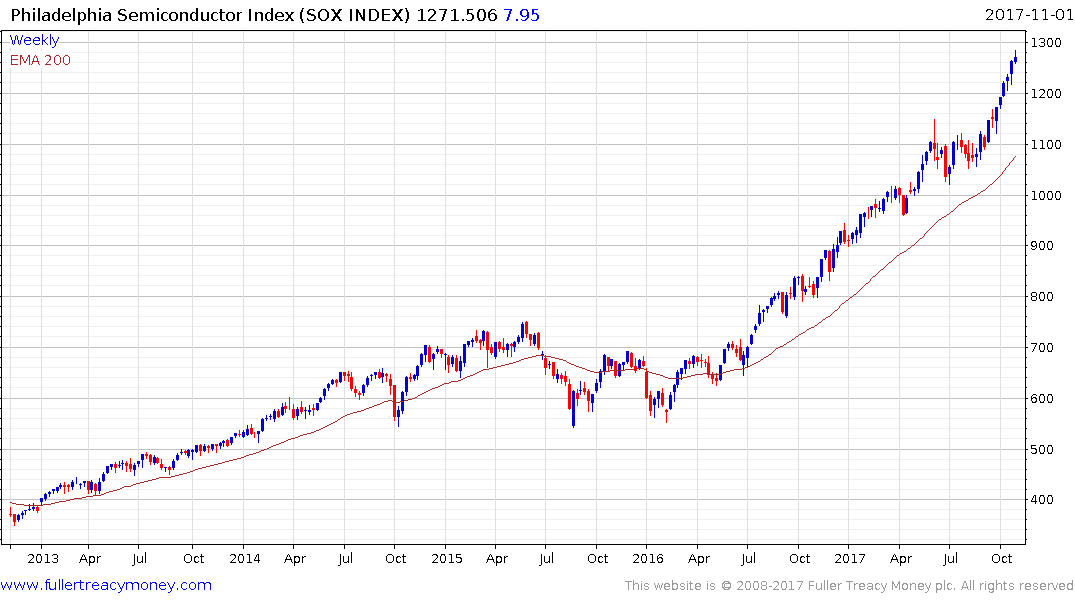 The Philadelphia Semiconductor Index has accelerated higher over the last few months and is looking increasingly susceptible to at least some consolidation of gains. However, a clear downward dynamic will be required to do more than check momentum.
Back to top