AirbnBaller
Thanks to a subscriber for this article from SeekingAlpha by Scott Galloway. Here is a section:
Airbnb is also a better value than hotels, offering more space but with less Covid (no check-in, elevators, or common areas) at a lower cost. A crisis is a terrible thing to waste, and Covid afforded the CEO the cloud cover to cut costs and refocus on the core business. In May Airbnb laid off a quarter of its staff (1,900 employees). CEO Chesky managed to pull a Bezos and was seen as a hero for his empathetic approach to layoffs (generous severance, extended healthcare, and a website of Airbnb employees who were laid off to help them find new leads). Firing people, sending out private pics — tomato/tomahto. Chesky and co-founders relinquished their salaries, cut pay in half for executives, and slashed nearly $1 billion in marketing expenses. The firm is in fighting shape.

The reduced cost structure and market recovery mean the path to profitability has become bigger, better lit, and shorter. There are rumors the firm will accelerate into/through profitability in 2021. The story here won't be one of distant, but burgeoning, profits.

The story stock of 2020, where the narrative rode shotgun as the numbers sat quietly in the backseat, was Tesla. Airbnb will not electrify the world, but it will host it and reshape the resources required to let people tap into a basic instinct: to explore with others. What Airbnb lacks in story (unlikely Mr. Chesky can land two Brooklyn studio apartments on dual barges concurrently), it makes up in performance. There is no better vision than performance.
I had the pleasure of virtually attending a talk by Scott Galloway last week. He's an engaging speaker and his topic at the time was how personal priorities shape purchasing decisions. He had a lot to say about equality of opportunity in college admissions. His main point was admissions, as they are currently structured in the USA, are tantamount to a caste system. I imagine his classes at NYU are well-attended.
AirBnb had a difficult time during the lockdowns but reportedly bounced back better than the wider hotel market. I agree that it does provide an efficient intermediary service for many travelers but the challenge is with quality control. I have been using Airbnb on and off for about six years with spotty results
The apartment we first rented in Cannes six years ago was a shambles and looked nothing like the pictures. The apartment we rented in Los Angeles a year later was exactly as described and the process was seamless. The apartment we rented in Tokyo three years ago was difficult to find and check-in took a couple of hours. We were greeted by a family of cockroaches on entering the apartment we rented in a fashionable area of Guangzhou two years ago. We were able to walk away with no penalty but the host sent some rather aggressive emails when we left a negative review. Booking a hotel on a same day basis was a major inconvenience.
The point is that hotels provide a reasonably reliable service but with less space for a predictable price. Airbnb hosts provide more space, volatile service and prices that are often more expensive than mid-tier hotels. Airbnb has created niche in the travel sector but equally there is ample room for hotels too. The biggest challenge for hotels is the debt they have accumulated in major acquisitions over the last decade. That's a bigger threat than Airbnb.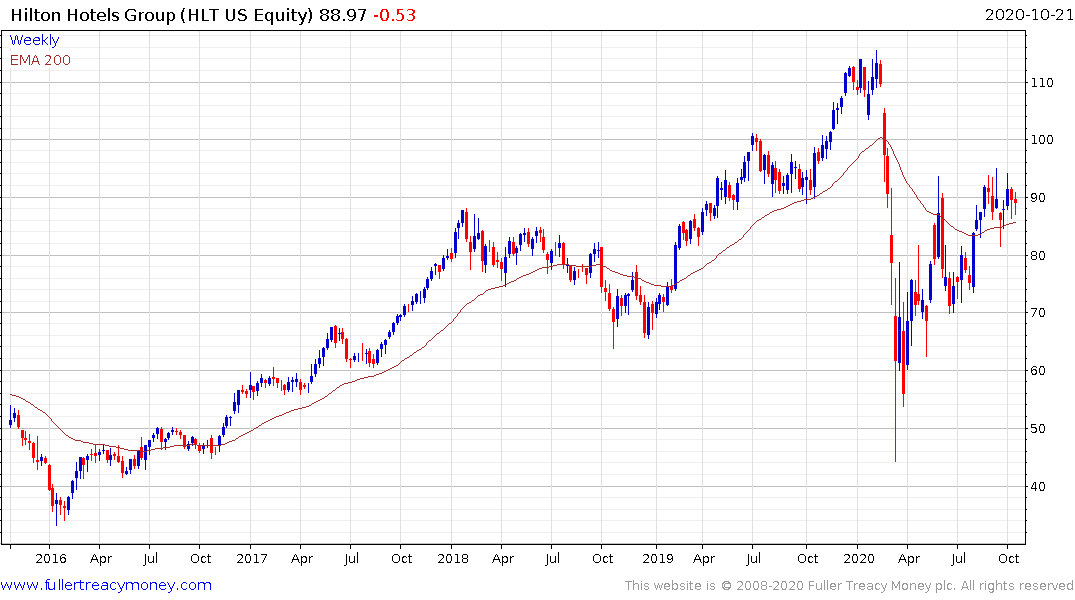 Hilton has at least got less debt than Marriott. The share has recouped more than half its loss from the peak earlier this year and will need to hold the $80 area if recovery is to remain consistent.
Back to top