Adobe's Lackluster Forecast Suggests Growing Competition
This article from Bloomberg may be of interest to subscribers. Here is a section:
While Adobe is one of the industry's longtime success stories, the maker of creative and marketing software has faced rare investor skepticism recently over fears that businesses are reducing their spending on such tools and rivals are making in-roads among new customers. The stock has dropped 18% since its last earnings report on Dec. 16, closing Tuesday at $466.45 in New York. Shares declined about 2% in extended trading.

Adobe is in the midst of revising prices for its signature creative suite, the first major overhaul since 2017, said Chief Executive Officer Shantanu Narayen. The new structure will reflect features Adobe has added in the past five years, including new collaboration capabilities, executives said. The impact will be seen in revenue in the second half of the fiscal year, they said.

"It was time to take a very comprehensive look," Narayen said on a conference call after the results were released. "We want to continue to attract hundreds of millions to the platform, but we also want to get value for the tremendous innovation we've provided."
Adobe transformed its fortunes with investors by adopting a subscription business model. The Photoshop service that used to cost thousands of dollars was suddenly much more accessible and every upgrade was instantly available to subscribers. The transition coincided with the evolution of ecommerce and the mobile telecommunications revolution and Adobe's profits took off.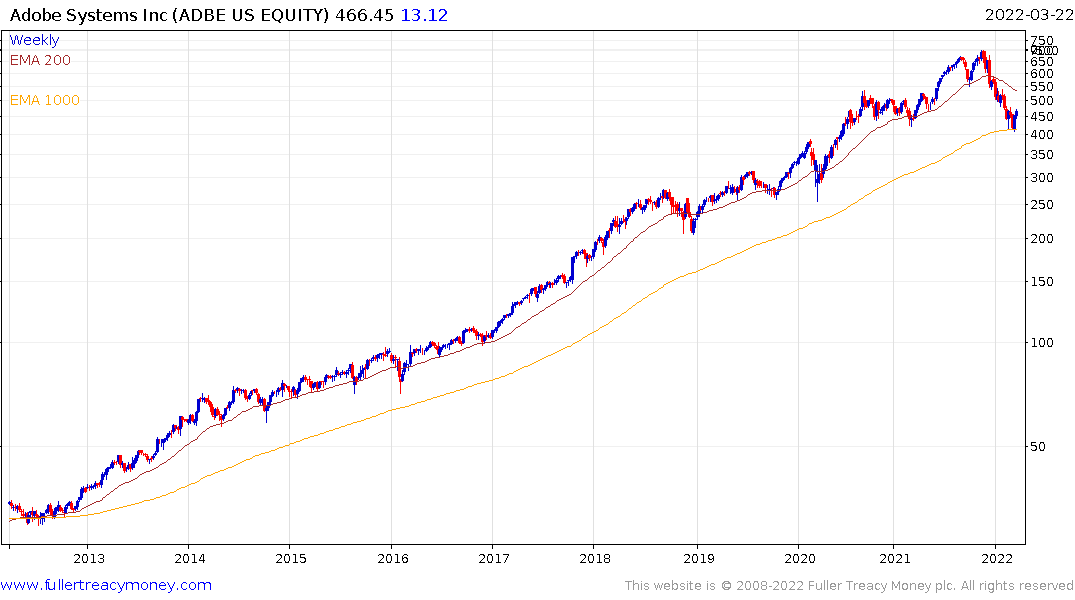 The share trended higher in a very impressive manner for a decade and the pullback from the December peak has removed any semblance of consistency from the pattern. The share is now testing the 1000-day MA. The last time it did that was in 2012.
The challenge rests not in the business model but in the company's moat. A decade ago, good editing software for videos was rare and Adobe left the competition in the dust. Today, video and photo editing software is everywhere and particularly via social media apps. That problematic since the company doesn't have additional products with the same profit potential.
This raises important questions for the wider technology sector. Cloud computing faces a similar problem. A decade ago, most people had difficulty characterising what it is. Today there are hundreds of companies offering everything from data centres, networking to parts and consultancy.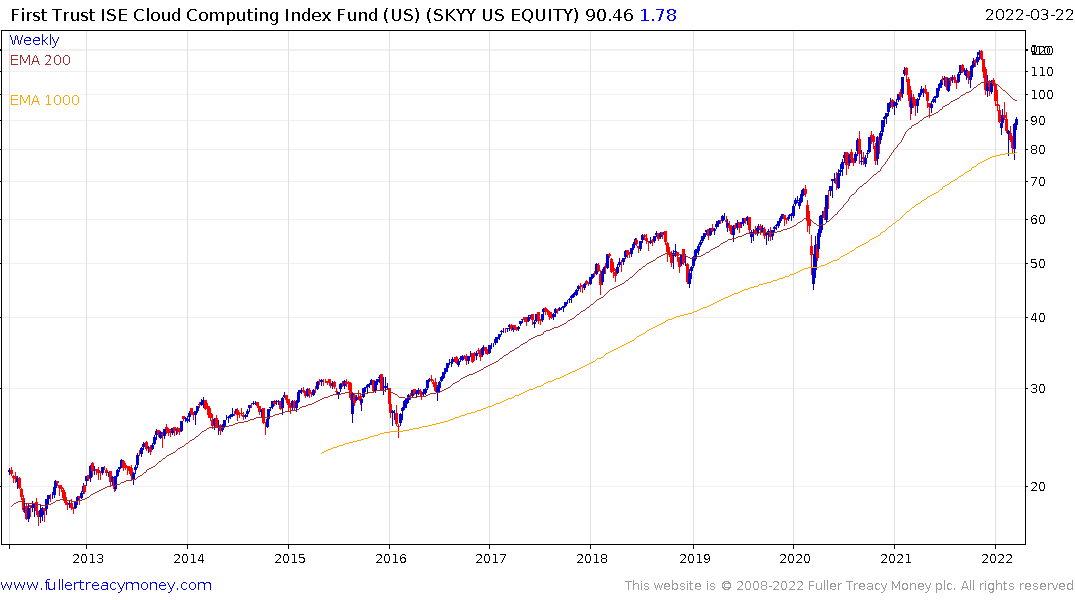 The trend of digitization has been underway for a decade and accelerated during the pandemic as demand leapt higher. Productivity-based solutions to inflation are easy sells too so this is still likely to be a growth market. However, not every company is ideally suited to this new environment.
As we emerge from the pandemic into an environment where inflation plays a greater role, artificial intelligence, big data solutions and automation are likely to prosper because of the efficiency gains they offer.
Even then, it is a little too early to sound the all clear.
Back to top