Accelerating AI Adoption in Bio-Pharma through Collaboration
In these trying times, we have seen many examples of digital technology and innovation flling in the gap. Among these, telemedicine and chatbots have been very helpful for frst-line triage and early-stage diagnosis. China's AliHealth and JD Health both expanded their telemedicine services for distant consultation and preliminary diagnostics with physicians to prevent the spread of the virus. They also launched diferent versions of their chatbots (a basic form of AI) to disseminate COVID-19 related medical information, health recommendations as well as Q&As.

In the US, the CDC used Microsoft's healthcare chatbot service to create a coronavirus symptom checker and Whatsapp (owned by Facebook) launched the WHO Health Alert to share critical information to millions of users worldwide. In India, Facebook also used its helpdesk bot to share news and answer user questions relating to the pandemic.

Closer to home, it was encouraging to see smaller European startups launch similar initiatives, such as the French startup Clevy which is among Early Metrics' highly rated companies and has created Covid-bot.fr.

These speedy developments in response to the pandemic were a testament to the real value brought by these technologies and to the reactivity of young innovative companies. We hope they will inspire future considerations for public healthcare systems to welcome innovation from both tech giants and emerging innovators.
Crises force changes in behaviour. I know our family had never used telemedicine before the crisis. However, it was certainly helpful on a least two occasions over the seven months when we had questions that would normally have required a doctor's visit. The fact the service is included in the price of our health insurance was also a bonus.
The reality is that the confluence of trends in technology and healthcare are enabling a large suite of additional services. The tricorder X-Prize concluded in 2017 with a device that could diagnose some of the ailments it aimed for. Today's it is possible for a smart phone camera to identify diabetes with 80% accuracy.
It is reasonable to expect that bulky and expensive pieces of healthcare diagnostic equipment will be among the next sectors to be absorbed by the pattern of technological dematerialisation. It's easy to think that an 8 or 12-megapixel camera is superfluous on a phone. However, what if those cameras are strong enough to see through the skin and take accurate measurements. The camera on the old Microsoft Kinect was already well on the way to delivering that kind of functionality.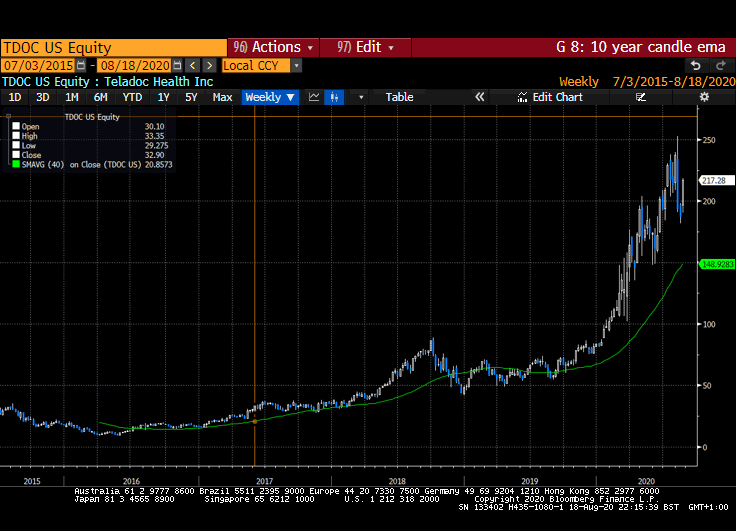 Teledoc broke out in January and continues to hold a sequence of higher major reaction lows.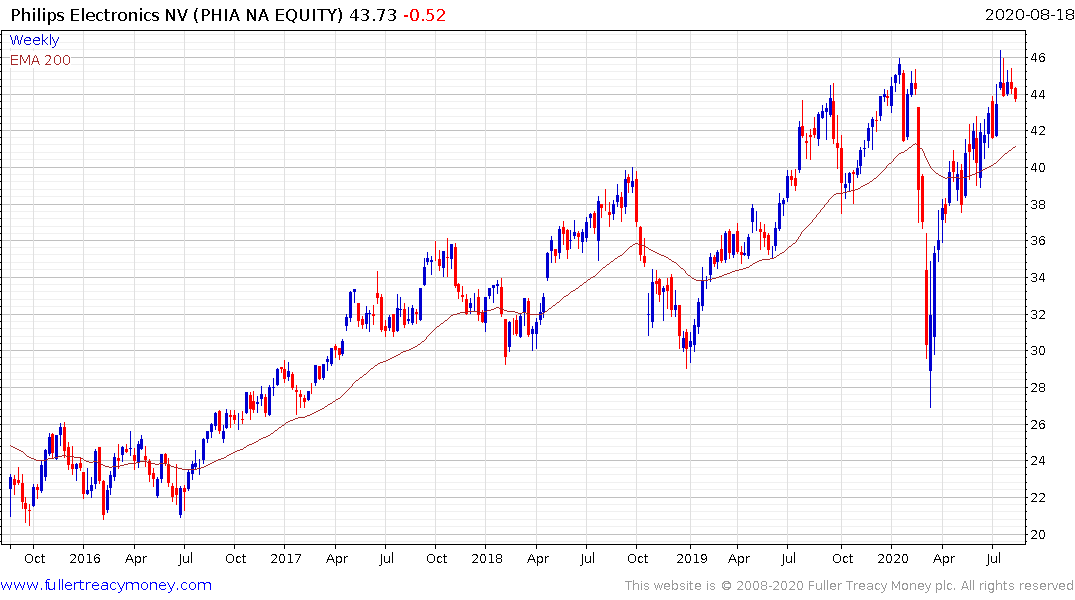 Philips is a major producer of medical equipment. The share broke out of a 14-year base in 2017 and has tested the €30 area on three occasions since. The most recent was in March and it has rebounded to test the recovery peaks. Some consolidation of recent gains is now underway.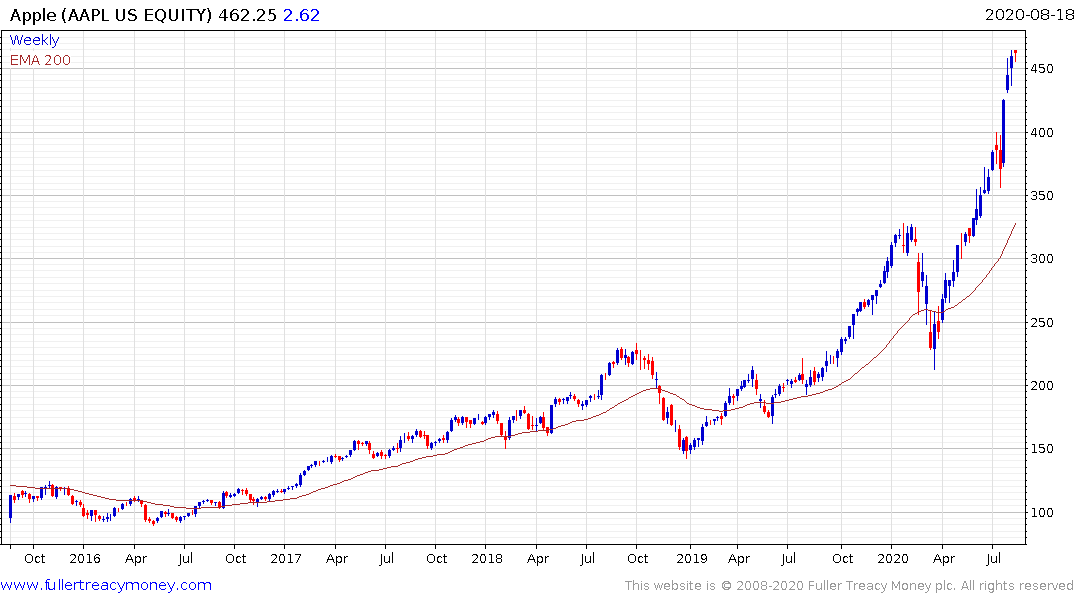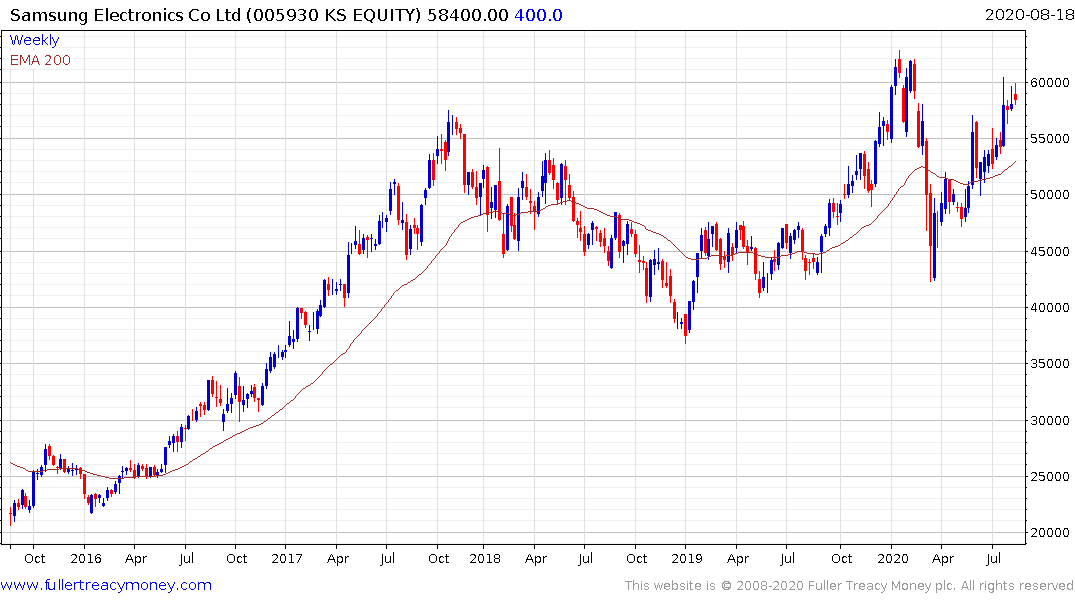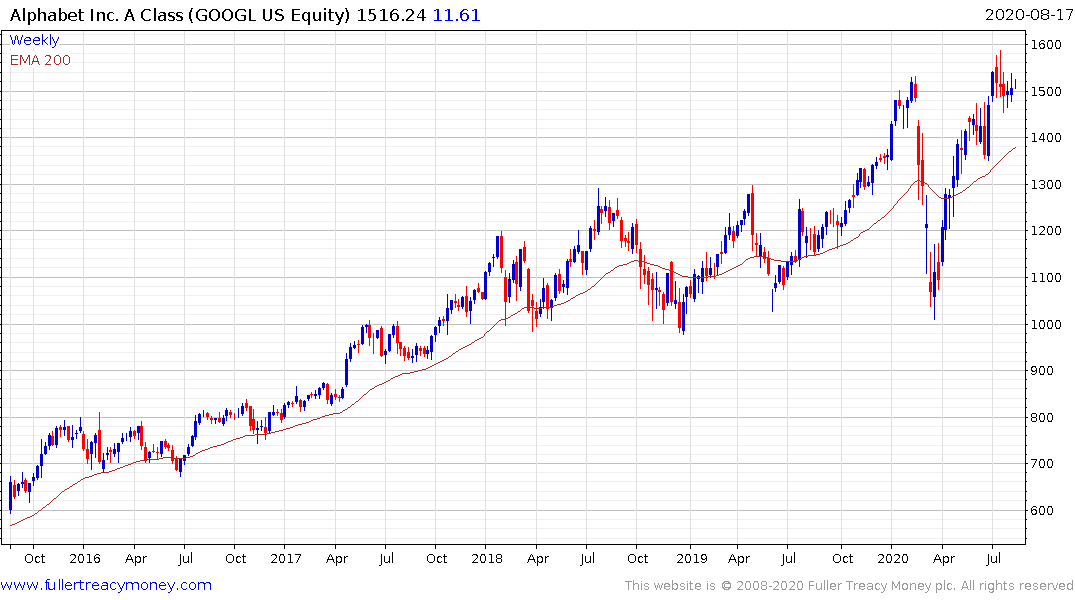 Apple, Samsung and Google has a large installed base of phones. So does Huawei for that matter. The evolution of app-based medicine represents a clear incentive to upgrade to the latest technology when it becomes available. In the meantime these companies continue to rise on the anticipation of 5G handset sales.
Back to top