AB InBev Approaches SABMiller in Record Industry Combination
This article by Paul Jarvis for Bloomberg may be of interest to subscribers. Here is a section:
The two largest brewers have been seen as the end game for global beer mergers. An acquisition of SABMiller, led by CEO Alan Clark, would give AB InBev access to more than $7 billion of revenue in Africa with brands including Castle lager and almost $4 billion of sales in Asia, reducing AB InBev's dependence on the Americas and Brazil.

With Latin America representing SABMiller's biggest market, a deal would also broaden AB InBev's presence in countries such as Colombia, Ecuador and Peru. Its Latin American brands include Cristal and Aguila.

AB InBev's growth has been based largely around acquisitions since it was formed through a series of purchases by a group of Brazilian businessmen led by Jorge Paulo Lemann. Some analysts have speculated that Lemann's 3G Capital could help orchestrate a takeover of SABMiller, just as it did when InBev NV bought Anheuser-Busch in 2008.
Capitalism trends towards concentration as the strong consume the weak. This has created a situation where groups of companies we might consider oligarchies control substantial footholds in a large number of sectors. A potential tie up between Anheuser-Busch InBev and SAB Miller would represent a further iteration of this trend.

This link to a useful page from Bloomberg highlights the dominant position a relatively small number of companies have in their respective sectors. Global positioning, leadership and a record of prospering were among the main characteristics we looked for when we created the Autonomies.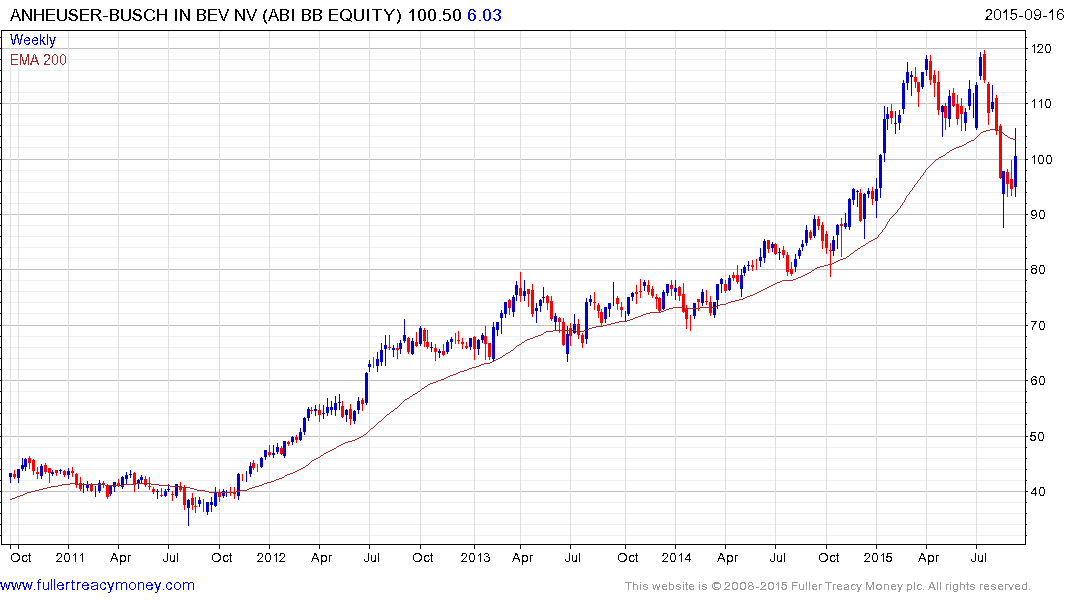 The alcoholic beverages sector is an increasingly global business and while there is substantial room for growth, particularly in Africa, brand loyalty means acquisitions are often a preferred avenue for large companies. Anheuser-Busch InBev rallied back to test the region of the 200-day MA today but considering the expense of the proposed takeover it might take time for the uptrend to be reasserted.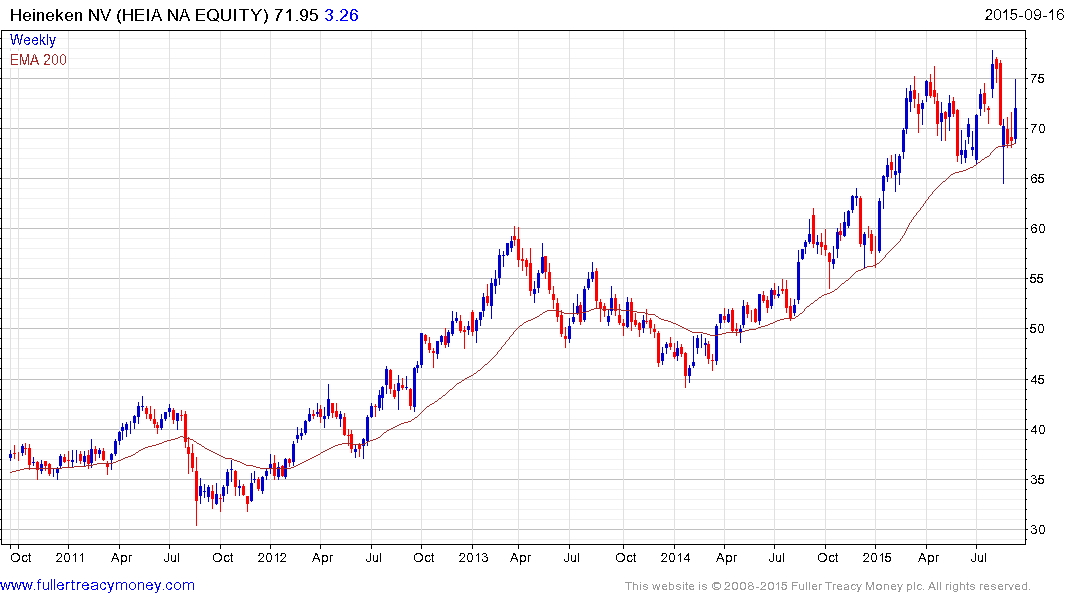 Elsewhere among brewers Heineken bounced this week from the region of the 200-day MA and a sustained move below it would be required to question medium-term scope for continued upside.
Back to top