A War Beyond Trade
Thanks to a subscriber for this report from Deutsche Bank which may be of interest. Here is a section:
Here is a link to the full report.
Here is a section from it:
What would the two countries agree on in a trade deal? It would likely include a promise from China to buy a large amount of US goods such as agricultural products and airplanes. China would likely lower tariffs on many US products such as cars and promise to open part of the service sector to US firms. The US may ask China to strengthen the RMB against the US dollar to the level before the trade war broke out. If the US persists on the RMB issue, China would likely follow the request and let the RMB appreciate somewhat. There would likely be some promise from China to improve protection in terms of intellectual property.
How likely is it that a deal will be reached? At this stage, we see a 50% likelihood that the two Presidents will reach some agreement on November 29. The path of the negotiations over the past six months shows that positive signals may not always lead to positive outcomes. The negotiations are not just about trade. Other issues such as the US mid-term elections and North Korea may complicate the negotiations as well.
A trade deal would help China mitigate the downside risks to growth in 2019. It would also make it less likely that China loosens controls over local government financing vehicles and the property market. China would still likely cut tax (including VAT), as President Xi signaled in a meeting with private entrepreneurs yesterday, but it would become less urgent and the size may not be as aggressive.
One important issue to highlight is that a trade deal may end a battle, but it does not mean the end of the economic cold war. Even if tariffs are removed, the messages from US Vice President Pence's speech still haunt bilateral relations. The strong bipartisan consensus in Washington DC against China is unlikely to change. Legislation aimed at China on technology and investment was recently introduced, and we may see more disputes on those fronts.

The value of any contract is heavily dependent on the values of the counterparties signing it and the authority of an agreed party to enforce the terms. When the signees are countries then enforcement and the legal wrangling around differing interpretations of what is entailed can take years and, even then, if one party decides not to accept a ruling there is not much that can be done. The USA's bipartisan institutional realization that China is a not a reliable contract counterparty now represents a significant obstacle to more than a cursory trade agreement being negotiated.

Xi Jinping is eager to cast China as a bastion of free trade and the defender of globalization not least because China has the most to lose from a transformation of the global logistics network. The problem for China is that it has been able to expand and innovate because of free access to capital and technology from developed countries without having to offer commensurate access to its market. Where it has not had access there is ample evidence of widespread theft. The 1000 Talents program is squarely aimed at Chinese scientists overseas who are to be encouraged home to conduct copycat research with a view to quicker commercialization.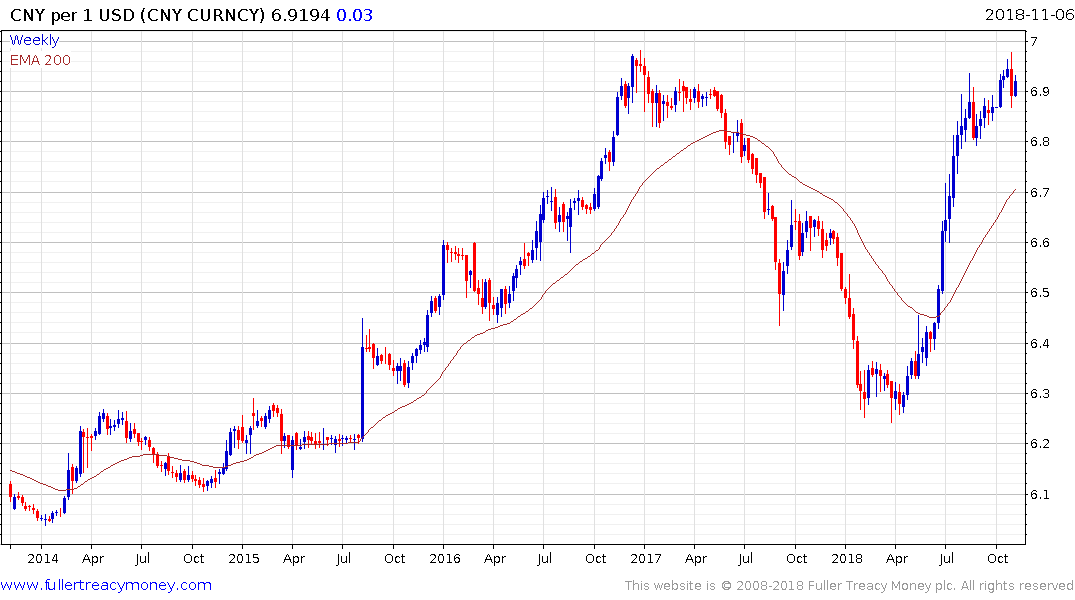 The Renminbi continues to pause near the CNY 7 level but I find it rather interesting that there is still a perception that China is willing to support the currency. China needs a weaker currency to support the flagging manufacturing sector amid a continued focus on squeezing leverage out of the system. There is scope for some further steadying as the short-term oversold condition is unwound but a sustained move back above the trend mean would be required to question the medium-term downtrend. Meanwhile potential for an easing of restrictions to support the economy are improving.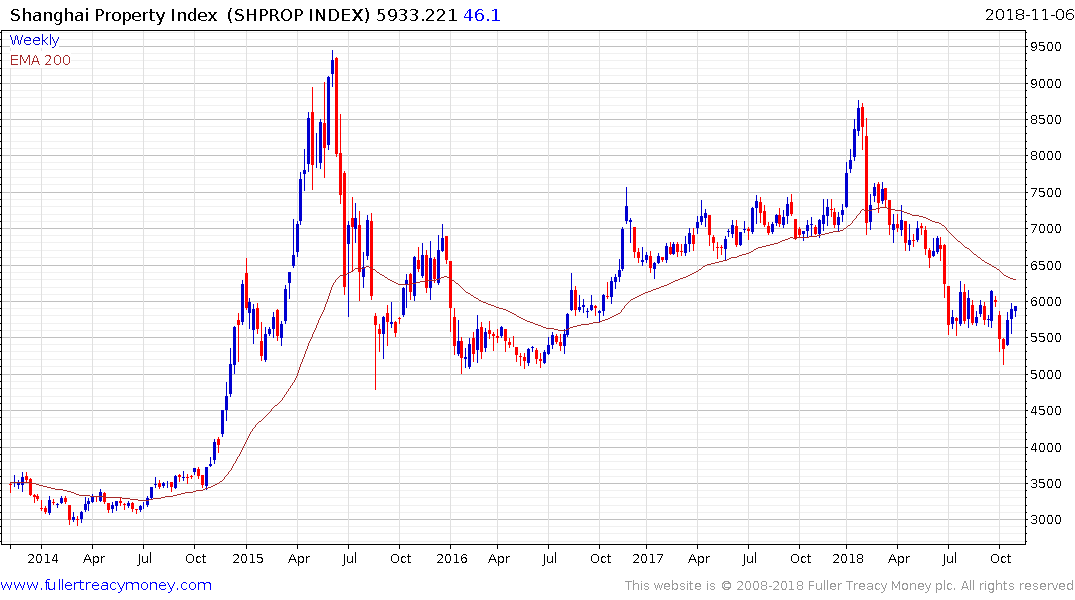 The Shanghai Property Index failed to sustain the move below 5500 and is now back testing the upper side of the overhead trading range. A sustained move above 6000 would break the yearlong sequence of lower rally highs and confirm a lost more than short-term significance.
Back to top