A startup says it can now produce enough for 4 million meatless burgers a month
This article from Quartz may be of interest to subscribers. Here is a section:
Brown and his team will have plenty of competition. In restaurants alone, more than 5 billion lb of ground beef are consumed every year. And then there's the other meat-alternative companies that have charged into the space. Beyond Meat is another high-profile faux-beef company that's looking to make inroads into the retail market, and Memphis Meats announced last week it created the world's first meatless chicken tenders made from self-reproducing cells.

Until now, Impossible Foods has slowly entered the market by popping up in high-profile restaurants in New York City and San Francisco. The goal, though, is to get in front of the most devout meat lovers. In fact, that's part of Brown's metric for success. Forget the people obsessed with vegetables.

"Our definition of success is: we score zero points if a vegan or vegetarian buys our burger," Brown says. "The more of a meat lover they are, the more they are our target customer."

The company's market research has shown that even the most devoted American meat eaters will never stop wanting it—but they would be interested in a product that tastes just as good and is also made of plants, Brown says. In other words, a product that comes from an animal is not part of the intrinsic value of a burger. It's more about how delicious, nutritious, and affordable that product is.
Meat is big business but it is also highly water intensive and over consumption can contribute to a number of health issues. If every burger is a quarter-pounder then Impossible Burger is going after about 1% of the restaurant meat market in its first year. That's an ambitious target and the company's success will come down to both taste and cost. If the new breeds of veggie burgers have the same taste and texture as beef and are also cheaper, that represents a significant threat to the farming sector quite apart from the trend towards veganism.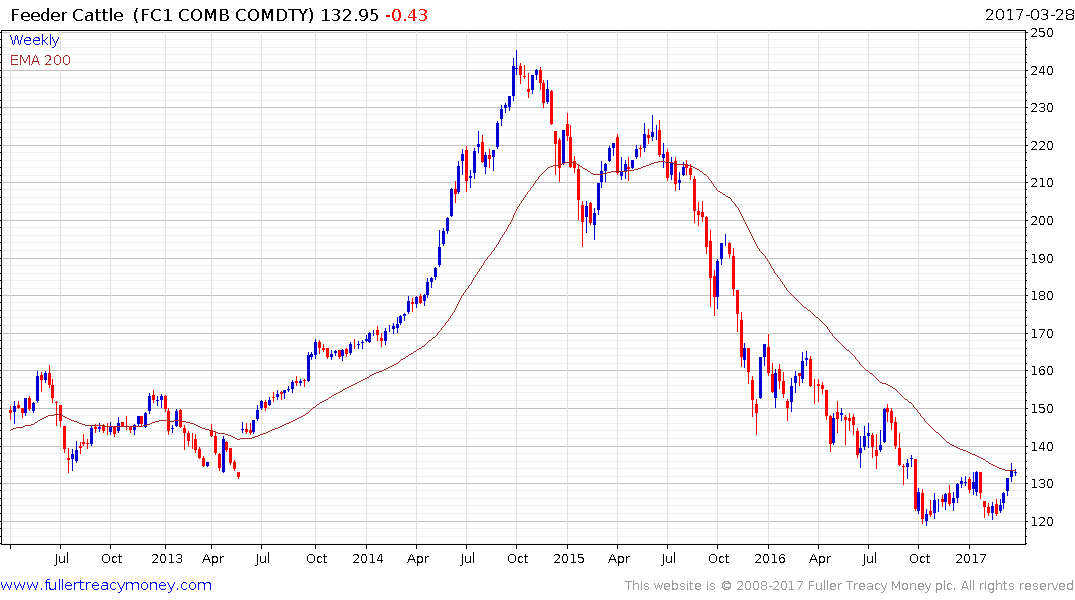 Feeder Cattle halved between 2014 and October before finding support in the region of $120. It has unwound the oversold condition relative to the trend mean and will need to sustain a move above it to confirm a return to demand dominance.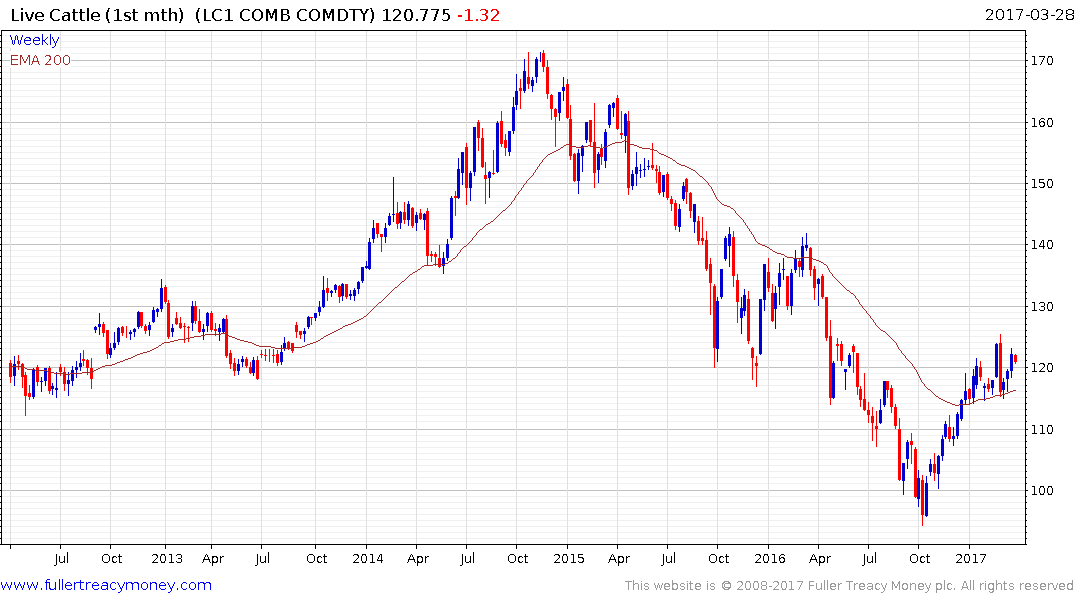 Live Cattle has rallied more impressively and found support four weeks ago in the region of the trend mean. A sustained move below it would be required to signal a return to supply dominance.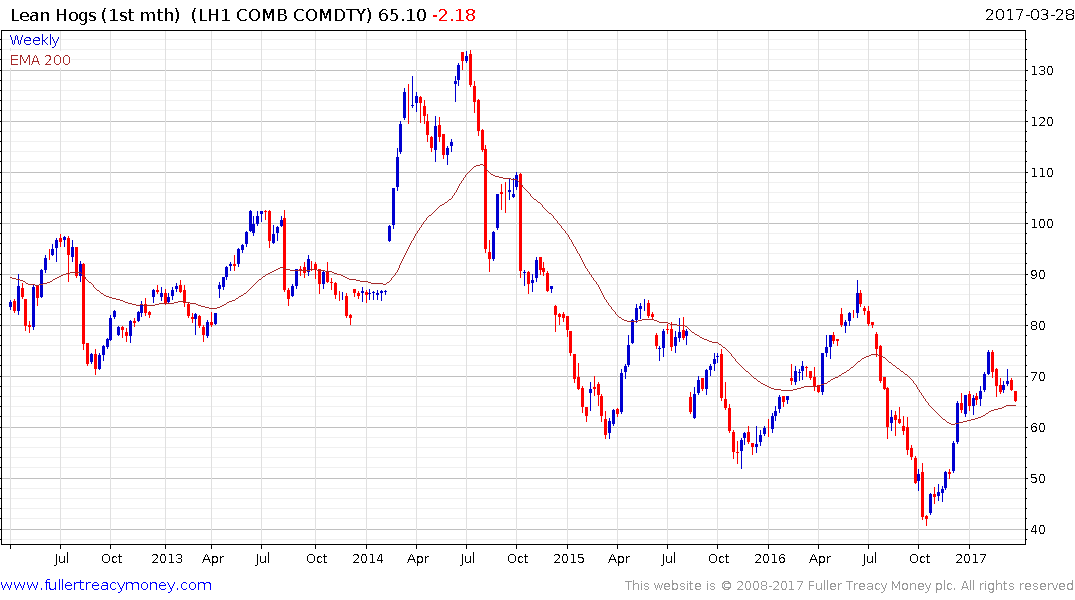 Lean Hogs has been subject to some quite acute volatility over the last couple of years and following an impressive advance is now pulling back to test the region of the trend mean. A clear upward dynamic will be required to signal a return to demand dominance in this area.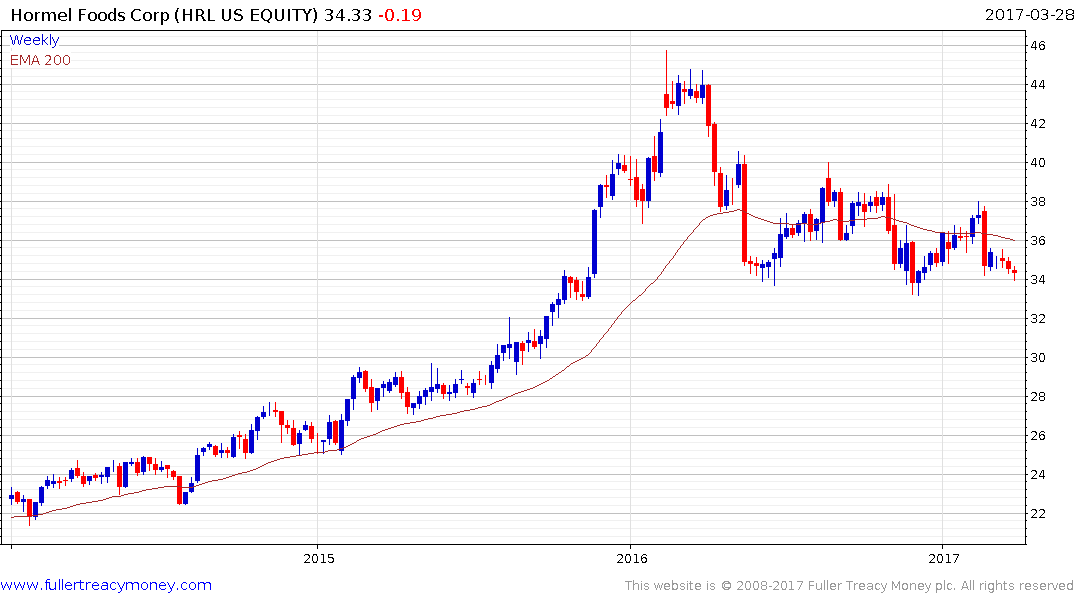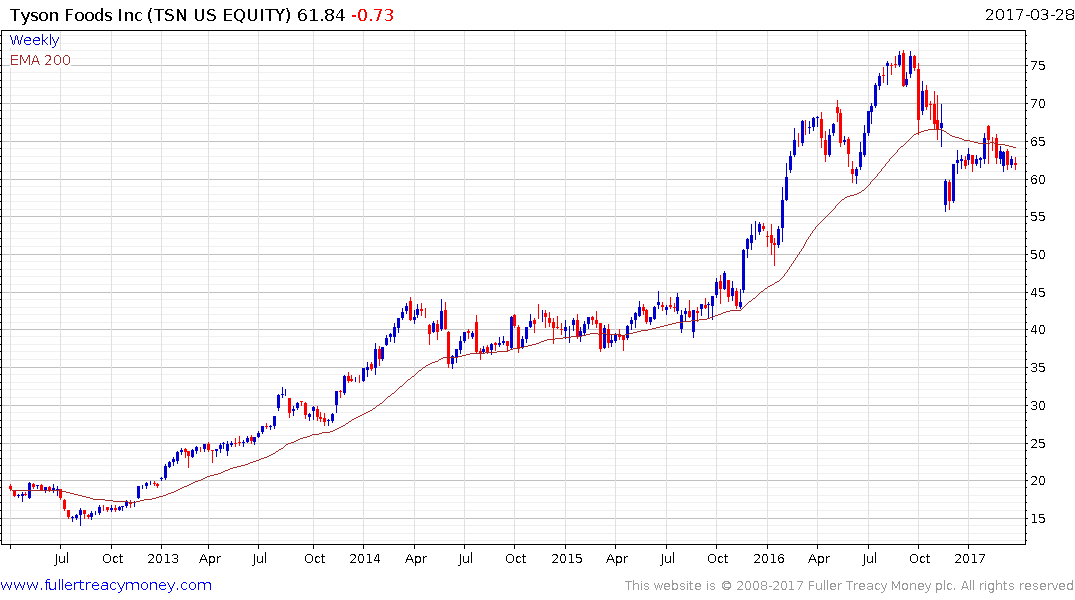 Hormel Foods and Tyson Foods booth hit medium-term peaks in the last year and have yet to demonstrate more than short-term support has been found.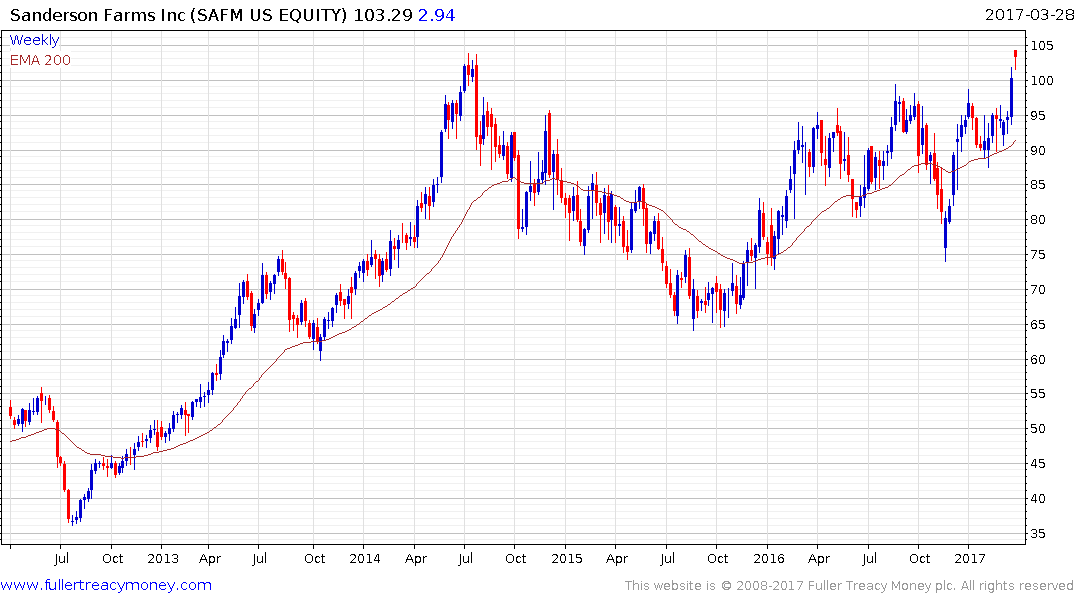 Sanderson Farms broke out to new all-time highs this week on speculation Brazil's meat scandal will support US producers.
Back to top