A Revolution in British Meritocracy
This article for Bloomberg may be of interest to subscribers. Here is a section:
Nowadays, Brampton Manor Academy regularly gets as many pupils into Oxbridge as Eton College, the alma mater of Cameron, Johnson and the majority of the privileged faces staring out from the 1987 photograph. It does this by dint of high-expectations and relentless discipline. Pupils arrive early in the morning and stay on into the evening in order to accumulate extracurricular activities. Slacking is not tolerated. Pupils are expected to be smartly dressed and always on the ball. Eton — the quintessential, privately-funded British public school — charges about £50,000 a year and selects from the whole world. Brampton Manor charges nothing and selects from one of the poorest boroughs in London. The majority of pupils are from ethnic minorities and one in five gets free school lunches because of their parents' low incomes.
Education is a contentious subject for politicians, because everyone wants the best for their children despite the fact levels of academic ability vary widely. That desire to secure the best opportunities for one's offspring has to be married with society's need to find and nurture the best brains.
The one thing we know for certain is the economy of the future will be more data intense. Automation of processes will create reliance on tools only a sliver of society are familiar with building and maintaining. The most successful countries will ultimately prosper. Those that can also encourage inward migration of the most capable people gain an additional fillip.
The social justice revolution is a product of technological innovation where physical characteristics are less important to the economy. That allows scope for greater opportunity, expression and idea generation. It also has the side effect of pushing societal norms to the point of absurdity. Every country is dealing with the competing forces of leveling up or dumbing down. In an increasingly competitive global market, pandering to populists by dumbing down curricula is a recipe for long-term decline in both nominal and relative terms. https://www.sportbible.com/australia/mma-dana-white-gives-his-thoughts-on-transgender-fighters-competing-in-ufc-20220317
The UK appears to have learned this lesson first. The USA is still relying on importing brains rather than developing them domestically. Asian countries have no internal conflict. They understand that academic excellence is the surest route to development and prosperity.
South Korea and Israel stand out as success stories in harnessing their domestic population's creative potential. The threat of destruction from their neighbours has probably played a role in that single mindedness.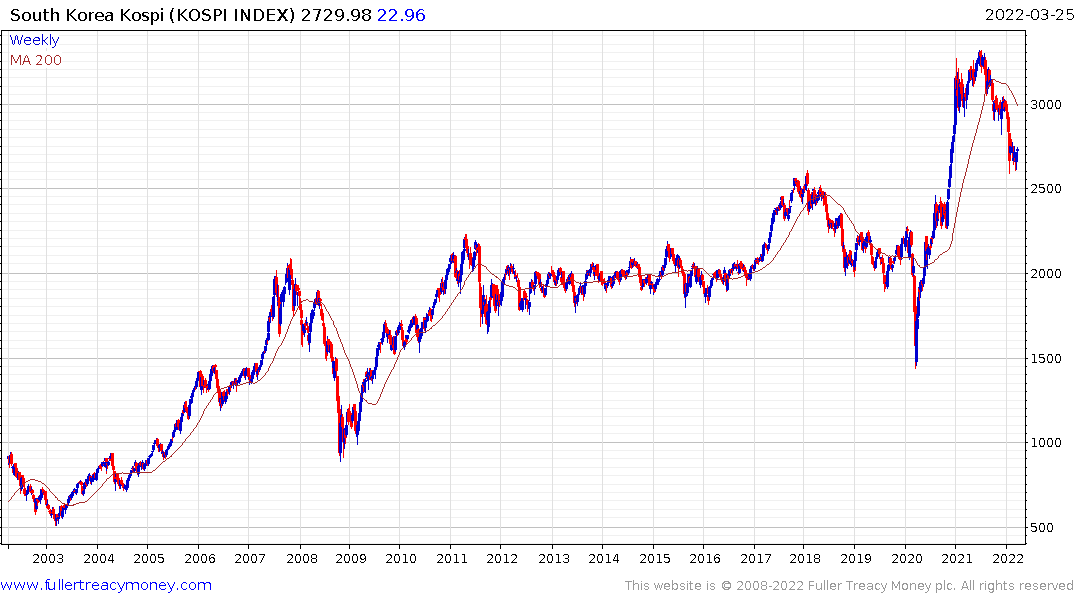 The Kospi Index is currently firming in the region of the 1000-day MA and the upper side of the medium-term range.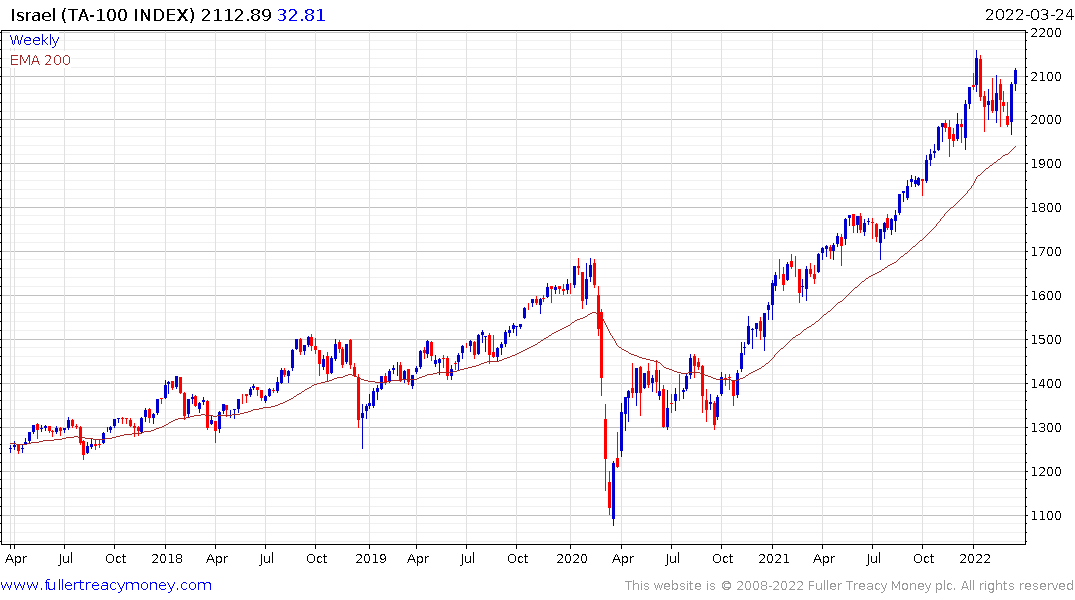 The Tel Avis 125 remains in a consistent medium-term uptrend and bounded emphatically this week from the region of the 200-day MA.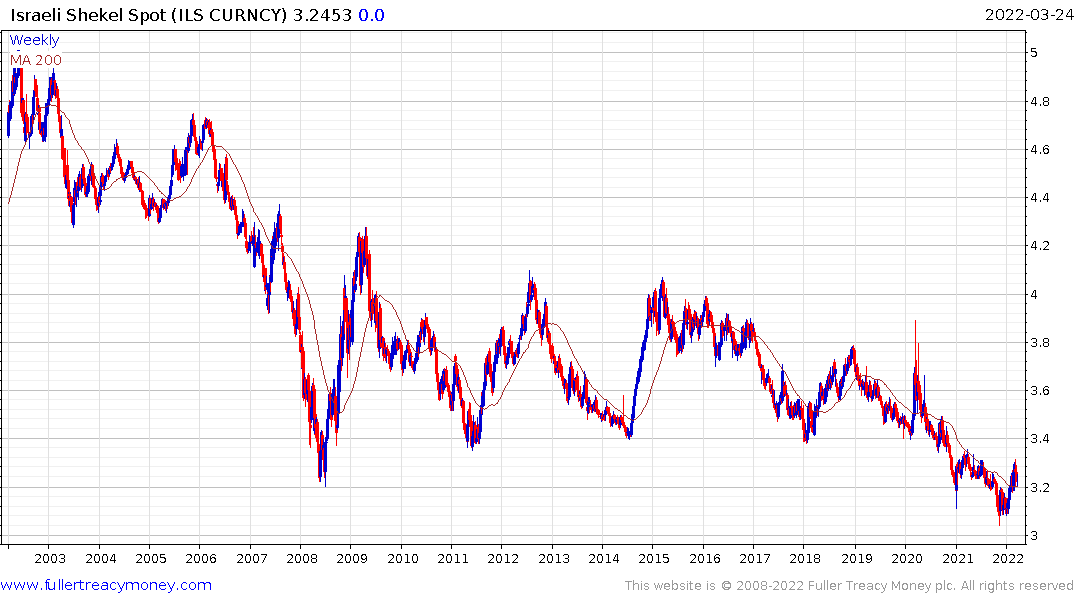 The Shekel is currently firming from the upper side of a long-term range. (shown inversely here)
Back to top