A Restaurant Meal Is Going to Become a Luxury Good
This article by Conor Sen for Bloomberg may be of interest to subscribers. Here is a section:


Although it's true that millions of hospitality workers now are out of work and available for immediate employment, the generous unemployment benefits passed by Congress in the $2 trillion rescue bill may make some of them less interested in going back to their old jobs. Ernie Tedeschi of Evercore ISI notes that between state insurance and the federal supplements, the average weekly unemployment benefit for workers in states such as New York, California, Washington and Massachusetts will be more than $1,000. That's the equivalent of $25 an hour for a 40-hour work week. For restaurant workers who earn significant tips, returning to work may offer enough economic incentive to be worth it. For lower-paid dishwashers and line cooks, unemployment might be a better deal -- at least through the end of July, when the benefits are set to expire. That means restaurants may have to pay much higher wages than in the pre-virus market level to staff up.

Combining these two dynamics -- restaurants aren't going to be able to serve as many patrons and they will have higher labor costs -- and it's likely that many restaurants won't survive. The most obvious way for the survivors to make up for this is to charge more for the same menu offerings, perhaps much more. The good news for the restaurants that do survive is that between fewer seats available at each restaurant, and fewer restaurants competing for customers, eating out might become a scarce, coveted experience, particularly after weeks or months of much of the population sheltering in place.
Not everyone is a good cook and few are ever likely to be. If eating out and receiving full service becomes inordinately expensive then the law of supply and demand means dark kitchens will proliferate. Uber was helping to pioneer this trend ahead of the virus outbreak and the sector is likely to pick up a lot of the slack from fast casual dining.
Dark kitchens don't have dining rooms and rely entirely on delivery. That means menu items need to adjust to a need for reheating and to fit inside boxes in a cost-effective manner. The higher minimum wage of $15, paid irrespective of tips in California, was the animating factor behind the trend towards fewer overheads. With wage demands likely to rise, irrespective of how quarantines end, that is going to remains a significant headache for business owners.
When we first came to Los Angeles our Airbnb host was in the business of arranging financing for restaurants. He told us half of all the privately owned restaurants in the USA are in Southern California. In 2012, it took about $1 million to open, a year to make that back and the popular concepts generally made about $3 million in profits in three years before the market moves on. It seems inevitable that prepared food will live on, but commercial real estate relying on premium priced square footage will experience significant downsizing.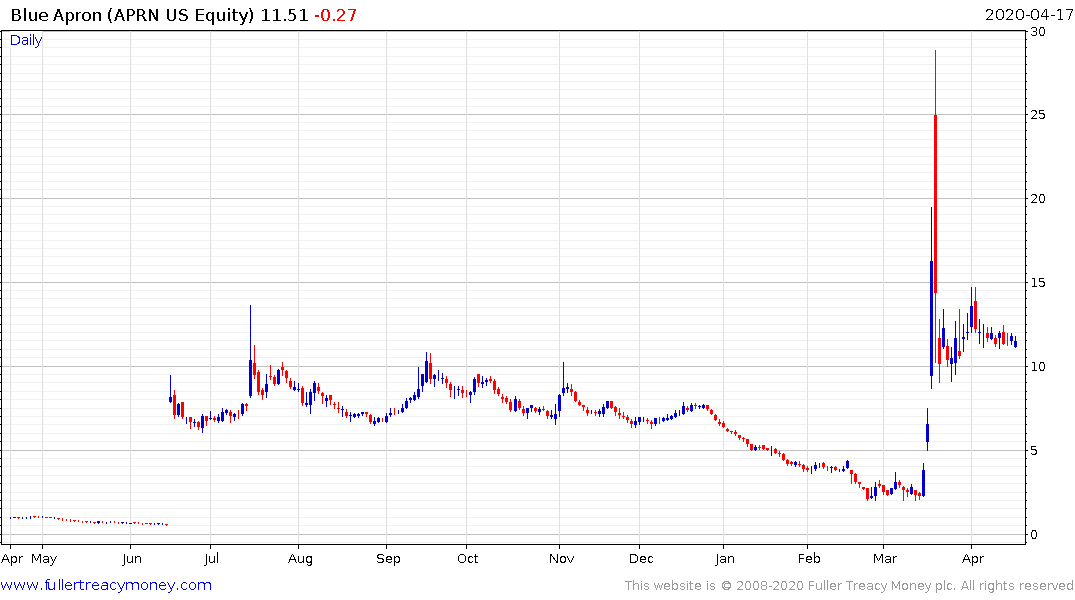 Blue Apron initially spiked in March but is a long way from making money on a sustained basis because people still have to cook the ingredients which missesd the whole point of on demand eating out.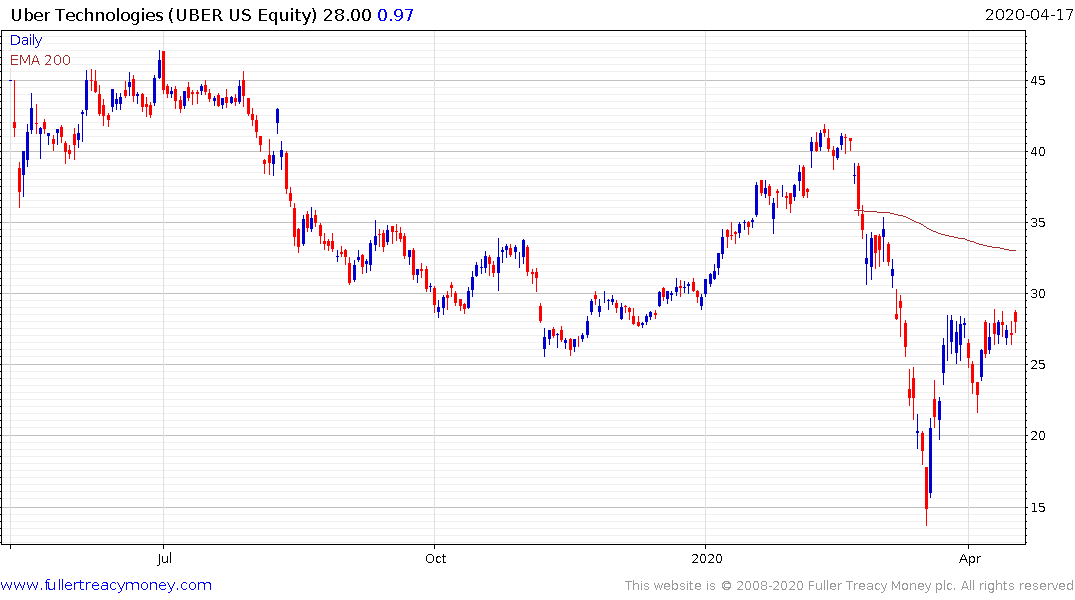 Uber may actually have a route to profitability in the dark kitchen model since it is funding the sector. Rather than disrupt transportation it now has the potential to disrupt eating out. While social distancing may or may not be transient, wages are permanent and a growing threat to small businesses.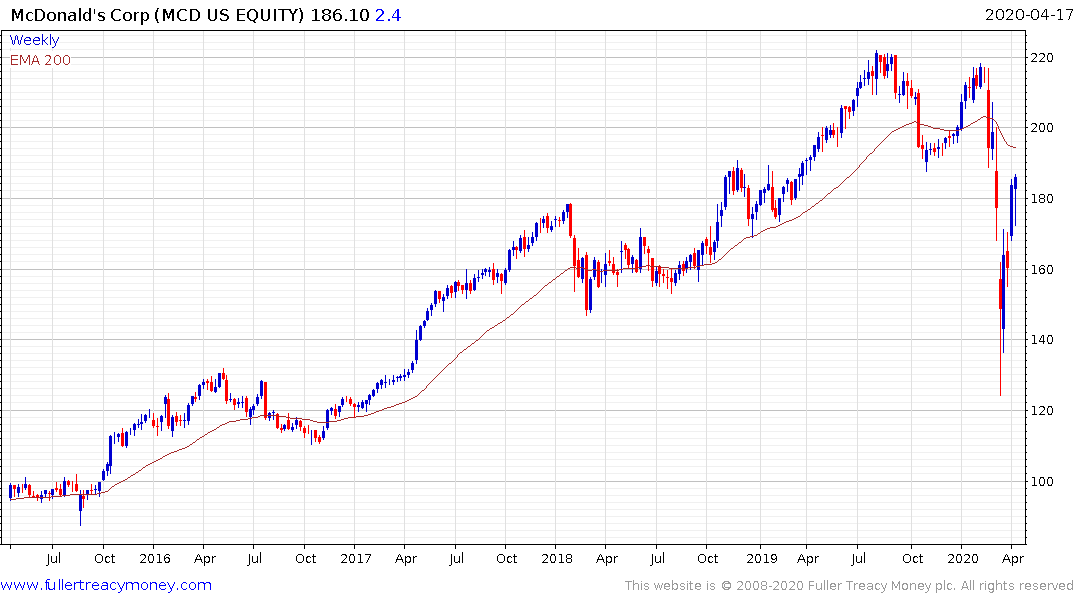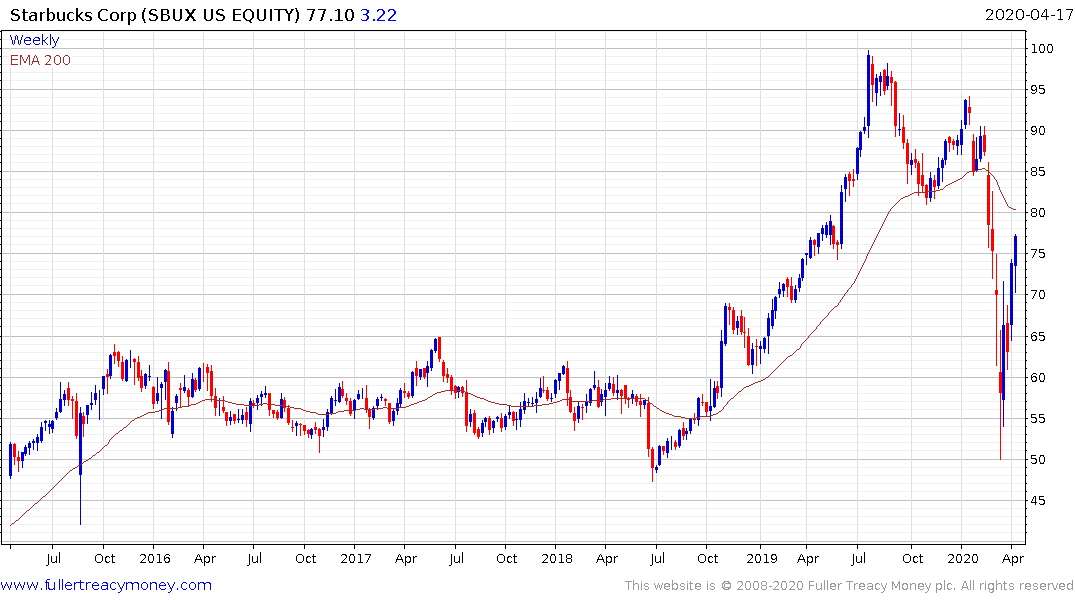 Large fast casual providers with McDonalds, Starbucks, Yum Brands appear in a position to benefit from either or both trends.
Back to top